Infopulse – Ihr One-Stop-Kompetenzzentrum für Microsoft-Lösungen und -Dienstleistungen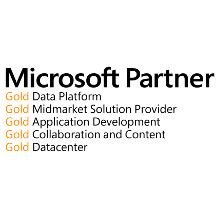 Als Microsoft Gold Certified Partner erfüllen wir die Anforderungen an die höchste Kompetenz und entsprechendes Know-how im Umgang mit Microsoft-Technologien und in der Bereitstellung von Microsoft-basierten Lösungen und Dienstleistungen.
Wir entwickeln integrierte Microsoft-Lösungen, die Sie bei der Erhöhung der Geschwindigkeit und Steigerung der Effektivität Ihres Unternehmens unterstützen, indem Ihre Wettbewerbsfähigkeit steigt, Ihre IT sich entsprechend den Änderungen Ihres geschäftlichen Bedarfs skalieren lässt und konkrete Geschäftsergebnisse geliefert werden, die auf Ihren Erfolg ausgerichtet sind.
Unsere Lösungen werden durch hervorragende Leistungen im Meistern komplexer Projekte mithilfe des Microsoft-Technologie-Stacks unterstützt.
Mit hochqualifizierten Experten an Bord liefern wir Microsoft-Lösungen und -Dienstleistungen auf Basis von:
Microsoft SharePoint
Microsoft Exchange Server
Microsoft Lync
Microsoft Dynamics CRM and ERP
Microsoft Project Server
Microsoft System Center
Microsoft Virtualization and Private Cloud
Microsoft Windows Migration
Microsoft Windows Server
Microsoft SQL Server
Umfassendes Modell zur Unterstützung des Lösungs-Lebenszyklus:
Die Beratung, Managment-Services und Softwareentwicklung von Infopulse zielen auf den gesamten Lebenszyklus der Microsoft-Lösung, angefangen bei Planung, Design, Implementierung, Integration bis hin zur Wartung. Wir bieten flexible Einstellungsmodelle an, um effiziente und termingerechte Lieferung zu gewährleisten.