Reading time: 10 minutes
For automotive brands, augmented reality has become another way to lure their customers with new interactive experiences and tell the world that they keep in step with the latest technologies. But what are other non-marketing opportunities that bode well for the transformation of the whole automotive industry? In this article, we explain how AR together with other types of extended reality can change the entire automotive value chain.
Although AR hardware still needs five to ten more years to get mature &nbsp, automotive industry can already avail of plenty augmented reality examples and use cases as well as their benefits. &nbsp confirmed the fact that XR opportunities for OEMs are all-embracing covering the full value chain from R&D to aftersales: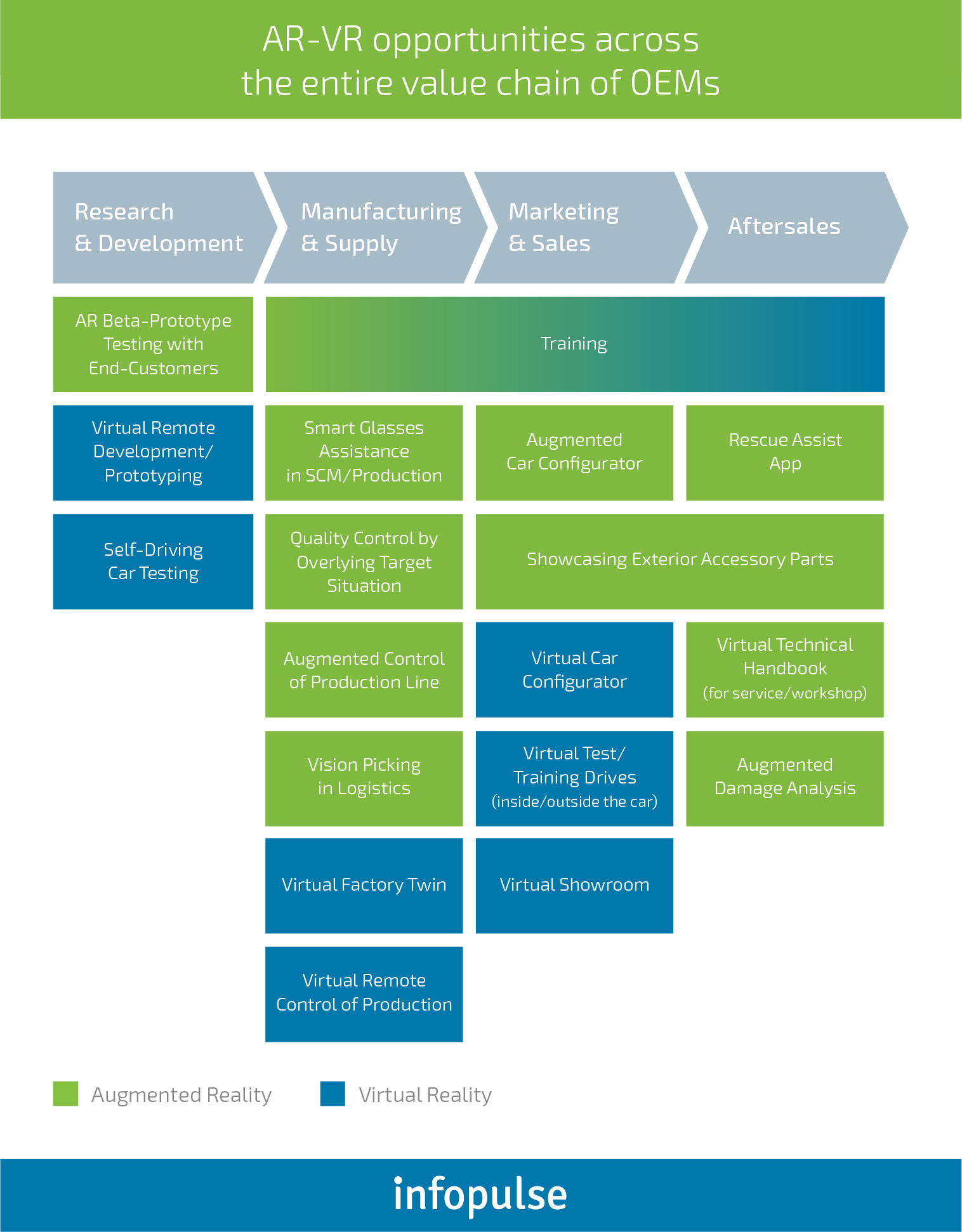 &nbsp
Design and conception phase:

Augmented reality allows decreasing time and costs necessary for the first model mockup development. &nbsp projecting digital data onto the real model. In this case, designers and engineers have more room for experimenting before development of a physical prototype.

Pre-production stage:

By using the potential of extended reality, it's possible to improve manufacturing process, specifically making virtual simulation of a current production system for the tested vehicle prototype. This will allow avoiding possible human errors by helping technicians get acknowledged with the whole factory floor. It can also help foresee technical bugs and prepare countermeasures to resolve a critical situation. &nbsp use AR in the pre-production phase to visualize out-of-position and validate flexible parts, conduct digital crash simulations, assembly as well as disassembly simulations with further collision tests. All this is aimed at shortening time needed for a mockup development and gathering qualitative data for further phases.

It's obvious that &nbsp will have to tap into the potential of XR to provide the expected level of automation. Some manufacturing companies have already created MR-driven operator's digital workplace facilitating management of production schedule, the control of machine operation together with advanced visual assistance and preventive maintenance:

Post-production stage:

AR can be used for the quality control process, such as testing the efficiency of the vehicle's crucial parts. &nbsp, for instance, enhanced quality control of their engines by using a mixed reality application and smart glasses. Obviously, this is the step towards Factory 4.0 adoption which requires digitalization of all processes and acceptable reduction of human workload.

Marketing and sales stage:

Augmented reality as well as other XR technologies bring about plenty of customer engagement opportunities offering the unmatched visualization and interaction. One of the most popular is AR car configurators (aka visualizers) that can be used as an addition to a showroom or as a lead generation tool available at any smartphone. Its advantage is that it allows decreasing costs on distribution of vehicle models across numerous retail outlets and dealership centers.

Besides, marketers and sales managers can enhance their personalization by exploiting the beauties of customization feature. For example, &nbsp positions its AR configurator as a unique chance to become a designer of your own car. Thus, anyone with a tablet or smartphone can actually select vehicle's exterior and interior, including rims, upholstery, etc. and have these customized features applied in their future vehicle. Keeping pace with a competitor, Jeep AR visualizer also offers similar customization, together with interactive AR features like getting into the car, having the first virtual test drive. See it for yourself:

By switching to augmented reality showcase at the pre-sale stage, the automotive industry presents a new level of customer-centered service. And most importantly, marketers and sales managers gain valuable insights on the customer preferences and can create more targeted offers for other prospects.

On contrary, VR configurators cannot be used on such scale nowadays because of the high-priced headsets. Of course, the cost varies from &nbsp per item depending on the model and headset type (mobile or tethered), yet true immersion with low latency between virtual and real world requires cabled connection.

As of today, customers will hardly see the reason to buy pricy HMDs for one-time VR test drive. Moreover, not every keen video gamer can afford having tethered hardware, not mentioning haptic devices and smart glasses. Which is why such VR configurators can be found mostly in the dealership centers or auto shows, special VR showrooms, e.g., Audi's showroom experience:

Aftersales stage:

The word of mouth is built on loyalty and automakers try hard to be remembered and recommended to other potential buyers. Perhaps, this is one of the reasons why AR car owner manuals have appeared, guiding a driver through numerous instructions available in the digital form on their smartphone or tablet. Here's an example of KIA's virtual manual app:

For training employees, improved teamwork and auto maintenance:

As automotive industry relies on human workforce in many assembly operations, training appears to be the first step to building a successful team of operators and technicians. Which is why, such automakers as Jaguar Land Rover utilize augmented reality training apps to provide new employees with "&nbsp" showing the precise location of vehicle components. In addition, even experienced assembly operators, auto mechanics and technicians can take advantage of digital manuals saving time on checking requirements or other details in paper instructions. Bosch, for instance, has developed an AR app for auto maintenance projected to save up to 15% of time needed for the car repairs:

At the same time, Volkswagen harnessed the VR potential to enhance teamwork and collaboration of dispersed teams for the production and logistics needs. With the help of a &nbsp, all participants can get together in a VR room optimizing their time and efforts for additional meetings and discussions.

What Challenges Stop Businesses from Large-scale AR Adoption?
So, why don't all businesses reap advantages from integrating augmented reality into their automotive solutions? Given all the AR use cases above, it's obvious that automakers and automotive software companies are only experimenting with AR features implementation. Although AR already exceeds other types of artificial reality, it still needs time to become fully mature. Augmented reality technology is still not ready for solving compatibility and observability issues, described in &nbsp, namely because of privacy concerns and lack of information on return on investments in the AR systems implementation.
The theory attributes to five technology characteristics that define the acceptance of innovation and readiness of businesses for adopting it:
Roger's Theory Applied to Augmented Reality
| | | |
| --- | --- | --- |
| Relative advantage | Extent to which it offers improvements over available tools. | Compared to VR, AR offers new advantages – visualization of virtual worlds mixed with real environments. |
| Compatibility | Consistency with social practices and norms among its users. | Many AR devices require data collection, which raises a range of privacy concerns. |
| Complexity | Ease of use, learning or adoption | End users can effortlessly learn how to use AR applications whereas businesses can already exploit a number of open source frameworks for AR applications development. |
| Trialability | Opportunity to try an innovation before committing to use it. | AR is easy to try nowadays as many applications are already available on smartphones, tablets and consoles. |
| Observability | Extent to which the technology implementation converts into clear benefits for businesses as well as end users. | Businesses still can't fully predict whether the implementation of an AR system would return the investments (e.g., in the advanced AR HUDs development) as the product may be in its PoC stage and hasn't been field tested. Besides, AR systems still lack enough data to prove their efficiency and justify spending as many consumers do not rush purchasing high-priced AR-powered systems. |
&nbsp
According to this table, augmented reality can already offer lower level of complexity and together with open source AR SDKs available on the market, technically augmented reality is easier to adopt, try, and use across different domains. Relative advantage defined in the theory is about those visualization improvements brought by AR into the automotive industry compared to conventional tools.
Despite that, there are even more bottlenecks preventing AR technology from the mainstream use:
There are still

no standards as to AR applications

and thus, data security and privacy concerns may set back further augmented reality app development.

Lack of computational power

of existing mobile devices results in their inefficiency to support complex computer vision algorithms required in many AR applications.
Inaccuracy of techniques used for quick virtual content localization on HUDs.

High costs of such AR devices

as AR HUDs, AR glasses, Microsoft HoloLens, etc. Moreover, AR glasses are still being tested and refined which means that auto manufacturers can't completely rely on this hardware.

The amount of augmented content to be displayed

in such a way that it does not distract a driver or a technician.
Some legacy auto assembly systems should be adjusted or replaced with up-to-date equipment to match the requirements of AR applications.
Every car model has to be significantly re-designed and re-built to install currently available AR HUD devices.
Even with intuitiveness and ease of use of AR technology for training and workshops, experienced staff workers may need more

time to get accustomed to dealing with new technologies. Not talking about expenses needed for the equipment and tutoring

.

Lack of trust and social acceptance

. What's more there are more estimations regarding the actual numbers on reduction of time and manual work by using AR applications in the production or repairs.
It comes out that until AR technology roots into all phases of vehicle lifecycle, it will balance between its entertainment offerings and attempts to make automakers, dealership centers, automotive hardware and software solutions providers committed to AR adoption inside and outside the vehicle.
Conclusion
Automakers have already embarked on implementing augmented reality in the vehicles' embedded systems, AR user manuals, AR applications for the vehicle's design and assembly, etc. And although businesses may need ten more years until they are ready for AR-driven digital solutions, automotive software providers should already gear up towards new enhanced AR solutions. Today, both of them are challenged and held back with the lack of competent experts in augmented reality as well as computer vision technology. If you share the same problem, you can address Infopulse, as a trusted automotive software provider, to assist in implementation of your AR solutions.
---
Originally published February 14, 2019 Updated December 06, 2019