March 29, 2021
Having significant experience in the implementation of SAP projects and a long-standing history of collaboration with SAP, Infopulse was honored with the &nbsp.
Infopulse upgraded its level to SAP gold partner by meeting stringent requirements and evaluation checks. The SAP PartnerEdge program rewards only those partners that have demonstrated consistency and commitment in delivering SAP solutions through deep expertise and exceptional capabilities. Infopulse maintains the highest quality standards, demonstrated top-level performance, and strategic alignment in delivering SAP value to customers.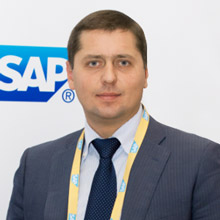 Moving our partnership up to the SAP Gold Partner level is a significant achievement for our company. This recognition displays Infopulse's technical and financial dedication to the SAP Partner ecosystem and strengthens our shared goal of bringing digital transformation through future-proof SAP solutions. Infopulse customers can view SAP Gold Partner status as an advanced partnership level ensuring that their business objectives will be met in full compliance with time and quality requirements. – Dmitry Kotelva, Head of Enterprise Applications Practice

Throughout the years of collaboration with the top ERP software vendor, Infopulse has obtained several awards and recognitions verifying its expertise in implementing SAP solutions for its customers. The latest recognition features Infopulse expertise designation in consumer products (SAP Recognized Expertise), while our project for SAG won Gold at SAP Value Award 2020. Moreover, Infopulse is a recognized leader in Europe in SAP migrations to the cloud, which is confirmed by the corresponding SAP on Azure Advanced Specialization from Microsoft.
Infopulse offers a wide range of SAP services – from consulting to implementation and support, including:
SAP S/4HANA
SAP SuccessFactors HXM Suite
SAP Analytics
SAP HANA
Partner and Open Cloud Solutions
SAP Business All-in-One
About SAP PartnerEdge® program
SAP PartnerEdge program provides collaboration opportunities for partners and resellers based on four key engagement models – build, sell, service, and run. The program relies on a system of value points, rewarding participants according to their overall company contribution. More at &nbsp