February 09, 2017
Infopulse and EVRY are pleased to announce the successful development of the Syndication Solution – the first Blockchain project aimed to simplify and automate syndicated loan market. This solution is the outcome of the joined team under the terms of previously announced EVRY's Blockchain initiative and Infopulse Blockchain R&D inception.
In its essence, a syndicated loan system unites a group of lenders, who, in their turn, provide borrowers with access to the pooled funds. A lendee could be a large corporation, an international conglomerate, a governmental organization or a state itself. Cooperation within the system allows banks to spread risks, increase benefits and use resources that exceed their own assets. Moreover, a syndicated loan system helps to determine the risks for a niche project if a primary lender does not have enough expertise in a specific asset class.
Blockchain has already become a leading driver that can shift the future of not only the banking hemisphere but all existing industries. Upon conducting substantial technical and business development and analysis, EVRY and Infopulse are proud to announce our joint Blockchain results, which has a high potential to be widely used in the syndicated loan market.– Alexey Sigov, Infopulse President
A joint team of experts from EVRY and Infopulse developed a proof-of-concept Syndication Solution project, showing the implementation of Blockchain in a real working product. The core technical innovation of this technology can be defined as a replicated, shared-write database that maintains a continuously growing list of data records, strengthened against tampering and revision. The Syndication Solution merges external ledgers and databases from several banks into one for all participants. The common ledger does not have a central point. Syndication Solution helps to digitalize all syndicated loan information, nullify possibility for errors, exclude data duplications, reduce overhead expenses, minimize mediation activities, remove obstacles for different bank systems synchronization, and improve other business processes, regulating the system within the generally accepted rules.
Each network user has equal rights with others and is able to control and verify all actions recorded in the common ledger. Syndication Solution Network is absolutely transparent and reliable for all system users – both for the banks and the borrowers.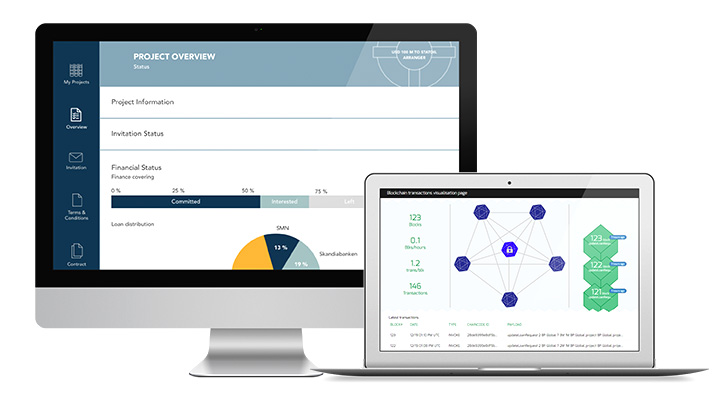 The joint Infopulse-EVRY team implemented processes automation and workflow simplification, using the capacities of the Hyperledger project. As the syndicated loan requires cooperation from a number of freestanding participants, such as lenders, borrowers, and third parties (courts, underwriters etc.), the Syndication Solution has separate and flexible security settings for each party in the system. An agent bank creates a new syndicate and specifies the basic terms and conditions of the cooperation. That said, there is no centralized control or central authority. The Syndication Solution system offers equal validation rights for all participating banks. Validation of the transactions is provided by the majority of the nodes.
Hyperledger platform was created in 2015 by Linux Foundation and already received the support of many experienced companies such as IBM, Intel, and Cisco. It united Blockchain investigations and codebases of many companies to a single open-source project. The project is based on a modular framework and flexible protocols. Hyperledger allows the creation of infinite independent networks with their own internal infrastructure and processes, which cannot be controlled by a single party. The main advantage of this project is the peer-to-peer cooperation based on the consensus principle.
Following our R&D strategy, we are working on various educational materials on Blockchain for non-financial industries to fulfil the whole potential of this technology. We do believe that Blockchain will have a huge impact on government, healthcare, and insurance. Thus, it can solve such burning needs as processes transparency, secure model of the health data exchange between patient and doctors, as well as easily managed smart assurance contracts respectively.– Jan Keil, Infopulse VP of Marketing
About EVRY
EVRY is one of the leading IT companies in the Nordic region and has a strong local and regional presence in 50 Nordic towns and cities. Through its insight, solutions, and technology, EVRY contributes to the development of the information society of the future and so creates value for the benefit of its customers and for society as a whole. EVRY combines in-depth industry knowledge and technical expertise with a local delivery model and international strength. EVRY has some 9,000 experts and reports annual turnover approaching NOK 13 billion.
If you are interested in the abovementioned syndication solution project or if you have any ideas for Blockchain developments, please do not hesitate to contact us!
Watch the Syndication Solution Demo [Video]