December 13, 2016
Infopulse is happy to announce the successful launch of A2B Direct, a full-scale on-demand service for freight trucking. Developed for an international customer, this comprehensive online service will provide direct and smooth interaction between freight service providers and their clients.
A2B Direct is a B2B platform that connects cargo owners with freight service providers. The solution was officially launched for mass market on October 20, 2016. It is currently available as a web service and as an app for Android and iOS devices in English, Russian and Ukrainian languages.
The solution empowers its users with various benefits. Direct business networking enables freight trucking providers and their clients to communicate and create transportation deals without intermediaries. An integrated GPS tracking module allows to track freights in real-time online (several dozens of GPS tracking systems integrated and more to come).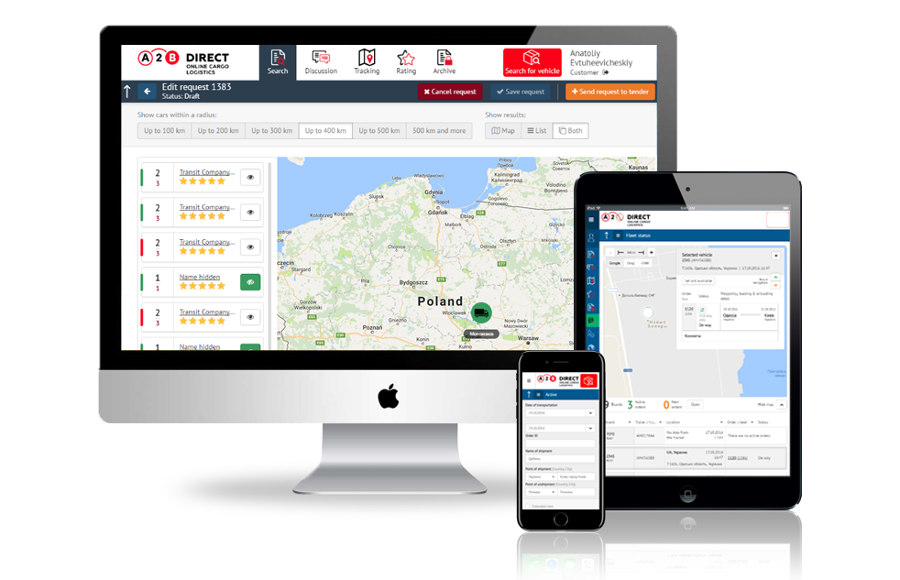 My dream is to change the title of the Ministry of Infrastructure to the "Ministry of Transport and Digital Infrastructure" as soon as we conduct fundamental reforms. Digital solutions bring transparency, convenience, and performance. It's very important that nowadays businesses implement modern technologies. Ministry will show full support to such initiatives as A2B Direct!– Volodymyr Omelyan, Minister of Infrastructure of Ukraine
Infopulse developed and designed both frontend and backend of this solution in less than 5 months, with a team of 20 FTE.
The service has received full support from the Association of International Automobile Carriers of Ukraine and a number of other Ukrainian and international companies in the industries of finance, insurance, telecom, and fuel supply.
In just 20 days after the platform launch, approximately 450+ customers and 400+ carriers registered in the system. Initial registration takes only a few minutes. Until the end of 2016, registration is free for all Ukrainian companies. The service is currently expanding its operations to Belarus and is planned to run in other countries as well.
We are very happy with the results of this project. The service has already been called a "Revolution in logistics and transportation" by the local media! Infopulse continues working on this solution for our client. Coming up next, are the toast notifications of delivery updates, live chat integration, a simplified Android mobile app for the truck drivers, and much more! This platform has huge potential, so stay tuned for more news!– Oleksandr Nikolaienko, Infopulse Delivery Manager