March 17, 2016
In the end of February 2016, Infopulse offered its help and support in digitalization of learning in Ukrainian town of Zolotonosha. The company helped to equip the facilities of Skliarenko Gymnasium in Zolotonosha as well as the Education Department of Zolotonosha City Council with 19 desktop computers.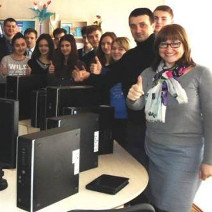 We highly appreciate the will of Infopulse to support education in Zolotonosha in exactly this way. This help is not only timely, but it also inspires in difficult times. Concern and mutual assistance are a treasure, and we are happy to have such friends with whom we will be happy to share the success of our students. On this occasion, we would like to invite you to visit our beautiful Zolotonosha town and its gymnasium in particular! An abstract from a thank-you letter sent by Zolotonosha Gymnasium Management
Infopulse is sincerely grateful to all our professionals who offered their help to make this charity project come true! Supporting charity causes makes our community better, brightens our present and future and enlightens our hearts!