September 02, 2015
Infopulse strengthens its local presence in Europe by acquiring a delivery company in Varna, Bulgaria. Infopulse Bulgaria provides management consulting and technology services with extensive expertise in SAP technologies. Currently, the team is made up of about thirty dynamic, creative, and talented people and keeps growing.
Lyubov Yudenko, Infopulse VP of People Operations, comments:
Our mother company, EVRY, had the company in Bulgaria that delivered mainly SAP services to its own and EVRY clients. We made the common decision about the transfer of EVRY Bulgaria under Infopulse management. It helped us to enforce our SAP direction and become closer to European clients, and gave us an opportunity to start new projects from the EU. For a lot of potential clients it's important that the provider should be located in the EU and be compliant with the EU legislation. Besides, distribution of deliveries among different geographical locations is one of our competitive advantages and is an integral part of our business continuity strategy.
Background
The company in Bulgaria was founded ten years ago. Later, it became a part of a Scandinavian IT group Spring Consulting, which had 114 employees in Norway, Sweden, and Denmark, working with SAP solutions for the Scandinavian market. In 2006, EDB acquired Spring Consulting. In 2010, EDB and ErgoGroup merged, and the company announced a name change to EVRY.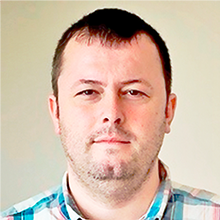 We knew that there was a daughter company of EVRY in Ukraine. In 2015, we started negotiations with EVRY and Infopulse about a possible deal. We completed all of the juridical procedures and became a part of Infopulse. I have been to Kyiv two times. There are really huge buildings and monuments in Kyiv, but apart of that, it's very similar to Bulgaria. I've also seen lots of common things between our company and Infopulse. We both provide IT Outsourcing Services and have similar approaches to business. Ukrainians and Bulgarians have the same roots. We have more similarities than differences. – Mihail Shishmanov, Head of Infopulse Bulgaria
Products and Services
Infopulse Bulgaria is proud of the products they have developed and of the experience they have created for the clients. They are confident that the success of the company 100% depends on the happiness of the customers. "We are very focused on delivering the best service and products," adds Mihail Shishmanov.
Key products and services of Infopulse Bulgaria:
SmartPROCURE-2-PAY (SP2)

is an automation of all company's purchasing and billing processes that enables saving up to 50% of corporate procure-2-pay costs. The approval process is the same whether an organization wants to receive invoices from scanning or 100% electronically and is fully automated using workflow. This set-up increases the speed of invoice throughput and provides opportunities for significantly improved cash and document flow.

SmartSCAN Invoice Processor

enables automatic handling of the company's invoices from particular vendors. It even monitors if automatic handling is initiated for a particular vendor. If a user receives the invoices by email, they may be processed 100 % automatically.

Consultancy:

Infopulse Bulgaria has a long-term cooperation with some of the biggest companies in the Nordics, providing high-quality IT consultancy services for them.
The Team
Of course, it is essential to get the job done and to move in the same direction, but the team environment is also very important. We are a small company and we are like a family. It's good to feel at home when you are at work. Most of us have been working together for more than three years. We spend lots of time at work and there are some little things that make us feel good. Our office is very cozy. We have cable TV and a games room with PlayStation. There is a very beautiful view from our office. It's a pleasure to work here with our team, – continues Mihail Shishmanov.
Bulgaria – Land of IT Innovators
Bulgaria has a rich history in computer industry. The person who invented the first computer was Bulgarian: John Atanasoff created the prototype of the first electronic digital computer. Later the country became one of the largest PC manufacturers for the former USSR. Bulgarians were also the inventors of the first computer viruses. Now the purpose of the virus creation is different, but at that time it looked like a challenge to gain knowledge that a virus could be done.
Bulgarians like thinking differently and doing something not done before. Nowadays, the IT industry is developing at a fast pace in Bulgaria. The good IT climate and talented people are the reason for the software boom.
Infopulse sees lots of opportunities in this country and is happy to welcome the new colleagues and to wish them new interesting opportunities in cooperation with the company.
To contact Infopulse Bulgaria, please click here.