December 20, 2017
Infopulse is proud to announce the official launch of a new delivery and representative office in Kharkiv, Ukraine. The company also joined Kharkiv IT Cluster, a non-governmental organization that unites leading IT companies in the region.
Infopulse is happy to open a new office in Kharkiv as a part of our strategic development plan for 2017 and beyond. Right now we are forming a Technology Delivery Studio in Kharkiv to work on DWH and BI projects based on SAP Big Data analytics platform and related technologies.
Kharkiv, an ex-capital of Ukraine and the second largest city in the country, has produced many well-known scientists, mathematicians, engineers and even three Noble Prize winners. A scientific, technological and industrial center, Kharkiv is famous for its high standards of STEM education and attracts many talents and investments from both Ukraine and abroad. Being one of the most developed IT centers of Ukraine, Kharkiv has a strong IT community and is a great city to expand our IT operations – Andrii Anissimov, Infopulse CEO
Infopulse is also happy to join Kharkiv IT Cluster, an IT Community and public organization, uniting 20,000+ local IT experts, 300+ IT enterprises and service providers with the local governmental and educational institutions. Kharkiv IT Cluster aims to make Kharkiv the primary IT capital of Ukraine with the best conditions for IT businesses and improve IT ecosystem of the city by expanding its investment capabilities. The organization promotes innovations, vastly contributes to the local IT market development as well as public IT education and creation of self-realization opportunities for young specialists.
The new Infopulse office is located in Invest Market Business Center, 63 Kolomenska St., Office 210, in Kharkiv, Ukraine.
Please refer to our locations page for the complete list of Infopulse offices and locations.

Earlier this year Infopulse opened two delivery offices in Ukraine: one in Lviv and another one in Odesa.
A photo report from the opening of Infopulse Kharkiv office:
More on this topic
---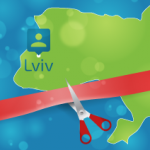 Infopulse Opens New Delivery Office in Lviv, Ukraine
Read more