News
Meet Infopulse SCM 6.0 – More Efficiency to your Compliance
July 12, 2019
Our Products
Always looking for the better ideas, we travel the world to get the insights.
The more we know our customers' current and anticipated needs, the more opportunity we see for Infopulse SCM improvement. We never stop the product development process to live up to your growing expectations.
Now, we are proud of achieving the next milestone – the release of Infopulse SCM 6.0.
Enhanced efficiency, more features, better performance!
As usual, when a new release is rolled out, we encourage the early adopters to share their impression and user experience. Collaboration is the key! Together we make this world better!
Analytics Data Grid. A smart grid to compress the overwhelming volumes of data into a compact comfortable view.
Report Library Templates. Create reports in no time with more configurable templates.
Task Manager. Track threat and risk tasks progress.
Dashboard widgets. New task performance monitoring widgets. All for you to stay in control over the activities.
The following are the new features and benefits we bring out with the new release.
An Innovative Data Grid View for your Compliance Analytics
When you have huge volumes of information in the system, it is easy to get lost. With this smart data grid view, you see the data, regardless of its size, compressed into a concise preview blocks to easily identify what is what. Each data block can intake up to 200,000 rows. You can easily browse, sort or filter the info in the block. Managing your data arrangement is as easy as it has never been!
Hide, move, or sort columns
Filter or search data in-field or globally
Add groupings by fields
Aggregate data
Run ad-hoc compliance analysis
Export data in XLS or CSV format to external systems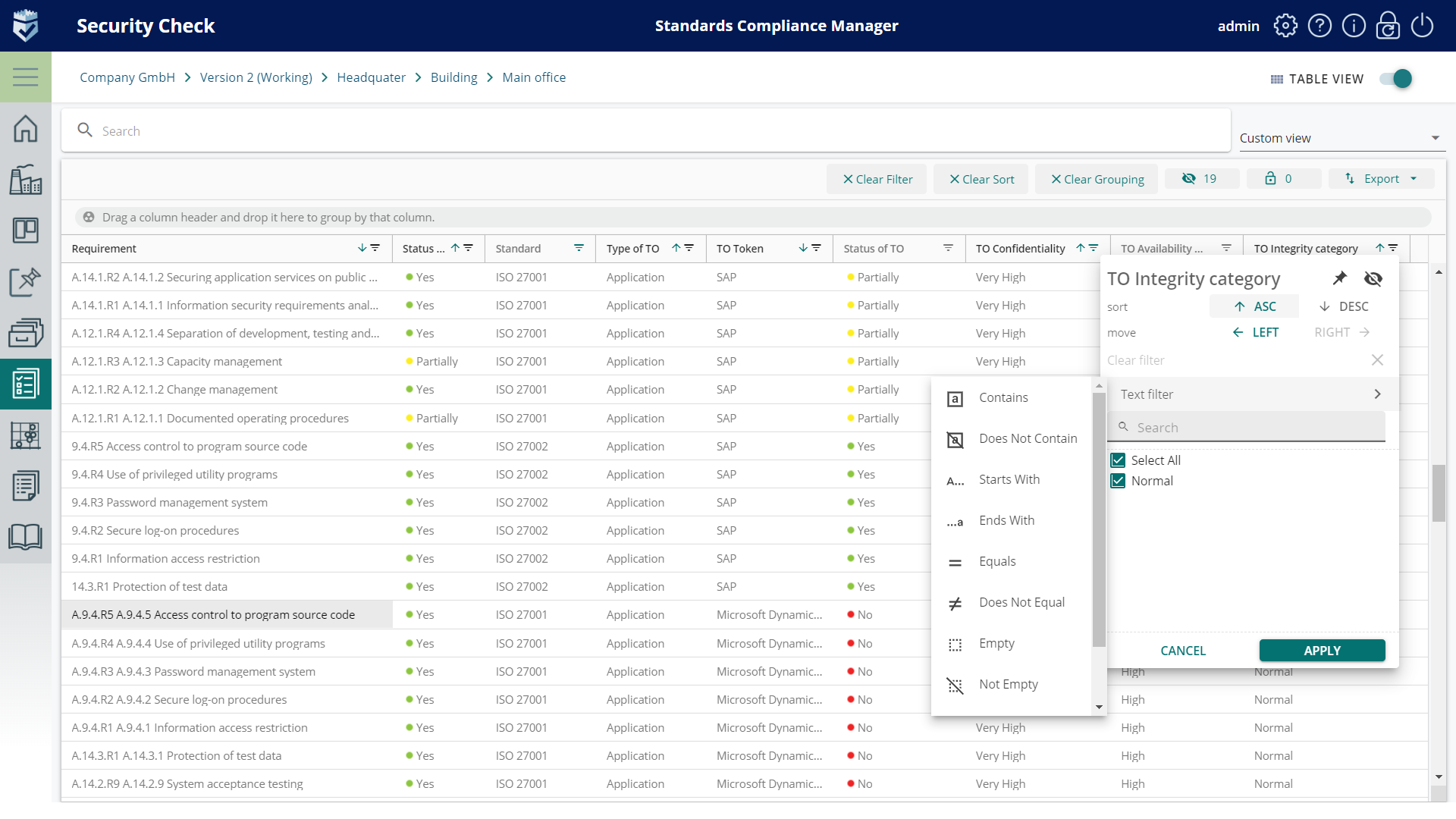 Now you have freedom to create and your pre-defined template views for disposal when it is necessary. Add to it an option of exporting your selected analytical data to be integrated into the reports.
Report Library Templates
This feature presents a series of new report templates for your reporting flexibility. Save your time creating reports in an instant basing on a wide selection of report templates. Should you have any specific requirements to the report data set, you can easily adjust the templates exactly to your needs.
Task Manager
Manage your SCM tasks with more flexibility and options. The SCM Task Manager enables you to organize and track task performance on every stage, from planning to reporting.
Fix priorities, start/end dates
Attach documents to tasks
Assign responsible persons
Set up email notifications
Filter tasks by a variety of attributes
View/Edit tasks or add comments
Dashboard widgets
You will appreciate the new widgets we created for you to have extended dashboard options. These ones are specifically designed for visualizing task performance. Grasp an instant picture of the task progress. Every individual user can create and save their own set of widgets, unlimited in number, grouping them according to the needs.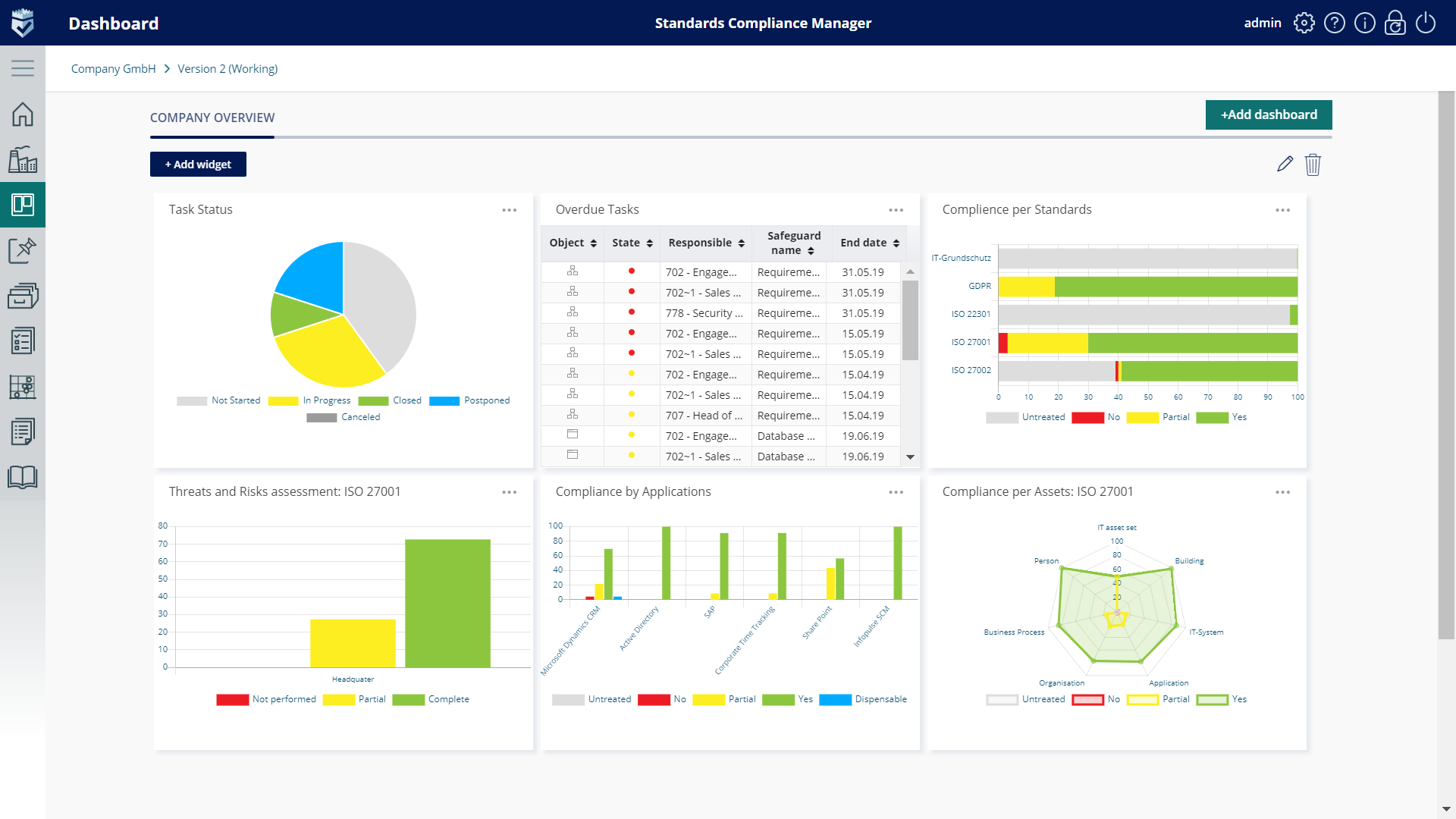 What is Next?
We do not stop at this point. You will find more good things to discover! Focusing on our customer needs, we enjoy the opportunity to improve continuously.
Now, with the improved features, running audits, risk assessment and management, monitoring compliance status, preparing to certifications is easier and much more efficient. We keep adding pre-integrated standards to the system leaving premises for you to import any individual set of requirements or policy you may want to implement.