Development and Implementation of Solid Business Continuity Programs
Nowadays many companies consider business continuity planning as a core part of everyday business activities. Protection of mission-critical resources drastically decreases possible negative impacts, and effective business continuity planning and management provides strong measures against the sequences of negative events in contrary to ceasing to survive.
Infopulse helps its customers with development of realistic, cost-effective business continuity plans, which clearly determine the mission-critical resources, relevant risks and impacts of disaster events, outline the detailed mitigation for each potential harmful event, define the understandable recovery objectives and the corresponding recovery strategies, and provide the ongoing measurements of performance and value.
Objectives:
Improve understanding of business and technical processes by company employees
Decrease the recovery time and minimize the negative revenue impact
Meet regulatory requirements for business continuity
Align the costs of planning with the actual risks faced by the company
Identify and eliminate single points of failure in company infrastructure and business processes
Identify potential cost reductions by improving/creating operating efficiencies
Ensuring the business function viability at the time and after a major incident happens
Maintain the productivity of employees across all company operations
Preserve the company brand equity and shareholder value
Activities:
Understanding organization
Business impact analysis
Risk assessment
Business continuity strategies development
Emergency response and operations development
Development and implementation of business continuity plans
Business continuity awareness and training
Testing business continuity plans
Development of crisis communication plan
Features:
Valuable improvement of mission-critical business processes as a direct result of business continuity planning efforts
Infopulse Security Management Framework can be used to support service activities
More on this topic
---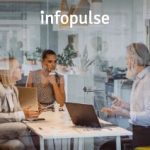 Best Practices for Ensuring Strong Business Continuity
Read more