Cloudification can be fulfilled for different types of applications and in different strategies and approaches:
Legacy (on-premise) apps:
Rehosting or "lift-and-shift" – move app as-is to cloud infrastructure
Containerize apps – pack app into Docker container and host in a managed cloud environment
Replatforming – revise app setup and chose more beneficial products/hosting configuration
Refactoring / Re-architecting – review and re-implement business logic for cloud-native
New development:
Frontend systems, CMS and content delivery networks
Microservices mesh as a high-load scalable back-end for complex systems
API gateways and legacy adapters
Enterprise storages and integration (Databases, Service Bus)
Analytics and BI (Data Warehouse, Event Hub, Stream Analytics, Power BI)
Common features:
Scalability and high availability out of the box
CI/CD processes establishing for any cloud setup
Operational monitoring and alerting for infrastructure, services, and software (Azure Monitor)
Transparent billing process and reporting
Web applications challenges
Legacy challenges:
Expiration of datacenter contracts
Urgent capacity needs
Need to quickly integrate new acquisitions
Software and hardware refresh
Software End-of-Support
Security threats
Compliance
Application innovation
Cloud-native challenges:
Immutable API-driven infrastructure
Decoupled systems
Dynamic scaling
Continuous delivery
Monitoring and introspection
Fast development
Minimum time-to-market
Low operational effort
What we offer
We speak your language and have seasoned experts covering all technical stacks and business requirements:
Assessment & PoC
Business rules analysis
Architecture assessment
Cost analysis
Compatibility assessment
Building a PoC
Building Support within the Organization
Data & Application Migration
Leverage different storage options
Security checks
Data migration
"Lift and Shift" method
Hybrid Migration Strategy
New Installations
Cloud & Operations
Auto-scaling rules
CI/CD process setup
Upgrade and Fault domains
High Availability
Monitoring and alarms
Resource utilization
Efficiency tracking
Performance metrics
Migration Strategies
Selecting between 4 different approaches to building a proper migration strategy: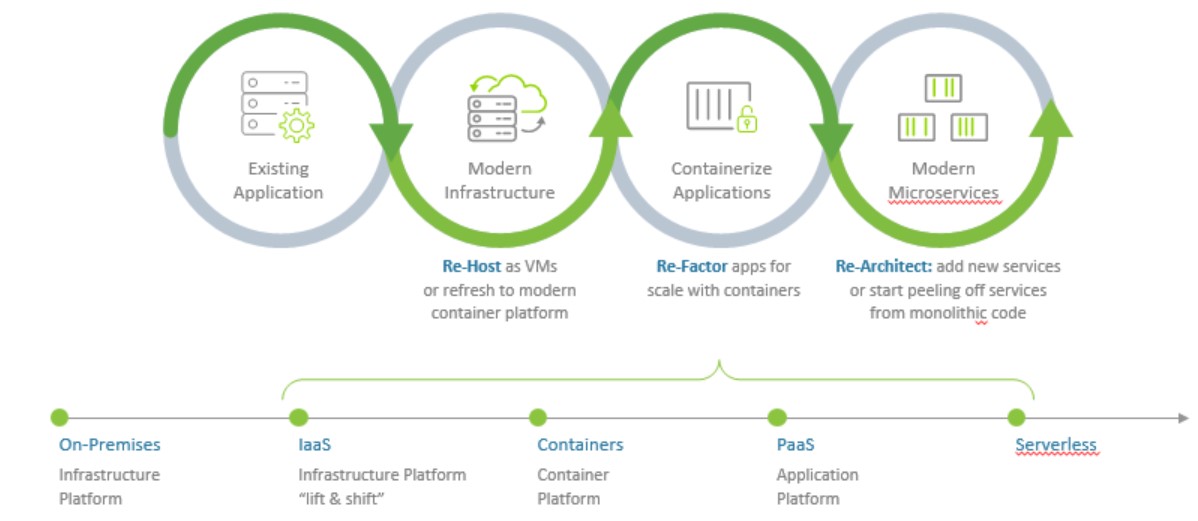 Rehosting or "lift-and-shift"
The "Lift and shift" approach involves dropping the application into the cloud as-is.
"Lift and shift" can be implemented for many workloads, and cloud vendors are working to make it as easy as possible.
Application Containerization
Immutable API-driven infrastructure
Standardization and productivity
Rapid development & deployment
Multi-cloud platforms
Isolation and security
Efficient resources utilization
Decreased operational cost
Re-platforming
Re-platforming is similar to re-hosting applications in the cloud, but it requires some modification of the application to take advantage of the new cloud infrastructure.
Some common modifications are typically performed during re-platforming:
Changing the way how the program interacts with the DB to benefit from automation and elastic database infrastructure.
Enabling better scaling and leveraging reserved resources in the cloud environment with minimal changes to code.
Re-factoring / Re-architecting
Refactoring is the process of moving applications to cloud infrastructure while re-architecting them to suit the cloud environment better. This approach involves modifying existing software or a large chunk of the code base for it to benefit from cloud-based features as well as flexibility and elasticity that comes with them.
Examples of services that can be used during the refactoring approach:
Long-term storage (data lake, SQL DB)
Computation & integration (Logic apps, Data Factory)
Microservices (Kubernetes service)
Messaging (Event Hubs, Service Bus)
Services (API management)