Advanced eID platform for identity verification and authentication
In the age of personal data segregation in countless copies across countless servers, you can't manage it without effort. Now, imagine a passwordless, secure authentication across multiple services with selective data disclosure, seamless verification, biometrics, and remote identification.
Developed by international IT companies Infopulse and TietoEVRY, the eID platform is an all-in-one seamless identity management and data-sharing solution, leveraging these processes for both enterprises and users. Created once and used everywhere – managing digital identities has never been easier!
Features:
100% compliant

with

GDPR

– provides a fully consent-based, secure, and ethical use of data.
Advanced security and protection with

2FA

and

encryption

.
Provides an "Advanced electronic signature" according to eIDAS classification.
Uses

&nbsp

and

&nbsp

(DID).
Compatibility with the

&nbsp

(EBSI),

&nbsp

, and Hyperledger Indy. Support of these blockchains allows registering and verifying public keys for the identity in our solution, which makes the solution ready for the next-gen identification and authentication standards.

One user identity across multiple services

. Faster turnaround times for services and onboarding. Superb customer experience with fewer touchpoints and selective disclosure.

Reduced operational costs

by reusing the already validated documents.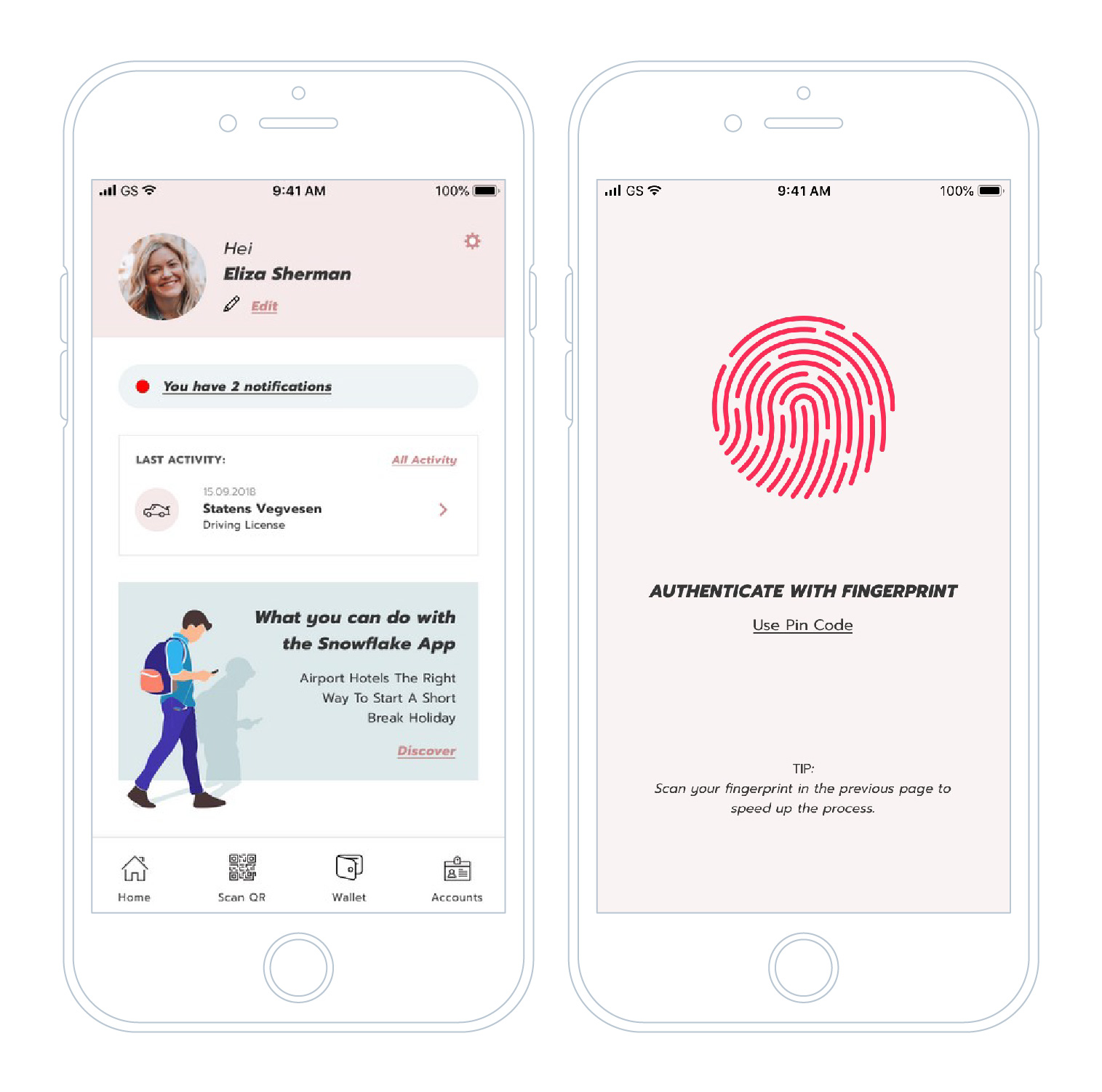 A Powerful Solution for Businesses, Their Employees, and Customers
For businesses:
Rich tools to customize and integrate the eID platform into your own ecosystem.
A ready-made platform for identification, authentication, and attribute sharing between services and organizations.
Simplified onboarding process of new customers.
For end-users:
Easy to use. The automated quick onboarding process facilitates the creation of a new secure eID on the user's device as fast as in 5 minutes. A built-in passport scanner works in 120 countries and supports biometric IDs, remote identification, and face recognition to ensure accurate verification.
Additional privacy and data security. All personal information is encrypted and can't be tampered or manipulated by third parties, while claims can be stored on mobile or in an encrypted external database, depending on their type.
Extended functionality. Aside from user ID, the eID platform allows users to import, store, and share all kinds of important private data, be it bank account details, employee identity, healthcare data, university diploma, vehicle passport or insurance, etc.
Examples of Use Cases:
Compliant identification – e.g. for onboarding, KYC and AML, or document signing.
Secure authentication to services, (e.g., login to internet services, online banking or e-shops) physical devices and locations (e.g. open access control gate or your car with the phone)
Integration into authentication systems.
Selective data disclosure with zero-knowledge proofs and verifiable credentials.
Read the case study: MVP of COVID-19 Access Control Solution, based on our eID platform
Addressing numerous existing pain points of digital identities, our Self-Sovereign Identity solution is now open for pilot programs. Request a demo or contact us to learn more!