Article
How to Pivot to E-Commerce via DTC Business Model
Originally published: December 01, 2020
Updated: January 25, 2022
8 min. read
Innovations
Digital Experience
In 2017, Nike announced that they were pulling most of their products away from distributors and would prioritize direct customer sales – through digital channels and flagship stores. For many, that move seemed rushed. But Nike's direct-to-consumer strategy paid off. The sneakers retailer achieved a
150 basis points expansion in gross margins
in Q1 2019. This year, the company is en route to making
$12.4 billion
in DTC global revenue.
Nike is just one example of a known retailer gone DTC. With the growing rate of e-commerce transactions and commoditization of this technology, as much as 14% of US total retail sales are expected to come from this channel by 2021.
So, what is DTC?
Direct-to-Consumer (DTC or D2C) is a retail model that enables manufacturers and CPG brands to sell products directly to consumers bypassing any middlemen (multi-brand retailers, wholesalers, resellers, etc.).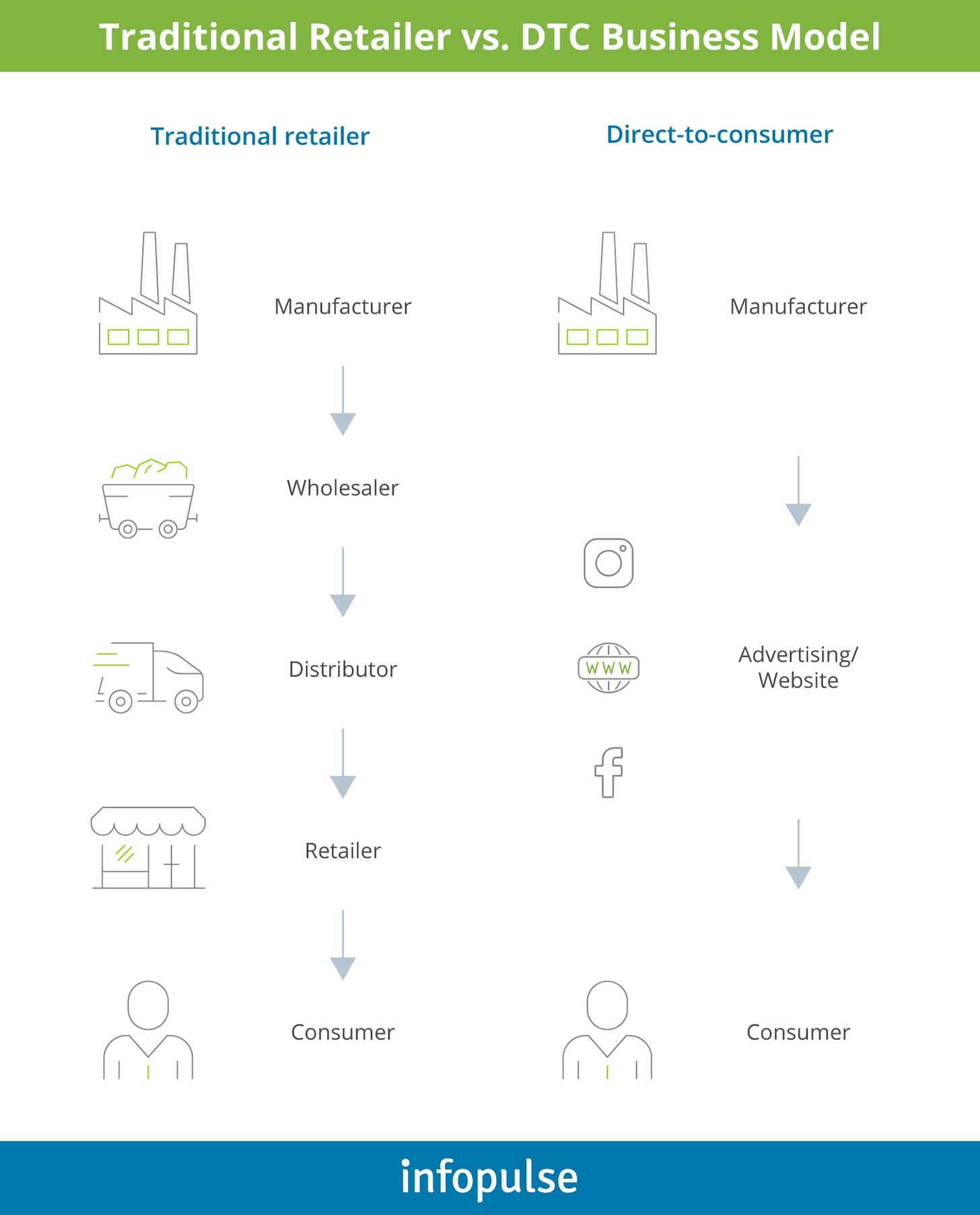 A DTC business primarily sells its products through online channels. Though larger, more established brands also set up flagship brick-and-mortar locations as a supporting channel for distribution.
Nike's Direct strategy is heavily focused on creating a strong omnichannel retail experience – the one that leverages digital technologies such as big data analytics and image recognition to improve and personalize the in-store customer experience.
Beyond established players, DTC is also a go-to-market strategy of choice for emerging fashion-tech players. Pre-lockdowns, pure online fashion retailers raised almost $3,7 billion total from IPOs in fashion in 2018-2019. However, they just account for 17% by number. Glossier, Away, Tesla are just several examples of successful DTC brands, valued at over $1 billion.
While retail revenues dipped significantly in 2020 (along with valuations), direct-to-consumer were less affected than big-box retailers and multi-brand stores. With e-commerce as the prime sales channel, DTC brands were far better positioned to keep serving new and repeat customers during shutdowns and afterward. Given that over 50% of consumers are ready to pay more to conveniently get the goods they need and considering the overall increased e-commerce spending, pivoting to a direct-to-consumer strategy in 2021 may be a smart move for your brand.
How to Embrace E-Commerce with a Direct-to-Consumer Model: Technical and Operational Insights
The direct-to-consumer strategy enables brands to achieve rapid scale at a relatively low cost. As a go-to-market strategy, e-commerce website development, paired with online advertising campaigns, comes with a lower price tag than negotiating wholesale deals and distribution agreements.
At the same time, it doesn't have to be either DTC or wholesale retail. Your brand can do both. Several DTC brands also sell through select retail partners. However, to avoid sales cannibalization, you should identify unique direct-to-consumer benefits to pitch to your clients: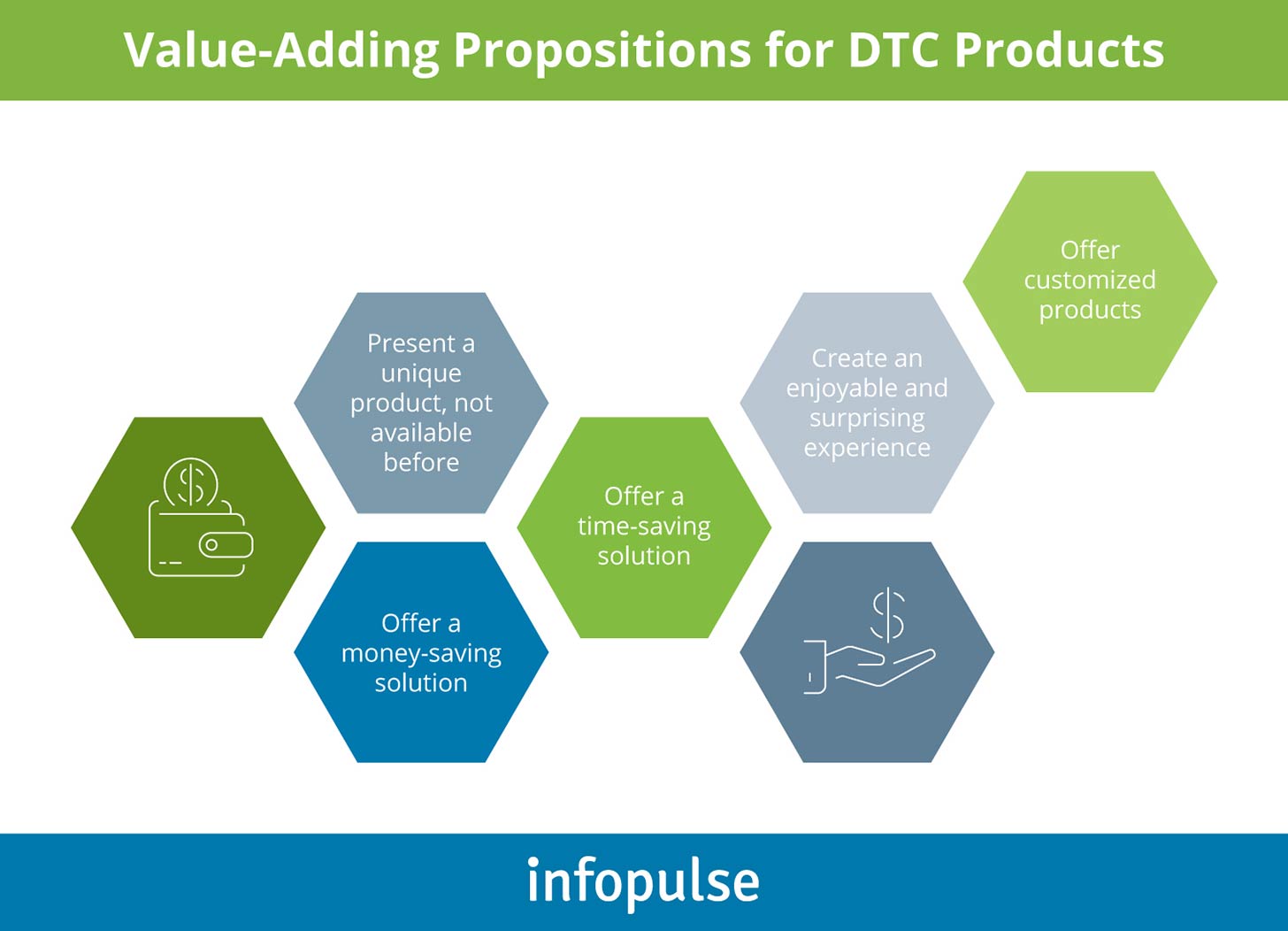 That being said, let's take a closer look at how you too can divert into the DTC space.
1. Select an E-Commerce Platform to Power Your Digital Experience
Direct-to-consumer services and products make 'customer experience' the hill they choose to defend. To differentiate from the competition, new retailers in the DTC space typically try to solve pressing point for consumers:
Warby Parker – improved eyeglasses purchase process.
Casper – made mattress shopping less of a drag.
Made.com – acts as an IKEA alternative with better delivery options.
Nike Direct – personalized advice for running shoes purchases.
But what better CX stands for in e-commerce? In most cases, DTC brands are more obsessive about collecting customer data and subsequently using it to deliver highly personalized experiences, both online and in-store.
Nike, for example, lets shoppers book a one-to-one in-store session with a brand consultant from their mobile app. When the person arrives, their Nike Expert already knows all about their size, preferences, and past purchases, and provides a line-up of relevant products to try out. The team says that such sessions have resulted in 80% of conversions and a 300% increase in average order value.
However, to build such a tight cross-channel shopping experience, you'd need a strong underlying technical infrastructure – an e-commerce platform. PaaS and open SaaS e-commerce platforms speed up time-to-value. Rather than starting from the ground up, you can mesh premade core commerce features – checkout, payment integrations, consumer analytics, among other e-commerce integrations – with a custom front-end to launch your brand faster. Such an approach goes by the name of MACH architecture.
2. Prioritize CX-Driven Tech Investments
While DTC brands don't have to share profits with resale partners, they are also personally in charge of all the warehousing, shipping, and logistics operations. These can add up, especially if most of your work is done manually. What's even worse – poor fulfillment or shipping experience will be directly reflected on your brand. According to Accenture, 56% of customers will not buy again from a retailer who provided a bad delivery experience.
To stay atop of CX and keep the operating costs lean, consider investing in emerging DTC technologies such as:
Robotic process automation (RPA) – from customer support to procurement, intelligent automation bots can replace low-value manual processes to make your teams more productive.
Computer vision and machine learning – fit & sizing are the two main concerns among online shoppers. A virtual try-on experience can help solve these, plus reduce the costs associated with managing returns (between 9-15% of total revenue). Warby Parker offers virtual glasses try-on in their app, while a slew of brands also experiments with AR try-on experience on Instagram.
3D product rendering – to further enhance the virtual product viewing experience and cut time to purchase, some brands are also creating interactive 3D product models for their websites. Rebecca Minkoff, for example, reports that shoppers were 44% more likely to add one of their bags to the cart when they saw it in 3D.
Real-time business analytics – stay abreast of rapid changes in the market and be the first one to jump on emerging consumer trends by pairing lean manufacturing with advanced big data analytics solutions. Fanatics, an online sports merch platform, managed to create jerseys in a matter of hours following the news about Lebron James' new team. Expectedly, they were the ones to capture the most profits.
3. Consider Alternative Distribution Models and Channels
Arguably, the biggest benefit of the direct-to-consumer model is versatility – in terms of how you choose to distribute your products. Apart from selling through multiple channels — website, flagship or pop-up physical stores, social media, and mobile apps — direct-to-consumer brands can also capitalize on alternative distribution channels.
To increase customer-lifetime-value and scale profits, DTC brands add subscriptions to their direct-to-consumer marketing strategy. The Honest Company, for example, which sells beauty products both DTC and via retail partners, made subscriptions their unique value proposition for direct consumers. Considering that subscriptions also majorly reduce customer acquisition costs, it makes sense why 75% of direct-to-consumer brands plan to have a subscription-based offering by 2023.
The after-sales service market is another area where DTC players can easily excel. With predictive maintenance technologies, manufacturers can precisely estimate when the product will need servicing and propose a personalized usage-based care plan for each customer. Tesla is a great example of after-sales service done right. Customers can schedule maintenance via an app, and in 90% of cases, all the diagnostics and servicing can be done fully remotely in 'no-touch' mode.
Unattended retail is among the emerging direct-to-consumer trends. With the commoditization of digital payment technologies, businesses can now build a fully automated in-store purchase experience akin to Amazon Go. For DTC brands, such an approach could be a cost-effective way to increase market penetration within larger urban areas, plus reach new customer bases by placing temp self-service stores in high foot traffic locations. For example, Dirty Lemon – a direct-to-consumer health beverage brand – launched a small cashier-less store in a busy area in Manhattan to raise awareness around their brand.
4. Integrate Different Product Delivery Options
Fast delivery is one of the most common reasons why consumers opt to buy from bigger retailers such as Amazon over manufacturers. For 90%, high shipping fees and at-home delivery that takes over 2 days can be a deal-breaker when shopping online.
On the other hand, shipping fees and times are often outside of the brand's direct control since such operations get outsourced to logistics providers.
To maintain a high CX bar, some DTC brands are prioritizing the Buy Online, Pick-Up in Store (BOPIS) delivery model (also known as Click & Collect). Such an option can majorly reduce the delivery costs and tensions associated with late/lost orders.
However, to support BOPIS your company will need to have complete visibility into product inventory. Your fulfillment system will need to feature real-time stock levels data, order statuses, workflows, location handling, and so on. If you operate several brick & mortar locations, all that data should be consolidated in the cloud. Apart from cloud DTC technology investment, you may also need to allocate budgets towards in-store RFID solutions to better monitor merchandise location data.
To Conclude
Businesses that can meld marketing, merchandising, product fulfillment, and shipment into a cohesive customer experience will see the most benefits of the direct-to-consumer model. CX is the top competitive field for DTC brands and it's essential for subsequent scaling.
That said, unlike multi-brand stores, DTC companies cannot compete on the product volume alone – they need to bet on customer loyalty and repeat purchases. As we described above, strategic investments in a robust e-commerce platform and supporting technologies can help extend CLV and increase average order value.
Modernize your e-tail experience with Infopulse. Wholesale, multi-brand, or direct-to-consumer, we can help your company develop a growth-focused e-commerce infrastructure. Contact us!