Our Solutions Help You
Streamline Application Packaging
Cover all tasks across the packaging lifecycle stages: create, edit, and test your packages of various formats in a few clicks.
Consolidate all Your Data
Use our solutions as a centralized workplace to store, exchange, and find all your documents, manage your files and packages.
Manage Orders & Teams
Get a comprehensive view of the current state of orders. Review and manage your team's workload in one or multiple projects.
Save Time and Resources
Benefit from automation and customization capabilities to reduce the time and effort on routine tasks and common tools configurations.
PACE Products
Designed by packagers for packagers - PACE Products family comprises PACE Suite for app packaging and PACE Packager Hub for workflow management. Both solutions aim to optimize application packaging processes for enterprises, customers, and engineering teams.
PACE Suite:
PACE Suite is an advanced app packaging tool with an intuitive user interface. It enables you to create MSI, MSIX, APPX, APPV packages, edit them, and check their quality, safety, and readiness for deployment.
Capturing. Repackage any installations locally or remotely on multiple virtual machines, hosted on the ESXi, Hyper-V, and VirtualBox hypervisors.
Editing and testing. Customize packages with further distribution. Create merge modules and patches and run checks for package quality, safety, and deployment readiness.
Automation & reporting. Automate capturing, package testing, and other routine tasks. Create documents with installation instructions and generate detailed package reports in one click.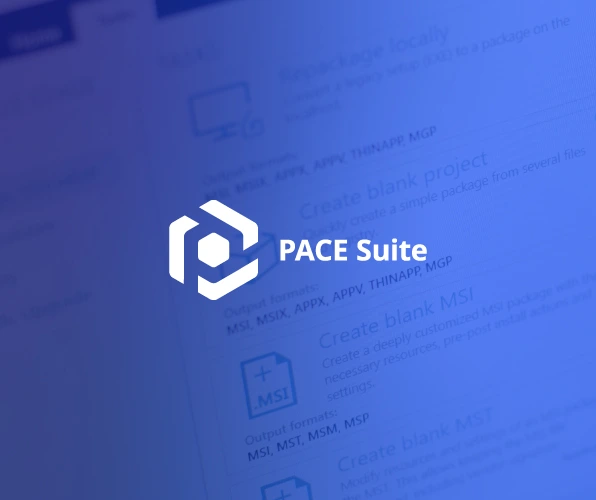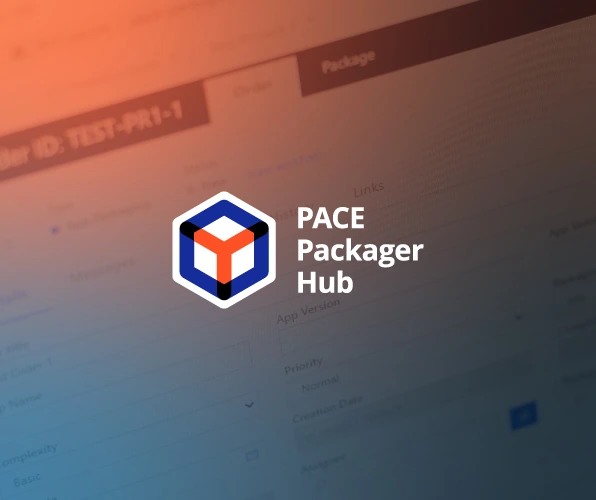 PACE Packager Hub
PACE Packager Hub is a fully-fledged workflow solution for application packaging teams. It enables built-in customer service, as well as flexible management of tasks and team workload.
End-to-end solution. A single user-friendly entry point for customers & packaging teams, enabling you to track packaging orders, analyze team workload, configure process automation, and much more.
Deep customization. For every isolated project, define the available types of packaging tasks, their set of attributes, current workflow, and permissions, based on assigned roles and other parameters.
Package inventory and delivery. View the list and search for the created packages. Deliver packages to customers taking advantage of the built-in file integrity system and download these packages from the repository via a web browser.
We have a solution to your needs. Just send us a message, and our experts will follow up with you asap.
Thank you!
We have received your request and will contact you back soon.