News
Global Outsourcing Leaders: Infopulse Among Top Service Providers for 2023

The International Association of Outsourcing Professionals® (IAOP®) has recognized Infopulse, a global provider of digital services and consultancy, as one of the world's top 100 outsourcing companies in 2023.
Infopulse has made it into the IAOP's Annual Listing of the World's Best Outsourcing Service Providers and Advisors in the Leader Judging Size category for the sixth consecutive year.

This was determined after an independent panel of Judges evaluated Infopulse in several categories, naming Infopulse an All-Star company in the following areas:

Customer References – for the value the company is providing to its customers.
Awards & Certifications – for industry recognition and essential organizational and professional certifications.
Programs for Innovation – for programs that provide new consumer value.
Corporate Social Responsibility (CSR) – for corporate initiatives that address community involvement and development, labor practices, human rights, environmental consequences, etc.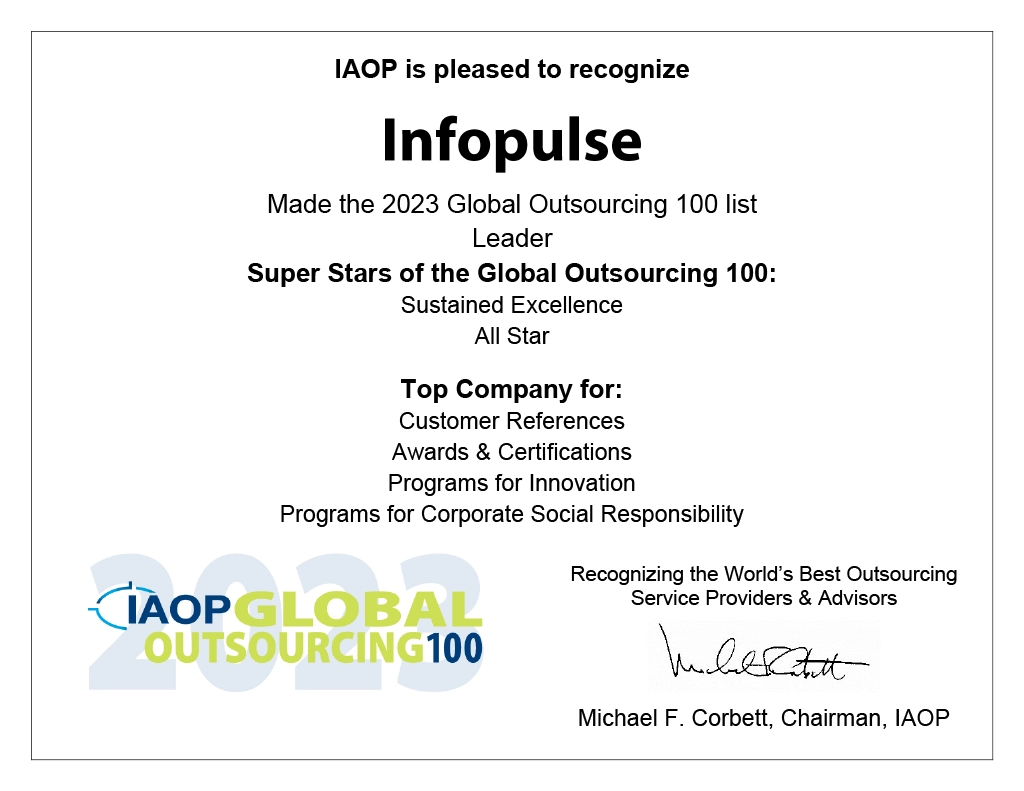 Besides, Infopulse has received the Sustained Excellence distinction for its performance in providing high-quality services to customers in the past years and being named by IAOP among the world's best outsourcing providers year after year. The company also gained additional distinction for continuous efforts in 3 specific outsourcing service areas: Industry-Specific Services, Research & Development, and Information/Communications Technology.
This recognition is a prestigious achievement for Infopulse, and we are proud that our efforts have been acknowledged by industry experts. It is also a great motivation to continue working hard, improving our processes and technologies to offer high-quality solutions to our clients.
The Global Outsourcing 100 listing is published annually by IAOP. Inclusion on this list is considered one of the highest recognitions in the industry and proves that a company is at the forefront of innovation and excellence in business process outsourcing (BPO).
As a reminder, recently Infopulse received a distinguished award from IAOP for excellence in strategic partnerships with Offshore Norge and made it to the finalists of the 2022 Network X Award in the "Outstanding Cloud Automation Solution" category.
About IAOP®

IAOP is the global association that brings together customers, providers, and advisors in a collaborative, knowledge-based environment that promotes professional and organizational development, recognition, certification, and excellence to improve business service models and outcomes. IAOP connects you and your organization to its growing global community and to the resources you need to be successful. Visit www.IAOP.org.