November 21, 2014
Infopulse, the leading European provider of ICT and BPO Services and a part of Nordic IT group EVRY, co-sponsored the Norwegian-Ukrainian Business Forum (NUBF) and presented the insight on the way how to extend global competitiveness of Ukrainian ICT Industry.
NUBF was held in Kyiv on November 18th in connection with the official visit of Norwegian Prime Minister Erna Solberg to Ukraine. The Forum was organized by Norwegian Chamber of Commerce in cooperation with IT Committee of European Business Association to reinforce progress on cooperation between countries. Topics included: ICT, Energy, and Trade. The agenda of the event was mainly focused on achieving successful Norwegian-Ukrainian business relations and opportunities.
Ukrainian ICT Industry. Growing through Innovations
Lyubomyr Boychuk, Infopulse Portfolio Manager has presented the analysis of global and local trends in ICT industry and shared the vision on how to make it more innovative and therefore more competitive.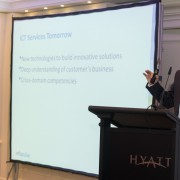 Despite all the challenges inside Ukraine, Ukrainian ICT business continues its development. Ukrainian companies have already proven to be the reliable outsourcing partners to the various businesses differing from small start-ups to Fortune 100 companies. From my point of view, the next trend in the IT industry is the creation of more and more successful innovations inside Ukraine. We already have a large pool of talented IT specialists with strong cross-competence knowledge. The community of enthusiastic professionals inside the country is already bringing breakthrough innovations to life globally. Ukrainian pupils and students show great results at various international IT contests. Government, business, and IT professionals are joining the forces to improve our IT education system. I strongly believe that the development of all these factors will lead to further evolution of Ukrainian ICT industry, making Ukraine more innovative and competitive. – Lyubomyr summarized.
NUBF. Encouraging Norwegian-Ukrainian Cooperation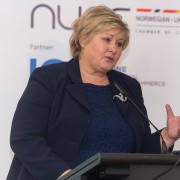 Erna Solberg, Prime Minister of Norway, and Arseniy Yatsenyuk, Prime Minister of Ukraine opened a Norwegian-Ukrainian Business Forum.
I encourage Norwegian businesses to look at the investment opportunities, but must also be clear on that we don't tolerate corruption. – Erna Solberg supported that idea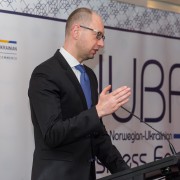 Arseniy Yatsenyuk encouraged Norwegian companies to invest in Ukraine.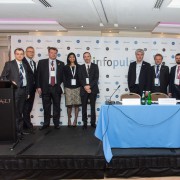 Then there were speeches from representatives of institutions and companies such as for example Statoil, Naftogaz, Kyivstar, Itera, Infopulse, NEFCO, DTEK, the State Fiscal Service of Ukraine, the Confederation of Norwegian Enterprise (NHO), International Institute of Business, EBA, IKT Norway, NUPI, MFA Ukraine, University of Nordland, National University of Taras Shevchenko, Pelagia, and many more.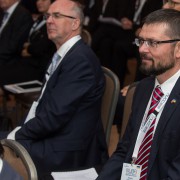 The guests of the event, including representatives from Infopulse mother company EVRY, took part in the panel discussions
and enjoyed the networking opportunities.
It was a pleasure for us to co-sponsor and co-organize this event, where intensive sharing of knowledge and experience go along with interesting discussions and cheerful atmosphere. Ukraine and Norway already have a long history of successful cooperation and we are glad that we are contributing in extending it. – says Dmitry Pankul, Infopulse VP of Marketing and Sales.