February 21, 2018
Award Recognizes Infopulse as a Worldwide Leader in IT Outsourcing Services
Infopulse, an international vendor of IT services and solutions, is proud to be recognized among the world's best outsourcing providers in the 2018 Global Outsourcing 100® List by the International Association of Outsourcing Professionals® (IAOP®).
Infopulse has been named in the Leaders judging size category, demonstrating a commitment to the highest standards of the outsourcing industry.
For Infopulse, it is a deep honor to be recognized among the 2018 world's leading outsourcing providers. This achievement is very important for us, serving as a hallmark of our dedication to quality, continuous improvement and excellence. For more than 25 years, Infopulse is committed to being a reliable partner for our clients, while meeting the ever-evolving business challenges and needs. We will continue to build upon our expertise and extensive experience, as we tackle the most challenging and innovative technical projects with the deepest passion to what we do and responsibility to our clients. – Alexey Sigov, Infopulse President
The Global Outsourcing 100 (GO100) is the annual listing of the world's best outsourcing service providers – in its twelfth year. The list recognizes the world's best outsourcing service providers, based on applications received. The judging is based on a rigorous scoring methodology that includes an independent review by an independent panel of IAOP customer members with extensive experience in selecting outsourcing service providers and advisors for their organizations.
In today's economy, it is more important than ever for outsourcing buyers to be able to easily identify and select the right company for their outsourcing needs. The Global Outsourcing 100 and World's Best Advisors lists are the essential tools companies reference to make smarter decisions. They provide companies with valuable insights into the outsourcing industry, leading and emerging service providers and advisors, and key developments to watch. Debi Hamill, IAOP CEO
For 2018, five areas were considered and judged:
Size and Growth as measured by revenue, employees, and global presence.
Customer References as demonstrated through value being created at the company's top customers.
Awards and Certifications as demonstrated through the value being created through industry recognition, and relevant organizational and individual professional certifications.
Programs for Innovation as demonstrated through specific programs and resulting outcomes that produce new forms of value for customers.
Corporate Social Responsibility (CSR) as shown through corporate programs and outcomes that address such topics as community involvement and development, labor practices, human rights, fair operating practices, environmental impacts, consumer issues, and organizational governance.
The full list referencing the best companies and celebrating their accomplishments in each of the five judging areas will be published in June 2018 in the special FORTUNE 500 issue of FORTUNE® magazine – an annual special advertising feature produced by IAOP.
This year, 18 Ukrainian companies were named to the Global Outsourcing 100 list at once, which is the all-time record.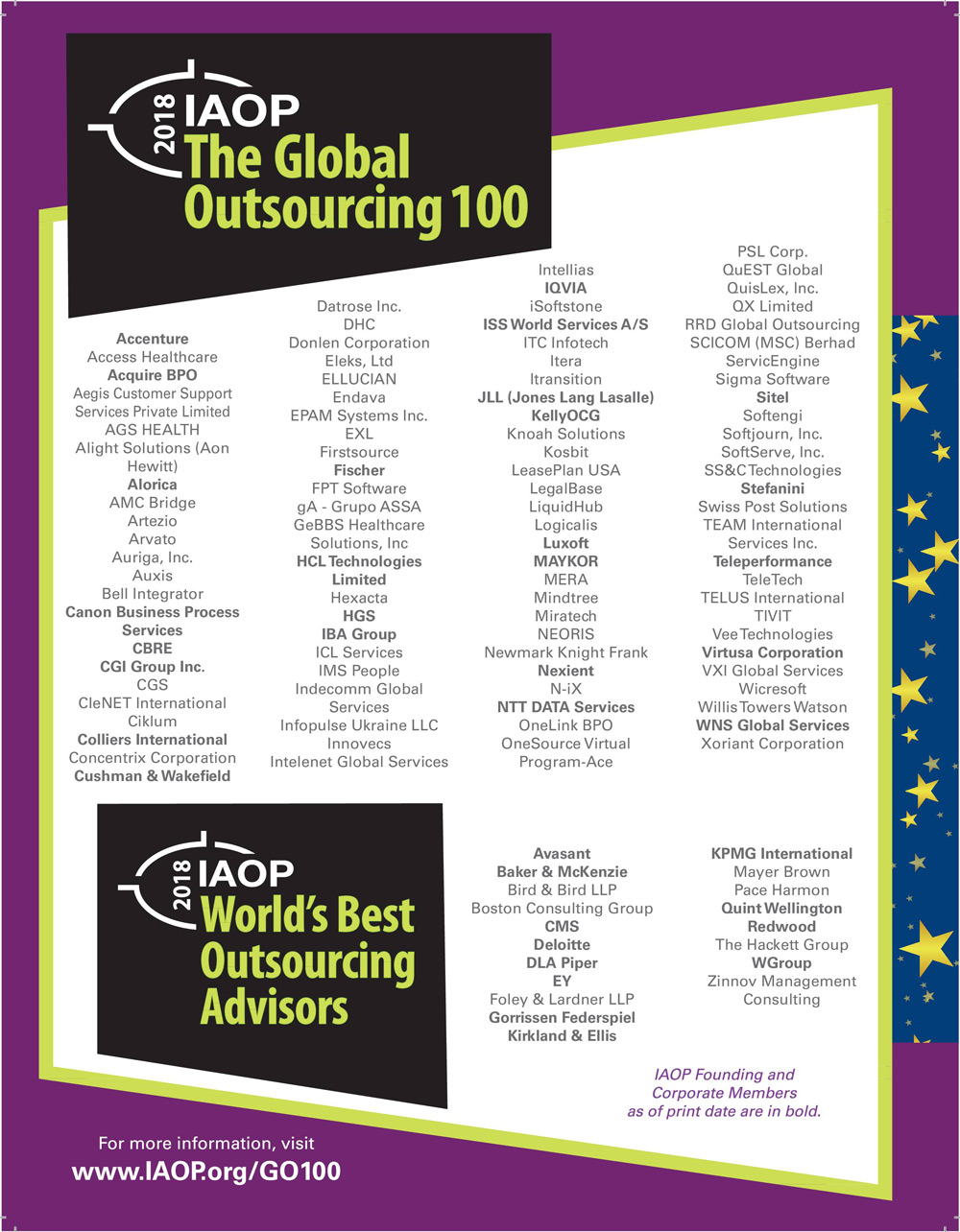 About IAOP
IAOP is the global association that brings together customers, providers, and advisors in a collaborative, knowledge-based environment that promotes professional and organizational development, recognition, certification, and excellence to improve business service models and outcomes. IAOP members and affiliates worldwide are digging deep at IAOP conferences, learning at IAOP chapter meetings, getting trained and certified at IAOP courses and workshops, and connecting through IAOP social media, all with one goal: better business results. Whether you are a customer, provider or advisor, new to collaborative business models like outsourcing, or you are an experienced professional, IAOP connects you and your organization to our growing global community and to the resources you need to get the results your company deserves and demands. For more information and how you can become involved, visit www.IAOP.org.