Infopulse Poland Recognized at Outsourcing Stars Gala 2022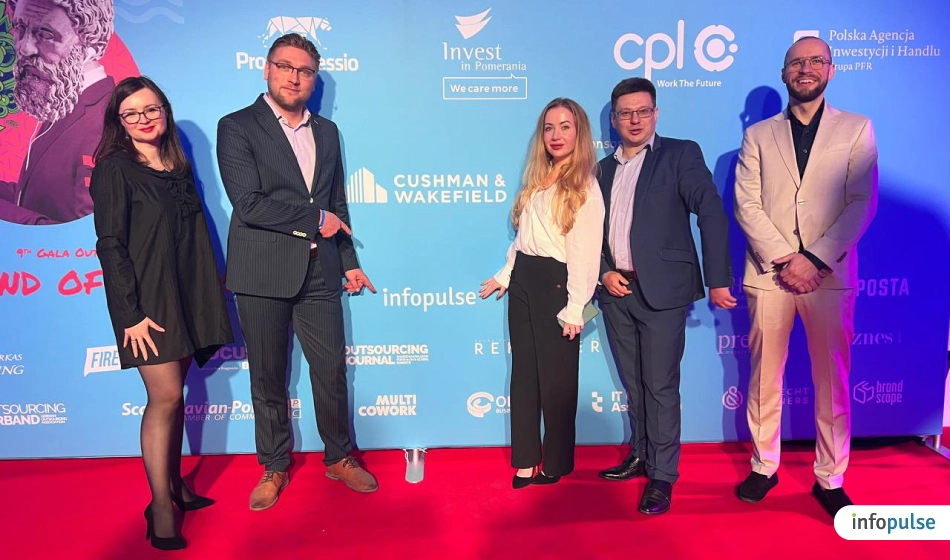 Infopulse Poland is recognized among the TOP 3 Software Development Companies in the Outsourcing Stars competition for the second year in a row.
On April 7th, 2022, Infopulse Poland was recognized as one of the Top 3 Software Development Companies in Poland at the Outsourcing Stars Gala event that took place in Gdansk and was organized by Pro Progressio. This recognition is an international indicator of the quality of provided services, the expertise of specialists, and the fast pace of the company's growth in the BSS (Business Services sector).
The Gala event was preceded by the BSS Forum and professional networking, where, in the format of an international conference, the participants discussed current developments in the modern business sector and explored future possibilities.
Previously, we reported that Infopulse Poland had expanded its presence to Łódź and Gdańsk and become a member of the Pro Progressio Club.
About BSS Forum
The BSS Forum is one of the regular events Pro Progressio organizes, where the participants share their views on the industry-leading practices in the corporate landscape, human resource management, and the urban business ecosystem.
"Wind of Change" is the 2022 motto and discussion topic of the BSS Forum dedicated to the latest business trends and legal regulations. The Forum and Gala events are aimed at promoting the development of efficient outsourcing and business services both in Poland and worldwide.
For more information on the initiative, visit bssforum.com.