News
Infopulse Recognized Among Top 25 Cyber Security Companies in Europe
Infopulse, a global IT services provider, today announced it has been named as one of the Top 25 Cyber Security Companies 2017 by the CIO Applications Europe magazine. The periodical has honored the company in recognition of its utilized holistic approach to security management.
For more than 26 years, Infopulse has delivered a variety of software services and demonstrated an ability to reinforce cyber security systems of its customers and improving overall cyber resilience in Europe.
This can be proved by the range of security service packages delivered by the company:
Security assessment, namely process audits and technical audits;
Penetration testing and red teaming;
Security event monitoring and incident response;
Critical infrastructure protection;
Secure software development lifecycle;
Business continuity management, etc.
According to CIO Applications Europe, this award acknowledges Infopulse as "a capable cyber security solution provider… helping clients build competitive advantage and transforming their businesses" and is verified by the panel of CEOs, CIOs, VCs, analysts and the editorial board of the magazine.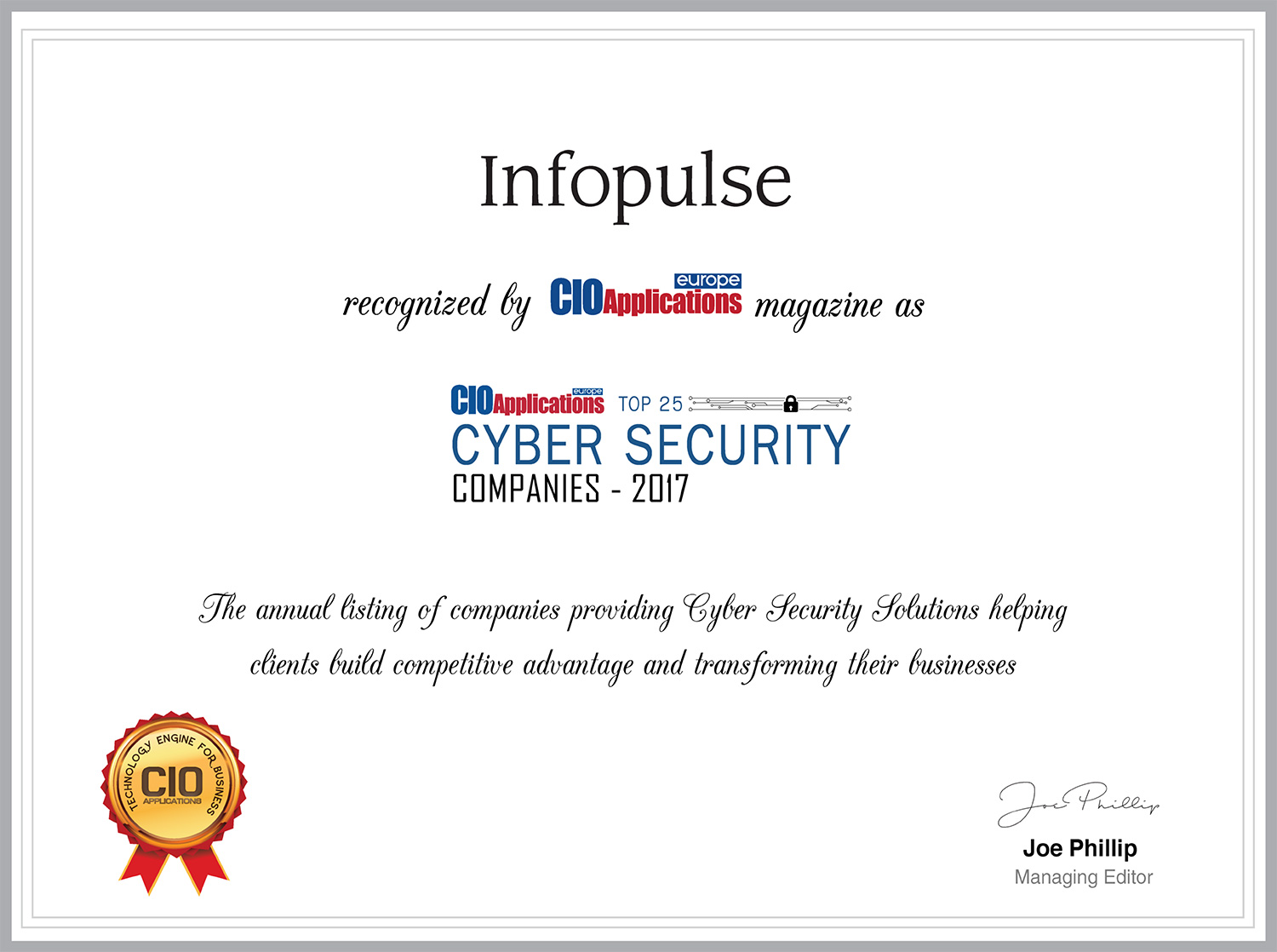 In a detailed interview to CIO Applications Europe Infopulse: Securing Digital Properties, Jan Keil, VP of Marketing at Infopulse, explains the company's success:
Our cyber security experts mainly focus on the proactive defensive mechanisms, since prevention is better than curing consequences. For this reason, we apply a comprehensive approach to security management. It includes both external and internal cyber security solutions mitigating major attack vectors and developing specific measures to prevent possible security breaches. Infopulse provides all customers with end-to-end security services and uses cost-effective methods to strengthen their IT systems.
Jan Keil adds, "We are pleased to join the 2017 list of Top Companies and we'll continue our mission of hardening the cyber security of enterprises and organizations."
Read the full interview Infopulse: Securing Digital Properties:
Infopulse is currently extending the scope of the aforementioned services to meet the needs of the ever-changing digital environment and secure such new technologies and areas, as Artificial Intelligence, Blockchain, Internet of Things, Data Science, etc. Moreover, the security department of the company is formed of certified specialists who rigorously conform to the international security standards and best practices. They also assist enterprises to comply with stringent security regulations, e.g. GDPR, BSI IT-Grundschutz, ISO 27001, and other regulations of local and international importance.
About CIO Applications Europe
CIO Applications Europe is a technology magazine that offers a prime platform for CIOs to discuss and ponder about innovative enterprise solutions. While analyzing the European media landscape, it is a comprehensive tool that helps the upcoming enterprise IT vendors to engage and showcase the solutions for the enterprises. It helps technology leaders with the analysis on new technologies and gives a better understanding of the role that enterprise solutions play in achieving the business goals. For more information, visit www.cioapplicationseurope.com.