Infopulse Wins Third Place at BlockchainUA Hackathon 2018
Infopulse is proud to support BlockchainUA Conference 2018 and become a third-prize winner of BlockchainUA Hackathon with a Blockchain solution for the media and entertainment industries.
BlockchainUA Hackathon is an annual training ground, networking innovation fair and developers' forum, conducted as a part of the international BlockchainUA Conference and organized by Distributed Lab. The Hackathon brings together software developers, crypto enthusiasts, analysts and experts from various industries to collaborate on working prototypes of new products and solve real business challenges with Blockchain technology.
During the Hackathon, held on March 24-25, 2018 in Kyiv, Ukraine, Infopulse team developed HollyChain – a prototype of a DRM-connected Blockchain Accounting solution. Developed in collaboration with advisors from Megogo, the project addresses major pain points in the media and entertainment as well as movie and video distribution industries. The independent jury recognized the importance of the business challenge selected by Infopulse and Megogo joint team and praised the elegance of the proposed solution, awarding Infopulse the third place among the 25 participating teams.
About the HollyChain Project
Initially, content owners and its distributors can't accurately track all viewers due to a long chain of sub-distributors and other partners, leading to the absence of "Trust" between Content Owners and Distributors. This results in uncertain price calculations, high upfront payments and increased prices for the viewers.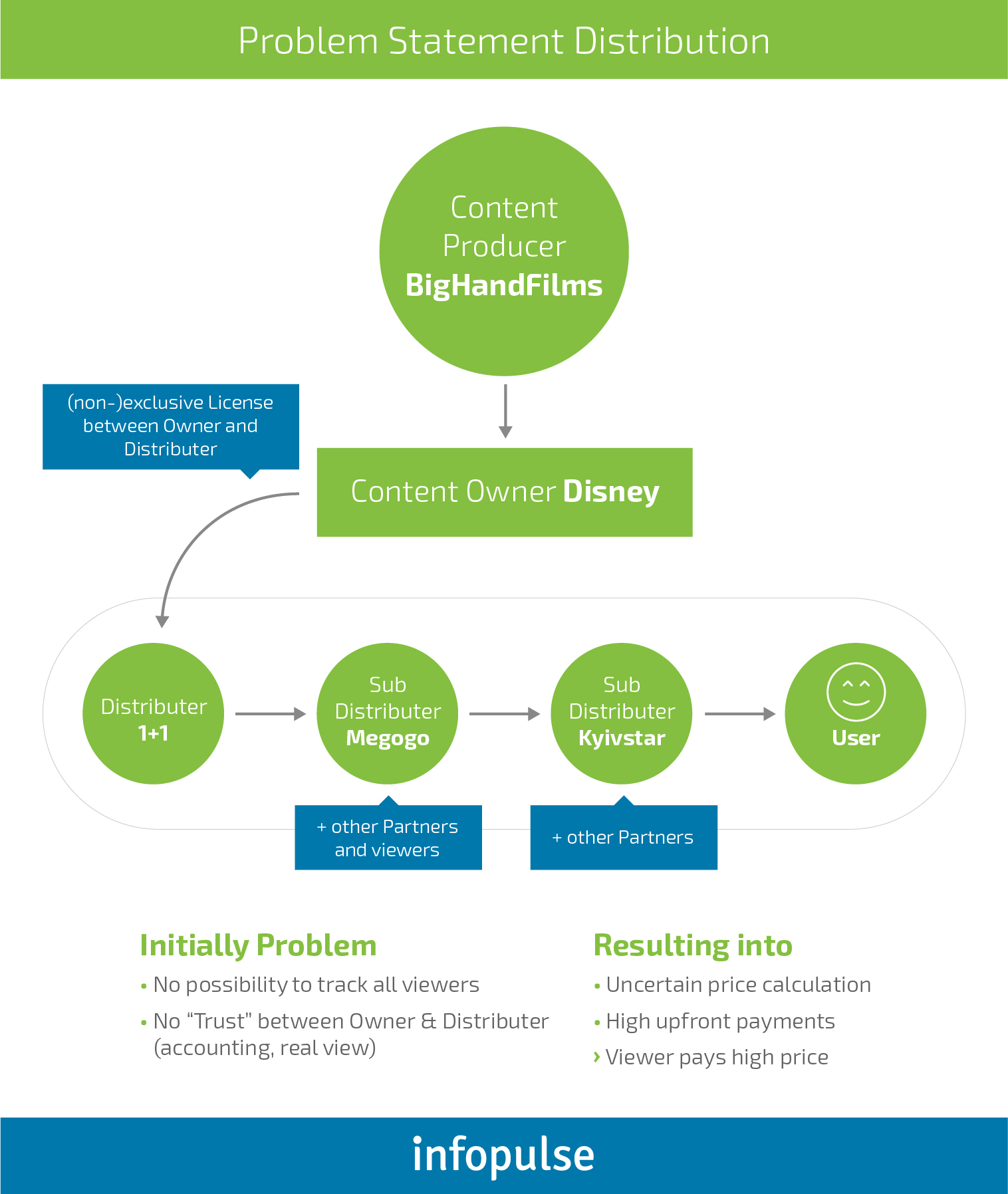 With a DRM-connected Accounting, all parties will be able to track the number of views, gather precise statistics and accurate rating of content, thus bringing a fair distribution of revenue and profits to all stakeholders.
The solution, developed by Infopulse, is based on Ethereum Blockchain, Node.js, Web3, Angular 4, and Widevine DRM.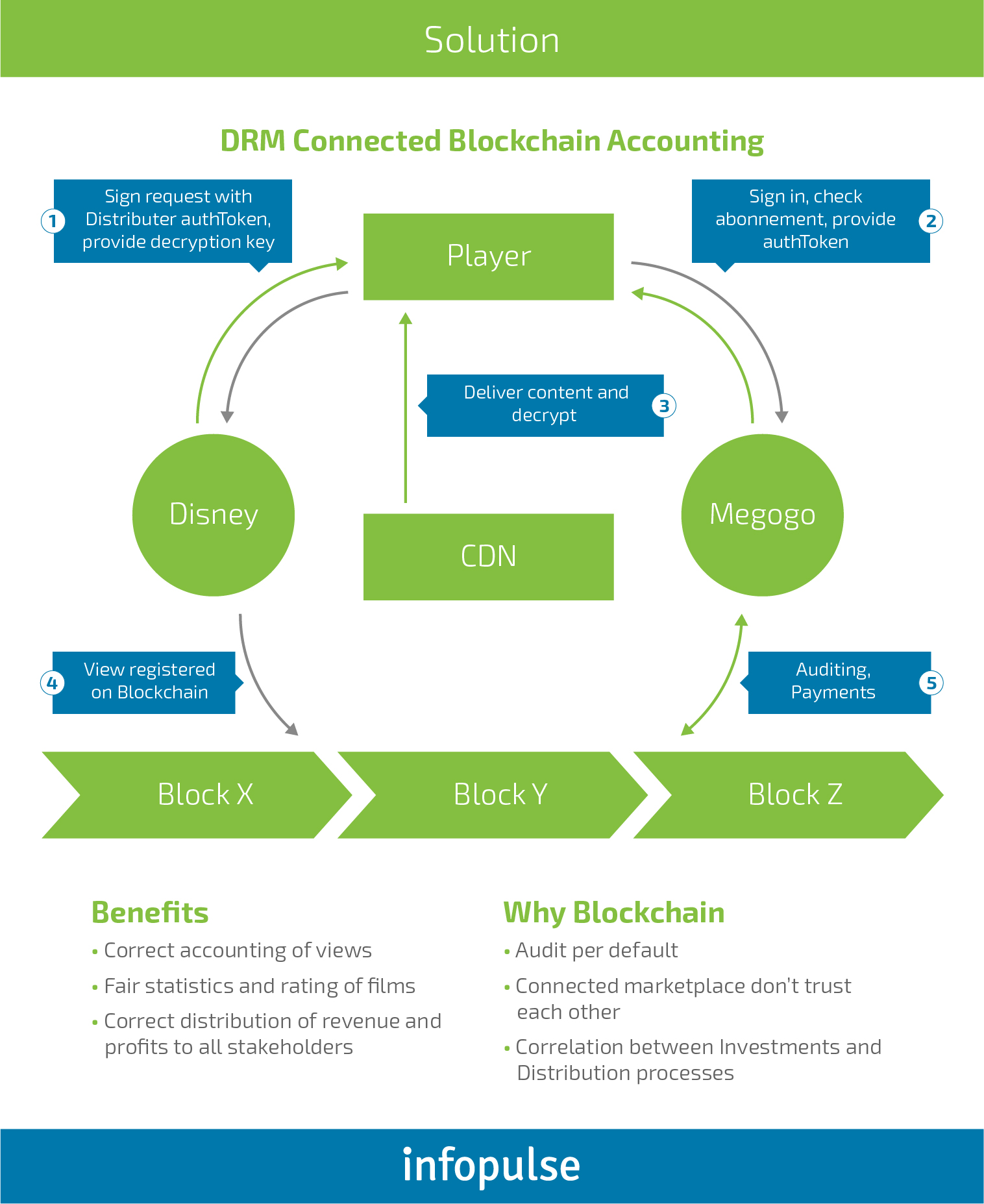 Other winning projects from BlockchainUA Hackathon 2018:
Webmesh (1st Place) – a distributed website hosting service;
CryptoDogs (2nd Place) – an analogy to crypto kiddies.
As a part of our continued efforts in raising awareness about new technologies and their benefits, Infopulse took part in BlockchainUA Conference 2018. Jan Keil, Infopulse VP of Marketing, delivered a speech dedicated to the business adoption of Blockchain technology on the example of success stories and insights from a B2B perspective.
Previously, Infopulse and REMME won first place at Microsoft Blockchain Intensive 2017 with a Blockchain-based authentication solution for the automotive industry.
About BlockchainUA Conference
BlockchainUA Conference is a three-day major international event dedicated to blockchain technology, cryptocurrencies, and FinTech. Organized by Distributed Lab and sponsored by Infopulse and other Ukrainian tech companies, this annual non-profit conference aims to raise public interest to disruptive decentralized technologies, while contributing to Ukraine's reputation as one of the leading countries in adoption of blockchain technology. In 2018, more than 60 local and invited speakers took part in the conference, attracting 1,000+ IT experts, entrepreneurs, government officials, investors, bankers, students and others. For more information, please visit blockchainua.com/en.
About Distributed Lab
Distributed Lab is a Blockchain expertise center, focusing on the creation of innovative products and architectures, education events and conferences. The goal of Distributed Lab is to create a financial internet that uses open, uniform protocol that facilitates trade and value transfer. For more information, please refer to distributedlab.com.
About Megogo
MEGOGO is a global entertainment service for watching online videos and TV channels with over 50 million unique users monthly. The largest video-on-demand/OTT service in Eastern Europe and CIS countries, Megogo offers a catalog of about 80,000 videos: movies and documentaries, cartoons, serials, TV programs and shows, sports broadcast and cultural events, vlogs, travel shows, etc. The multi-screen service is available on all devices and major platforms. For additional information, please refer to megogo.net/en.