Infopulse Confirms Expertise in Oracle Financial Services Core Banking
January 12, 2023
Partnership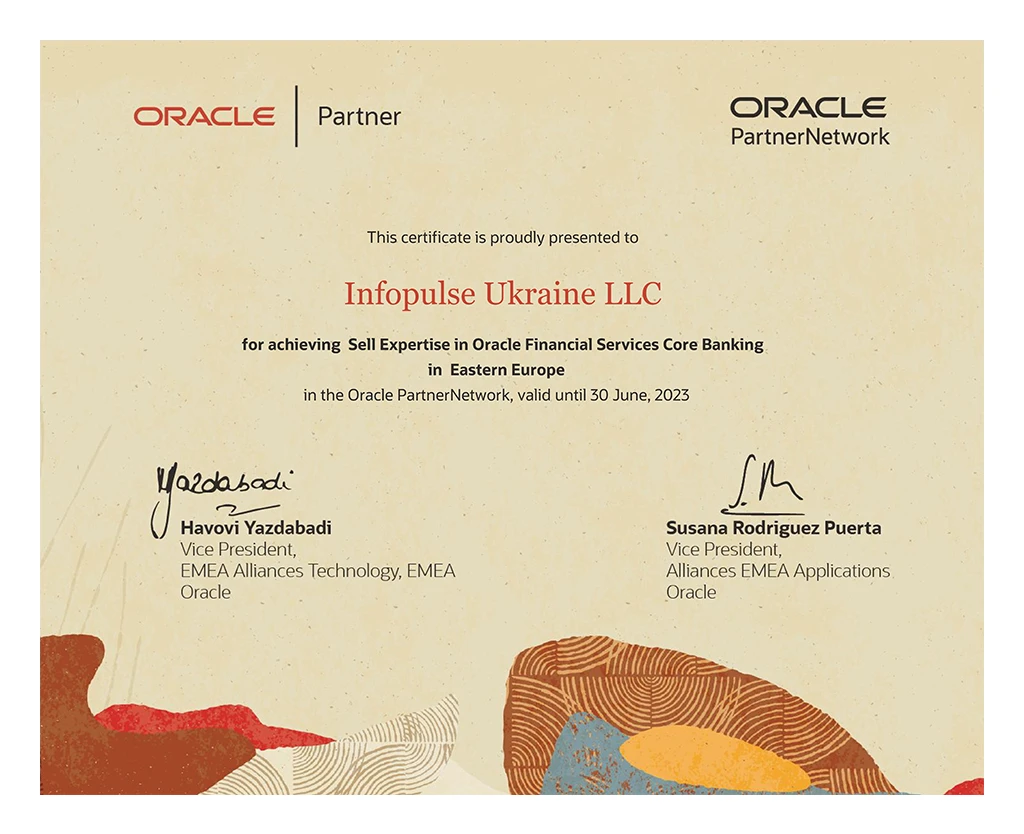 Infopulse has earned the Oracle Financial Service Core Banking certification that confirms a partner's proficiency in selling Oracle financial products and implementing Oracle-based solutions.
We are glad to prove once again our commitment to the success of our clients. Being certified in Oracle Financial Services Core Banking, Infopulse can officially sell and implement the following services and solutions:
Oracle FLEXCUBE Universal Banking and Oracle Banking Payments
Oracle Financial Services Lending and Leasing
Oracle Banking Digital Experience
We become closer to global businesses as we will be helping them in their need to transform their legacy banking systems, tackle everyday challenges with redundant routine tasks, and deal with workflow disruptions.
Infopulse is determined to help our potential clients speed up their financial products time to market, pave the way to Open Banking and banking-as-a-service (BaaS) with a plethora of API-enabled third-party integrations, cope with evolving customer demands, and meet compliance and regulatory requirements – both global, regional, and country-specific ones.
Learn more about our services for the financial sector.
About Oracle
Oracle defines its mission as "helping people see data in new ways, discover insights, unlock endless possibilities." The global cloud technology company offers businesses around the world computing infrastructure and software to innovate, unlock productivity, and streamline effectiveness. Oracle is the creator of the world's first – and only – autonomous database to help organize and secure customers' data. www.oracle.com