April 14, 2021
17 years delivering best-in-class Microsoft solutions and services
Infopulse, an international provider of digital services and consulting, has reached a significant milestone, celebrating its 17-year partnership with Microsoft. As a long-standing Microsoft Gold Partner, CSP Tier 1 for the EU and CEE, and &nbsp, in the course of 2020, Infopulse has taken numerous steps to strengthen its expertise and capabilities in terms of Microsoft services and solutions provisioning.
Microsoft Azure Expert MSP
Most recently, at the beginning of 2021, Infopulse received an exclusive &nbsp that distinguishes Infopulse as a trusted IT partner for digital transformation, whose competence and expertise meet the stringent criteria of the rigorous third-party audit. As Infopulse joins the Top 100 Azure Solutions & Managed Services companies worldwide, this achievement will help Infopulse add even more value to our services and solutions.
Five Microsoft Advanced Specializations
In Q3/Q4 2020, Infopulse earned five Advanced Specialization certifications for proven experience and success in:
Implementing SAP solutions on Azure
Migrating and modernizing production web application workloads and managing app services in Azure
Migrating Windows Server and SQL Server-based workloads to Azure
Migrating Linux and Open Source Databases Migration to Azure
Deploying, scaling, and securing Virtual Desktop Infrastructure on Azure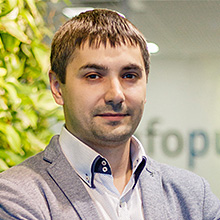 The results and recognition that Infopulse has achieved during our 17-year partnership with Microsoft demonstrate our mutual commitment and joint vision to bring innovation through digital transformation. Our robust portfolio of services coupled with Azure Expert MSP and Advanced Specializations positions Infopulse as a trusted value-added solutions IT-provider. We are proud to deliver value to our customers to achieve more with modern Microsoft solutions through our talented and ambitious team of professionals.– Ivan Musiienko, Head of Cloud Center of Excellence at Infopulse, Managed Services & Solutions
Featured in two Forrester's Now Tech Reports
Infopulse was also included in Forrester's Now Tech Reports as &nbsp and &nbsp. Being recommended as a trusted partner and vendor by the leading global research and advisory firm, demonstrates the technical and business expertise of Infopulse in the Microsoft product ecosystem.
50+ Microsoft-related activities, workshops, and campaigns
Despite the restrictions and lockdown measures caused by the COVID-19 pandemic, in 2020 Infopulse conducted 50+ Microsoft-related campaigns (webinars, workshops, bootcamps, and live events). Among the professional online events, a 5-week free training program was dedicated to building modern business solutions with Microsoft Power Platform using Power Apps – a truly revolutionary low-code platform that allows for fast and customized application development. Additionally, Infopulse experts have also addressed the pressing matter of moving businesses to remote work and managing remote business operations by compiling a comprehensive ebook '&nbsp'.
Four selected case studies
All these accomplishments can be illustrated with our selected digital transformation projects:
Looking forward to 2021 and beyond, Infopulse continues to expand its Microsoft competencies to ensure the best-in-class services for its customers and partners.