News
Infopulse Opens Center for Rehabilitation of Ukrainian ATO Heroes and Refugees
January 26, 2016
Sustainability
On December 17, 2015, Infopulse together with other international and Ukrainian institutions officially opened the Psychosocial Rehabilitation Center for the Ukrainian ATO heroes and refugees. Backed by the Federal Foreign Office of Germany, Kyiv City State Administration,
Malteser International
and Infopulse, this center will help people affected by the armed conflict in Eastern Ukraine. The Center was opened on the grounds of
National University of "Kyiv-Mohyla Academy" (NaUKMA)
.
The Center in Kyiv started giving psychological aid and support in July, 2015. Later that year, a branch of the Center in Slovyansk (Ukraine) was opened. More than 500 teachers, civil servants, social workers and volunteers were trained to provide help and support to war heroes, relocated families, and their children. Since then, over 3,000 refugees, ATO Veterans and retired soldiers, families of wounded and KiA soldiers received free legal advice, psychological and social assistance.
Thanks to the donations and support provided by Infopulse and other institutions, the Center's premises were renovated, refurnished and equipped in accordance with modern standards. The Rehab Center meets international standards such as the standards of WHO and UNICEF, and successfully implemented effective international practices, e.g., experience of the Israeli Trauma Coalition. Currently the Center offers psychosocial support and provides trainings of psychologists and social workers.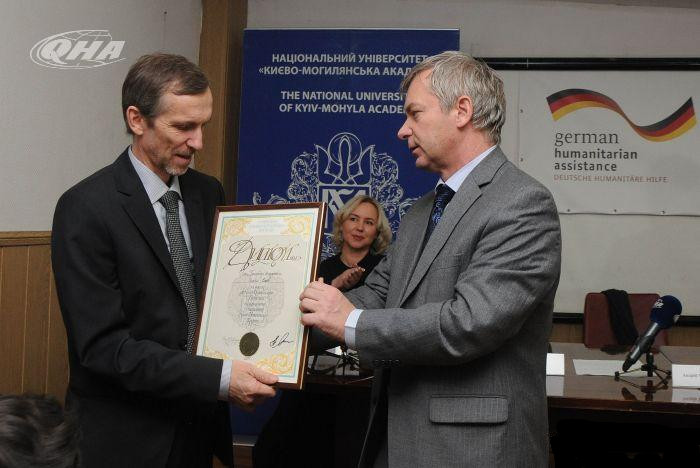 Andriy Meleshevych, NaUKMA President, praised the input made by Infopulse and presented the Philanthropist of the Year award to Aleksey Sigov, Infopulse President.
The Psychosocial Rehabilitation Center is located at 2/4 Glazunova str., Kyiv, Ukraine.
Kyiv branch, tel.: +380 (67) 109-58-31, +380 (63) 601-06-11.
Slovyansk branch, tel.: +380 (95) 852-44-53.