News
Keeping Balance at Infopulse: Diversity is a New Black
August 07, 2023
General
Events
Sustainability
One of the challenges the modern workforce faces is the lack of women's presence in tech industries, which can positively boost the progress dynamics. That is why, we at Infopulse look for opportunities to help girls and women to open this fascinating journey to the tech world.

On June 28-29, Oryna Ignatieva, Infopulse CSR team lead, attended the 2023 edition of the 'European Women in Technology' conference in Amsterdam, dedicated to the important challenges of gender balance and equality in the modern tech world.
Charismatic and passionate speakers turned several stages and numerous workshops into a powerful environment, raising hot topics related to female career possibilities in technology areas. Some of the topics were highlighted and focused on by numerous speakers, and we are happy to share the best thought-provoking ideas and highlights from the 2023 European Women in Technology Conference with you:
Diversity training is not a "nice-to-have" option but should be in place in every company, allowing to avoid personal biases towards employees, while making assignment decisions.
In order to drive gender balance agenda across your company, be sure that the board of directors are the most passionate supporters and ambassadors.
Mentorship plays an important role in motivating ladies to overcome their inner pros & cons when thinking about career development in technology and science.
There is no need to act and play like a man if a lady gets a promotion – though this pattern is often expected, females can lead a team to success in their own way.
Ladies' tech professionalism is often challenged. Thus, to avoid this, female specialists need to create a robust development plan, raise their qualifications via numerous online programs and offline courses, and not be afraid to be immodest about their success.
Although the family is often perceived as an obstacle for ladies in their careers, most female speakers said that, on the contrary, their families were the source of inspiration and core support.
Recruiters should be open-minded – hiring a person from a completely different industry might bring unexpected bright results.
All those insights provide a lot of food for thought on how to follow gender balance within businesses and increase the number of women in tech.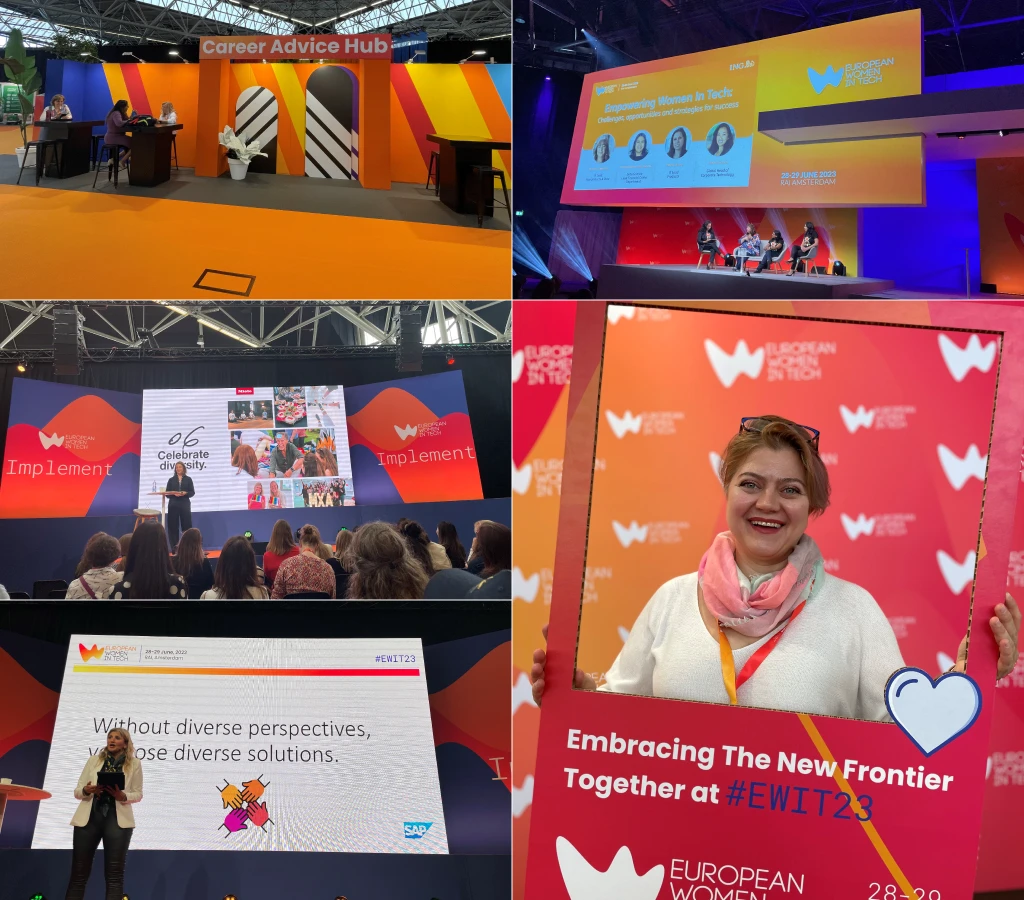 In addition to taking part in global events, Infopulse strives to improve gender equality and female representation in IT by actively helping schoolgirls and female students find their way into the world of science and technology:
At the beginning of 2023, Infopulse launched an information campaign "Ladies in Tech" to bust common myths and biases around the topic. Infopulse's female leaders shared their real-life stories and challenges they have faced on the way to a successful IT career, proving by their own example that the tech world is borderless.
Recently, together with CSR Ukraine, Infopulse supported the "Girls in ICT Day" event, part of the "STEM Girls" initiative, where 350 schoolgirls could learn about perspectives and options for making a career in the IT industry. Our experts Olga Savchyn and Valentyna Vorchak spoke with aspiring female students about their paths in IT. Besides, 28 young engineers could demonstrate their talents in the "Education in a Smartphone" competition.
As a reminder, recently Infopulse published its 2022 Corporate Social Responsibility Report and became the winner of the 2022 Etyczna Firma (Ethical Company) Award in Poland.