News
Infopulse Wins First Place at BlockchainUA Hackathon 2018
Infopulse is happy to become the first-prize winner at BlockchainUA Hackathon 2018 with an end-to-end verifiable and tamper resistant stakeholder voting system on blockchain.
BlockchainUA Hackathon is an annual networking event and a technological playground for blockchain enthusiasts, crypto evangelists, IT analysts, programming experts, private entrepreneurs, and investors. Organized by Distributed Lab and conducted as a part of the three-day BlockchainUA conference, BlockchainUA Hackathon helps to transform fresh ideas into real products by fostering the most favorable working conditions for productive teamwork.
In the span of the two-day hackathon, conducted on Sept. 15-16th, 2018, Infopulse team came up with a working concept of an end-to-end private, secure and auditable Blockchain Voting for Stakeholders. Praised by the independent jury, our team's project won the first place of the BlockchainUA Hackathon 2018.
Private, Secure, Auditable Electronic Voting
Developed in under 36 hours, this proof of concept by Infopulse makes stakeholder voting a more transparent, secure and reliable process, streamlining control over strategic business decisions within the enterprise.
The project meets all requirements of a regular voting process:
Only an eligible person should be able to vote.
No one gets to vote more than once.
Each vote is kept secret.
Each vote cast correctly gets counted.
A vote should be verifiable but not identifiable.
This is how Infopulse's Stakeholder Voting Blockchain PoC works: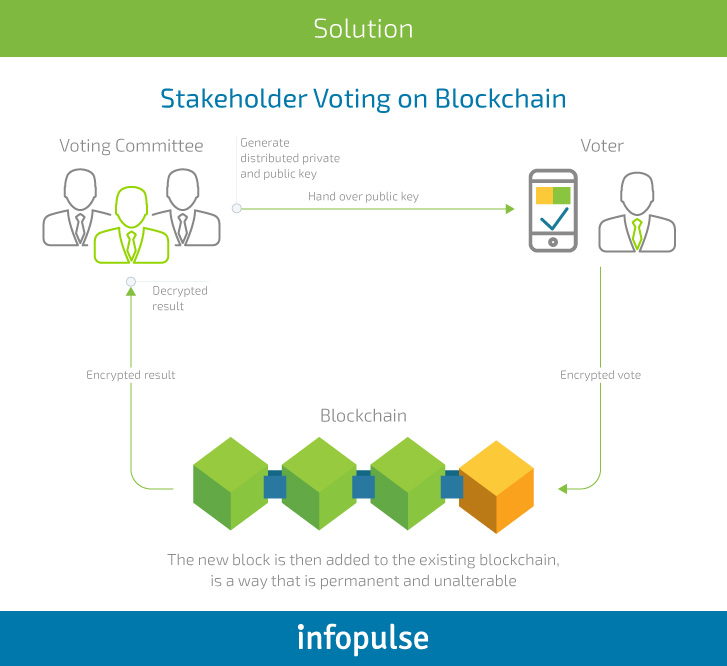 The system generates distributed keys for each voting committee member, without the need to engage a trusted third-party key dealer, so that majority of committee members needed to decrypt final result.
The stakeholder's key is registered, allowing them to participate in the voting.
A voter sends an encrypted vote to blockchain.
The voting data is recorded, stored and processed as digital data.
A new block is added to existing blockchain. Due to the nature of blockchain, all blocks are permanent and unalterable, excluding the possibility to change or influence voting results.
The encrypted result is decrypted by the voting committee. At the same time, the identity of the voter remains hidden.
Technical Details
In this project, Infopulse strived to achieve the highest possible levels of security, accuracy, integrity, swiftness, and privacy while meeting the strict requirements of auditability, accessibility, cost-effectiveness, scalability, and ecological sustainability.
We solved the most important challenge of electronic voting by implementing a distributed key generation without a trusted dealer. To achieve semantic security with desirable malleability, we utilized homomorphic encryption with zero knowledge proof (ZKP) based on Paillier cryptosystem.
While the demo was based on the Ethereum blockchain platform, Infopulse team designed its solution to be Blockchain independent. The technological stack selected for this PoC is based on Java, Node.js, and Angular.
As a part of Infopulse's constantly expanding efforts in knowledge- and expertise sharing, Infopulse also took part in the latest issue of the BlockchainUA conference. Jan Keil, Infopulse VP of Marketing and blockchain evangelist, delivered a speech on pain points of crypto for enterprises and startups.
The Infopulse team would like to express our gratitude to Jan Keil and our tech experts: Oleksandr Brezhniev, Dima Suhoy, and Vladyslav Munin.
As a reminder, earlier this year Infopulse won the third place at BlockchainUA hackathon with a prototype of a DRM-connected Blockchain accounting solution for the media and entertainment industries.
In February 2018, Infopulse team took part in IoT hackathon, part of Bosch ConnectedWorld 2018 conference. The team presented a blockchain solution for vehicle emission levels calculation for the automotive industry.
Infopulse helps enterprises and startups to adopt Blockchain and Smart Contracts for their needs, delivering custom blockchain-based systems and solutions. Contact us to learn more!
About BlockchainUA Conference
BlockchainUA Conference is a three-day major international event dedicated to blockchain technology, cryptocurrencies, and FinTech organized by Distributed Lab. Infopulse is a long-standing partner of this annual non-profit conference, which aims to raise public interest to disruptive decentralized technologies while contributing to Ukraine's reputation as one of the leading countries in adoption of blockchain technology. In 2018, more than 60 local and invited speakers took part in the conference, attracting 1,000+ IT experts, entrepreneurs, government officials, investors, bankers, students, and others. For more information, please visit blockchainua.com/en.