Article
Mental Health Apps for Stress Relief: All You Need to Know
Originally published: March 17, 2022
Updated: May 10, 2022
6 min. read
Business Applications
For many around the globe, the last two years became the most difficult time they had to endure. It is estimated that up to
53 million
people suffered major depressive disorders and about 76 million people developed anxiety disorders due to COVID-19. Unfortunately, the destructive war that unfolded in Ukraine has snowballed the drastic effects of stress both for the residents of the country and people who deeply sympathize with the affected.
It takes a lot to cope with the double pressure of long-lasting pandemic hardships and a full-on war that is injuring thousands and damaging millions of lives in Ukraine. In the middle of such chaos, one might find managing their mental state extremely challenging, especially with limited access to professional help. This is when mental health applications become a critical support for those who suffer from constant fear and anxiety.
What is a Mental Health Application?
A mental health application (MHA) is a digital solution for smartphones or tablets that provides users with the means of managing, monitoring, and improving different aspects of their mental health and well-being. Its functionality can range from meditation sessions and self-help tools to an online consult with a professional.
In 2021 there were estimated about 20 000 mental health apps on the market, with the general number of mobile health solutions continuously growing. Though new, mobile care is already recognized among professionals: 68% of surveyed believe they help promote a healthy lifestyle, track treatment (64%), or make diagnoses (28%).
Benefits of Mental Health Apps
Instant Access. Whether you spend a night in a bomb shelter or feel stressed out over the devastating news, mobile care is there to support you whenever and wherever you need. One only requires a smartphone and an installed app to have their mental health needs met. It is especially important when there is no opportunity to make an in-person appointment – while an application is no substitution to professional advice, it helps reduce the negative effects of different events that affect a person's well-being at that moment and provides immediate assistance.
Lower Costs. Traditional therapy can be expensive when working with a dedicated professional – in Europe, the cost of a session can reach up to 150 euros. Amid the all-nation catastrophe, many Ukrainians, especially those who are in a combat zone, do not have the possibility to spend money on non-essentials. Low-cost or free mental health apps become a great solution that allows coping with the stress and trauma of war when limited in options. Globally, mental health software can bridge gaps in the domain and provide accessible support to vulnerable populations and individuals with lower income, as stated in the WHO survey.
Introduction to Care. According to Sal Raichbach, PsyD, LCSW, mental health applications can potentially open the door for those, who could not previously reach for help due to various reasons, such as stigma around mental health issues, lack of mobility, or severe anxiety. MHAs allow tackling common challenges that prevent people from seeking treatment, such as high cost, fear of social judgment, lack of awareness and no access to professional therapy.
Reasons for not Receiving Mental Health Services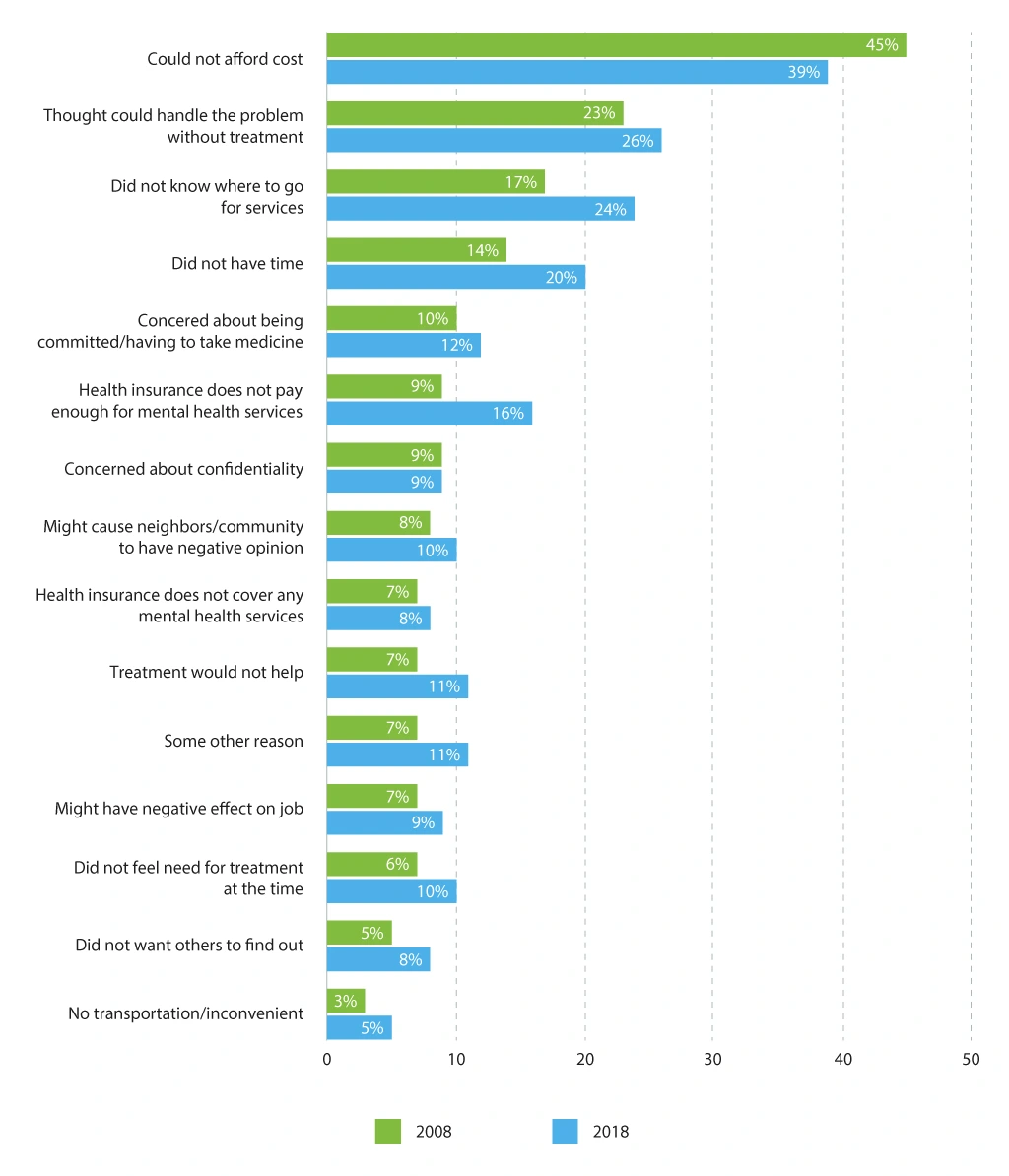 Anonymity. As already mentioned, mental health stigmatization is among the top reasons that make treatment difficult, objectionable, and even revolting for many people. Yet, in such a demanding time it is crucial for victims and witnesses of the war to step over the obstacles and seek help and support. "The apps also allow for privacy and confidentiality and can be a safe space for individuals who may be too ashamed to admit their mental health issues in person or who may feel that they will be negatively labelled or stigmatized by others," Dr. Raichbach explains. He believes that the privacy of using an app provides individuals with the feeling of separation they need while still being able to find answers to their questions.
Higher Engagement. Stressful situations demand from people a certain routine to stick to as one of the means of coping. Customizable notifications in mobile care apps enable users to create their own schedules and build their days around the activities for mental well-being. Moreover, mobile health solutions often employ a gamification approach to stimulate regular usage, active engagement, and consistent treatment.
Global Access. The study estimates that around 11% of the world's population lives with a mental health disorder. In times of need, the number of people who require assistance increases further. Technology allows delivering help to people in remote areas with hard access to clinical therapy and when the sudden demand arises, as it has happened with the Russian-Ukrainian war affecting millions of Ukrainians, Europeans and other people who care around the globe.
How to Choose a Mental Health Application
The rapid growth of the mobile health market resulted in thousands of applications accessible for users, making it easy to get lost among the offers. While research suggests that digital solutions for mental health have the potential of a viable treatment tool and can be a supplementary for traditional therapy, not all applications are equally efficient.
To navigate users through countless healthcare software, the American Psychiatric Association designed a comprehensive app evaluation model. The assessment is conducted on several levels, each of which analyses potential benefits, drawbacks, and harm the app can cause. As stated by the APA, the guideline enables the therapist and the patient to collect enough data to make an informed decision about engaging with the app and trusting it with their private data.
Steps in the Smartphone App Evaluation Framework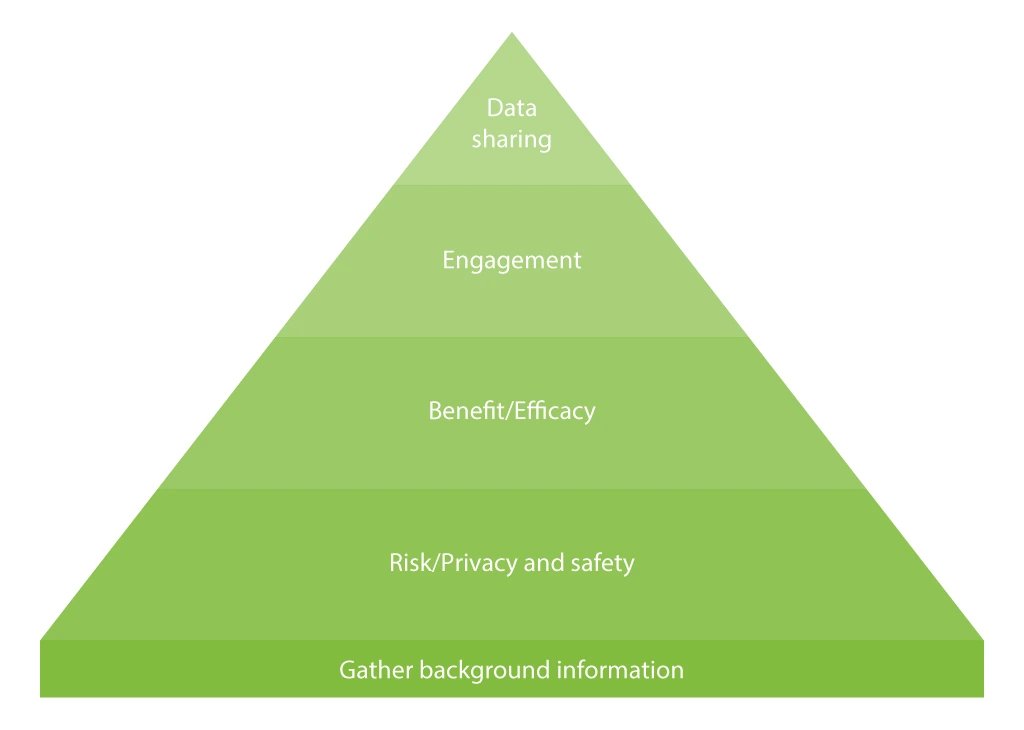 The five levels of the APA App Evaluation Model are:
Access and Background: assesses background information needed before evaluation.
Privacy and Security: considers many aspects of app security and privacy.
Clinical Foundation: evaluates any evidence for potential benefits.
Usability: evaluates how usable the app is for the consumer.
Data Integration towards Therapeutic Goal: examines whether the app's output can be used in a clinically meaningful way.
On the APA website, you can find a detailed guideline with specific questions for all the evaluation levels to help select the best app for your needs in each case.
Another approach to MPA selection is by type. The U.S. National Institute of Mental Health classifies mobile care for mental health into six categories based on the functionality:
Self-management apps. These solutions are operated by the user who provides relevant input or requests and receives feedback. It can be used to create reminders or tools for their mental health needs.
Apps for improving thinking skills. Support patients in development or remediation of their cognitive skills.
Skill-training apps. Highly gamified applications that teach users new skills or coping methods in an engaging way.
Illness management, supported care. A step away from digital-enabled experience only. Such applications allow connecting with peers or a professional healthcare provider for human interaction when required.
Passive symptom tracking. Applications designed to collect data from the user's smartphone and wearables. This data can be further analyzed to monitor changes in person's state or behavior.
Data collection. Gathering data from numerous people to enable large-scale research or analytics.
Mental Health Applications Review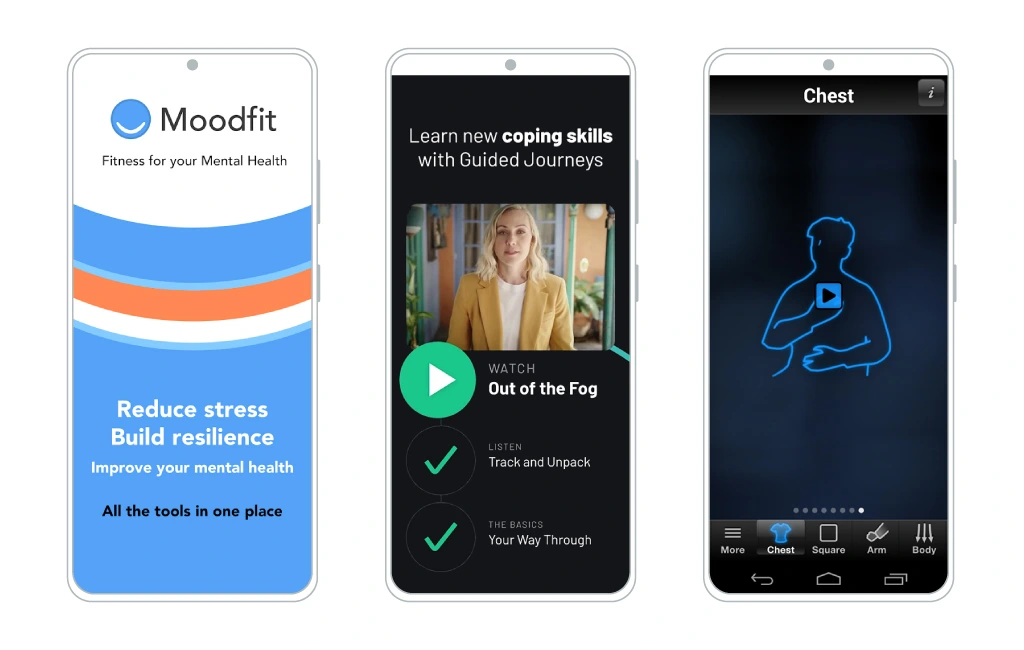 In this section, we provide an overview of a variety of mobile care applications that can help Ukrainian citizens and those who sympathize with the victims of war to cope with the immense stress caused by the Russian invasion. At the same time, stress relief and self-care digital tools are beneficial for everyone who faces challenges in their daily life outside of the unfolding events.
Moodfit. A comprehensive app that embraces a variety of tools for self-management, self-care, and emotion tracking that brings actionable insights into what affects your mood. The modular approach allows choosing those aspects of the app that meet your needs at the exact moment, from custom notifications to self-assessment and working with a therapist.
Cost. The Moodfit app is free with full access to its functionality.
Smiling Mind. With only 10 minutes a day, the app designed by psychologists claims to improve your well-being. This app offers guided meditations for adults but is mostly geared toward children to improve their mental health and academic performance. Its programs include work with stress, sleep improvement, well-being, and more.
Cost. The application is free.
PTSD Coach. Developed by the US Department of Veterans Affairs, the solution aims to provide support for people who may have a posttraumatic stress disorder (PTSD). It includes educational content of the nature of PTSD, self-assessment, as well as tools and methods to deal with it in everyday life. The app employs many self-help strategies that can be useful for people who lived through traumatic experiences.
Cost. The application is free.
Breathe2Relax: iOS / Android. The app is a stress management tool that teaches diaphragmatic breathing – a deep breathing method that is known to calm, relax, lower heart rate, and relieve stress. Breathe2Relaxs features a multitude of educational content on the breathing technique and offers tools for success tracking.
Cost. Breathe2Relax is free.
Panic Relief: iOS / Android. This digital tool focuses on handling panic attacks and severe anxiety. It utilizes a series of animations to navigate you through panic attacks, by addressing specific sensations and how to deal with them. Providing visualization, explanation, and breathing techniques, it helps understand and cope with anxiety and panic.
Cost. The application is free.
Sanvello. Based on the principles of cognitive behavioral therapy (CBT) and mindfulness meditation, it provides help for people with mental health issues in four different forms: self-care, peer support, coaching, and therapy. Choose the one that you need today to feel better.
Cost. The basic version is free. Premium self-care is $9 per month, coaching - $50 per month.
Calm. An application for sleep, meditation, and relaxation that has achieved over 100 million downloads since 2012. The app promises to improve focus and sleep, provide relaxation, and more with the help of guided meditation, breathing programs, and soothing audio tracks.
Cost. After a free 7-day trial, you can subscribe for an annual membership for $70 or make a single payment of about $400 for unlimited access.
7 Cups. An online hub for therapy and counselling that unites thousands of listeners and therapists to provide emotional support. The chat is available 24/7 across 189 countries and in 140 languages.
Cost. Access to chats is free.
How are you? A volunteer project of Ukrainian online therapy platform TreatField. Via a telegram bot, you join a chat where you can share your experience, discuss your problems and fears with other people, and put up with the fact that Ukraine is now at war. Alternatively, the bot allows contacting with a therapist for an individual session.
Cost. All services are free.
The list above does not represent the full catalogue of apps you can use if you need to cope with stress. From audiobooks to educational apps – every tool is handy when one needs a way to distract from the atrocities of war unveiling in front of them.
If you would like to support the citizens of Ukraine, please consider contributing to a charitable organization Children of Hope and Love, who is a long-last partner of Infopulse. Learn more about the organization and ways to donate here.
Keep calm and glory to Ukraine!