Article
Microsoft Power Apps Licensing Guide
Originally published: May 12, 2023
Updated: May 18, 2023
9 min. read
Digital Transformation
Software Engineering
Business Applications
Low-code development platforms are becoming increasingly attractive to businesses due to the simplicity of producing apps to solve specific business needs, even by people without programming expertise. Microsoft Power Apps is one of the leading players in the market. It provides powerful and flexible capabilities to automate operations, improve decision-making, and increase productivity.
Gartner reports that adopting Power Apps brings a 45% decrease in corporate app development costs and provides 140% ROI. How to gain such an economic effect alongside other benefits from adopting Microsoft Power Apps?
Choosing the right licensing is the key. With this Power Apps license guide, you will get a better understanding of how different licensing models work and will be able to optimize the Microsoft Power Apps cost.
What is Power Apps?
Microsoft Power Apps is a low-code / no-code platform within the Microsoft Power Platform ecosystem, used for building enterprise solutions to solve various business challenges. This rapid development environment consists of applications, services, a data platform (Microsoft Dataverse), and connectors for rapid custom business app development. The Power Platform allows connecting data stored in Microsoft Dataverse or in various online and on-premises data storages, including Microsoft SharePoint, SQL Server, Dynamics 365, Microsoft 365, and others.
Microsoft Power Platform Ecosystem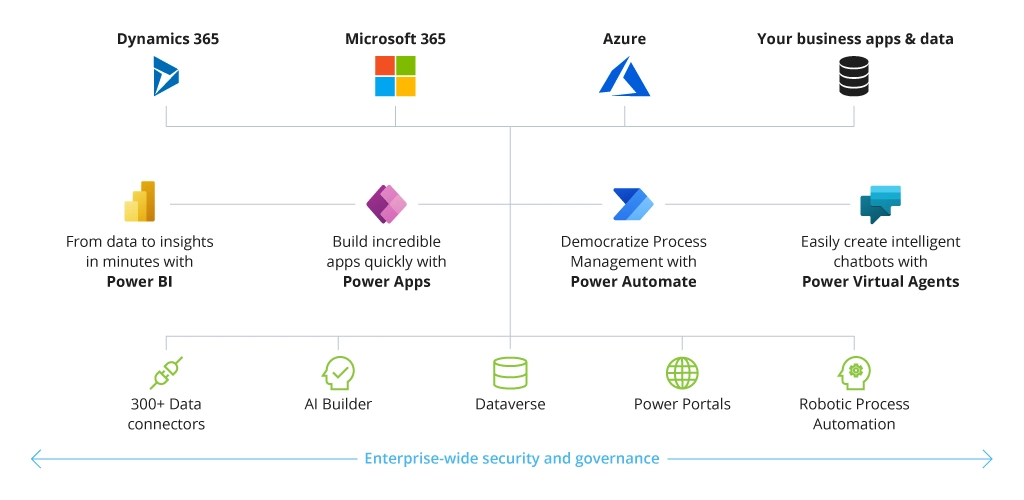 What Types of Applications are Available in Power Apps?
Power Apps is intended for creating applications for internal use within the organization to arrange workflows and service operations. There are three types of applications available for development:
Canvas Applications: Most traditional applications imply beginning with a blank canvas by adding a data source, creating workflows, and finally designing the interface. To build a canvas app with Power Apps, you will need to drag and drop pre-built controls to a blank canvas and specify the logic and navigation with Excel-style expressions.
Model-Driven Applications: This approach focuses on creating an app structure in the app designer tool by adding different components – views, dashboards, charts, forms, and others. The layout is fed with the data from connected sources and the information users can add. Usually, this approach is used when an application requires some complex business logic and heavily relies on dynamic data exchange.
Power Pages: It is a low-code SaaS platform for creating and maintaining external-facing business websites, such as communities, customer services portals, and others. Power Apps Pages is a rebranded, advanced version of the Power Apps Portal.
Application Types Provided by Microsoft Power Apps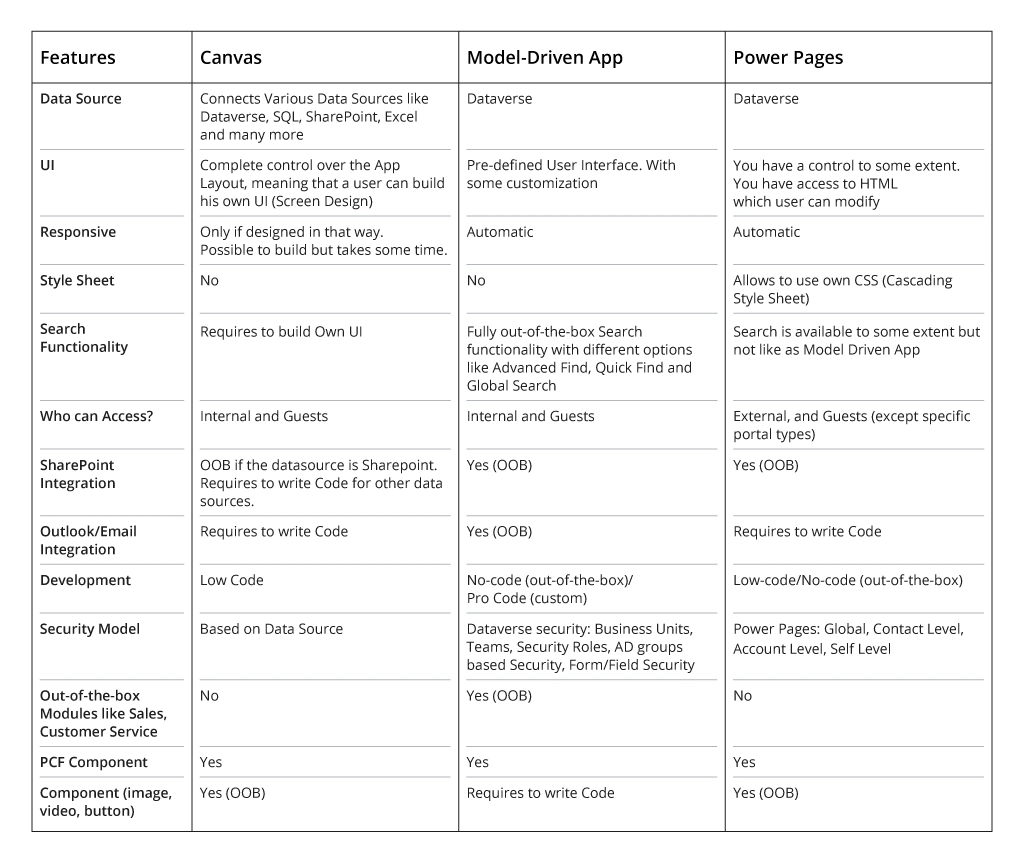 The Use Cases of Microsoft Power Apps
Power Apps are used mostly for developing internal applications to solve specific business needs and automate certain business processes, including:
Sales operations, financial management, and customer service;
HR and office workspace management;
Procurement and supply chain management processes;
Inspection management and quality control;
Planning and decision-making.
Power Apps is suitable for most manual-to-digital transformations of business processes, democratizing business app building experience and enabling the creation of feature-rich, logic-rich custom applications for business without a need to write code.
Power Apps Benefits for Business
The obvious business advantage of developing business applications with Power Apps is automating operations with the efficient investment of time and cost. It also provides a range of other business benefits compared to a conventional development approach:
Faster deployment process: Standard deployment process is lengthy and laborious due to the involvement of numerous profile specialists, prototyping, designing, and coding workflows. With a low-code development platform like Power Apps, creating a functional, practical application speeds up by multiple times. It substitutes a range of development and deployment process stages with a simple drag and drop of required app components. Read more about the benefits of the low-code development for business digitization.
Integration with Microsoft Tools: Being a part of Power Platform, Power Apps easily integrates with Microsoft 365, Power Automate, Power BI, and other Microsoft tools. It becomes easy to exchange data with Microsoft Excel, SharePoint, and other applications within the Microsoft ecosystem that significantly simplifies data management within the organization and completely covers all business needs with solutions from one software vendor (Microsoft).
Connectors for custom data connectivity: Power Apps provides a library of connectors to integrate with third-party data platforms seamlessly. This way, you can combine data from multiple sources to feed an application. The list of available connectors is divided into standard and premium. Premium connectors are available under a paid Power Apps license.
Available for citizen developers: Since Power Apps utilizes a low-code development approach, users with little to no technical expertise and programming skills can build applications with it. Still, it implies understanding the required logic, app structure, and clear goal vision. However, there is no need to be experienced in coding, API integrations, or using libraries and frameworks to create a business app.
Cost- and time-effectiveness: With Power Apps, many corporate applications can be developed at a significantly lower cost than a traditional custom development approach that requires a dedicated team of specialists and a bigger timeframe for developing manually from scratch.
An additional economic impact of building applications with Power Apps is that they can replace existing or future third-party apps that imply license or maintenance costs. Being deployed faster, the corporate applications begin bringing businesses value faster, compensating the Power Apps license costs.
Power Apps License Types
Understanding the Power Apps pricing and choosing the right plan for a specific organization can be challenging. Knowing all available options may help determine the right one to optimize the overall expenses on using Microsoft Power Apps. There are four Power Apps licensing options available:
Nested license: When you purchase Microsoft Office 365 and Dynamics 365 licenses, you receive a nested license for Power Apps. You can use its features without purchasing a separate license if you need only standard services like OneDrive, Dynamics 365, or SharePoint and no premium connectors to build your applications.
Per App license: This license implies access to one specific app for one user, which costs $5/month. It can be a suitable option for organizations that need to develop 1-3 applications.
Per User license: This license gives a user access to all applications within the Power Apps environment. If you need to use four applications or more, consider purchasing Per User licenses that cost $20 per user per month.
Pay-As-You-Go license: Under this plan, organizations are billed dynamically per active user per month, based on the number of apps used monthly. For instance, there are 100 users in your company, but this month only 12 of them used one application. In the pay-as-you-go licensing plan, you will need to pay only $120 for this month at $10 per user per app.
Here is a side-by-side comparison of available Power Apps licenses:
Power Apps Licensing Guide: Subscription Types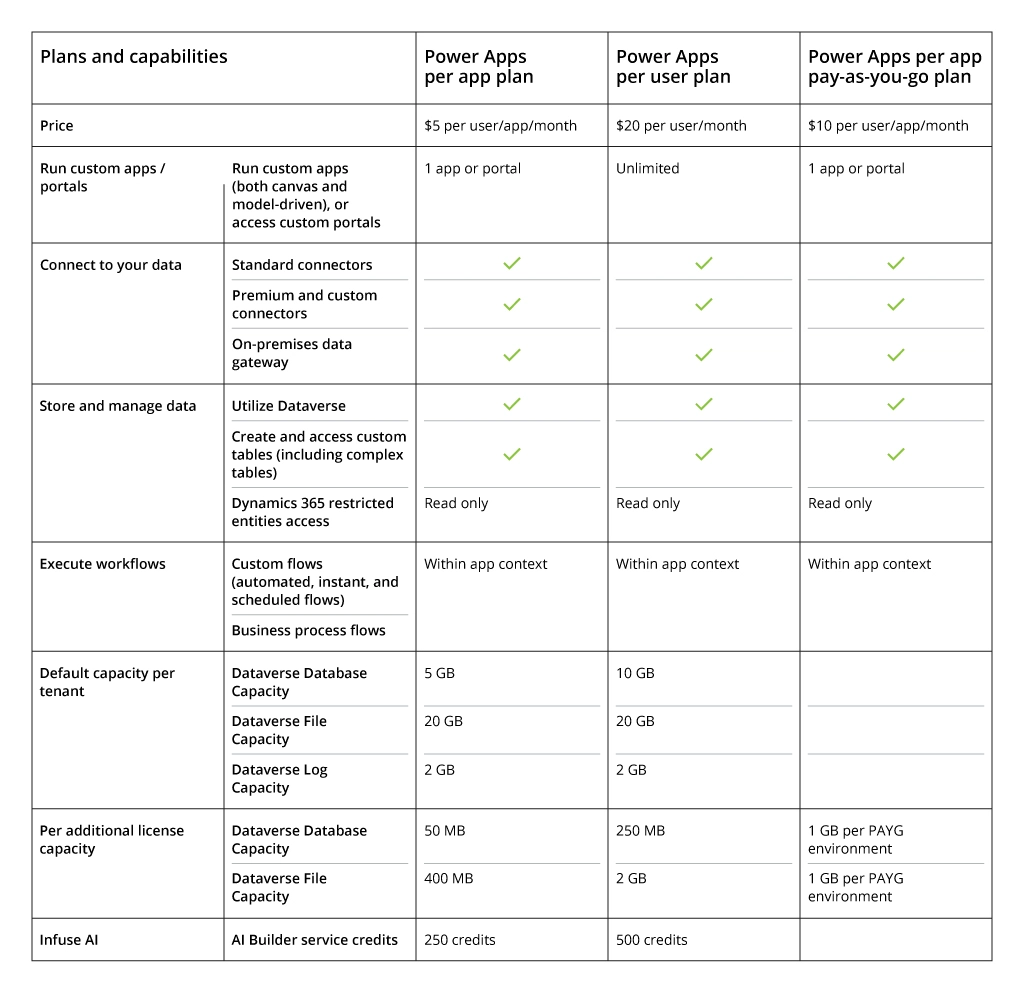 Per App and pay-as-you-go subscriptions are for a single app usage, while Per User plan covers the use of an unlimited number of apps by one user. Another significant difference between these subscription plans is the Dataverse capacity of provided storage space for a database, files, and log:
Default capacity per tenant: a storage space provided by default within the first purchased license.
Per additional license capacity: additional storage space provided under every next purchased license. It is added to the default capacity per tenant.
Notice that the default storage provided for the Dataverse database in the Per User plan is twice bigger than the same parameter in Per App license. It can be one of the significant criteria when choosing a suitable Power Apps license for your apps.
How to Choose the Right Power Apps License Plan for Your Enterprise?
While choosing a suitable Power Apps license plan, you should understand the available license types, the capabilities each one provides, and analyze individual requirements for each case. Here is a short Power Apps licensing guide to help choose appropriate licenses. Find the key criteria to consider below.
Number of apps: If the company needs only one or two apps that many users will access, it makes sense to consider purchasing a Per App license that costs only $5/month per app and provides unlimited multi-user access. If you need three or more multi-user applications, better consider Per User licensing.
Application and layout types: Canvas applications on Power Apps do not feature responsive layout. If you need a canvas app to be accessed both from the web and mobile, it will be two physically different applications. Model-driven apps feature responsive layouts, so there is no need to develop separate versions for web and mobile.
Capacity of the app: Capacity means the storage space required for the application. The license types differ in terms of the provided Dataverse database and file capacity. Per App license comes with 5 GB database capacity per tenant, while Per User offers 10 GB. It matters if you are planning to build a data-heavy application.
The seasonality of business: In some spheres, like agriculture or tourism, business apps are not used all the year round. For instance, tourism business in certain locations implies only 3-4 months of operations, and choosing either Per App or Per User licensing would mean significant expenses. In such cases, it makes sense to apply to 'Pay as you go' licensing which costs more per month but allows not paying for months when the apps are completely not in use.
Interaction with external users: If you develop apps for internal use within the organization and some part of the functionality should be provided to external users (for instance, customers or survey respondents), you will need to use Power Apps Pages (formerly, this type of apps was called Power Apps Portal) alongside with internal apps. Per App or Pay-As-You-Go subscriptions are for either one app or portal. That is why you will need to purchase separate licenses for each app or portal.
Future plans to automate more processes in the company: While for now you may need one or two applications to cover your business needs, it may be required to extend the use of Power Apps in the future to continue automation and digital transformation. It makes sense to align the choice of specific licensing type with current and future Power Apps usage.
Conclusion
Microsoft Power Apps significantly accelerates the development of business applications and lets specialists with little-to-no programming expertise contribute to the development process. This low-code development platform is available in three license types:
Per App
Per User
Per App pay-as-you-go
Understanding how different Power Apps licensing models work helps to choose the most suitable subscription plan and get the optimal Power Apps cost. Choosing the appropriate Power Apps licensing helps optimize resources for the future enterprise's automation and digital transformation.
Our experts shared the key criteria for evaluating which licenses better fit your requirements and goals in this Power Apps licensing guide. If you need more in-depth expert assistance in choosing the appropriate Power Apps licensing, we are here to help. Infopulse is a certified Microsoft Solution Partner with 18+ years of practical experience in adapting Microsoft products for the specific business needs of our clients. Digitize your business at the best value!