Article
C-V2X Technology: Revolutionizing Transportation and Empowering Smart Cities
Originally published: August 22, 2019
Updated: December 30, 2022
10 min. read
Innovations
Software Engineering
The connected vehicle market is growing at an increased pace. However, to expand beyond the current set of offerings for drivers, such as better navigation, infotainment, safety and telematics services, OEMs need to find a new technological way for supporting communications between vehicles and 3rd-parties.
Mobile network operators (MNOs) are now stepping in to meet the new needs of the automotive and transportation industries. MNOs already have a successful track of deploying secure, reliable and comprehensive end-to-end communication services and coverage. The most progressive ones (AT&T, Sprint, T-Mobile, Verizon, Orange, Vodafone, GSMA, etc.) are now gearing up to support V2X 5G-powered communications between a myriad of devices, ranging from connected cars to IoT-enabled infrastructure.
At this intersection of automotive needs and MNOs capabilities, C-V2X technology emerged.
What is C-V2X technology?
Cellular Vehicle-to-Everything (C-V2X) was standardized in June 2017 in 3GPP Release 14 as the new protocol, enabling communication between connected vehicles and other "connected" road users and infrastructure.
When compared to preceding connectivity technologies, the C-V2X standard comes with several major advantages:
It relies on existing well-established LTE networks that already offer great security and decent coverage.
Supports reliable, real-time, low-latency communication between different network participants. With the arrival of 5G cellular connectivity, the speed and quality of data transmissions can improve even further.
C-V2X supports both short-range and long-range transmissions between vehicles and other connected devices.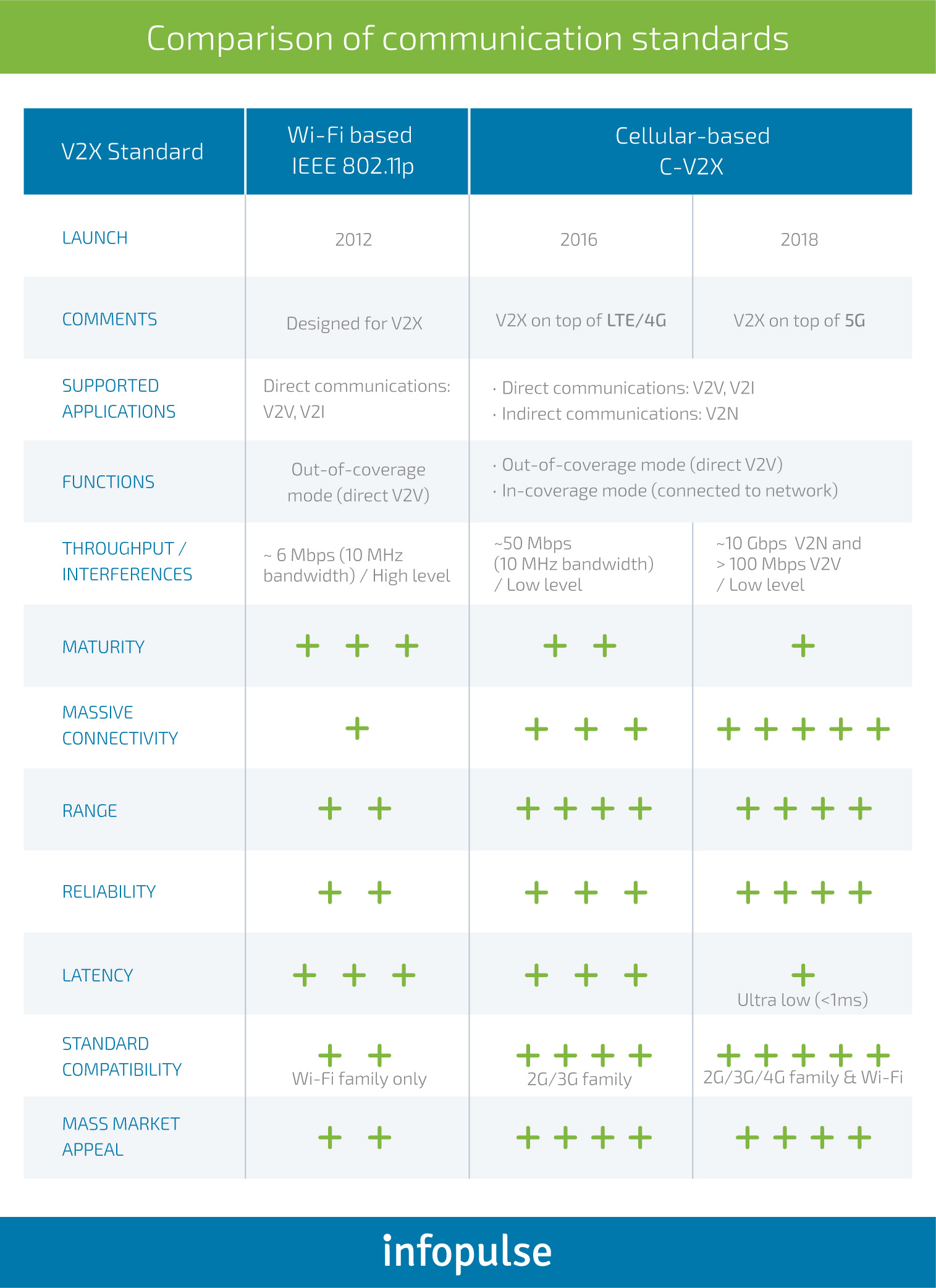 C-V2X employs two complementary transmission modes at the same time:
Direct Vehicle-to-Vehicle communication (V2V), Vehicle-to-Infrastructure (V2I) and Vehicle-to-Pedestrian (V2P) communication – all functioning independently of cellular networks.
Device-to-cell tower communication that enables a car to collect traffic information and other data via the standard mobile network.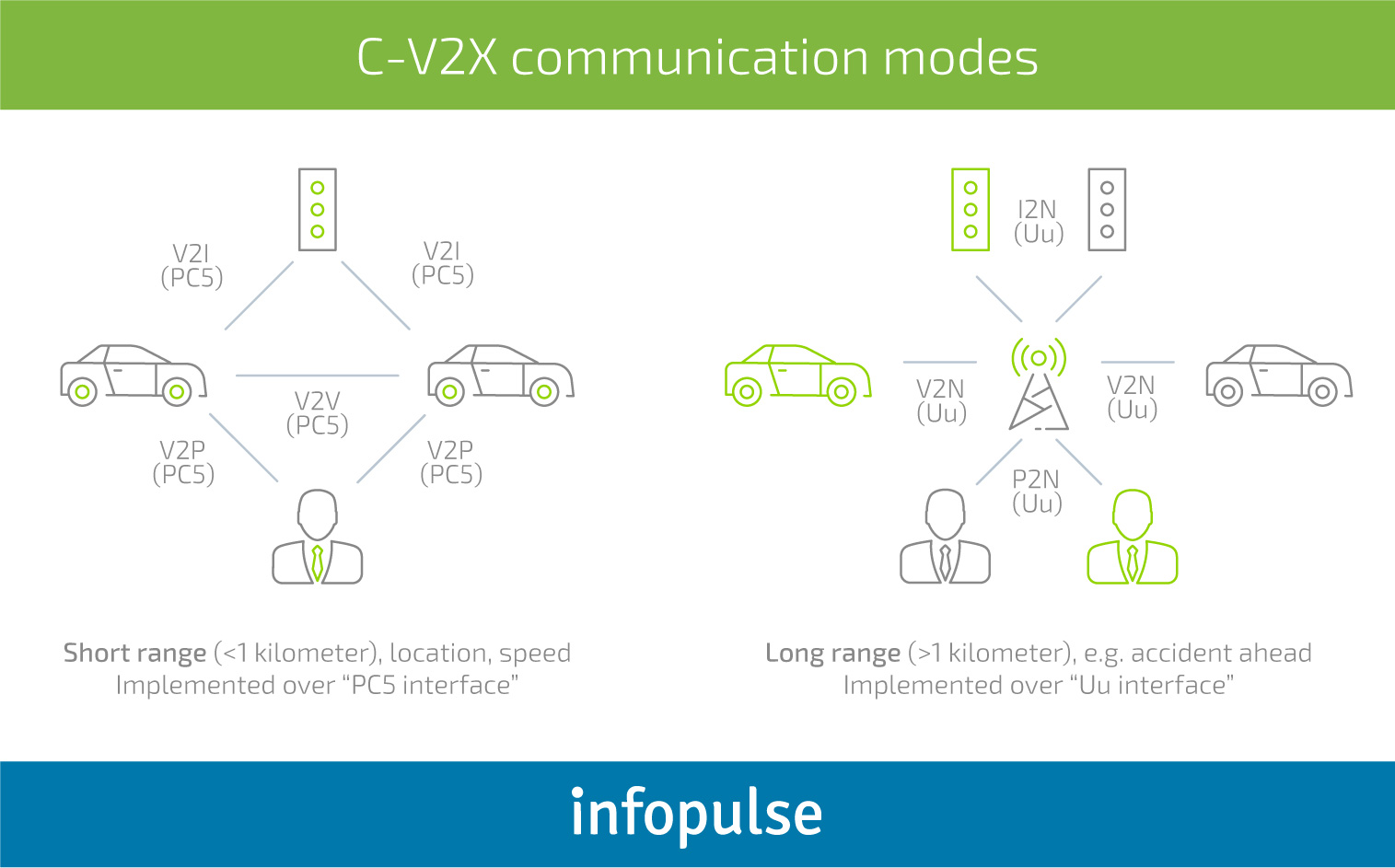 Due to these qualities, C-V2X is a strong contender for completely transforming the automotive and transport industry. Improved connectivity means that individual vehicles could be plugged into cooperative intelligent transport systems (C-ITS), governing traffic flows and reducing congestion. V2X standard also helps cities become smarter in terms of how they utilize the infrastructure and manage transport systems.
On a more granular level, drivers will be able to benefit from a wide range of new value-added services such as:
Remote vehicle diagnostics and predictive maintenance
In-car commerce and connected marketplaces
Pay-as-you-drive insurance
Connected infotainment
And most importantly – a great array of improved safety features and new-gen advanced driver assistance systems.
Who's Leading the Race for C-V2X Technology Adoption
The connected vehicle market is growing at an exponential rate and is expected to generate $273 billion in revenue by 2026. The C-V2X market, in particular, is not far away and expected to reach $1.1 billion in size by the same year.
Those future revenues are closely tied to the pioneering V2X solutions being deployed today. Ford seems to be the biggest proponent of the car-to-car communication technology. In fact, the automaker already made a promise to equip every new vehicle sold in the US with C-V2X by 2022. This year at CES 2019, the automaker already unveiled their C-V2X solution, developed in partnership with Qualcomm.
Below you can see the demonstration featuring both Ford and Audi cars, as well as a Ducati Multistrada 1260 motorcycle.
Don Butler, executive director of Ford connected vehicle platform and product, further explained the company's 5G automotive vision in regards to V2X and self-driving:
With plans to roll out 5G cellular networks underway, C-V2X can complement the sensors of self-driving cars. While these vehicles will be fully capable of operating without C-V2X, the technology could add to its comprehensive view from the LiDAR, radar and camera sensors. For instance, if emergency vehicles were equipped with C-V2X transmitters, they could notify self-driving vehicles that may be on their route so the vehicles pullover or reroute in plenty of time. Self-driving vehicles could even get real-time updates on road conditions that affect their routes
The company is highly vested in developing an innovative ecosystem where all road users can seamlessly communicate with one another:
C-V2X-equipped vehicles (self-driving or not) will be able to negotiate which way they take.
Whenever an accident occurs, the V2V communication system will be able to relay info to other approaching vehicles. Through cellular connectivity, the car will be able to send updates to the city authorities, insurance company and/or tow service.
A pedestrian carrying a Bluetooth-equipped device can send their location to other road users so that the vehicle can make adjustments to its route.
Vehicle-to-Infrastructure technology will enable communication with traffic lights, road signs and smart traffic management systems that can better regulate the transportation flow.
Audi and Ducati are the second major adopters of C-V2X technology, also collaborating with Qualcomm. Their C-V2X pilot system is already being tested in Neuburg, Germany. They are simulating how the system can help minimize the risks in three on-the-road situations that often result in accidents: entering a junction, responding to sudden braking from a vehicle ahead and turning across the line of traffic.
The BMW Group, Ericsson and Vodafone have teamed up to urge for faster 5G and C-V2X adoption in the EU. BMW has also been partnering with Qualcomm developing its C-V2X services suite.
Qualcomm also managed to get the French national railway company SNCF on the C-V2X 5G bandwagon. Together, they are now working on new safety applications for railway transportation such as Train-to-Railway Crossing and Car-to-Railway Crossing connectivity.
China, as well, is placing major hopes in C-V2X automotive and city solutions. The Chinese government already set aside spectrum in the 5.9GHz band for LTE-V2X networks. The authorities expect to reach 90% coverage of big cities and major highways by 2020. Langfang City Government, for instance, recently held successfully city-wide trials of a cellular-based intelligent transportation system that incorporated several different C-V2X road users (connected public transport, cars, and infrastructure).
3 Ways C-V2X Will Change Driving Experience and Promote Smart Cities Development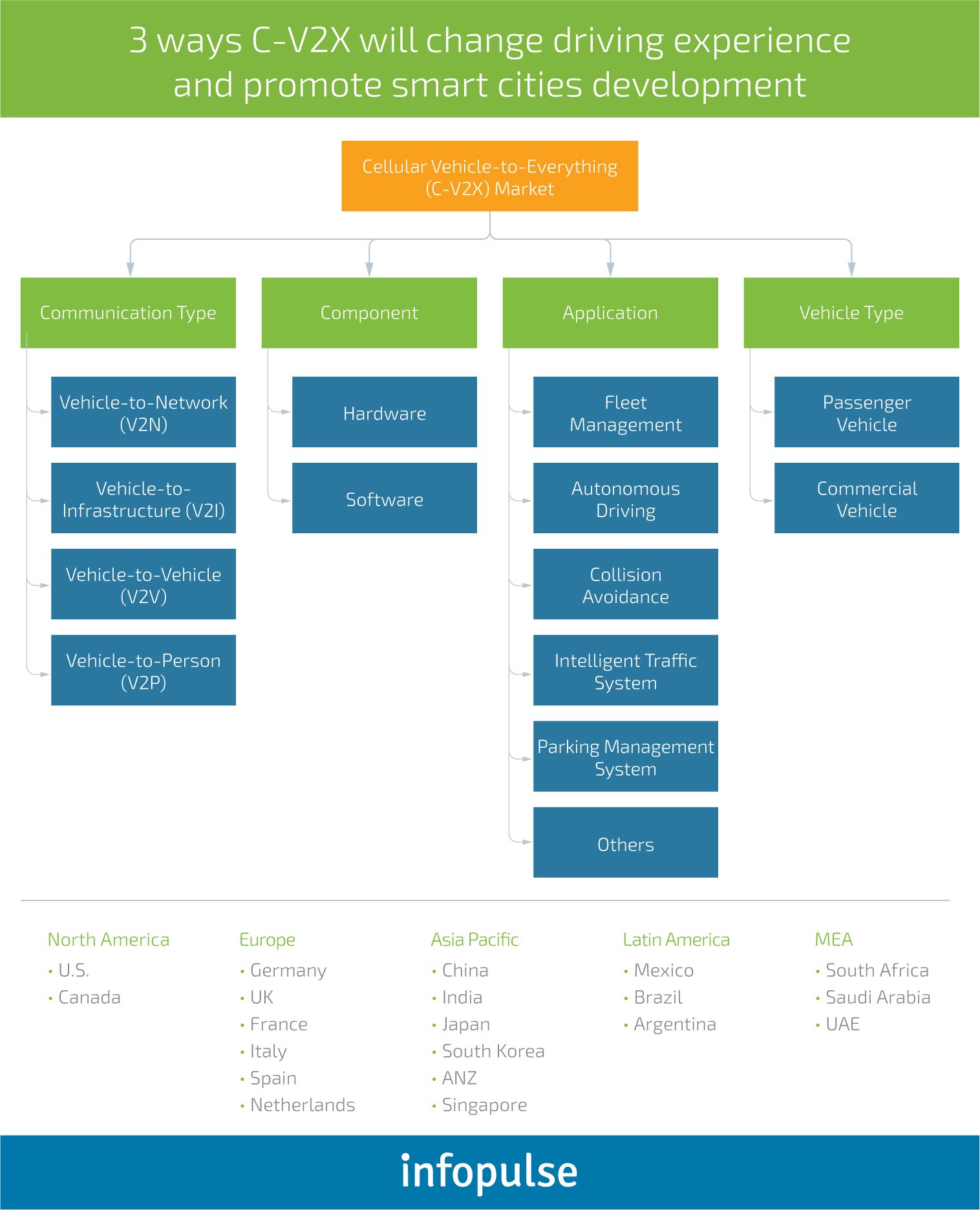 The present and future use cases of C-V2X technology are plentiful and varied. At the moment, most of them center around improving driver and pedestrian safety, as well as transportation management and flow.
Current assisted driving systems already utilize car sensors to similarly demonstrate how people use their eyes to navigate complex on-the-road situations. C-V2X can significantly enhance these systems, much like the sense of hearing and direction complements our vision.
Below are several examples, illustrating how the Car-to-Car communication can transform mobility.
1. Real-Time Situation Awareness
C-V2X technology enables vehicles to simultaneously gather information from a great variety of sources – other vehicles, smart infrastructure, transport management systems and other external navigational and informational sources. As a result, drivers can be notified about:
Lane closures and roadworks
Traffic accidents ahead of them
Position, speed and direction of the vehicles nearby to avoid a collision
Potential unforeseen hazards – road users approaching out of the direct line of sight, hazards obscured by fog, etc.
Approaching emergency vehicles that should be given way
Vulnerable road users ahead such as pedestrians and cyclists.
A comprehensive C-V2X module has the potential to create a real-time map of the car's immediate surroundings to increase safety and improve navigation. Case in point: Continental, Deutsche Telekom, Fraunhofer ESK and Nokia recently demonstrated how real-time information can be delivered to connected cars via a mobile network with the help of Multi-Access Edge Computing (MEC) technology. Event-driven data such as emergency warnings, as well as HD map data, were transmitted to the vehicle in milliseconds, enabling more intelligent and safe driving.
Vodafone Germany and Ford also showed how Vehicle-to-Vehicle communication technology can work in regards to emergency vehicles. The system notified the driver in advance about the approaching vehicle and suggested which position on the road they should take to avoid being an obstruction.
2. Platooning Can Help Improve Traffic Management and Decongest Big Cities
Platooning is a method for driving a convoy of vehicles as one entity, in which the vehicles are positioned very closely together with the help of technology. Semi-autonomous platoons, thus occupy less space of the road, reduce fuel consumption and improve the efficiency of goods' transportation. Here's how semi-autonomous truck platooning works:
Semi-autonomous platooning has been actively explored in commercial fleet management, but not without certain roadblocks. At present, enabling fast and smooth communication transmission between the vehicles in the platoon has been problematic due to significant delays in transmission. At present, C-V2X technology can effectively address that shortcoming consisting of up to 3 trucks in the platoon. And with the arrival of lower latency 5G infrastructure, it would be possible to support larger convoys.
Picture this: when entering the high-way 5G connected cars, travelling in the same direction can be prompted to join a platoon for faster and safer travel to their destination. Such co-operative driving has already been tested by Fraunhofer FOKUS and Daimler. The two unveiled a pilot Emergency Electronic Brake Light Warning system earlier this year. During the trial, two vehicles with Huawei onboard units were rapidly accelerating, while the car ahead suddenly braked hard. The vehicle behind received an instant notification via C-V2X protocol and adjusted the pace.
3. Transportation Management Systems Can Gain a New Level of Intelligence
The majority of smart city initiatives around the world are aimed at improving the quality and efficiency of transport. That is, reduce congestion; normalize traffic flows, especially during rush hour; improve parking; and decrease pollution levels. A lot of Vehicle-to-Vehicle communication projects pursue the same agenda.
Hence, it should come as no surprise that automotive companies are now teaming up with authorities to launch joint V2X projects. For instance, BMW has recently hosted a demo session in Berlin, showing how a V2I setup can work. During the demo session, a vehicle equipped with a Qualcomm onboard C-V2X unit and the Savari ITS software stack effectively communicated with a SWARCO traffic signal. This use case allows drivers to monitor the upcoming traffic light. As more connected LTE or 5G cars hit the roads, traffic managers will be able to devise more advanced traffic signal strategies. For instance, knowing where different vehicles are, they can custom change the signal to accelerate movement in certain areas.
Applied Information Inc. – one of the major USA development organization of intelligent transportation systems (ITS) and Internet of Things (IoT) mobility technology – announced that they plan to integrate C-V2X into their latest traffic infrastructure products.
The company's new Smart City Supervisory System will include:
Traffic signals
Work zone warnings
Approaching emergency vehicle notifications
Transit bus traffic signal priority
School zone flashing beacons
Changeable message signs
All of these infrastructure elements will be able to communicate with one another, as well as any cloud- or C-V2X enabled device. Their TravelSafely smartphone app presents drivers with fresh data from a multitude of infrastructure sources and connects them with other app users pedestrians, cyclists and scooter riders to provide timely alerts. Transportation engineers can also use the app to monitor and control traffic management networks from anywhere.
Conclusions
The latest cars already have significant connectivity capabilities. Yet, they cannot fully leverage them without a unified protocol for communication. C-V2X has emerged as a strong contender backed by leading automotive companies, governments and lobby associations. The current LTE mobile networks infrastructure can already sustain a certain extent of fast, low-latency connectivity. With wider adoption of 5G technology in the world, it would become possible to sustain a more inclusive ecosystem of road users.
Explore the future of automotive with Infopulse team. Get in touch with our specialists to learn more about C-V2X and other connected car technologies that can help your company gain an edge.