Article
Creating Next-Gen Driving Experience with AR HUDs
Originally published: November 29, 2019
Updated: January 31, 2023
7 min. read
Innovations
Software Engineering
The
automotive industry
is rapidly evolving, and an increasing number of technological innovations are leveraged in modern vehicles. Industry leaders are now making substantial investments into in-vehicle Augmented Reality (AR) solutions. The latter have the potential to create prominent benefits for the driver's experience and safety. One of the most distinctive solutions is the
Augmented Reality Head-up Display (AR HUD)
, which projects road hints, signs, and warnings on the car's windshield in real-time. Let's have a closer look at how AR HUDs disrupt the automotive industry, their types, benefits, and drawbacks. We'll also discuss the reasons why OEMs need a reliable software development partner.

The Growing Demand for AR HUDs
Smart design and compartment convenience are the integral parts of any modern vehicle. Now the consumer demand is switching toward increased driver safety and efficient navigation assistance that helps the driver to focus on the road and avoid accidents. The implementation of AR HUDs will allow coping with the demand because the solution includes the needed safety and navigation advancements. The AR HUD market is expected to grow steadily. From the current USD 1.1 billion in 2019, the global AR HUD market size is expected to grow up to $4.3 billion by 2025 in such regions as Europe, North America, China, and Japan. Aside from customer demand, another significant factor that is driving the AR HUD market expansion is the race in the development of driverless cars. The overwhelming majority of automotive OEMs are competing to create the most advanced self-driving vehicle, with an AR HUD as its primary feature.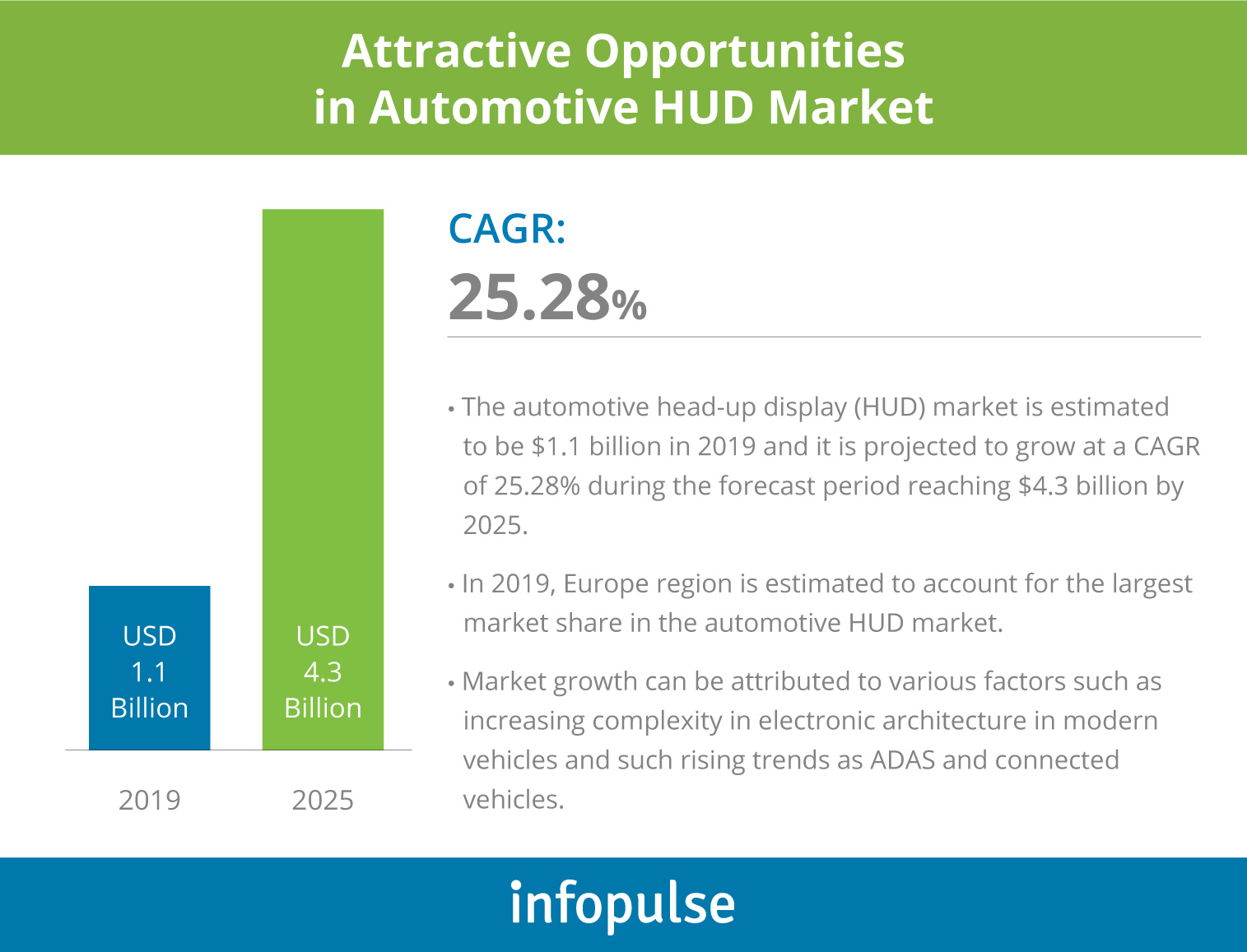 As a part of a sophisticated driving assistance system, an AR HUD must execute a wide range of functions to help the user stay focused and improve his driving experience. AR HUDs must display guidance arrows before switching lanes, accurately project lane marking, and inform the user about the blocked paths that lie ahead. AR HUDs can precisely highlight any objects of interest, like cars or pedestrians, and display the text or graphical information near the objects to avoid possible traffic accidents.
Comfortable AR HUDs must possess certain technical features, specifically:
Virtual image depth (driver's focus area where the images are projected) ranging from 5 to 30 meters;
The broadest possible Field-of-View (FOV);
Reduced optical aberrations with minimum image distortion;
Maximized eyebox volume and a combiner that becomes transparent when the driver turns away;
Luminance and contrast have to match the lighting conditions of the scene in the background.
Now let's compare basic and advanced AR HUDs, examine pros and cons of the available models. We'll also review the most exciting AR HUD prototypes that are in the stage of active development.
Currently Available AR HUDs – Their Benefits and Drawbacks
Conventional HUDs
In conventional HUDs, the LCD/LED display is reflected from a small semi-transparent combiner mirror with no additional optics involved. Our experts dedicated some time to review and analyze conventional HUD models:
5-10 cm virtual image depth. Projected on a separate combiner screen.
OBD2 adapter that reads vehicle stats. Adaptable light sensors that create optimal brightness for clear visibility. Small size. Low price.
Narrow FOV. Small virtual image depth.
5-10 cm virtual image depth. Projected on a separate combiner screen.
Clear indications. Small size. Adjustable display. Low price.
Narrow FOV. Small virtual image depth.
Benefits and Drawbacks of Conventional HUDs
Conventional HUDs have a large eyebox volume, which is a consequence of little virtual image depth. This technical feature allows a driver to view the objects from almost any position, thus improving the convenience. Moreover, such HUDs are small and can fit anywhere on the dashboard. Lastly, such devices are the cheapest ones available on the market.
The primary drawback of conventional HUDs is the small virtual image depth making the driver redirect his attention to the HUD and then return his focus to the road. The devices also have a narrow FOV resulting from a small 2D screen.
AR HUDs
Our experts have also reviewed and compared various AR HUDs. Unlike conventional HUDs, AR models include a regular LCD/ LED or a laser projector with additional lenses partially collimating the light or the combiner. This creates wider FOV, bigger virtual depth, and reduces visual aberrations. The table below shows the most notable and sophisticated AR HUDs.

The world's largest automobile companies, like BMW, Lexus, and Mercedes are also actively developing and selling AR HUDs as an additional feature of their vehicles. Have a look at the Mercedes-Benz HUD:
The Most Exciting AR HUD Prototypes
AR HUDs are often hard to fit into the vehicle's dashboard. To address this issue, OEMs develop new AR HUD prototypes based on holographic and waveguide technologies. Their implementation enables large FOV, a long virtual image distance, and significantly reduces the mechanical volume of the HUD system.
Continental Automotive and DigiLens have created a next-gen AR HUD prototype. This device features 15 deg. FOV, infinite virtual image depth, and a cutting-edge holographic waveguide laser projector that displays the visuals on the windshield. The device volume is 1/6 of a traditional HUD display, which means it could easily fit into any dashboard. Furthermore, DigiLens & Continental's AutoHUD projects the AR data directly at the driver's eye level helping them stay focused on the road.
Sun Innovations Full Windshield HUD is another emerging prototype that utilizes super transparent image technology, which displays haze-free high-quality visuals on the entire windshield. Most importantly, the device has extended the FOV without any need to use bulky optical devices. The combination of laser illumination and DLP can improve color saturation and reduce the size of HUD optics.
Conclusion
The AR HUD technology offers a broad spectrum of advantages creating an outstanding driving experience and maximizing road safety with the "eyes on the road benefit." Enabling non-distracting AR guidance hints, OEMs can improve the driver's situational awareness allowing them to watch the road under any circumstances.
The demand for AR HUDs is growing swiftly, and the technology is bound to become an integral part of the future automotive industry. However, the majority of the existing AR HUDs are far from being perfect. To create cutting-edge AR HUD solutions that meet customer demand, OEMs need to forge profitable business partnerships with experienced IT service vendors. Such a step will allow gaining a strong competitive advantage in the rapidly evolving automotive industry.
Infopulse has 25+ years of experience in product design and software development services. Our automotive expertise includes a broad portfolio of advanced infotainment, telematics, HMI, Cloud, NFC, security, blockchain, computer vision, and AR solutions. Contact our automotive experts, who can help you develop a custom AR HUD solution tailored to your needs.