Article
Top 5 Ways of Improving Customer Experience in Telecom with Virtual Assistants
Originally published: January 15, 2021
Updated: October 25, 2022
7 min. read
Innovations
Digital Transformation
The telecom industry has become crucial to how our society operates. The greater reach comes with the increased responsibility of delivering a superior experience to customers in both the B2B and B2C sectors. For telecoms, the journey towards exceptional customer experience management has been a rocky one so far.
In 2019, the telecom industry ranked second from the bottom on the American Customer Satisfaction Index. At the end of 2020, cumulatively the telecom industry climbed to an average of 72.2% satisfaction rate, ranking close to the national average of 74.4%. That's a fine change, but still, there is further work to be done, especially in the wake of the rising competition.
The Importance of Improving Customer Experience in Telecom
After years of growth flurry, telecom companies are close to hitting the glass ceiling. Over-the-top (OTT) players are eroding the revenues previously obtained from voice calls and text messaging. Video-on-demand (VOD) platforms and video streaming services prompt more and more consumers to cut the cable cord.
In 2020, the telecom TV industry in the US lost over 6 million subscribers. By 2024, over a third of all US households will no longer use paid cable services.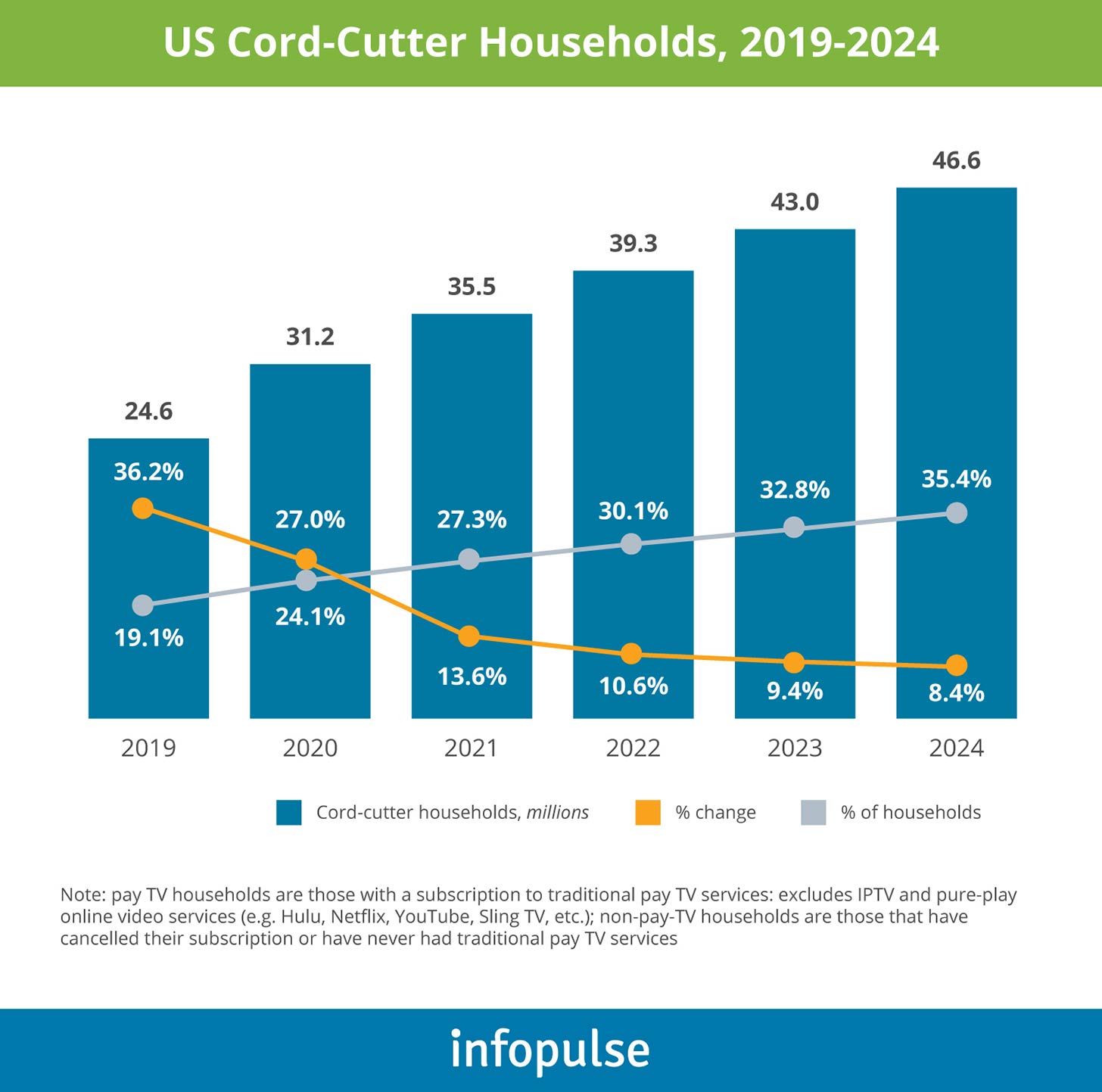 How could OTT players swing customer behaviors in such a relatively short period? Unlike some telecoms, they placed a great focus on delivering stellar customer experience, focused around the newly-emerged digital journeys. Whether you want to start, stop, or change your service preferences, you can do so online in a matter of a few clicks. Issue resolution times are fast and overall service delivery is smooth.
Telecoms are not yet as efficient as OTT players when it comes to providing seamless online customer support or delivering highly personalized service packages or up-sell/cross-sell opportunities, aimed at increasing customers' LTV.
However, there is a silver lining for the telecom players too. The deployment of 5G networks will enable some players to recoup the lost revenues: 65% of telco leaders expect that consumers will pay more for 5G connectivity and 25% among them are 'very certain' in regards to that.
Still, higher pricing has to be justified. Both B2B and B2C consumers expect significant improvements in telecom customer experience with the arrival of 5G. In particular, they expect operators to gain a better understanding of their network usage and become capable of making service adjustments in real-time.
If you were wondering how to improve customer experience in telecom, the short answer would be shifting the focus to digital customer servicing.
Top 5 Ways of Improving CX in Telecom with Virtual Assistants
Digital channels have become a prime conduit for sales, services, and engagement in telecom. Telecoms that advance their digital customer engagement will experience the biggest upside, as seen in the infographics below.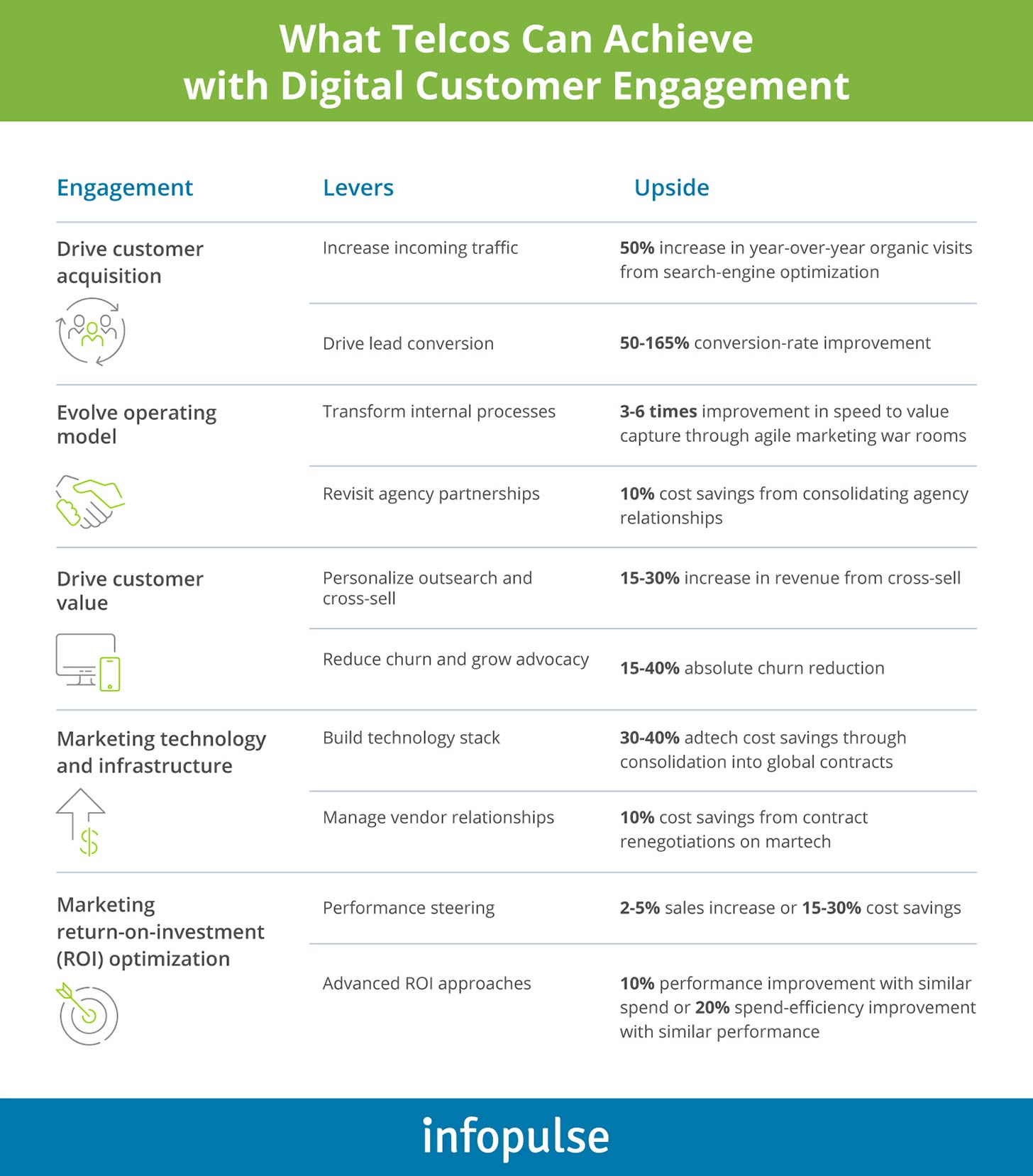 However, the wrinkle so far has been linking the digital strategy to execution. Most telcos do not have the immediate human resource to shift to digital-first sales. Some also struggle to maintain effective online customer support levels, especially in real-time.
But do you really need to scale your human CS teams to meet the new market demands? Not so much, as you could instead invest in the new generation of an intelligent virtual assistant to make your current teams more effective when it comes to the next five areas.
1. First-Line Support
Telecom support agents will confirm: most of the first-line technical issues they deal with are standard and repetitive. AI virtual assistants can effectively take over the initial troubleshooting phase. For example:
Perform tests and run system health-checks
Run trace/CDRs
Provide service-specific and general regulatory information
Provide information about on-going maintenance works and outages
Log all incidents and requests
Update and prioritize tickets for human agents.
Nokia implemented a virtual assistant for telecom engineers in 2017. The multi-purpose intelligent knowledge assistant (MIKA) provides quick recommendations to common networking issues and directs users towards relevant knowledge base resources and supporting tools for diagnostics. During the first year of usage, the company reported a significant improvement in the first-contact resolution (FCR) rates for an array of network-related issues.
Additionally, intelligent virtual assistants could help the UK telecom providers better comply with the new Ofcom automatic compensation scheme for customers. The chatbot could be used for automatically handling all the customer claims, handling refunds, and providing updates on service status.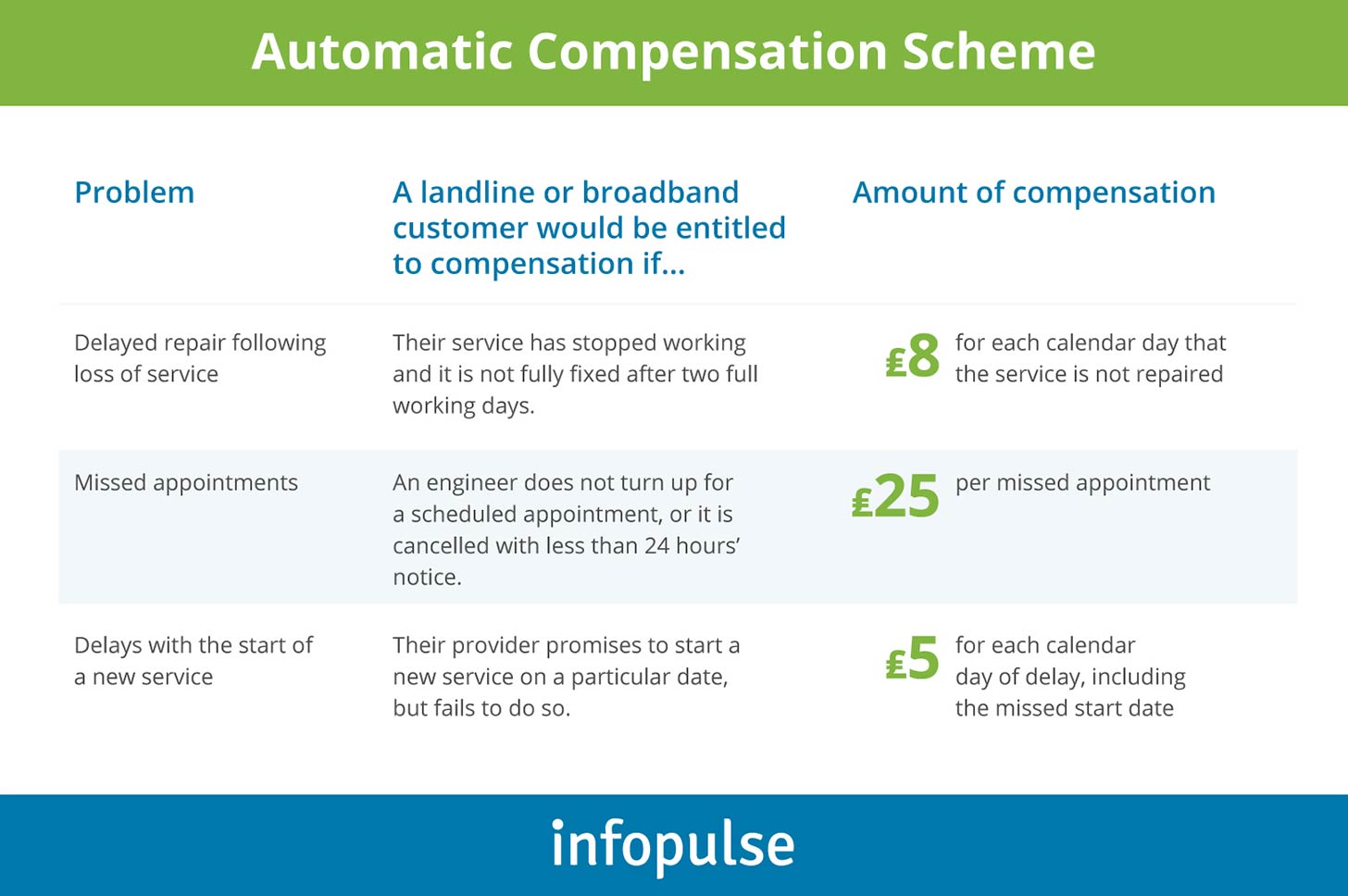 2. 24/7 Customer Service
In 2020, a lot of companies had to fully switch to remote customer servicing and engagement. Unsurprisingly, this has placed a greater operational toll on support teams, prompting telecoms to re-think how they approach customer support.
Leaders in the industry are now implementing tiered customer service options to rapidly interact with customers at different touchpoints, using a mixture of workforce augmentation solutions, powered by automation and artificial intelligence.
Fully automated self-service: The simplest customer queries can be solved without any human intervention. IBM found that 56% of telecom customers preferred self-service options when choosing the best plan, and 77% used it to pay bills or top-up accounts.
Conversational chatbot support: Chatbots are a staunch addition to on-site self-service portals since such solutions can provide proactive assistance. For example, help with relevant data look-up, run simple service diagnostics tests, or perform changes in settings, e.g., related to toll-free number accessibility.
Human support: Intelligent virtual assistants can reroute more complex issues to human agents, pre-populate tickets for them, and set priority statuses. Additionally, enterprise-grade conversational AI can supply agents with predictive or pre-written answers in real-time and assist with information look-up/compliance.
Arguably, the biggest boon of AI-powered virtual assistants is their self-learning capabilities. As new data becomes available, the efficacy of such solutions increases over time. For instance, Vodafone's virtual assistance TOBi was recently scaled to handle 100% of all messaging communication with a 28% of automation rate. With further algorithm training and fine-tuning, the company expects to scale the automation rate to 40% in the short-term perspective.
3. Accelerated Resolution of Complex Issues
As briefly stated above, virtual assistants can serve as an advanced 'customer intake form' of sorts. Through conversation, the chatbot can collect and then transmit the following information to the human agents:
General customer & account information
Any technical device specs
General issue describers
Resolution approaches attempted
Severity status
The best-in-class virtual assistants have advanced natural language processing (NLP) capabilities, enabling them to pick out the key terms from unstructured written or spoken conversations and summarize them for the agent. As a result, the customer won't have to repeat the same things all over again when connected with the agent and the query will be immediately routed to the right department. Telia, a Swedish multinational telecom operator, estimated that their AI chatbot could complete the work of 18 agents in answering repetitive questions.
4. Personalized and Engaging Services
OTT players have set a high bar in terms of content personalization. Telecoms are now forced to play catch-up. But the good news is that telecoms already have access to a wider array of customer data, indicative of their consumption preferences, services, and product usage. All they have to do is 'connect the dots' in those journeys.
Virtual assistants, connected to a machine learning or deep learning algorithm, can be deployed for providing highly personalized recommendations to the customer whenever they are evaluating new offerings or seek more value from their current subscriptions.
For instance, in 2020, one telco company deployed an innovative hyper-personalization tool to analyze the customers' usage of prepaid and postpaid services. Through background data collection and limited customer interactions, the algorithm continuously collected insights about different usage patterns and preferences. Based on the collected data, the telco deployed a series of hyper-personalized promotional campaigns for different subscriber segments. The campaign yielded a 12% boost in revenues for prepaid services, plus tripled product uptake rates and increased the LTV of customer portfolios.
5. Omnichannel Service Delivery
The boutique is no longer the lone battlefield for telco brands. Social media, websites, affiliates, mobile apps, voice assistants, and IoT devices – all create new touchpoints with customers. Leaders in the industry are already taking advantage of these emerging opportunities.
A 2020 end of year survey of telecom leaders by McKinsey found that global telecom operators in the top quartile signed up 50X more customers online than those in the bottom quartile. How do they do that? By using a combination of digital channels to attract, convert, engage, retain, and renew accounts.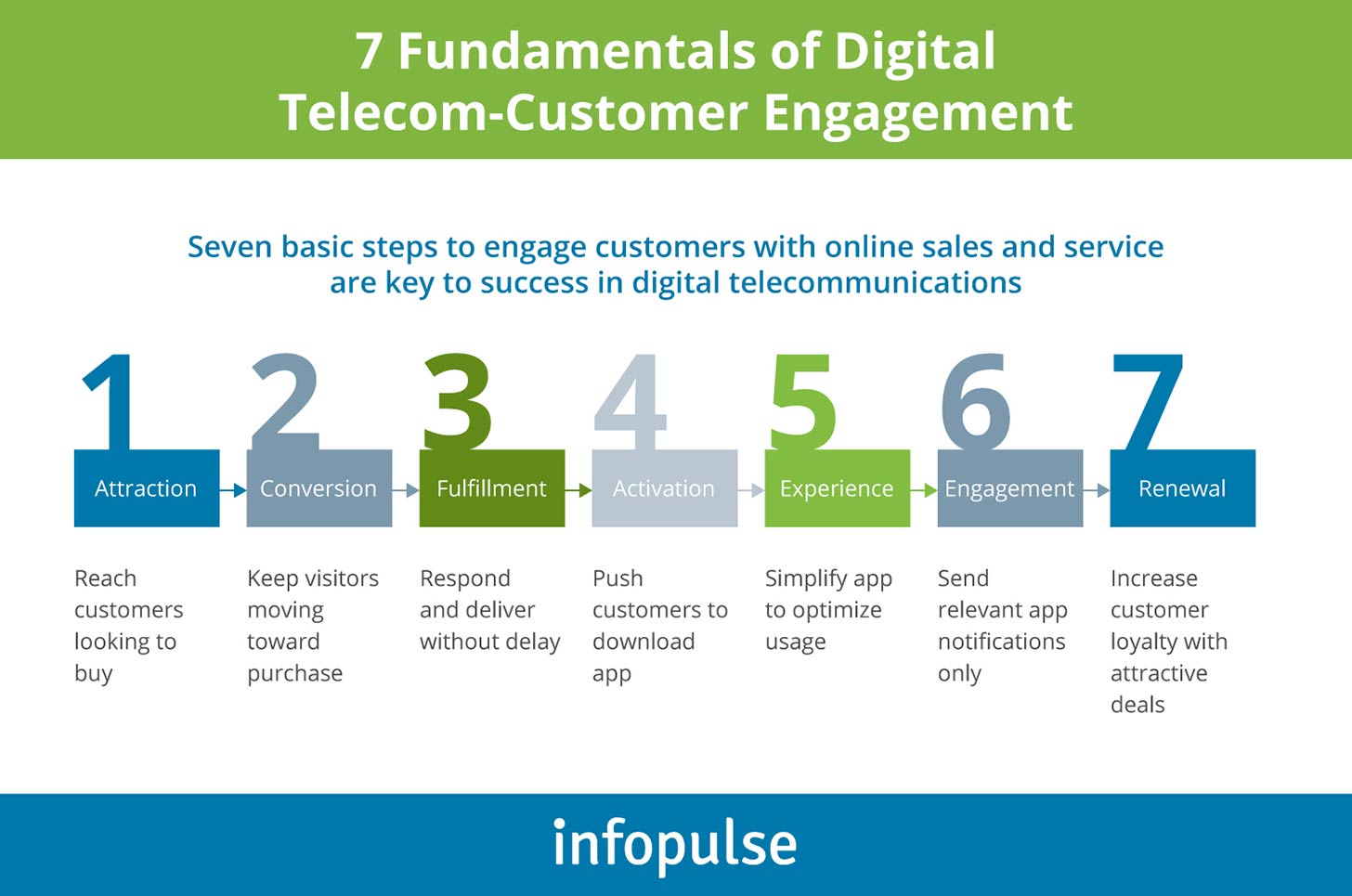 AI virtual assistants are uniquely positioned to facilitate the fulfillment of these 7 strategic steps thanks to their cross-platform portability:
Social media: Conversational chatbots can be deployed to service existing customers 24/7 and introduce prospects to the full range of services in an engaging manner.
Voice assistants: DISH Network recently partnered with Amazon to distribute media content via their voice assistant Alexa. Customers can search for new titles through natural speech.
IoT: Chatbot integrations with 'smart' devices — remote controls, TVs — can help create a more interactive product discovery experience for users. In addition, on-device assistants could help with device setup, configuration, and technical issue resolution.
To Conclude
AI in telecom has a strong potential to improve customer experience, especially when it comes to first-time resolution rates, average handle time, and average reply time. On top of that, intelligent virtual assistants can also be programmed to engage and retain existing subscribers via hyper-personalized offerings and progressive service discovery. Finally, chatbots can be used to distribute top-of-the-funnel content to facilitate new prospects with digital purchases.
Make 2021 the year of customer experience in your company. Contact Infopulse to learn more about chatbot development and intelligent automation solutions.