How to Enable Omnichannel Banking with Virtual Assistants
Originally published: March 23, 2021
Updated: May 12, 2022
6 min. read
Innovations
If you add up the global trend of moving transactions to digital channels,
2.5 billion mobile users
accessing messaging apps in 2019, and projected
annual savings of $7.3 billion
from using chatbots in banking, you will get a picture of how the future of the financial services industry looks like. It is omnichannel, automated, and highly customer-centric.
Let's see how virtual assistants can help financial institutions inform their omnichannel strategies and cut through the ever-increasing data noise of digitalization.
In 2021, it is no longer compulsory to visit physical branches to access banking services. Digital transformation and booming e-commerce have spurred the financial sector to move its offerings and services online. Furthermore, the COVID-19 pandemic has only accelerated the pace of this migration and reset the very operating environment, with top Australian banks removing 2,150 ATMs and shutting down 175 bank branches in 2020 as digital payments are gaining momentum. Those sweeping measures demonstrate a change in consumer behaviors and expectations, being focused on a seamless, speedy, and personalized online experience.
Customer Experience is a Key Brand Differentiator
That is precisely what the primary objective of what the omnichannel strategy stands for – a unified, uninterrupted customer experience enabled by real-time data synchronization between various channels, covering everything from onboarding to customer queries to transactions. Thus, omnichannel banking is a balanced approach that offers the client a choice between online banking and a traditional in-branch experience adjusted and integrated across their entire customer journey.
It is worth noticing that customer expectations constantly evolve with technologies. In fact, 59% of respondents report higher expectations for customer service than they did the previous year (Microsoft). Modern buyers are becoming savvier and more demanding, which continually raises the bar for banks' customer relationship management. The Microsoft report on customer service confirms this claim by stating that 95% of consumers name customer service an essential factor in their choice of loyalty to a brand.
Given that satisfaction with the customer centers is the lowest due to long waiting times compared to other brand channels, this problem becomes the top priority for the banks that want to gain and retain their customers. It looks like data integration is only one piece of a puzzle to get a perfect CX solution. The second piece is automation backed by conversational AI, known as virtual assistants or chatbots for business.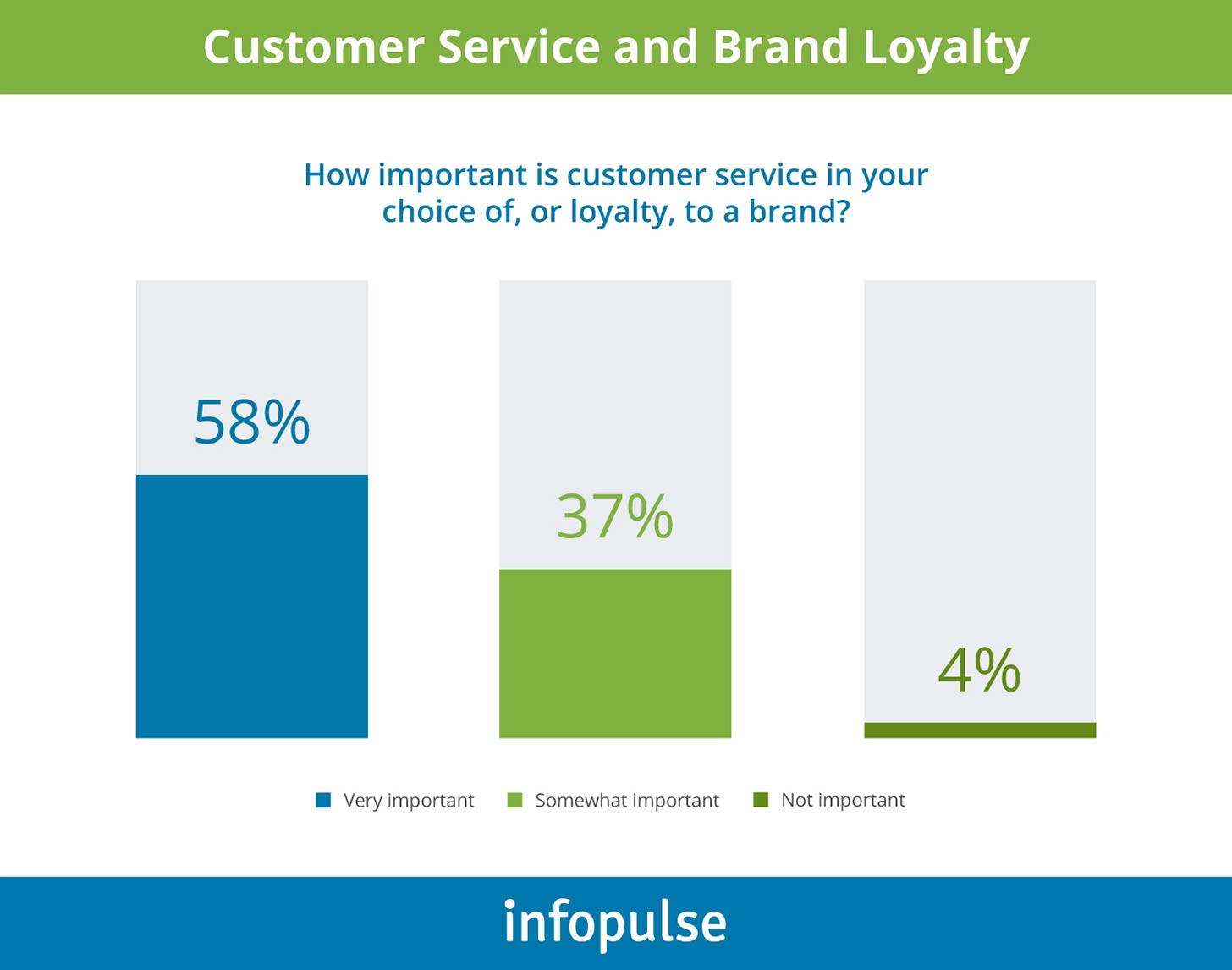 Leveraging the Omnichannel Ecosystem with the Best Virtual Assistants
As customer service quality became affected by the online ground rules of fast and 24/7 service – with 75% of clients expecting to receive instant replies from chatbots – it raised the demand for chatbots adoption. More often than not, users apply to client service with simple queries that do not require human input, like looking for relevant web pages or Q&A consulting that can be easily allocated to smart virtual assistants.
However, customers use various communication channels and they expect brands to meet their requirements. For instance, a person started an onboarding process on Facebook Messenger by filling in a form via chatbot. Then, they got interrupted, abandoned the application session, and decided to continue the bank onboarding process by using the live chat widget. To keep this customer journey smooth and uninterrupted, you will need to integrate an omnichannel chatbot into your customer management strategy. This technology allows managing customer requests in a unified manner across all channels and store collected data in a centralized database. In this way, analyzed data can be transformed into valuable insights about users' preferences and serve as a basis for a personalized and human-like experience with a virtual assistant.
As you can see, the omnichannel strategy is driven by and focuses on delivering seamless interactions between business and clients by meeting stringent customer needs anywhere (website, app, messenger, social media, email) and anytime (24/7). Intelligent chatbots are an integral part of this equation that solves the consumers' problems, increases sales, and unlocks actionable insights from collected data.
Though if we consider the technical benefits of chatbots, they lie in integration with different applications and the capability to utilize the power of machine learning for a surprisingly human-like and personalized service. When asked for a preferred communication channel, more and more people are leaning towards messaging apps to handle their business and personal matters. Consumers can even perform transactions of various complexities on-the-go directly from a messaging app. For example, Mastercard deployed a 'KAI' chatbot that operates on Facebook Messenger and allows making payments within the chat, transforming financial information and decisions into an invisible part of everyday life. The Bank of America's AI-driven virtual assistant Erica ® offers its users insights on portfolio performance, trading, investment balances, and more via a handy mobile app.
To sum up, people are actively embracing chatbots' role in fintech, with only 14% of the respondents choosing to manually fill out the website form instead of getting answers from chatbots. Yet still, customers prefer human advisors in the negative instances or when significant sums of money are involved. An excellent way to keep the balance between virtual assistants and humans in customer management is proper task allocation. Chatbots can handle high-volume, low-value inquires while referring clients to advisors for low-volume, high-value requests.
Among the most common virtual assistant use cases in banking are:
The Technological Makeup of the Conversational AI
With virtual assistants and chatbots being the most lucrative and efficient intelligent automation solutions available today, conversational AI powers them by transforming text and speech into valuable data, which is then leveraged for humanlike interactions. The communication process between a chatbot and a customer goes through various stages of parsing, analysis, and interpretation that happen automatically in a split second. Machine learning accompanies each of these stages by continually improving the existing algorithms.
If we break down this process, we can highlight eight technological components that form conversational AI experience:
Natural Language Processing (NLP) – a way of parsing human language
Intent Recognition – an ability to understand human requests
Entity Recognition – an ability to interpret abstract categories
Fulfillment – an ability to get data from databases through APIs
Voice Optimized Responses – an ability to communicate in a humanlike manner
Dynamic Text to Speech – an ability to convert text into speech
Machine Learning – a set of algorithms for better responses based on analysis
Contextual Awareness – an ability to follow a conversation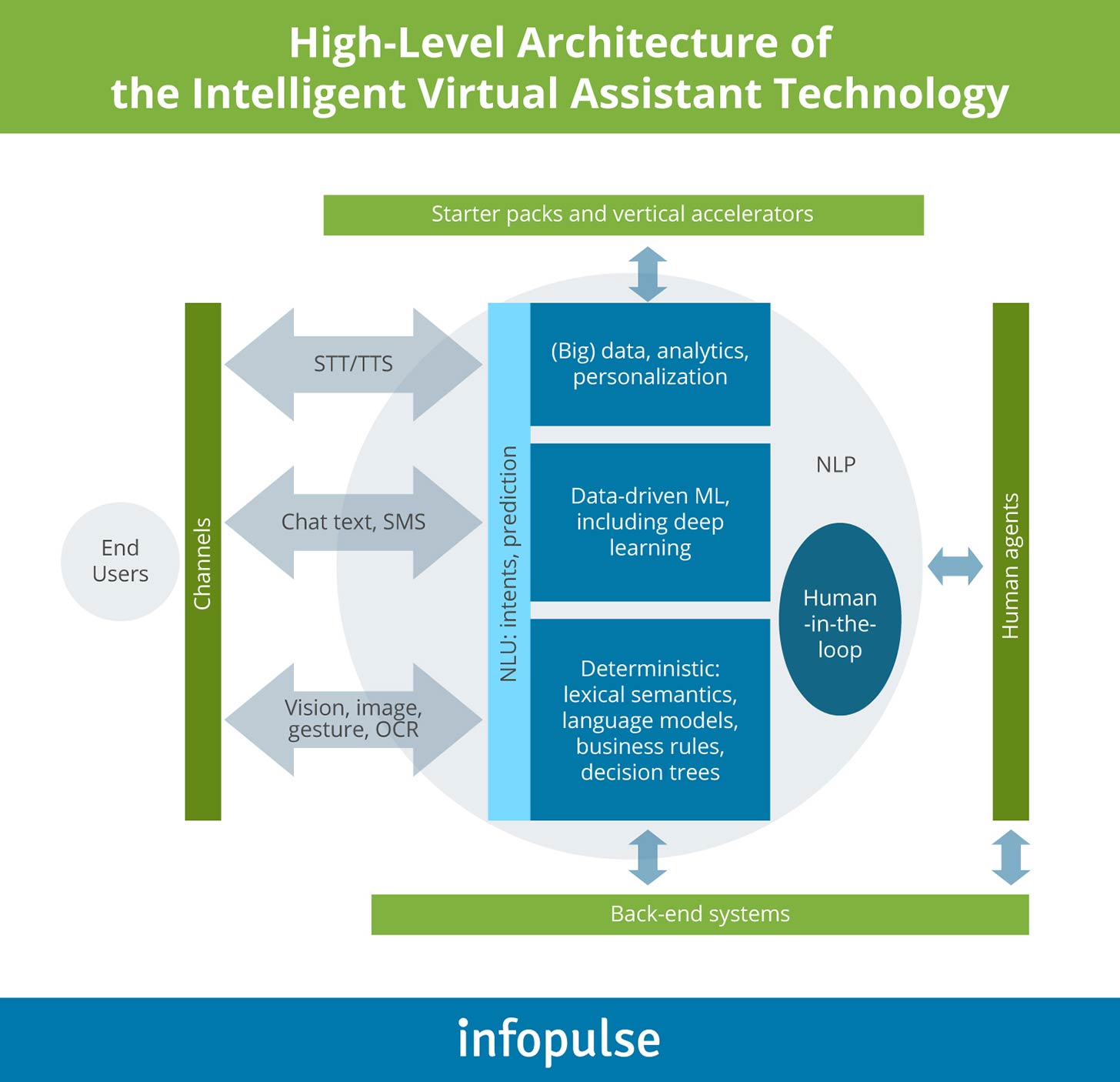 Even though conversational AI technology is still in its infancy and is considered a weak AI that can only perform narrow tasks, it plays a substantial role in customer service. Virtual assistants and chatbots have proved their worth in reducing waiting times and automating routine high-volume tasks – factors that greatly contribute to customer satisfaction rates.
What the Future Holds for Omnichannel Banking
Cloud, AI, e-identity, biometrics, contactless payments, and automation are at the top list of trending technologies with which banks align their development strategies. Financial institutions that want to stay on the market and remain relevant for their customers will need to embed a robust and personalized omnichannel approach into their engagement and communication strategies. You can find detailed research on the latest tech trends for banks in our free report:
Fintech industry leaders are confident that alternative payment methods involving social media, cryptocurrencies, biometrics, IoT devices, and QR codes will take over the market shortly. For example, QR codes are already a popular way to make purchases that combines the benefits of having to invest less into infrastructure and enhanced convenience for customers. What is more interesting is that smart speakers are starting to play a vital role in the payment process. According to eMarketer, 26% of USA users buy goods through smart speakers, with an estimated 23.5 million consumers to make purchases in 2021.
Intelligent virtual assistants are essential parts of these payment methods that perform data collection, automation, and integration tasks fast and 24/7. Chatbots for business are now viewed as a revolutionary smart automation tool that drives the omnichannel strategy for financial institutions and provides customers' desired convenience.
Contact our experts to bring your customer experience to a new level with intelligent virtual assistants.