Mobile Development Growth & Future Trends in the Post-Pandemic Environment
Originally published: December 24, 2020
Updated: January 31, 2023
8 min. read
Innovations
Software Engineering
The global pandemic of 2020 triggered a major financial crisis, causing a negative impact on various industries, including travel and tourism, real estate, leisure facilities, and small local businesses. However, the crisis has created a strong demand for digital solutions that would help people face the new normal. Due to this demand and the growing penetration of smartphones, modern mobile application development faced incremental growth. The mobile application market is expected to
grow at a 21% CAGR from 2020 to 2024, reaching $497 billion
.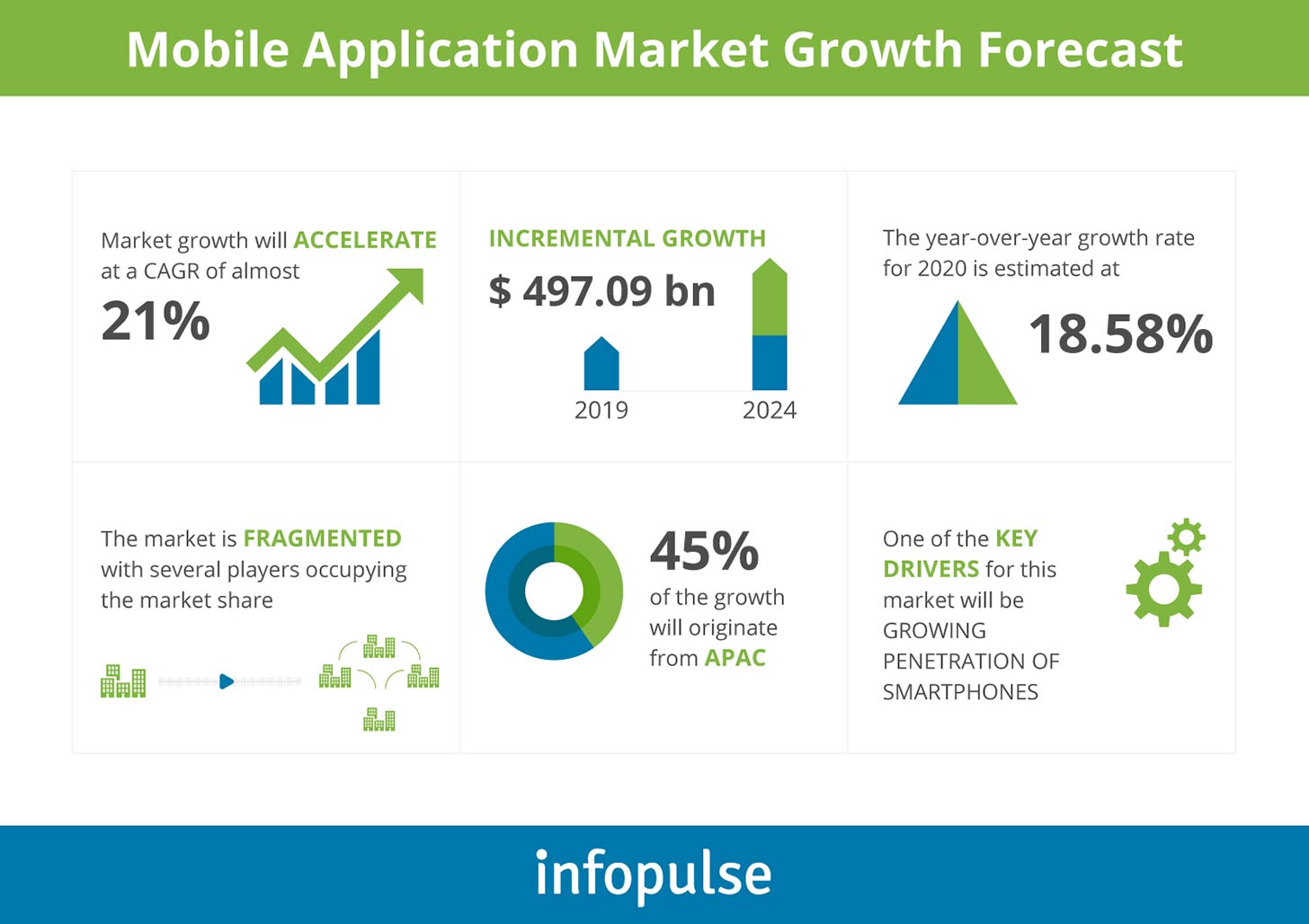 Businesses that consider mobile apps unnecessary or optional may in the end lose their commercial viability. In contrast, enterprises that focus their efforts on developing mobile solutions can reap valuable benefits and foster business growth now and in the years to come.
In this article, we will examine what types of mobile applications gained traction amidst the global crisis and how the mobile application development market will evolve in the post-pandemic environment.
What Types of Apps Gained Popularity after the COVID-19 Outbreak?
Healthcare Applications
Healthcare organizations began developing new mobile applications to address the disruption caused by the pandemic. Applications designed for contact tracing, symptom monitoring, and on-demand medication delivery have faced significant growth in downloads. The usage of mobile apps for live discussions or recorded videos with healthcare experts has also surged. For example, Mayo Clinic, an application for appointment scheduling and instant messaging with doctors, has seen a 200% increase in time spent by users.
E-learning Apps
Universities and schools all across the globe are resorting to digital channels that enable distance learning. In addition to video conferencing apps such as Zoom or Skype, many e-learning apps, including Google Classroom, edX, Duolingo, and BIJU's Think and Learn app, have seen stellar downloads, being ultimate tools for the students to get easily accessible and uninterrupted education. According to WEF, e-learning demonstrates a positive impact on students, causing better information retention. Moreover, this report shows that other factors, such as cost-efficiency and increased internet penetration, will continue to accelerate the growth of the e-learning market. In other words, the demand for educational apps will remain very much relevant in the years to come.
Social Media & Entertainment
During the lockdowns, people crave entertainment to alleviate boredom and have fun. That's one of the main reasons why popular mobile apps like YouTube, Netflix, Spotify, as well as mobile games have become even more popular on the app stores. Social media apps and messengers have also gained popularity, as they facilitate communication in the current context of physical distancing. More than 60% of users in the US reported increased usage of certain social media platforms.
Remote Work
Prior to the pandemic, remote work was not the primary work culture. Today, it is the new normal. As organizations switch to remote operations, applications that streamline remote work (Microsoft Teams, Zoom, Skype, and Slack) are facing significant growth in downloads. Work-from-Home and e-office are likely to remain primary business models for a while. Studies show that remote work leads to better business outcomes, namely improved cost-efficiency and higher employee productivity. Thus, apps that facilitate remote work will stay relevant in the post-pandemic environment.
Digital Payments
The payment landscape is now disrupted by a major consumer shift to digital payments. While cash moves to the margin, online banking apps, digital wallets, and contactless payments are steadily becoming mainstream. As the demand for instant and convenient digital payments continues to grow, it is clear that there's no return to the payment landscape as we knew it.
Summary
The new normal triggered the demand for different types of mobile applications that will continue to stay relevant in the future. Nevertheless, mobile development will not stop evolving at this point. Advanced technologies – AI, AR/VR, IoT, and beacons – are powering further innovations in the mobile app industry.
In the next section, we will examine the primary mobile development trends that will arise in the post-pandemic world.
Major Mobile Development Trends in the Post-Pandemic Environment
Integrating AI into Mobile Applications
AI integration will remain a strong mobile development trend since it creates an array of tangible business benefits for any enterprise. AI can be utilized to enhance backend development processes, review previous mistakes, and automate manual tasks. Moreover, AI offers a wide range of advanced features, namely image, text, face, and emotion recognition, as well as natural language processing (NLP). Finally, AI enables swift and secure biometric authentication and can optimize the search processes for the end-users.
80% of consumers are more likely to purchase from a brand that delivers personalized experiences. Companies can improve customer engagement and brand recognition by integrating AI into mobile apps to analyze customer behavior patterns and offer personalized products and services. CX can also be improved by developing and launching intelligent AI-driven chatbots that can promptly understand and respond to customer queries.
Diverse Use Cases of IoT-Based Mobile Apps
IoT is a ubiquitous system of interrelated smart devices that powers digital transformation across a wide range of industries. The global IoT market size is expected to reach $1,319.08 Billion by 2026, at a CAGR of 25.68%. IoT technology is closely linked to mobile apps, as they can be used to control the growing number of IoT devices. Smart home is a perfect example to illustrate this interrelation. IoT-based mobile apps can be used to connect to and operate smart household appliances, HVAC, lighting, and security systems.
Furthermore, IoT-based mobile apps can bring added value for manufacturing, retail, agriculture, logistics, and other verticals by enabling:
Real-time remote asset monitoring and maintenance;
Intelligent automation of industrial processes;
Smart product management and supply chain control;
Enhanced collaboration between employees;
Anytime-anywhere access to the relevant data.
Bridging the Physical and the Digital Worlds with AR Mobile Apps
The growth and development of AR-based mobile apps remain strong. Tech giants, such as Microsoft, Apple, Google, Amazon, and Facebook, are increasingly investing in AR technology. Since the introduction of Apple's ARKit and Google's ARCore SDKs in 2017, the number of AR apps and their active users has increased exponentially. The global AR/VR market is expected to grow at an even more accelerated pace, reaching $571.42 billion by 2025.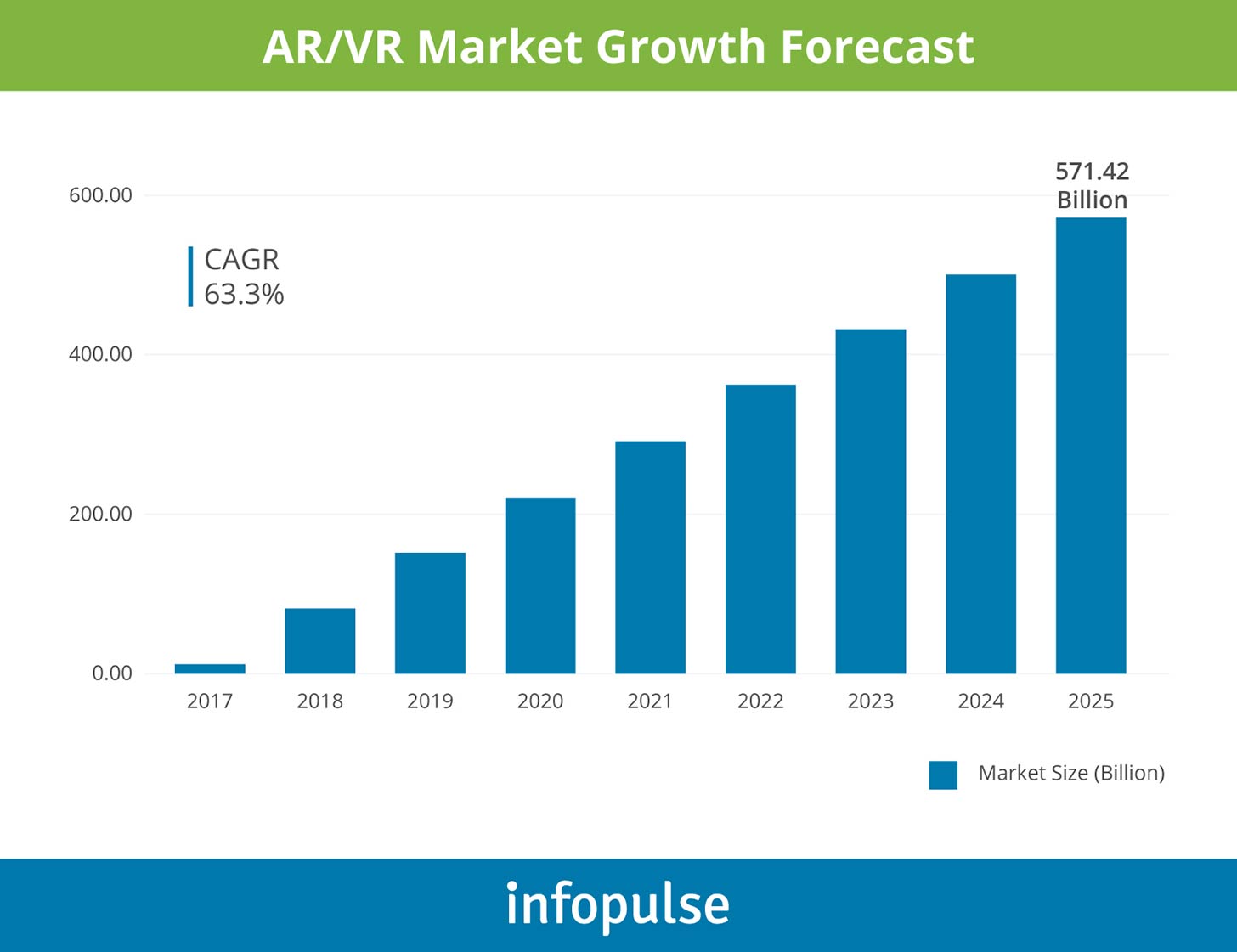 Industries, such as entertainment, retail, manufacturing, real estate, education, and healthcare, can receive valuable business benefits by developing AR apps. Such apps ensure outstanding customer experiences and high rates of user satisfaction.
Entertainment businesses can design apps similar to Pokémon Go, which can seamlessly blend both the digital and physical worlds and offer exciting journeys and quests to the app users.
Retail enterprises can deploy virtual fitting rooms that enable customers to view clothing in an AR environment before making the purchase. Alternatively, they can develop AR furniture apps like IKEA Place that allows users to point their phones at specific places and see how different products would look like in their homes.
Real estate businesses can develop AR mobile apps that offer a remote 3D view of the property for potential buyers or tenants.
Manufacturing enterprises can develop custom AR mobile applications to streamline learning and provide self-help for field workers.
AR-driven education apps can make online classes more engaging.
Healthcare organizations can use AR apps not only to facilitate learning but also to improve the quality of diagnosis and treatment.
Mobile Apps Integrated with Beacon Technology
Beacon technology continues to evolve and its market value is expected to reach $56.6 billion by 2026. As of now, beacons are actively adopted in the retail, hospitality, and healthcare industries. Businesses can equip their facilities with beacons that will use Bluetooth to connect with a smartphone via a mobile app. After setting up the initial connection, the mobile app can provide personalized offers and discounts for every customer. Apart from proximity marketing, beacons can be utilized to accurately track customer behavior. This data can be used to enhance personalization and optimize product placement and merchandising.
Conclusion
Despite the global crisis, the mobile application market continues to grow rapidly. Modern mobile solutions managed to help people address the new normal and will certainly remain an integral part of the post-pandemic world. To sustain competitive advantage now and in the future, businesses must start developing mobile apps and integrate them with emerging technologies like AI, IoT, AR, and beacons.
Infopulse has been providing full-stack mobile application development services for 12+ years, offering native mobile app development (Android & iOS), cross-platform mobile solutions, as well as web or hybrid mobile apps. If you are willing to develop a mobile application that will address the contemporary customer demands and remain relevant in the post-pandemic environment, you can check our flexible mobile development service packages.
Contact us to start with a quick Proof-of-Concept (PoC) or a full-scale Minimum Viable Product (MVP) to validate the idea of your mobile app and empower your business with a custom mobile application!