Article
Modern Car Navigation Systems and Their Features
Originally published: April 19, 2018
Updated: December 30, 2022
15 min. read
Software Engineering
Many experts in the automotive industry predict the coming of fully autonomous driving experience in less than ten years. A driver will turn into a passenger and enjoy the ride without even the need to check on the road. So, what will happen with a car navigation system and how a next-gen vehicle will guide its way?
In this article, we will dwell on those changes that navigation is currently undergoing and what we should expect in the nearest future. Our automotive experts will also share their practices and insights on implementing embedded car navigation solutions for Tier 1 manufacturers in the second part of this article.
What is Modern Car Navigation and its Features?
Modern onboard navigation is a complex system integrated with other vehicle systems acquiring more features of a smartphone. Connected to the cloud, an in-vehicle navigation system has both online and offline location search, 3D HD maps, voice assistance, OTA map updates, real-time traffic information, and POI search which allows optimizing guidance and the driving experience.
Generally, there are three ways to be guided in a car:
a map display for the specific region or area;
a display with the list of next turns;
a turn-by-turn guidance display with pop-ups about the following turn.
In many modern vehicles, such displays are integrated to present a driver all necessary features in a single display, which makes navigating less distracting.
For an average user, an in-vehicle navigation differs less from free maps in their smartphones also including GPS receiver, route instructions, a loudspeaker for voice guidance, calculation of best routes, distances and time. Some purchased navigation apps can contain a safety camera warning or route planning. It is also possible to download offline maps of all the needed points of interest in your region. However, it can take additional storage space on your smartphone.
For this reason, online maps that use GPS and 3G/4G connectivity download the map of a necessary route by portions not to overload your phone with other data. Unfortunately, online maps become useless when the signal is lost in the remote area. With the dedicated GPS receiver in the embedded car navigation system, a driver can still have an access to maps and continue his route even with the connection dropouts.
Real-time Traffic through the FM Radio
Today, advanced guidance in modern cars can function with the help of the same online maps and traffic data as it is available on the smartphone. Yet, compared to the in-vehicle navigation, a smartphone cannot provide real-time traffic information without the internet connection whereas navigation in cars utilizes Traffic Message Channel (TMC) technology.
In this case, the encoded traffic and travel information are delivered to FM radio broadcasts with the help of Radio Data System (RDS) that gathers all traffic information from police stations, cameras, traffic control centers, roadwork reports, etc. This is a sort of a backup plan for a driver who cannot use LAN network to receive life-critical data about adverse road conditions, collisions, construction alerts, etc.
Destination Entry
A step-by-step destination entry is an essential navigation feature that allows a driver to plan the whole route. With this option, a driver can set one destination point or multiple points for the long trip entering different patterns.
Basically, there are six possible ways to enter a destination:
by the address of the street (street number/street name/city/town/village/state, etc.);
by a ZIP code;
by the point of interest (POI);
by the previously entered destination points;
by selecting a point on the map;
by using a voice assistant (see below).
The problem with such map displays is that the more details they contain the more distracting they become for a driver. For instance, to enter one destination point a driver should get through a complicated menu tapping a few times before all the input data is added.
One research suggested that to enter an address a driver must press the button for almost 33 times which makes changing an address while driving almost perilous. View other results in the chart below.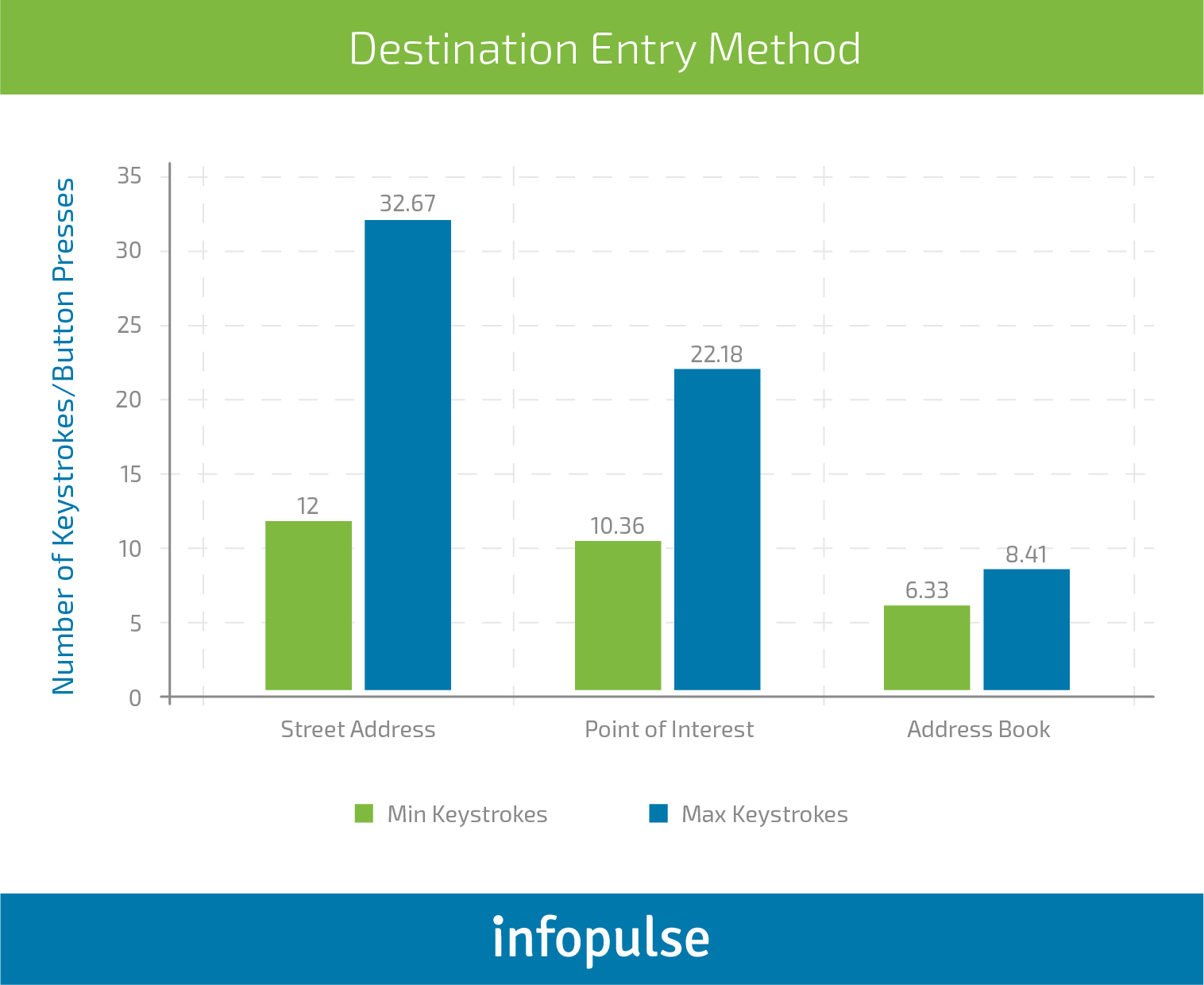 Voice Assistance: Pros and Cons
Almost all car manufacturers warn drivers not to use an entry option while driving. Yet, pulling over every time you need to change your destination point can be too time-consuming and in many cases, almost impossible.
Therefore, the trend of adopting voice assistance technology is growing these days. Many carmakers exploit it to simplify the complexity of an in-vehicle navigation management, obviate possible distractions and completely substitute touch-based destination entry.
For instance, Apple has created the CarPlay standard which allows integrating famous iPhone's personal voice assistant Siri with the car's dashboard substituting the embedded infotainment view with familiar smartphone's icons. Incorporation of CarPlay and thus, voice recognition as an embedded feature of an infotainment system, is planned for 2019 in Toyota Avalon model.
The alternative versions of integrated voice assistants are Microsoft's Cortana, Google Voice, and Amazon's Alexa that are easily integrated with the vehicles' APIs. The same integration function is also available in Tesla's Model S and Model X, which utilize the voice potential of the Google Home speaker and Google Assistant in a smartphone. However, there are also onboard voice recognition implementations already available in Hyundai and Nuance.
In pursue of creating a human-like experience, the voice assistance solution is being constantly elaborated and improved. For instance, Nuance Dragon Drive incorporated in its conversational interface such next-gen technologies as cloud-based services, voice biometrics, Artificial Intelligence, Big Data, machine learning, natural language understanding, and others. This allows increasing the accuracy of the user's requests rendering and the overall quality of voice support.
However, some studies still argue the safety of using voice assistants for navigation on the road with the fact that they are mind-distracting and prone to misrecognition of human language.
The neuroscientists' research proved that it takes some time for a person to reorient from the interaction with the assistance to the current situation on the road. Moreover, if you view the added video, you'll see how easily drivers miss a stop sign or irritate after the Assistant's failed attempts to recognize their request.
This issue is still rather controversial because a person can get used to interacting with the Voice Assistant and learn how to refocus faster. Besides, the arrival of digital assistants will increase anyway and by 2021, they are predicted to outrun even human assistants.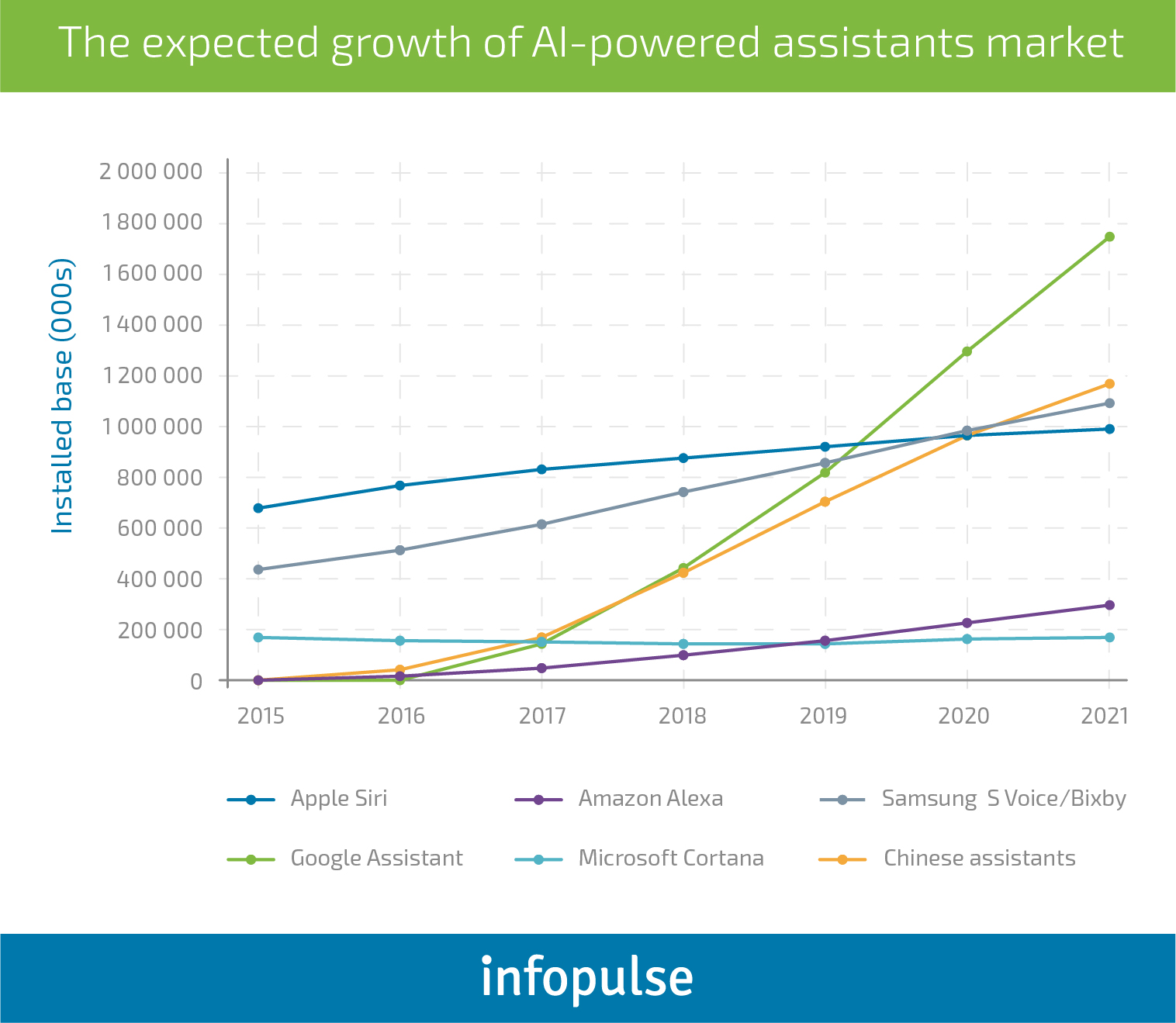 Hence, at the moment, the Voice Recognition technology needs further enhancement to demonstrate its error-free potential and ability to replace the traditional destination entry method.
Onboard Navigation vs Mobile Navigation
Almost every driver questions the need for purchasing an embedded car navigation system from a manufacturer while he/she can easily use GPS and online maps on his portable device. The Pew research confirmed that about 80% of people (aged 18-29) are more likely to use their smartphones for navigation. However, there are some strong advantages of onboard car navigation over external devices.
Bigger screen dimensions and fewer glares.
The in-vehicle screen sizes can range from 5-/6-inch display in standard models up to 17-inch display in Tesla's Model S. The problem with phones in summer is that they can black out from overheating or reflect sunlight glares. In contrast, the resistive display of an embedded infotainment dashboard is developed in the accordance with all the external factors like the car's shaking, glares, heating, etc.
Stable GPS connection.
What smartphone owners usually fear is to lose a signal when they are heading in an unknown direction. With an in-vehicle GPS device, it's almost impossible since the dedicated GPS receiver has better capacity on receiving a signal from GPS satellites around the Earth.
Up-to-date offline and online 3D maps.
Apart from an access to the online maps, you can also use offline maps that contain accurate information due to the automatic OTA updates. The close-to-reality experience of 3D maps is another benefit of an embedded navigation.
Always active and ready to direct.
Navigation touchscreen mounted in the dashboard does not run out of charge as it often happens with smartphone batteries. Although there are already wireless charging pads based on QI wireless charging standard, not all smartphones support it. Besides, usually phones are prone to severe overheating in such pads. In this case, USB cables are less damaging to the batteries, however, plugging in your smartphone while driving can result in missing the turn or other possible perils.
Less distracting.
Embedded car navigation is a complex system that today can integrate with all in-vehicle systems. For instance, when a navigation voice assistant notifies you about the turn, for example, the embedded system will automatically muffle the music or radio, so that a driver could clearly hear and understand information.
Real-time traffic monitoring.
With the radio data system, even if the internet connection is lost for some reason, you will still receive updates about the road condition, including construction alerts, traffic updates, etc. However, the problem about TMC technology is that it is available not in all European countries whereas in the U.S. and Canada the service is fee-based.
The Future of Navigation

Now, it is obvious that the future of navigation will depend on its integration with other in-car systems and further development of different technologies implemented in next-gen vehicles. Among such are Artificial Intelligence, Computer Vision, Cognitive Computing, Augmented Reality, IoT, Big Data and other related innovations that soon will give rise to self-driving cars as the primary means of transportation.
Some famous vehicle brands like Ford, Mercedes, Nissan and automotive suppliers like Bosch have either working prototypes or concepts of their own driverless vehicles. There are even autonomous buses for short trips called EasyMile who can carry up to 12 people tested in Finland and Dubai. In Japan, this model is used as a shuttle in a shopping mall.
So, how does an autonomous vehicle work? A good demonstration was provided by Google with their Waymo autonomous vehicle, which is still being tested in the real traffic flow. In the 360° video, you can see a number of sensors, radars and technologies utilized to help the vehicle find its own way.
This next-gen vehicle knows how to discern other means of transport, objects and people on the road, building comprehensive routes. However, many experts still doubt in the readiness of such cars to hit our roads. The latest fatal crash caused by a self-driving Uber's vehicle has only increased disturbance among users.
Navigation can predict a driver's route
To match the customers' interest and the high quality of integrated navigation applications from Google, Apple, and Microsoft, automotive manufacturers should offer the same advanced functionality and mobility of their embedded navigation solutions. In fact, Waze and Google Maps users are already familiar with the route prediction feature. Hence, a smart car navigation system, whether it is embedded or integrated, should be able to predict your next trip, analyze your driving habits and most often visited places. It can offer a range of the following benefits:
Minimizing the distraction factor from infotainment dashboard;
Decreasing time for entering destination details;
Building a personalized guidance based on a driver's common destination points gathered in the cloud;
Analyzing notifications from other drivers, current information on weather conditions, real-time traffic data, including construction and collision alerts;
Offering an alternative route in case of a traffic jam or road constructions saving the driver's time, nerves, and fuel.
However, by introducing this feature, many manufacturers are doomed to deal with different privacy issues. Users put at risk their private data such as favorite routes, visited places, driving habits, fuel consumption history by implicitly permitting to save all information in the cloud.
ADAS innovations make car navigation more intuitive
Before the next-gen vehicle becomes fully driverless (5 levels of automation), it will have to get through the adoption of Advanced Driver Assistance Systems (ADAS). In this case, the role of embedded navigation will be to provide the accuracy of positioning and guidance necessary for other control points of ADAS. Together with sensors, cameras, radars and LiDAR (Light Identification Detection and Ranging) that actuate main ADAS main functions (view the image below), embedded navigation is a sort of virtual sensor providing the road context.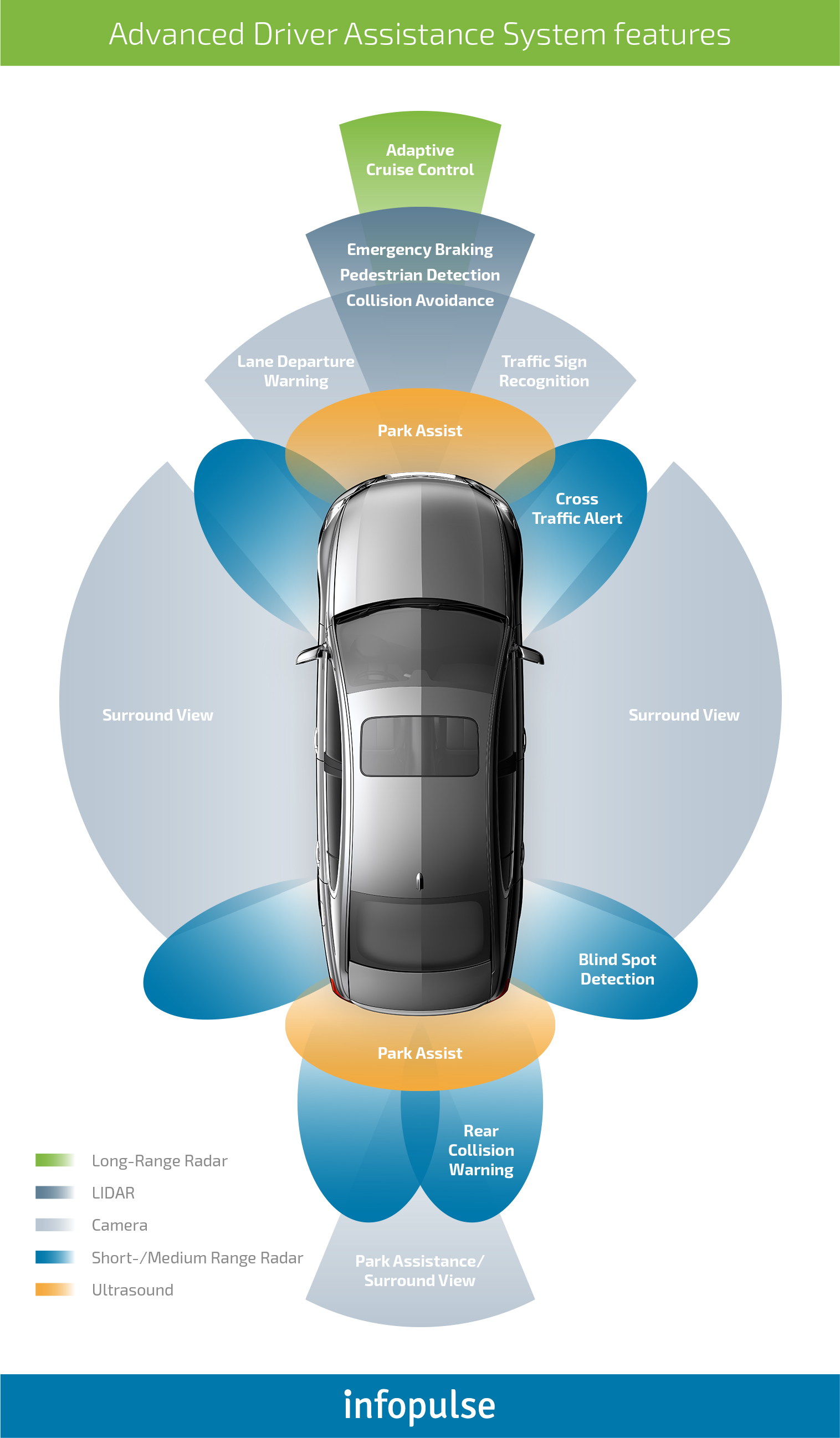 However, the conventional maps are not enough to cover the trajectory issue since the roads are vectorized and do not adapt to all road attributes and different contexts, e.g. guardrails, signposts, bends, roundabouts, straight lines, etc. Therefore, the appearance of HD maps tackles the problem by providing high precision of the road geometry and overall 3D representation of surroundings. The process of HD mapping incorporates deep learning algorithms, different AI technologies and simultaneous localization, which determines the car's position in 3D space and everything around it.
To achieve maximum accuracy in HD maps creation, a broad range of sensors and cameras in specific zones of the vehicle are applied. If you look at the image above, you can see how ADAS functionality depends on the continuous data input from each sensor or radar. One of such is LiDAR that provides distance measurement to objects in any lighting, weather or night conditions, and serves for Emergency Braking, Pedestrian Detection, and Collision Avoidance.
According to McKinsey survey, there are four main control points (see the image below). Upon receiving all information from different sensor types, control points process it in real-time and provide the specific output for the driver like an alert of another approaching vehicle or a notification to slow down, etc. However, in a critical situation when a driver does not react to any notifications, the system can even take control of brakes or a steering wheel. Which is why the achieved centimeter accuracy of HD mapping is an integral control point of "storing and updating geological and infrastructural data". It helps the vehicle sense itself in 3D space and react respectively to its dynamically changing road environment.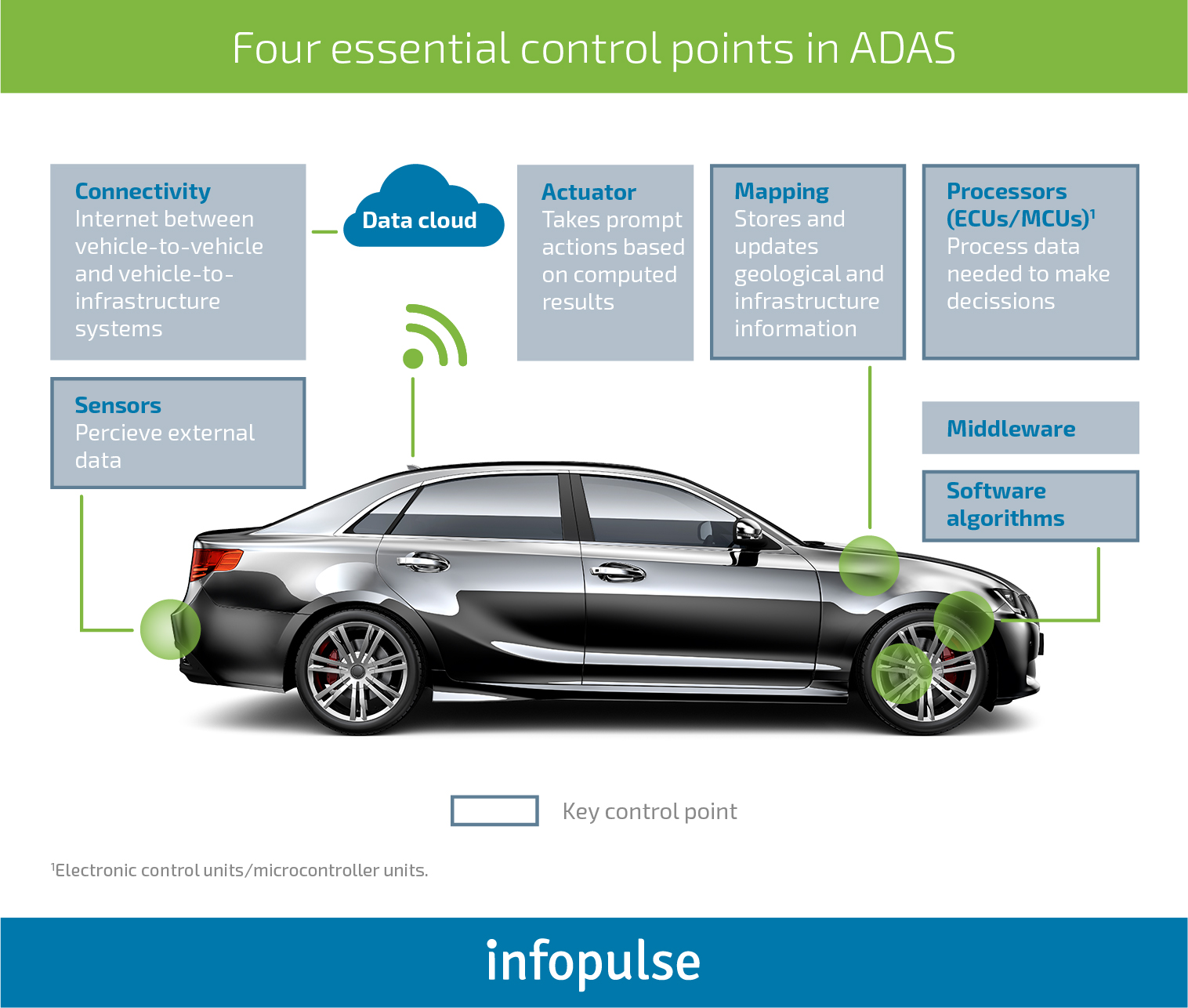 Eventually, the improvement and further implementations of HD mapping technologies will bring vehicles a new generation of autonomous driving systems.
Conclusion
Modern car navigation systems are changing under new tendencies such as the appearance of autonomous driving technologies and IoT devices that in future can make a car fully self-operating. The introduction of 3D HD maps changes the whole concept of navigation improving guidance and integration with other innovative functionality implemented in a vehicle. Follow our next part of this article – Best Practices for Implementing Advanced Navigation Solutions – to get valuable insights from our experts.