Article
Top 3 Technologies Reshaping the Retail Industry Today
Originally published: May 26, 2020
Updated: September 13, 2022
7 min. read
Innovations
Digital Experience
Over the last few months, "business as usual" for the retail sector has been anything but stable. A handful of consumer goods have witnessed an increased demand, while products across most categories majorly lost their appeal. According to
Forrester
, the global retail losses will round up to $2.1 trillion. So is there a way to emerge from this conundrum stronger?
Some industry analysts point out that there's still a potential for value creation through M&A. At Infopulse, we also believe that much of those acquisitions should be technology-driven. That's why we decided to spotlight three core technologies that can give retail companies an edge even in uncertain times.
1. Robotics – in the Stores and at the Warehouses
New health measures are forcing retailers to rethink both their in-store and warehousing operations. On the sales floor, the employees are more exposed to contamination. Plus, they create additional foot traffic that is becoming harder to navigate due to social distancing measures. Introducing one-way traffic flows and placing barriers is not always enough to effectively manage in-store behaviors. The concept of robotics isn't new to retailers since many have already been using software-based robotic process automation (RPA) to power back-office operations. In the upcoming 'new normal', robotics technology can also make a more widespread entry into front office operations.
Modern robotics solutions are agile, lightweight, and intelligent enough to safely operate side by side with employees and retail customers. During the pandemic, several progressive retailers experimented with the following use cases:
Cleaning: Brain Corp, one of the top robotics companies supplying autonomous floor-cleaning bots, saw a 13% increase in the use of their robots in March. Walmart, already one of Brain Corp's largest customers, plans to have such bots in over 1,860 of its US stores by the end of the year.
Shelving: Lightweight and high-maneuver robots can help retailers shelve merchandise and quickly fetch items for customers. Best Buy, for instance, has been testing a robotic arm in one of their NYC stores since 2015. The cobot (collaborative robot), named Chloe, is installed behind a transparent partition. A customer can order a product via the touchscreen and Chloe will move among the shelves to fetch it. Apart from offering a novel, contactless, and employee-less shopping experience, Chloe also frees up about 1,000 sq. ft. of floor space in the store. Also, the robot tracks shopping trends that are further used for inventory optimization.
Merchandising: Such real-time robotics can also help track product movements, stock levels, and product placements. By leveraging computer vision technology, in-store bots can rapidly scan huge store areas and report on stocking, tagging, and pricing. The collected data can then be plugged into a BI analytics suite for further operationalization and used towards predictive planning.
As retailers shift towards e-commerce operations, the pressure on warehouse operations is also increasing. Amazon was heavily criticized for the lack of appropriate health measures for their warehousing workers over the past months. To avoid putting an extra toll on people and infrastructure, some companies like Net-a-Porter, Next, TK Maxx, have decided to halt their online sales for some time.
To improve safety, sustainability, and efficiency, other retailers are turning to advanced robotics solutions for their warehousing operations. Albertsons, Stop & Shop, and several other grocers in the UK are testing small-scale, fully automated "micro-fulfillment centers", set up at the back of their stores. Their key purpose is to streamline the fulfillment of deliveries and in-store pickups. A human-robot interaction in such scenarios greately improves the speed of the pick-up process and reduces the number of staff needed on the shop floor as Albertsons reports.
Fetch Robotics, a company offering on-demand automation for warehousing, also recently introduced a new retailer-friendly robot model that can autonomously pick and deliver goods even in relatively small settings:
To sum up, seamless automation, both in stores and in warehouses, can give retailers a clear competitive advantage in the next several years as it simultaneously lowers health risks for employees and customers, plus enhances operational efficiency.
2. Drones and Self-Driving Vehicles for Deliveries
The interest in using drones and autonomous vehicles for last-mile deliveries emerged way before spring 2020. The first government-approved drone delivery took place back in 2015. Five-years on, we see quite a few retail companies testing drone delivery services:
Amazon had the most publicized drone package delivery program. At the end of 2019, it was rumored that Prime Air may become operational in a matter of months with a rough prediction that 75% to 90% of Amazon US deliveries could technically be handled by a UAV (unmanned aerial vehicle). In 2020, Amazon has not given any updates yet on the launch.
UPS and Zipline also performed a series of trial drone deliveries and have a goal to launch the world's first drone medical delivery network, distributing medicine to remote locations back in 2016. Fast-forward to 2020 and we are seeing governments worldwide testing drones for street disinfections and transporting medical samples (China), delivering basic medicine to remote communities (Rwanda) and distribute medicine to the elderly (Chile).
Google Alphabet's Wing offered their drone delivery technology to FedEx and Walgreens. Together, they tested deliveries of health and wellness products from Walgreens to the customers.
Indeed, the benefits of drone delivery are rather significant:
Last-mile delivery often is the most costly part of the shipping process. Drones can generate tangible cost and time savings. Amazon estimates that a five-pound package delivery by drone with a flight time of half an hour will cost $0.88 per delivery. Sending a similar-sized package via commercial priority mail costs $6.45 and the delivery takes a day.
Operating drone food delivery can help improve product freshness and cut the delivery costs for the customer as well.
Reduced carbon footprint. Drones are a greener alternative to operating large delivery trucks since they consume less fuel and emit fewer greenhouse gases as a new research concludes.
Improved logistics efficiency. Drone navigational data can be updated in a matter of seconds, making them more successful than humans in navigating to the specified location. Moreover, with a steady fleet of drones, operators could use advanced route building simulators to charter optimal flight routes and schedules, further minimizing potential bottlenecks.
While drones can be game-changing for retail deliveries, their adoption isn't happening at rocket-speed due to complex flight regulations. Ultimately, the future of drone delivery in retail will largely depend on how favorable the local legislators would be towards the wider usage of UAVs.
In the meantime, small-scale robo-vehicles are outmaneuvering drone delivery companies on the ground. Starship Technology is one of the first startups to successfully execute robotic deliveries for retailers like Swiss Post, Tesco, Hermes, and 1-800 Flowers across Europe and the US. The company's small-scale autonomous vehicles can perform fast, affordable, and contactless deliveries to customers without being burned by extensive regulations.
In a time of crisis, Chinese autonomous vehicle platform Baidu collaborated with Neolix, a self-driving startup, to allow for driverless delivery of food and supplies to the local hospital. Baidu's Apollo 3.0 is also used by Neolix for the last mile delivery services:
3. IoT – the Shift towards Unattended Retail
The tech triumvirate of computer vision, machine learning, and IoT can transform the well-familiar retail locations into complete cashless, contactless, and employee-less operational units, running 24/7 sans interruptions.
In fact, Amazon Go stores already provide a realistic glimpse into such a future. The company's chain of unattended cashless convenience stores is said to generate 50% more revenue on average than a standard store, according to RBC Capital Markets analysts. In addition, they extrapolated that a single Go location can generate as much as $1.5 million in revenue a year while serving 550 customers daily with an average order size of $10. Considering such high profit margins, it should come as no surprise that Amazon plans to open 3,000 more Go stores by 2021. As of March 2020, Amazon also started selling its "Just Walk Out" technology to other retailers.
Moreover, a pre-pandemic report by PYMNTS and USA Technologies estimated that 48.6 million US consumers would like to buy non-traditional products via unattended channels. We can expect the number to be even higher in April-May 2020.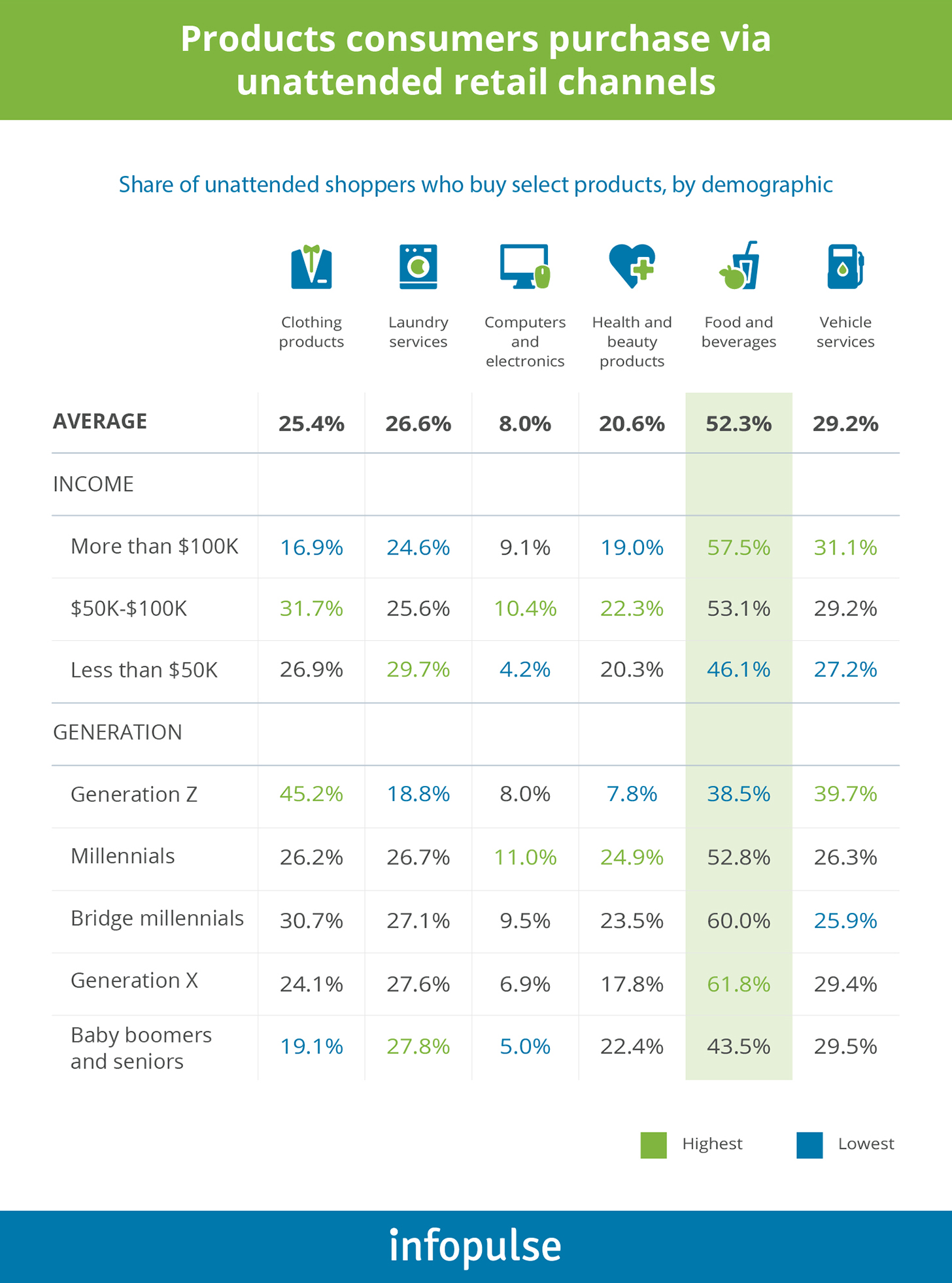 Considering the data above, it should come as no surprise that other retailers are also venturing into the unattended commerce space:
Standard Cognition, a startup offering AI checkout, powered by computer vision, recently opened a demo cashless store in San Francisco, rivaling Amazon's Go.
7-Eleven is working on a cashless store solution in house. The company is running ongoing tests in a concept store in Texas.
Dirty Lemon – a direct-to-consumer health beverage brand – operates a cashless store in NYC, where customers get billed post-factum via a text message.
Considering the recent disruptions in operations, retail brands from other verticals such as beauty, fashion, wellness, etc. will want to move into the business of smart vending machines and unattended retail locations.
To Conclude
So far, 2020 has proved to be rather grim for all but a handful of retail players. However, the global pandemic has also shown most companies how advanced technological solutions can help ensure employee/customer safety, prevent drastic operational disruptions, and attain much-needed cost-savings.
Going back to "business as usual" won't be easy for most in the industry. However, as Intel's former CEO, Paul Otellini noted during the 2008 financial crisis "…recessions come and go, and some are worse than others, but Intel will increase its R&D budget in preparation for a time in the near future when demand for the company's products would rise again".
To reiterate: investment in new technology and lean processes is the key to surviving and thriving during and after the turbulent times.
Get in touch with Infopulse team to further explore how emerging technologies can help you improve your operations and append profit margins!