Article
Ukraine Ascending to TOP 25 Most Attractive Countries for IT Outsourcing
Originally published: January 18, 2016
Updated: December 30, 2022
7 min. read
Software Engineering
According to a recently published research paper, prepared by leading global management consulting firm
A.T. Kearney
, Ukraine has strengthened its position in the Global Outsourcing Rating of the most attractive countries for IT outsourcing, Business Process Outsourcing, and other related services. With Ukraine being currently placed on the 24
th
position of the rating, this might serve as an indication of a solid leap in many aspects that was made in just a year.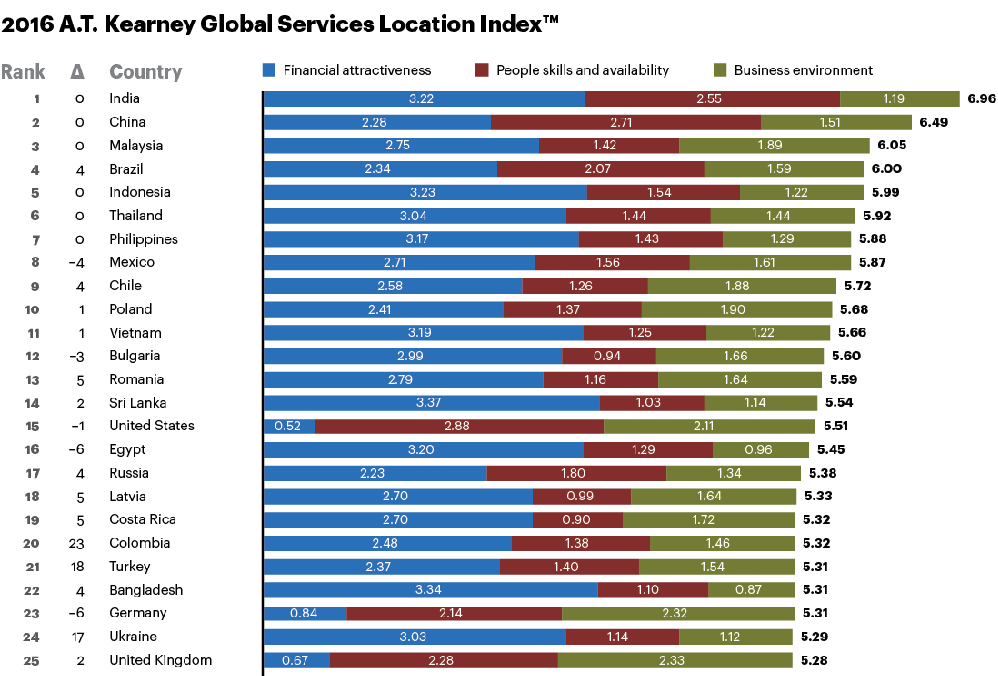 Ukraine offers rich investment opportunities. In span of the last years, Ukrainian IT industry is showing stable market growth. According to the report, the Ukrainian IT industry comprises 500+ outsourcing companies and 100 global R&D centers, employing up to 100,000 engineers. During 2015, Ukrainian Government implemented many reforms, boosting Ukraine's competitiveness and attractiveness for business. Ukraine is getting strong support from the international community (EU, USA and Canada) and many international institutions such as UN and IMF. This lays the foundations for the further evolution and growth of the Ukrainian IT industry.
The country has moved up 17 positions in the international outsourcing rating, as currency depreciation led to a major gain in its compensation cost score, accompanied by improvement in the competitiveness of its tax and regulatory costs.– A.T. Kearney report
The 7th edition of the report, published on January 11th, 2016, identifies, analyzes and ranks the top 55 countries best suitable for outsourcing worldwide across three major categories. A total of 38 assessment criteria were measured in order to calculate the index stats: financial attractiveness (compensation costs, infrastructure costs, taxes), people skills and availability (cumulative services experience and skills, educational and language skills, and labor force availability), and business environment (economic and political risks, cultural adaptability, country infrastructure, security of intellectual property).
This annual research might serve a perfect recommendatory source for the companies as where to bring their business to. Another part of the report investigates, what perspectives and challenges await industry within the nearest future, and what other shifts might occur in ever-changing industry trends.
Recently, we have wrote about perspectives of nearshoring to Ukraine and why Ukraine is a reliable IT outsourcing destination for companies worldwide.
Also, you might want to learn more about Infopulse, one of Ukraine's largest IT outsourcing companies.