Manufacturing company
About the Customer:
Our client is an industry-leading group of metals and mining companies that focuses on the mining and processing of iron ore, and the manufacturing of steel products. With extensive experience in the metals and mining industry, our client operates across Ukraine, Europe, and the US, and has $9 billion in revenue.
Business Challenge
In 2021, the leading metals & mining company was looking for a reliable IT provider to build a solution architecture for a digital workplace. Having successfully implemented other complex projects for this client earlier, Infopulse won the tender with a proven excellent delivery record.
The architectural complexity of the project required an all-encompassing approach to building a holistic system for a group of companies spanning approx. 100,000 employees. The largest challenge was to unite disparate systems that each of the group's companies used and implement a single company-wide interface that all the company employees would be able to access.
A required digital workplace solution was to resolve the following challenges:
Support – many websites with their own infrastructure
Costs – expensive infrastructure and team support
Technology – solutions had to be built with Microsoft tech
Usability – uniform approach for different types of users
Localization – introduce multi-language support for both the interface and content
Integration – integrate numerous third-party systems with the digital workplace.
Solution
The client and Infopulse started the implementation of this massive project from an MVP stage. This allowed us to test the technologies necessary for the digital workplace solution and develop the solution architecture.
Next, we proceeded to the implementation and deployment stage (6 months) of the digital workplace solution based on the Microsoft Azure Cloud platform.
The project's highlight was the complexity of the group's organizational structure, which comprises numerous companies – each having their own systems. We combined and united those disparate sub-systems under a single interface that provides access to any data from those sub-systems. The types of access and data available to a user depend on their user role and permissions within the organization.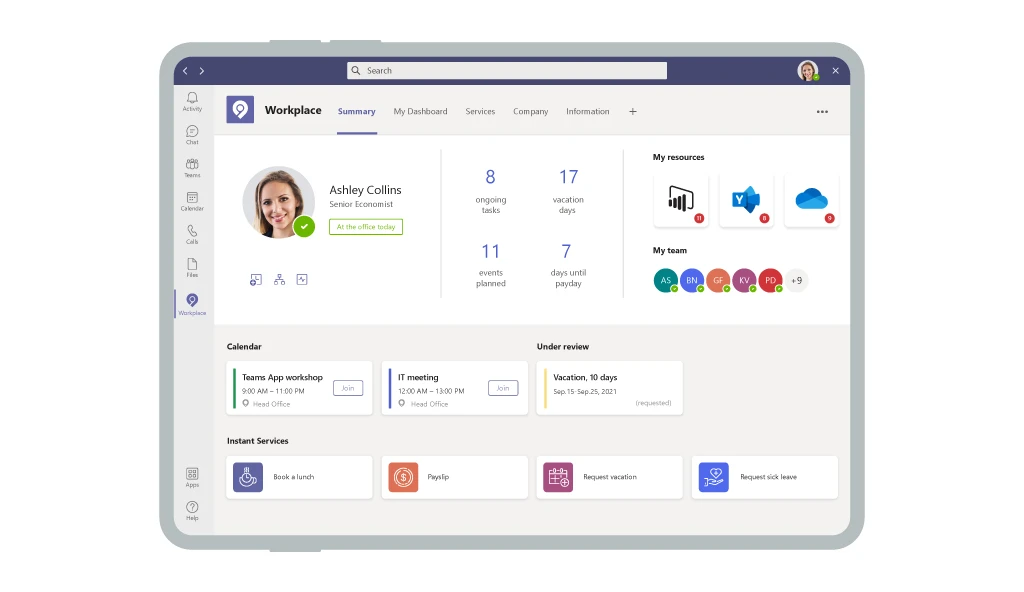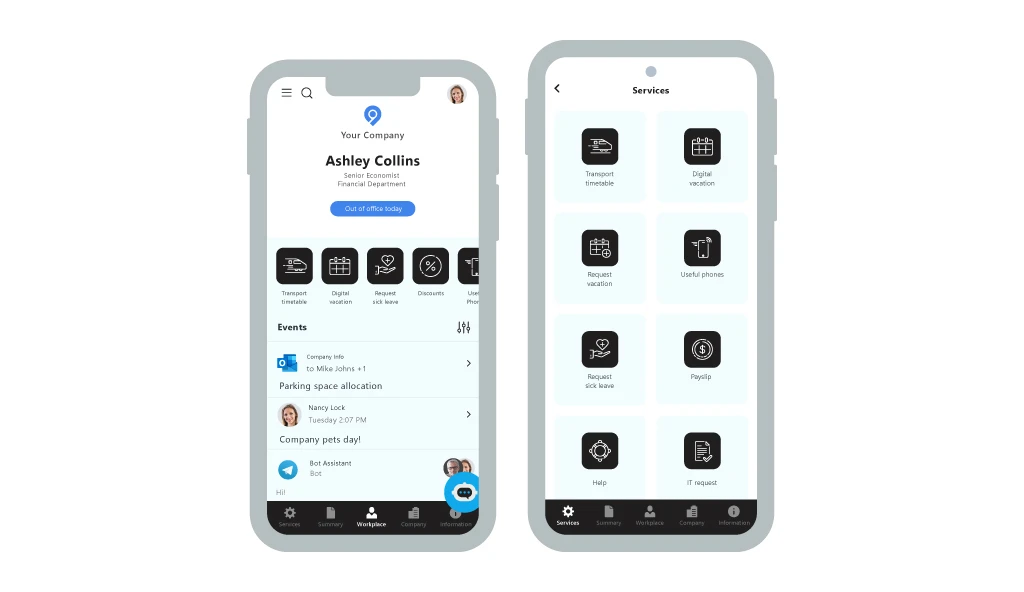 The delivered universal functionality of the digital workplace solution includes:
Adaptive Web, Mobile (iOS, Android), Chatbot (Viber, Telegram, Microsoft Teams) interfaces
Integrated digital workplacewith third-party systems: Microsoft AAD, SAP, HPSM, etc.
Finance, Scheduling, Admin panel, GDPR modules
News, Notifications, Tasks, and Multilanguage features
Personalized communication/display channels for data extraction
An average timeframe for similar projects:
Discovery phase – 3-4 months
Technical design specification phase – 4 months
Implementation phase – 6 months
Technologies
Business Value
A new unified, integrated cloud productivity platform developed by a joint team of our client and Infopulse provides the leading metals & mining group of companies with all the functions of the employee workplace (vacations, sick leaves, orders, approvals, finance, etc.) regardless of the specific IT stack of each enterprise of the international holding.
The benefits of the digital workplace solution are profound and encompass the whole organization, empowering distributed employees to work as one. As a result of the digital alignment project, our client receives:
Employee connectedness & better working experience
Enhanced collaboration resulting in better customer service
Responsive digital leadership among management
Reduced infrastructure and support costs
Microservice architecture that allows the system scalability and flexibility with ease
We have a solution to your needs. Just send us a message, and our experts will follow up with you asap.
Thank you!
We have received your request and will contact you back soon.