News
Infopulse Reports 2020 Results and CSR Activities
February 05, 2021
General
Sustainability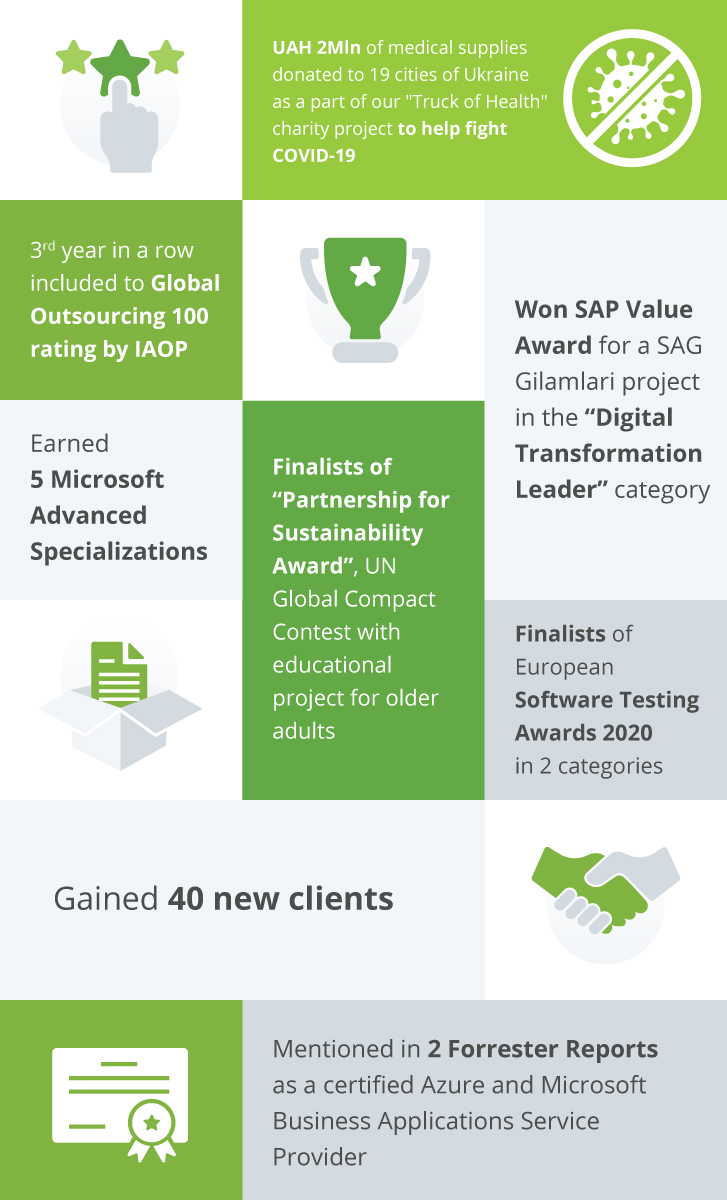 Awards and Perspectives
In March 2020, Infopulse quickly and efficiently transitioned all its 2,000+ specialists to remote work, embracing a work-from-home approach to ensure continuity of our services and preserve the health and safety of our experts in view of the global pandemic. Based on feedback from our clients, the remote working model had no negative effects on deliveries to our clients and even helped us to further review and improve our approaches and processes.
Infopulse also celebrated 10 years of successful cooperation with BICS, one of the leading global telecommunications companies; started new telco projects in Brazil; and increased its customer base with staggering 40 businesses worldwide.
The projects delivered by Infopulse continue to get global recognition. A collaborative project for an end-to-end SAP S/4HANA implementation with SAG Gilamlari, a leading manufacturer of carpets and tapestries in Central Asia and the CIS, won Gold Award at SAP Value Awards 2020 in the Digital Transformation Leader category.
Furthermore, Infopulse expertise in software testing and a joint project with Vizor, a global leader in financial regulation software, were recognized by being shortlisted for the European Software Testing Awards 2020.
Microsoft Recognitions
In the course of the 17-year partnership with Microsoft, Infopulse has been continuously growing its expertise in Microsoft Technologies. Last year, Infopulse passed 5 Azure Advanced Specialization certifications validating the company's deep knowledge and proven experience in:
Implementing SAP solutions on Azure
Migrating and modernizing production web application workloads and managing app services in Azure
Migrating Windows Server and SQL Server-based workloads to Azure
Migrating Linux and Open Source Databases Migration to Azure
Deploying, scaling, and securing Virtual Desktop Infrastructure on Azure
Besides, the years of rigorous practice, skill polishing, and streamlined processes have brought Infopulse global recognition by the leading global research and advisory firm. The company was included in Forrester's 2020 Now Tech Reports as a certified Azure services provider and selected vendor for Microsoft Business Applications Services. This distinguishes Infopulse as a trusted IT partner for the best-in-class Microsoft solutions and services.
Corporate Social Responsibility
In March 2020, Infopulse launched the 'Health Truck' CSR project aimed at helping Ukrainian hospitals fight COVID-19. In partnership with the 'Children of Hope and Love' charity fund, Infopulse has raised more than UAH 2mln to provide medical institutions and healthcare personnel in 19 cities with personal protective equipment and medical consumables. The company's contribution to national healthcare was recognized with two CSR awards from the Mayor of Zhytomyr and Zhytomyr Regional State Administration and the 'CSR Ukraine'.
Infopulse has also created a 'Smartphones vs Gramophones' digital literacy project for the older adults, implemented in collaboration with the 'Life Lover' charity foundation. The project became a finalist of the 'Partnership for Sustainability Award' organized by the UN Global Compact in Ukraine.
Together with the teachers and students of the National Technical University of Ukraine, Infopulse specialists developed websites for the 'Shchedryk' choir and 'Inclusive hub' educational platform, a social initiative of the 'Emmaus' public organization.
The Infopulse Telecom team has also launched the 'Laptops for Rural Education' project to promote digital education among pupils, with 19 laptops already delivered to the rural schools.
The Infopulse Poland volunteers had an opportunity to become good magicians for the family in difficult life circumstances as part of the 'Noble Pack' project. They provided the family with food kits, hygiene products, and a baby crib with the raised funds.