9 Reasons Why Enterprises Migrate Legacy Systems to ServiceNow
Originally published: October 24, 2019
Updated: December 29, 2022
10 min. read
Data & Analytics
Cloud & DevOps
Business Applications
It's a services-first world we live in nowadays, where Customer Experience (CX) has become a major competitive advantage, especially when it comes to IT services delivery. Agile startups and digitally native companies have set the bar high and take pride in 99.99% SLAs and lightning speed issue resolution times.
Enterprises that used to be at the forefront of IT support now find themselves among the laggers. While most of them were the first to implement comprehensive ITSM practices, some are now among the last to upgrade their legacy systems. Putting off this decision any further comes with certain tolls:
Lack of access to new functionality and interoperability with modern software that staggers your ability to improve and optimize critical business processes.
Legacy systems lack speed, thus resulting in low SLAs and slow response to incidents, requests, and issues.
Legacy software (especially apps that are nearing end-of-support) is more prone to security issues.
Self-service is non-existent, putting additional pressure on your IT teams.
Lastly, the costs of maintaining and supporting traditional ITSM suites will only grow larger YoY, while the tradeoffs will diminish.
Do any of these issues sound familiar? If so, you may want to consider joining the host of enterprises who took the leap and abandoned their legacy ITSM systems in favor of modern, agile and effective ServiceNow.
What Is ServiceNow ITSM?
ITSM ServiceNow is a unified, modern, cloud-based IT service management solution. It offers a comprehensive set of tools and services aimed at transforming the speed, efficiency, and impact of IT delivery.
The particular appeal is that ServiceNow comes pre-packed with ITIL standards, supporting a variety of ITSM use cases so that your organization does not need to create or import new policies.
Furthermore, advanced analytics allows you to go granular with performance tracking and helps identify and eliminate root cause issues faster. In addition, ServiceNow offers excellent functionality for automating and streamlining redundant processes in incident management, change management, asset management, and other business areas.
Finally, the platform is far more user-friendly and effective when compared to other IT service management SaaS tools, even those targeted at companies with high I&O maturity.
What Is ServiceNow Used For?
IT tools and proprietary data consolidation
Workflow automation with AI and machine learning
Automated asset management
Change and release management
Project portfolio management
New-gen customer support and chatbot-powered assistance
SLA management
Incident and request management
Knowledge management
ITSM analytics, monitoring, and reporting
This year, ServiceNow was identified among the best ITSM tools within Gartner's Magic Quadrant.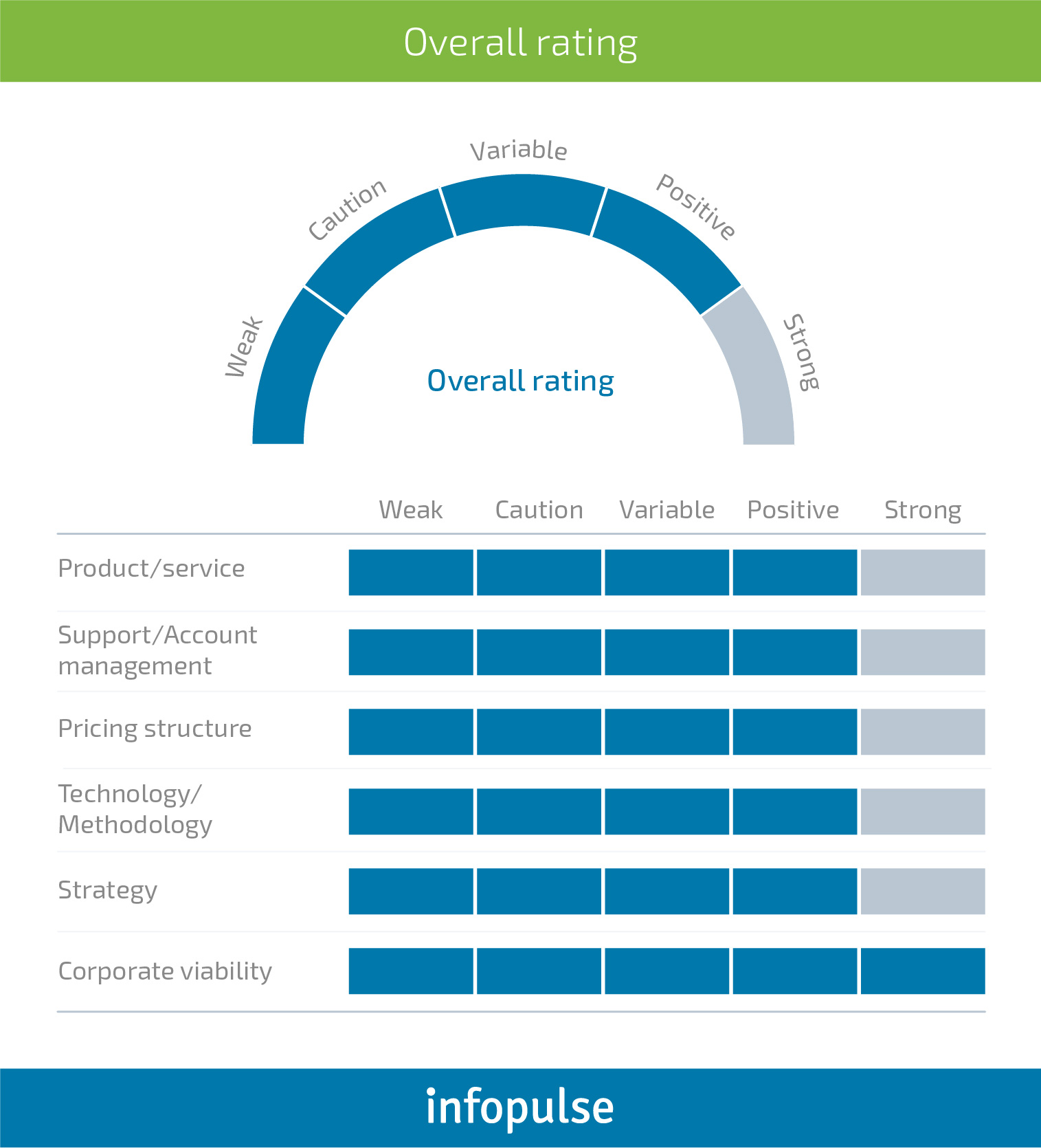 Some of the product's undeniable strengths include:
Proprietary new-gen tech. ServiceNow is among the few vendors ITSM SaaS vendors that offer native AI and Machine Learning functionality as add-ons, instead of third-party integrations. This translates to higher product quality, more stable performance, and more frequent updates.
Mature partner ecosystem. ServiceNow has the largest revenue market share – 3X that of its nearest competitor. Combined with strong brand recognition and a growing user base, ServiceNow has managed to scale into a strong partner ecosystem of supporting services and integrations.
ServiceNow ITSM users can switch between three options:
Companies with technical expertise can use well-defined APIs to implement more robust and out-of-the-box integrations. While specialists with domain knowledge can leverage low-/no-code functionality to add new capabilities to customize their platform.
Solid ROI. ServiceNow migration results in lower hardware, maintenance, and license costs. Oshkosh, for instance, reported a $3 million saving after retiring its legacy on-premise ITSM system.
Convenient Pricing. ServiceNow uses a fixed per-licensed-product pricing model. Each product comes with its own unit of measure for licensing. More recently, the company also introduced a limited degree of consumption-based pricing (transaction packs). Due to that, the initial total cost of ownership may be hard to gauge, but ServiceNow offers a handy TCO/ROI calculator that can be used to estimate ServiceNow implementation costs.
Who Benefits Most from ServiceNow Adoption?
Large- to mid-sized enterprises who want to improve their service levels and customer support and willing to switch to productive team-centered operations. Even much more so, organizations that are now considering license renewals and hardware upgrades for their static ITSM systems.
At the moment, over 5,000 businesses from different industries, including 75% of the Fortune 500 companies, use ServiceNow SaaS offerings.
ServiceNow ITSM is targeted at companies with varying levels of I&O maturity. However, capturing ROI from more advanced ServiceNow use cases will require organizations with low I&O maturity to gain an ITSM Professional license or hire a consulting team to assist with implementation, training, and support.
The Top 9 Benefits of ServiceNow Implementation
1. Consolidate IT Services and Reduce Costs
The biggest draw of ServiceNow is that it is highly extensible and can be modeled into whatever your organization needs with the help of various integrations. Plus, it comes with a decent service catalog. Thus, it can replace a host of IT tools and reduce process clutter through automation and simplifications. ServiceNow also has a robust configuration management database (CMDB) that can be leveraged for data consolidation and silos reduction.
Forrester conducted a series of interviews with ServiceNow customers and estimated that on average, organizations improved IT productivity by $7.5 million that further breaks down into the following:
75% reduction in effort regarding resource management and report generation
66% reduction in time and effort to cater to service requests
50% reduction in audit support efforts.
20% boost in IT fulfiller efficiency
20% reduction in the volume of service requests due to automation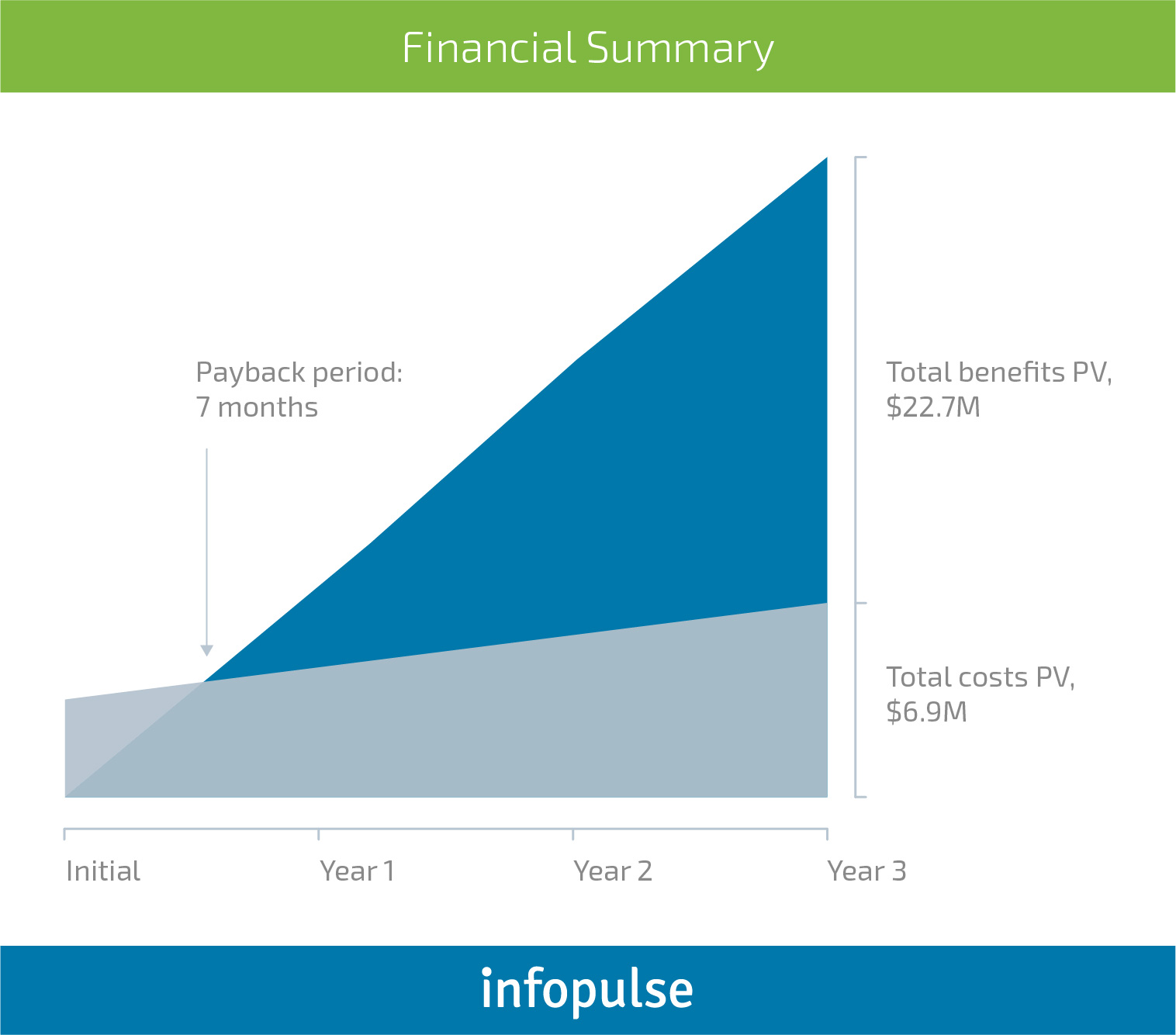 As ServiceNow has a strong product vision and regularly updates its core products and releases new features, customers also saved additional development costs (estimated $200,000 per year).
Furthermore, ServiceNow ITSM implementation eliminated a huge financial burden of maintaining on-premises systems:
Over $2.4 million saved in avoided legacy solutions costs
Over $1 million eliminated in upgrade costs in one year post adoption.
2. Increase IT Productivity
ServiceNow empowers IT staff with better tools for automation and workflow management. This lets you scale your capacities without hiring additional people. Forrester study indicates that most organizations achieved:
A 20% automated resolution rate for the most common incidents and service requests.
A 75% reduction in a team effort for resource management and report generation.
A 20% increase in IT team efficiency due to the centralized nature of ServiceNow.
50% less effort applied towards conducting IT audits.
50% capture of saved time is now allocated towards more high-value, productive tasks.
3. Accelerate Incidents Resolution
ServiceNow seamlessly links together all the information regarding an incident, automatically categorizes it and afterward suggests the most appropriate resolution workflow. The platform can automatically route all incoming requests to the proper department, reducing the amount of work spent on a single ticket by 60%.
Jonathan Hayes, VP Global IT Service Excellence at Experian noted that the company's IT department managers could now approve simple requests in a matter of seconds, rather than 2-3 minutes. At the same time, agents spent up to 50% less time on logging tickets.
4. Improve and Automate Customer Support
With automated customer support, post-adoption businesses report a reduced number of service tickets, faster resolution times, and improved CX and satisfaction with support levels.
It's worth highlighting two ITSM applications in this regard:
Agent Workspace: an integrated command center for all service desk agents, acting as a single source of truth. Every agent can log in to review key information, study the full issue context and obtain richer insights about the customer. Additionally, your staff can get access to AI-powered recommendations to serve the customer even better.
Virtual Agent is an intelligent conversational chatbot that provides 24/7 self-service and can effectively address basic requests. It helps minimize the burden of repetitive work and improves IT teams focus and productivity.
5. Gain a 360-Degree View into Your Operations
ServiceNow lets you switch to a single data model, and generate insights on-demand using real-time data. The platform allows reviewing 200+ predefined reports. Alternatively, you can choose to create a custom one, or opt for role-based analytics dashboards.
Performance Analytics functionality, for instance, let's your monitor various trends, prioritize resources and make continuous improvements to your IT operations. Service Level Management feature increases visibility into SLAs performance and lets you analyze both individual and cumulative SLA progress, and make appropriate adjustments.
6. Streamline Change Management
ServiceNow change management workflows let you proactively tackle unplanned changes, and reduce the costs and risks associated with them. You can choose to automate the standard process with DevOps to boost the velocity of work. A more complex IT change process can be automatically escalated to advisory board meetings using CAB Workbench to secure faster approvals.
7. Reduce Mean Time to Restore
According to Forrester, most ServiceNow clients managed to reduce high-priority incidents volume to 1% of the total number of incidents and requests. Thanks to better visibility and predictive analytics, surveyed companies also avoided 5+ critical incidents per year that could have otherwise resulted in at least 1 hour of costly downtime.
ServiceNow platform implementation has proven to majorly accelerate service restoration time.
8. Enhance Asset Management
Obtain a single-pane view of all your assets, including the financial, inventory and contractual details. ServiceNow provides your IT teams with a wholesome view on every system configuration including access rights, costs, and asset usage. This, in turn, majorly facilitates risk management and leads to faster resolution whenever issues arise.
9. Embrace the Mobile Workforce
Last, but not least, the advantage of ServiceNow adoption is a native enterprise-grade mobile app – an offering few other ITSM vendors can beat.
Mobile Agent lets your team stay connected and perform tasks on the go or when working on-site. It acts as an organic extension of web ServiceNow solutions and supports the following features:
Risk management and compliance: your team can access information for policies, exceptions, and risks remotely, as well as obtain real-time information on risk scores.
Incident and case management: the ability to work on tasks, update records, grant approvals and respond to incidents in a few taps.
Field service management: improve agent on-site experience by providing them with navigation, scanning and digital signatures functionality.
How to Strengthen Your ServiceNow Implementation Journey
The benefits of ServiceNow adoption are attractive, but oftentimes can be shadowed by the anxiety of change and disruption. Introducing a new ITSM solution can initially appear as an invasive endeavor. Hence, do not rush this decision and invest in some groundwork first.
Document the key elements of your current ITSM solution, such as system components, process workflows, and integrations. You will then compare your list to what ServiceNow offers and whether there are any gaps.
Engage stakeholders and host a series of Requirements Gathering Meetings, where you'll discuss a number of matters, e.g.:
Main challenges and inefficiencies that should be addressed with the new solution.
Basic configuration that will suit the critical business processes you want to maintain.
Required scope of process re-engineering to improve productivity/efficiency.
Key operational metrics and KPIs that you'll want to maintain, plus new metrics that you'd like to track.
Gaps in existing processes and how you plan to address these.
Functional requirements (in the form of user stories).
Success criteria for adoption.
As already mentioned, ServiceNow ITIL processes are rather comprehensive. Most likely you'll be able to leverage a large fraction of built-in processes during migration and customize the rest via integrations at a later stage. Doing so will help you gain value from migration quicker.
Infopulse team offers end-to-end ServiceNow implementation services and would be delighted to further advise you on your migration journey. Get in touch with us!