Article
AR, IoT and Other Trends from Media Hack Weekend 2016
Originally published: October 31, 2016
Updated: April 25, 2018
7 min. read
Innovations
Smart Fitness Tracker, AR app for home furnishing, an anti-nystagmus plugin for browsers, AR dressing room, Bluetooth headphone adapter, a GIF maker and editor – check out our report about the best projects from MHW 2016!
On October 7-9, 2016, Dovzhenko Film Studios in Kyiv, Ukraine, hosted MHW 2016 – one of the largest hackathons in Central and Eastern Europe. Infopulse supported, sponsored and helped to organize the hackathon.
Surpassing Expectations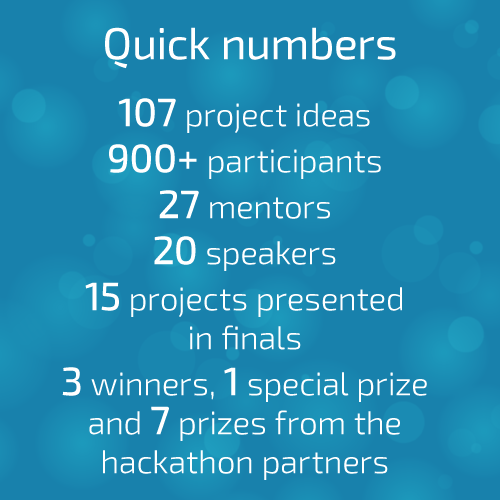 Media Hack Weekend is an annual event focused on the future media and related technologies and organized by 1+1 Media. The hackathon has shown an impressive growth since the last year, attracting over 900 IT professionals, business analysts, designers, New Media specialists, and enthusiasts. In 48 hours, 107 project ideas were designed under the guidance of 27 local and foreign mentors, experts in their fields.
During the specialized discussion panels, 20 Ukrainian and international speakers delivered climatic industry-related reports. Infopulse EVP of Marketing Jan Keil served as a mentor and a jury member and delivered a speech on low-cost marketing strategies for startups.
Infopulse is happy to be a part of such events! Hackathon is an amazing experience for participants, empowering them to go beyond the impossible, achieve impressive levels of self-efficacy and show amazing results. At the same time, it's a very exciting experience for me, as a mentor and member of the jury. Witnessing the ideas and concepts turn into real working prototypes, keeps all of us highly motivated! We at Infopulse strongly believe that with so many talented people, Ukraine has a very bright future!– Jan Keil, Infopulse EVP of Marketing and MHW 2016 Mentor
Best of the Best
Sponsored and supported by the large international companies, such as Visa, VK, and Corezoid, MHW has become truly one of the largest hackathons in the Eastern Europe.
MHW 2015 had many crazy ideas. Nevertheless, it was immensely fun! The MHW 2016 projects have become more business oriented and much more reasonable. In 2015, the hackathon resembled a family picnic, where 70% of participants I knew in person. Hackathon 2016 gained weight and became more of a real IT festival. It's amazing to see how our project has grown!– Pavlo Pedenko, MHW Founder
Let's take an in-depth look at the best projects of the Media Hackathon.
III place – Gifsly – a GIF maker and editor
An entertainment app for social networks that allows to create, edit and customize GIF animations, by capturing your own videos and combining them with existing GIFs, text, emoji and color filters. Fun and easy to use, this small app can become an everyday tool for social network users.
II place – SelfFit – a fitness tracking app
As the fitness tracking business grows, there are many apps promising the best experience in tracking your workouts. Alas, most of them can track only up to 10 exercises. A SelfFit Team has created a powerful IoT fitness app, which allows tracking up to 30+ different physical exercises with the help of sensors in real time and even create live-streams of the workouts.
I place – Earn Money Get Fun – a social media app
This app allows its users to set open challenges or fun tasks to be completed by random strangers or friends for real money. To win a challenge, a user must be the first to post a video with proofs. Other users can add more money to the prize pool to build up the hype around a certain task. The app immediately grabbed the attention of hackathon partners for its immense potential to go viral.
A special prize – An Anti-Nystagmus Project
People affected with the nystagmus syndrome have uncontrolled repetitive movement of the eyes. In many cases, it affects their ability to read. The Anti-Nystagmus project team wanted to help such people making a script that slightly shifts the screen. The direction of the shifts, their speed, and intervals can be set manually to suit the user's condition. Currently, the project is implemented as a plugin for Google Chrome. Although this project won't cure the syndrome, it might make life easier for people suffering from it.
Other Great Projects
Some other interesting projects that won special prizes from the hackathon sponsors:
Try&Buy – an augmented reality app for shopping that allows to try on clothes on a screen of the phone in one click by utilizing neural networks capacities.
Media Emoji – an app to interact with media and TV in real-time that allows sending smiles and emoji directly from your phone to the live broadcasting. For TV Channels it may become a useful video analytics tool to track the audience reaction and create interactive polls for the TV shows.
Adsync – an ad management service that synchronizes the time of Google Display Network ads with TV advertisements, making advertisements more effective by at least 25%.
The lless– a sleek and beautifully designed Bluetooth adapter for headphones that can last 12 hours on a single charge.
Hackathon Best – an app for hackathons that allows creating interactive polls, and tracking teams' ratings in real time.
Interio – an augmented reality app for home furnishing and decor.
What's Next?
The winners of MHW 2016 will present their projects during The Next Web 2017, one of the largest international IT conferences to be held on May 18-19, 2017 in Amsterdam, Netherlands.
On this occasion, we sincerely congratulate all winners. The next paragraph is for them.
We can't wait to see your new ideas! Godspeed and keep on creating.
Best Moments from Media Hack Weekend 2016 [PHOTO GALLERY]