Article
How to Utilize AI for Customer Acquisition
Originally published: May 17, 2021
Updated: December 29, 2022
7 min. read
Data & Analytics
Innovations
To boost customer acquisition and CX, companies worldwide use Big data to create prospect-centric marketing campaigns and improve conversion rates. Marketing teams harness the power of artificial intelligence, its robust capabilities along with machine learning to build customer loyalty, increase brand recognition, and tailor strategies that generate better results.
According to McKinsey Analytics, AI is likely to bring 1.4-2.6 trillion USD of value for global sales and marketing. To make their efforts more targeted with machine learning, customer segmentation is just one area marketers apply this technology to.
Beyond that, when enterprises know customers' habits and preferences, they can offer timely and more personalized experiences. Furthermore, artificial intelligence solutions can increase sales by helping businesses guesstimate the next step a customer is likely to take.
Higher response rates at lower acquisition costs are the key drivers that pave the way for eliminating non-buyers from the picture. Can it be done automatically? Statista predicts that the artificial intelligence technology market will likely accelerate exponentially and generate 126 billion USD in sales in 5 years.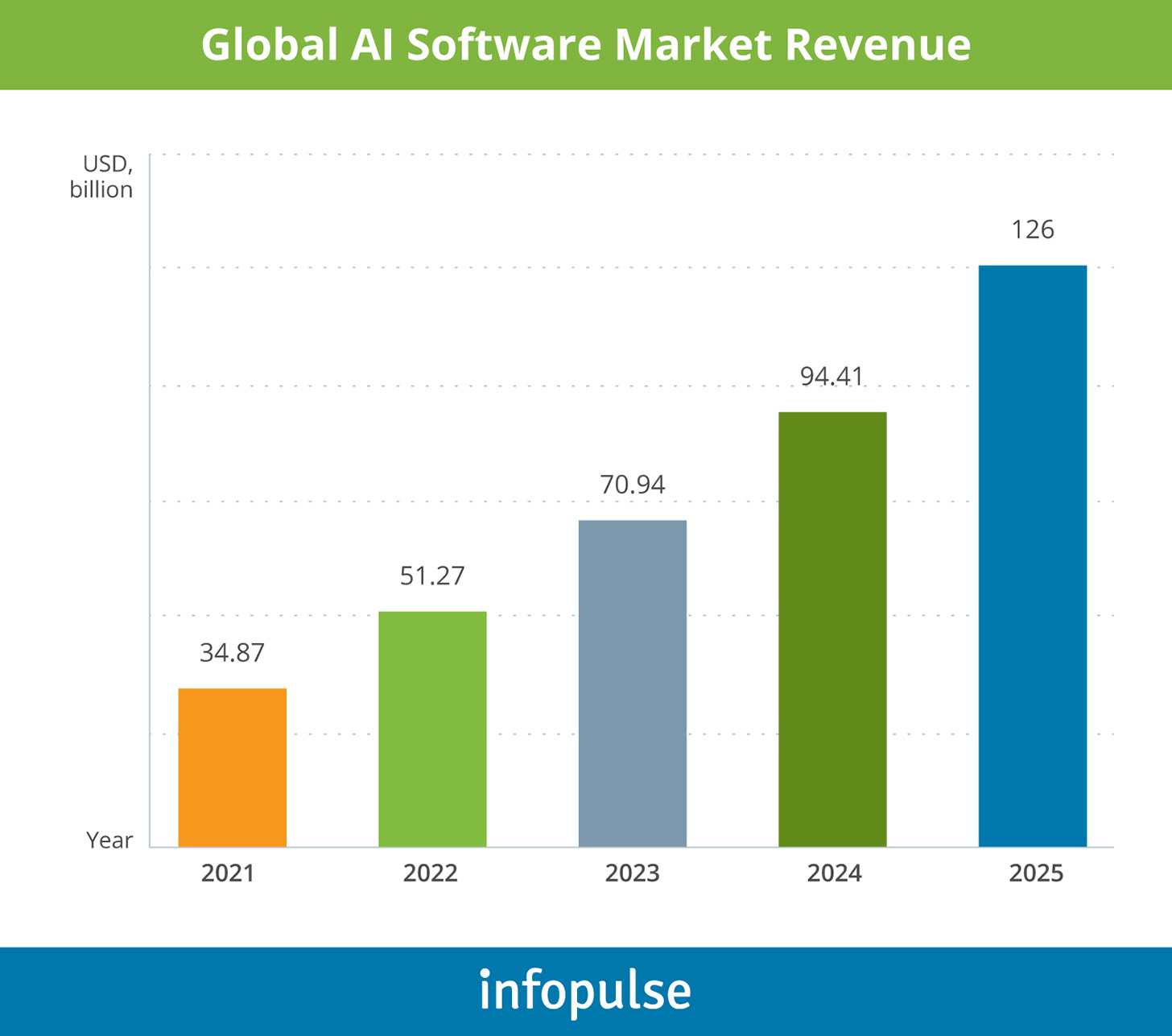 By now, different business domains have adopted artificial intelligence to optimize the supply chain, for example, in manufacturing or delight their customers with superior in-vehicle experience in the automotive industry. However, that is not all. Banking and financial services favor AI and embrace chatbots to offer personalized support, too. So, how can AI help attract new customers and make their journey with a business remarkable?
1. Predictive Behavioral Analytics
As tracking tools evolve and become more complex, it is easier than ever to track visitors' actions on your website and use those business intelligence insights to reach out to potential customers. Using AI, a company can clearly see what their next customer might fancy at a certain moment, so its in-app or in-store assistants in retail, for instance, know what to do next to attract them.
With a crystal-clear understanding of what is important for a prospect, a business can make its marketing efforts resonate with the momentary goals and desires of potential customers. Using GPS technology and apps, Macy's, Starbucks, and Sephora trigger relevant in-app alerts when customers happen to be near their physical stores, for instance.
2. Improved Prospect Segmentation
AI can help businesses target a specific audience without human bias. Once the focus is sharp and does not involve personal likes or dislikes, the targeted clients can buy selected products or services at a specific point in time. This is possible if the message a business sends is correct and appealing as well.
Most of the information businesses have at hand about customers, however, is inaccurate. Unlike with machine learning customer segmentation, humans have difficulties finding patterns in the collected data. Thus, there is no bigger picture of customers' habits, demographics, important life events, products and services they prefer, and lifestyles they support.
Those market players that choose to carefully examine data with the help of algorithms, benefit from intelligent data management solutions some tech companies offer like one consulting platform did. The online coaching practice decided to enhance its customers' journey and integrate data-driven marketing analytics platform Optimove "Brain" for real-time behavior user analytics as a part of its operational upgrade.
Case in Point
To improve its targeting, analytics, and outcomes of email campaigns, BECU searched for both a reliable data partner and a cutting-edge marketing platform. The company partnered with MX to harness the potential of intelligent data and Amplero's marketing platform, based on Salesforce Marketing Cloud, to create meaningful, personalized cross-channel experiences. As a result of these joint efforts, BECU paired the well-defined messages with the specific customers, grew its loan applications by 10%, and used real-time communication insights to further increase the demand for its products.
BECU is not the only organization that saw AI in action and appreciated machine learning tools and their business impact. To build up a solid base for engagement increase and create customer profiles for further intelligent communication, businesses must take a close-up look at large amounts of historical data, get rid of the noise, and pinpoint the key attributes that artificial intelligence solutions can spot among all customers' data.
3. Personalized Outreach
For starters, AI can help arrange your content, organize it by themes, while Machine Learning can quickly learn which topics work for one customer category and which are an absolute no-go for another one. In addition, ML can then help your business customize and test your outreach strategy across different mediums including email content, display ads, landing pages, and even personalized sequences in your drip campaigns.
This can be done based on lead scoring and associated content themes. Let us not forget that it is essential to choose the proper channels to engage with the target audience. Thus, juggling and A/B testing several of them can help reap those superior results every business strives for when the competition is stiff.
Undoubtedly, ML can help create a highly personalized customer journey for each unique prospect. No one likes a one-size-fits-all approach these days. Algorithms will learn from the results and continuously refine and improve. After you find a way to connect with a prospect, machine learning models learn what makes them tick. The next step is to craft an appealing message to trigger customers' reactions.
Case in Point
When Georgia Aquarium decided to explore the individual preferences of its visitors and sponsors to better fund its marine wildlife conservation programs, it saw almost 90% growth in email open rates, 6% improvement in engagement, and 21% sales spike through a digital channel. The reason behind this success is the highly targeted content and appealing messages the company reached out with to its potential supporters.
4. Cross-Selling and AI-Based Access to Add-on Services and Solutions
The accurate interpretation of customer data can help grasp downstream opportunities that serve as another source of revenue for a business. Selling another product or offering an additional service to a loyal customer requires more effort. The organization should back this effort with historical data that helps take intelligent steps and deliver personalized, multi-channel customer experience.
It is worth performing the root-cause analysis of past scenarios of interactions, capture new data, and feed these insights back to the ML models you use. In such a way, chances are they can improve in the next prediction round and help your cross-selling efforts reach the set goals. Some sources claim that in banking, for instance, it is easier to seal the deal with existing customers than with qualified leads.
Case in Point
To harness the full potential of machine learning, Yes Bank uses award-winning big data tools and employs advanced analytics and data science techniques to map the customer life-cycle and obtain insights into customer behavior. The financial institution used these insights for their marketing and cross-selling campaigns and portfolio management tactics. It has its own YES RoBOT that uses advanced NLP engine LUIS (Language Understanding Intelligent Service) and allows the bank to tap into the fast-changing banking needs of clients automatically.
5. Customer Experience
"The burden of managing and supporting self-services is being taken away from today's support staff and pushed into customers' hands. This level of delegation, from 'DIY' to customer-led AI, will be a major force shaping customer self-service", Gartner researchers report.
The source insists that enterprises and customers should embrace Artificial Intelligence to get the most out of customer-managed online interactions. Perhaps unsurprisingly, the generation of mobile customers or Gen-Z is the critical determinant that will shape the experience economy.
Along with the agility of customer support chatbots, there are many other benefits artificial intelligence in customer service can bring. That is what customers say about their preferences for the technology: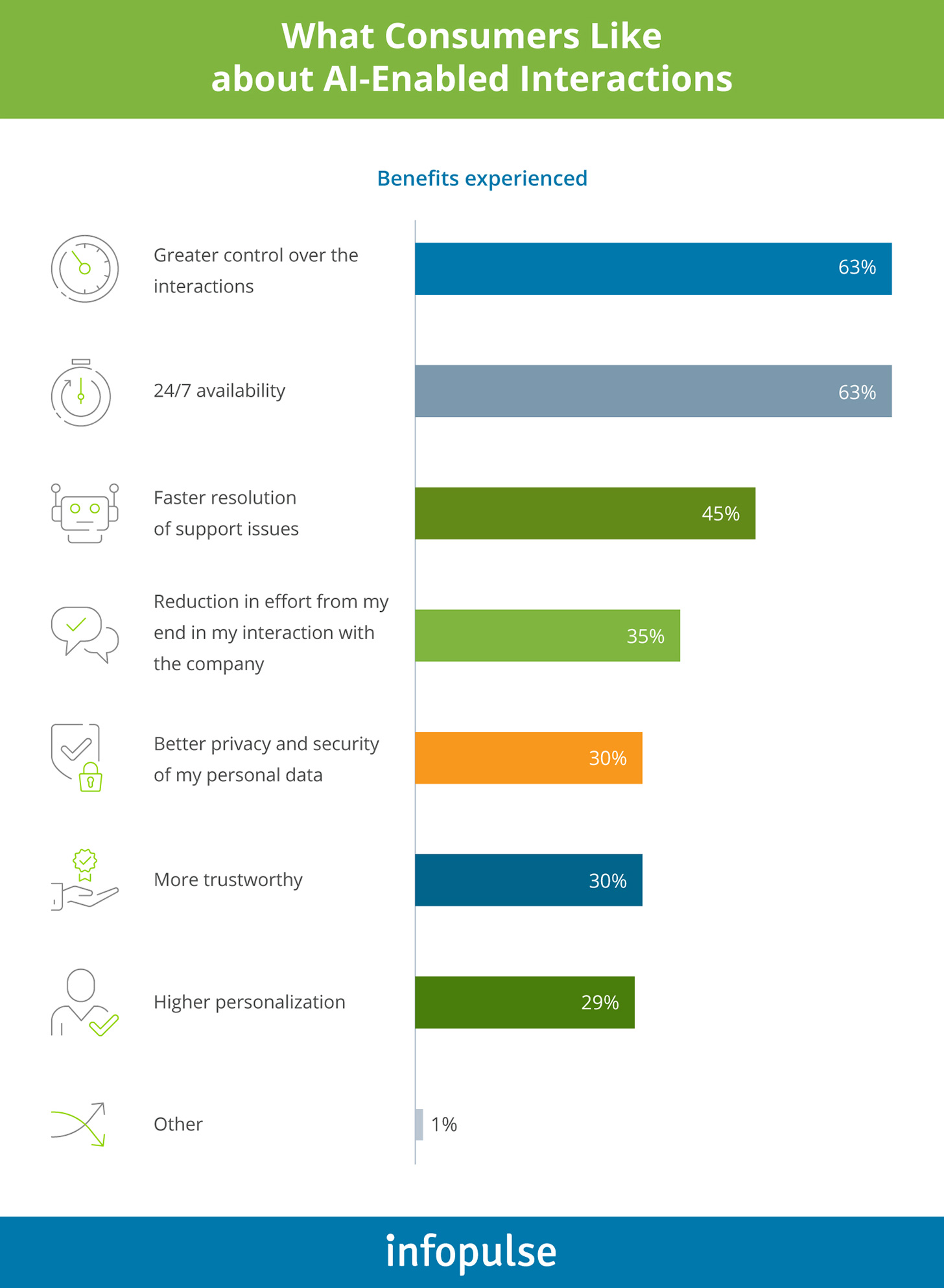 Taking customer profiling further, enterprises can capitalize on AI-driven sentiment analysis. Daily, customers share their feedback and opinions about brands they interact with. These expressions of feelings pile up and create an enormous source of unstructured data to work with. To keep track of what customers say about your brand, AI sentiment analysis is the answer to sort it all out. The technology helps enterprises to automatically define the 'mood' of comments and transform those sets of customer data into real-time insights to act upon.
Finally, decoding customer sentiment offers brands an opportunity to adjust their tactics to customers' emotions quickly. Additionally, sentiment analysis can help businesses to reflect on online mentions, detect urgency in customer support requests, and find meaningful insights in customer testimonials. Last but not least, sentiment analysis can be handy to detect market trends and research your competition's strengths and weaknesses based on the reviews shared by customers.
Cases in Point
Repustate created an AI-driven API that automates extracting insights from unstructured data using semantic technology. The company offers enterprises a chance to enhance operational efficiency and gain actionable insights. The tech firm helped Health-Links to understand its patients' needs better, enhance their experience, and craft medical programs that address the existing demand. Repustate equipped the healthcare provider with a holistic alternative to labor-intense manual analytics of records.
Furthermore, the customer-experience management platform, Clarabridge consolidates all the customer insights a business needs. It works with the globe's leading brands that chose AI-powered speech and text analytics to differentiate digital experiences and delight their customers. Clarabridge and Sky cooperation helped the latter with large amounts of data and customer testimonials. Sky used customer feedback to tailor its social media strategy and amplify operational efficiency but had to really dig deep for meaningful insights before its collaboration with Clarabridge.
Final Thoughts
Artificial intelligence along with machine learning are the tools that many business verticals already chose to adopt to create customer experiences of different caliber and make hyper-personalized acquisition steps. Artificial intelligence has many benefits and helps businesses scale smart.
Reach out to Infopulse to discuss the ideas for bringing your customer acquisition strategies to a new level and learn how to make your customers come back for more by using the highly targeted approach AI can offer.