Article
Augmented Reality Benefits for the Entire Automotive Value Chain
Originally published: February 14, 2019
Updated: January 31, 2023
10 min. read
Innovations
Software Engineering
For automotive brands, augmented reality has become another way to lure their customers with new interactive experiences and tell the world that they keep in step with the latest technologies. But what are other non-marketing opportunities that bode well for the transformation of the whole
automotive industry
? In this article, we explain how AR together with other types of extended reality can change the entire automotive value chain.
Although AR hardware still needs five to ten more years to get mature as Gartner predicts, automotive industry can already avail of plenty augmented reality examples and use cases as well as their benefits. The recent research confirmed the fact that XR opportunities for OEMs are all-embracing covering the full value chain from R&D to aftersales: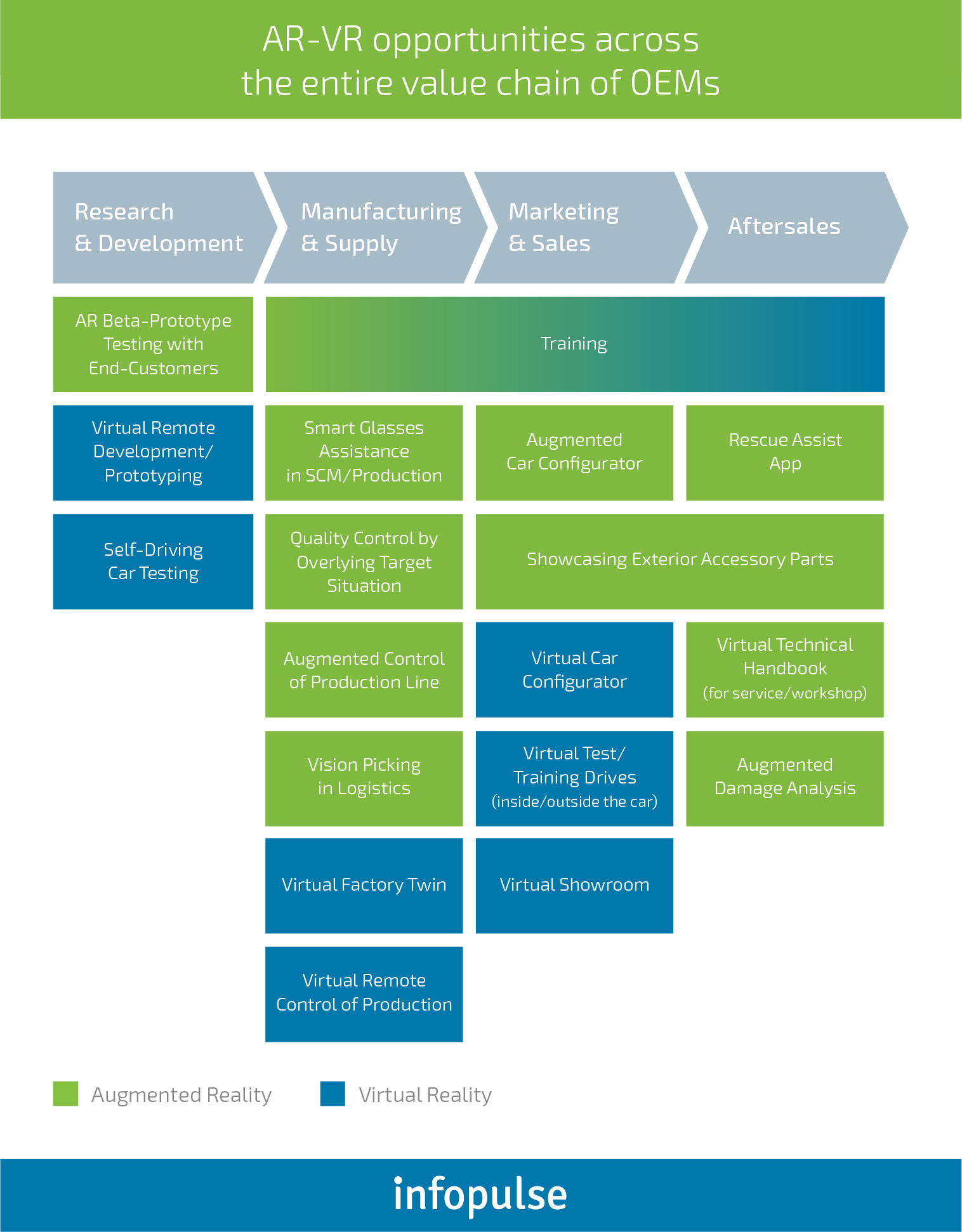 What Challenges Stop Businesses from Large-scale AR Adoption?
So, why don't all businesses reap advantages from integrating augmented reality into their automotive solutions? Given all the AR use cases above, it's obvious that automakers and automotive software companies are only experimenting with AR features implementation. Although AR already exceeds other types of artificial reality, it still needs time to become fully mature. Augmented reality technology is still not ready for solving compatibility and observability issues, described in Roger's innovation diffusion theory, namely because of privacy concerns and lack of information on return on investments in the AR systems implementation.
The theory attributes to five technology characteristics that define the acceptance of innovation and readiness of businesses for adopting it:
Roger's Theory Applied to Augmented Reality
Extent to which it offers improvements over available tools.
Compared to VR, AR offers new advantages – visualization of virtual worlds mixed with real environments.
Consistency with social practices and norms among its users.
Many AR devices require data collection, which raises a range of privacy concerns.
Ease of use, learning or adoption
End users can effortlessly learn how to use AR applications whereas businesses can already exploit a number of open source frameworks for AR applications development.
Opportunity to try an innovation before committing to use it.
AR is easy to try nowadays as many applications are already available on smartphones, tablets and consoles.
Extent to which the technology implementation converts into clear benefits for businesses as well as end users.
Businesses still can't fully predict whether the implementation of an AR system would return the investments (e.g., in the advanced AR HUDs development) as the product may be in its PoC stage and hasn't been field tested. Besides, AR systems still lack enough data to prove their efficiency and justify spending as many consumers do not rush purchasing high-priced AR-powered systems.
According to this table, augmented reality can already offer lower level of complexity and together with open source AR SDKs available on the market, technically augmented reality is easier to adopt, try, and use across different domains. Relative advantage defined in the theory is about those visualization improvements brought by AR into the automotive industry compared to conventional tools.
Despite that, there are even more bottlenecks preventing AR technology from the mainstream use:
There are still no standards as to AR applications and thus, data security and privacy concerns may set back further augmented reality app development.
Lack of computational power of existing mobile devices results in their inefficiency to support complex computer vision algorithms required in many AR applications.
Inaccuracy of techniques used for quick virtual content localization on HUDs.
High costs of such AR devices as AR HUDs, AR glasses, Microsoft HoloLens, etc. Moreover, AR glasses are still being tested and refined which means that auto manufacturers can't completely rely on this hardware.
The amount of augmented content to be displayed in such a way that it does not distract a driver or a technician.
Some legacy auto assembly systems should be adjusted or replaced with up-to-date equipment to match the requirements of AR applications.
Every car model has to be significantly re-designed and re-built to install currently available AR HUD devices.
Even with intuitiveness and ease of use of AR technology for training and workshops, experienced staff workers may need more time to get accustomed to dealing with new technologies. Not talking about expenses needed for the equipment and tutoring.
Lack of trust and social acceptance. What's more there are more estimations regarding the actual numbers on reduction of time and manual work by using AR applications in the production or repairs.
It comes out that until AR technology roots into all phases of vehicle lifecycle, it will balance between its entertainment offerings and attempts to make automakers, dealership centers, automotive hardware and software solutions providers committed to AR adoption inside and outside the vehicle.
Conclusion
Automakers have already embarked on implementing augmented reality in the vehicles' embedded systems, AR user manuals, AR applications for the vehicle's design and assembly, etc. And although businesses may need ten more years until they are ready for AR-driven digital solutions, automotive software providers should already gear up towards new enhanced AR solutions. Today, both of them are challenged and held back with the lack of competent experts in augmented reality as well as computer vision technology. If you share the same problem, you can address Infopulse, as a trusted automotive software provider, to assist in implementation of your AR solutions.