Article
Blockchain in Manufacturing: Challenges of Adoption and Use Cases
Originally published: March 13, 2019
Updated: January 17, 2023
9 min. read
Innovations
The current state of manufacturing is characterized with exclusive business relationships that are expensive, opaque and slow. Manufacturing enterprises have centralized asset control, which is insecure and prone to hacking and data loss. Due to these aspects, smart manufacturing is now growing rapidly. Manufacturing conglomerates are currently exploring different innovative ways to cut down the expenses, eliminate manual errors, speed up the existing operations, and improve the efficiency of manufacturing processes with newly emerging technologies.
Read also about:
Blockchain is one of the cutting-edge technologies that have the potential to utterly transform the manufacturing industry. It offers a new model of product traceability, supply chain transparency, compliance monitoring, and auditability. Moreover, leveraging blockchain technology into a manufacturing enterprise can enhance its security and reduce the rates of systematic failures. By Deloitte estimates, the leading industry that deploys blockchain in its business practices is manufacturing.
Most importantly, blockchain can be used alongside with other emerging technologies, like artificial intelligence (AI), the internet of things (IoT), and 3D printing. In combination, they may accelerate the supply chain management, advance product customization options and reduce counterfeiting. Now we will further explore the advantages and opportunities that blockchain creates for manufacturing.
The Applications of Blockchain in the Manufacturing Industry
1. Efficient Supply Chain Management System
Supply chain management is a complex and time-consuming process that includes many participants. It begins with the procurement of raw materials, and continues with the product design, its fabrication, and ends with its delivery to the customer. The main challenges of establishing an efficient supply chain are inventory management, coordination, and product traceability, managing possible risks and supply disruptions. The most significant components in supply chain management are information sharing and trust among the participants.
In terms of supply chain management, blockchain reduces the company's costs, accelerates the whole process, and simplifies the legal aspects related to the supply chain. Most importantly, it creates a transparent and reliable ecosystem for the shipment process. Each participant of the chain has access to relevant information, like the status of the movement or document control, which they can monitor at any time. Smart contracts is the technology that reassures that all of the obligations set by the participants are complete. The implementation sequence of smart contracts is as follows:
Entrepreneurs identify business opportunities and decide upon the terms.
The participants create a contract and establish conditions and obligations.
They deploy the contract on the blockchain system and wait for the conditions to be met.
If the conditions are met successfully, the contract self-executes and the outcomes are then recorded on the blockchain platform.
As a result of applying smart contracts in supply chain management, the whole process is simplified, it requires less time and less manual work. With the help of smart contracts, the tracking of the product across the whole chain becomes more convenient, and the outcomes are secure and transparent.
2. Combination of Blockchain and 3D Printing in Manufacturing
Additive manufacturing, which is also known as 3D printing, can be blended together with blockchain technologies to enhance the security of the product and dramatically reduce production costs. Concerning the security issues, the users can deploy blockchain for copyright protection. If somebody uploads his 3D project into a blockchain platform, it becomes instantly encrypted and protects the design from plagiarism. The designers may also use smart contracts to negotiate pricing rates and discuss the contract conditions with the logistics services provider and the customer.
Blockchain may be a huge benefit towards reducing of costs of warranty and maintenance. There are no intermediaries involved on the entire blockchain platform, so no hidden costs may be applied. Blockchain creates a digital product memory that includes the entire item history, like material description and ownership of the product. Moreover, leveraging blockchain may help to reduce inventory and production costs. For example, Moog Aircraft Group uses 3D printing to enable a point-of-use and time-of-use supply chain, where aircraft parts can be printed exactly when needed, saving inventory, import, and logistic expenses.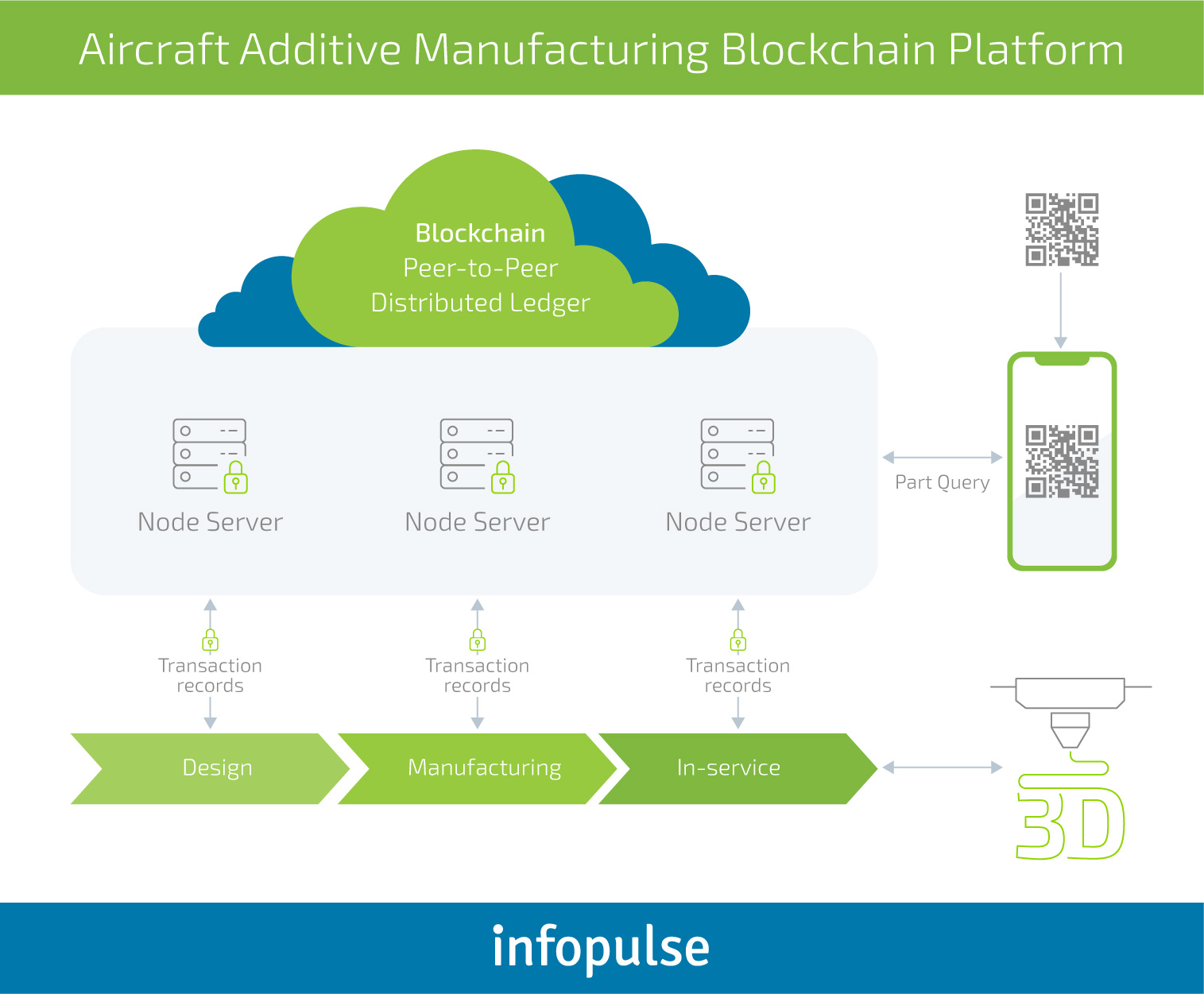 The blockchain-based platform may also become the basis for a secure marketplace for 3D print designs. Blockchain has proven a great option for handling financial transactions; it would be capable of not only storing immutable designs that cannot be duplicated but also facilitating the actual sale and transfer of those designs. Currently, the Genesis of Things is developing such a 3D print trade platform. It features ultimately secure print transition without any interference alongside smart contracts that guarantee regulated, tracked, and automated use and accessibility.
3. IoT and Blockchain in the Manufacturing Industry
Manufacturers can combine IoT real-time monitoring with blockchain's distributed ledger to strengthen the product supply tracking accuracy. As IoT tracks the physical location of the goods, blockchain can use the smart contracts to record the transfer of ownership and storage between the participants. Moreover, IoT-enabled production machines can track the production quality and deviations, which can help entrepreneurs to improve and even automate product quality verification and certification processes. After this, manufacturers can use blockchain to share product quality metrics with the supply chain stakeholders.
Blockchain and IoT have the potential to optimize the company's paperwork. The shipping complications, such as falsified documents or those having manual errors can result in supply chain delays and losses. This is a serious issue for time-sensitive shipments of products such as food, medicines etc. IoT-generated shipping information can be uploaded directly to the blockchain-based platform. This results in digitized paperwork and automated validation and verification.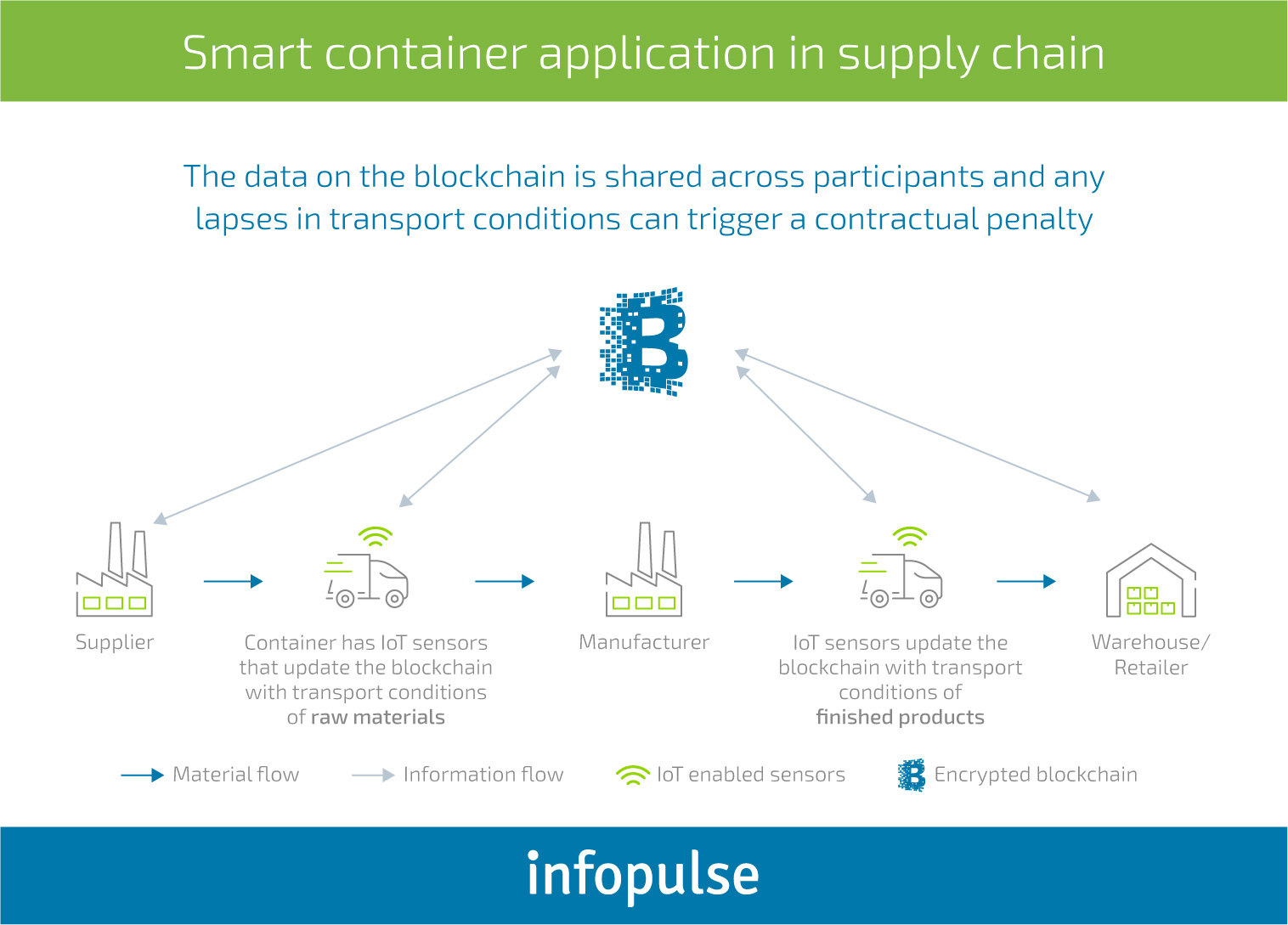 IoT and blockchain are accelerating the transition from the traditional linear supply chain to a digital supply network that can offer more transparent, instant, secure, and agile outcomes. These technologies can increase stakeholders' operational efficiencies, speed up delivery, enhance product quality, and serve as core differentiators for organizations striving to innovate in order to satisfy customer expectations and achieve sustainable competitive advantage. —
John Liu, managing director, Deloitte Consulting & Anant Kadiyala, director of blockchain and IoT industry solutions, Oracle
4. Blockchain and Fraud Prevention in Manufacturing
Manufacturing is the most vulnerable industry for fraud. Approximately 87% of manufacturing business owners are exposed to different fraud types, the most popular among them are procurement or vendor fraud. Products may be counterfeited so well that the faux product could be indistinguishable from the real one. Inventory fraud is an example of a prevalent trend that harms trust in manufacturers and cheats customers and suppliers out of their hard-earned money. Lack of efficient oversight, poor recordkeeping systems, and other flaws in the industry's infrastructure may result in tremendous financial losses for manufacturing entrepreneurs. Furthermore, the manufacturing sector is not only vulnerable to inventory, vendor or procurement fraud, but it is also sensitive to cyberattacks, corrupt intermediaries and billing scams.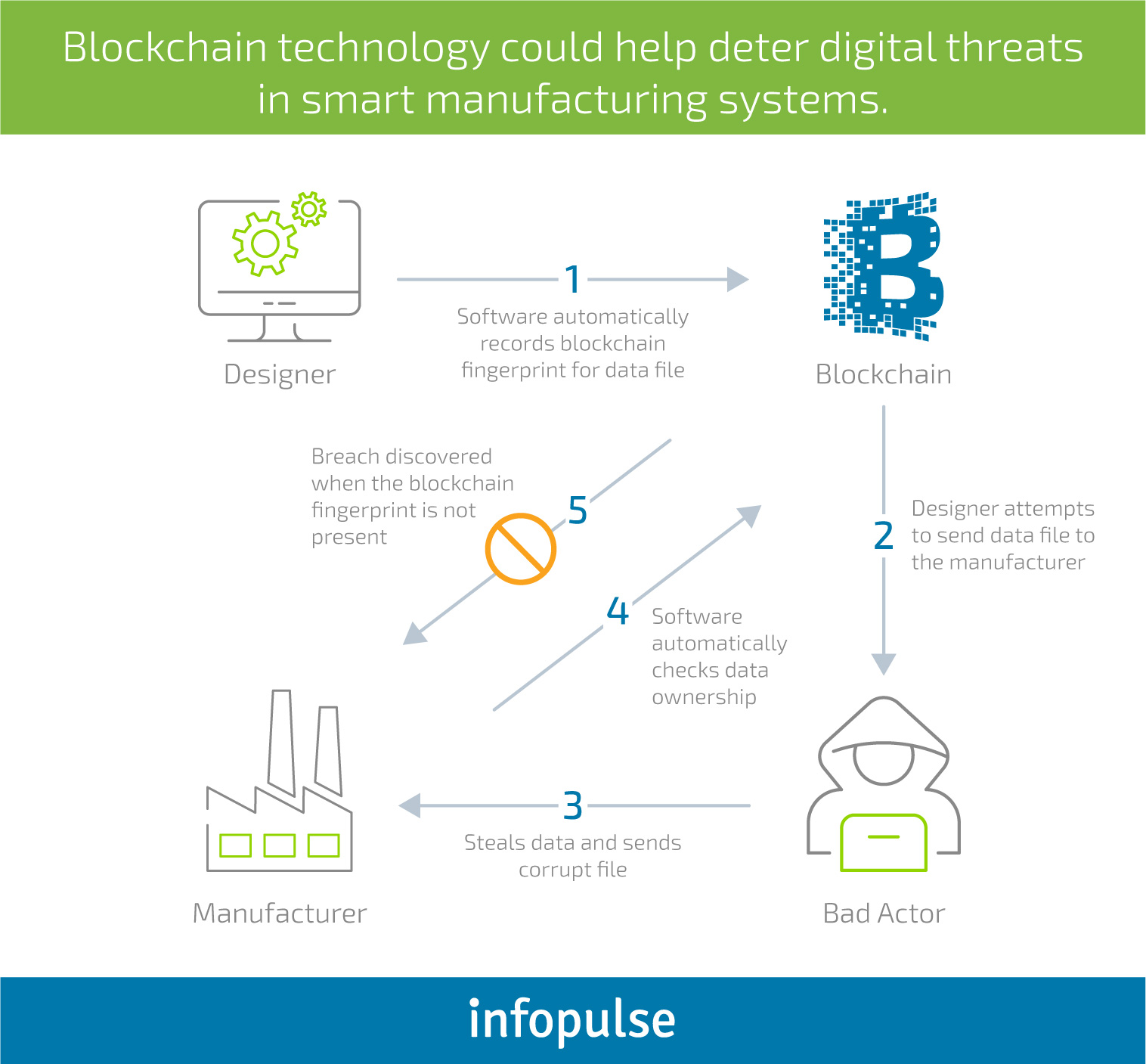 The blockchain's decentralized ledger technology allows sharing information about the provenance with every participant. It can be accessed and tracked in a matter of seconds, which is very important if the product is costly or sensitive, like food. The major advantage is that the blockchain platform is transparent, and can not be altered in any manner. The blockchain-based platform creates a tamer-proof record of participants through the entire supply chain, which will result in immense cost savings. Manufacturers could also establish their credibility as a reliable supplier of services or products, and improve customer loyalty.
Challenges of Adopting Blockchain Technology in Manufacturing
Blockchain has the potential to improve different aspects of the manufacturing industry and make it more swift, reliable and cost-efficient. Yet, not too many business owners rush to adopt it. According to the Gartner survey, only 43% of entrepreneurs are thinking about its adoption, while a surprising figure of 34% is not interested in implementing blockchain technologies. These figures may be justified by numerous challenges that business owners face when it comes to leveraging blockchain into their manufacturing enterprises.
Entrepreneurs need to evaluate the scalability of their enterprise and understand whether blockchain adoption will be beneficial for them. Moreover, to receive benefits from blockchain in supply chain management, it will require widespread development that will include every chain participant. The issue is that some vendors do not work with blockchain, and are not planning to implement it in their commercial practices. In such cases, manufacturers would need to consider switching to different vendors that are ready to use blockchain and work on smart contract basis.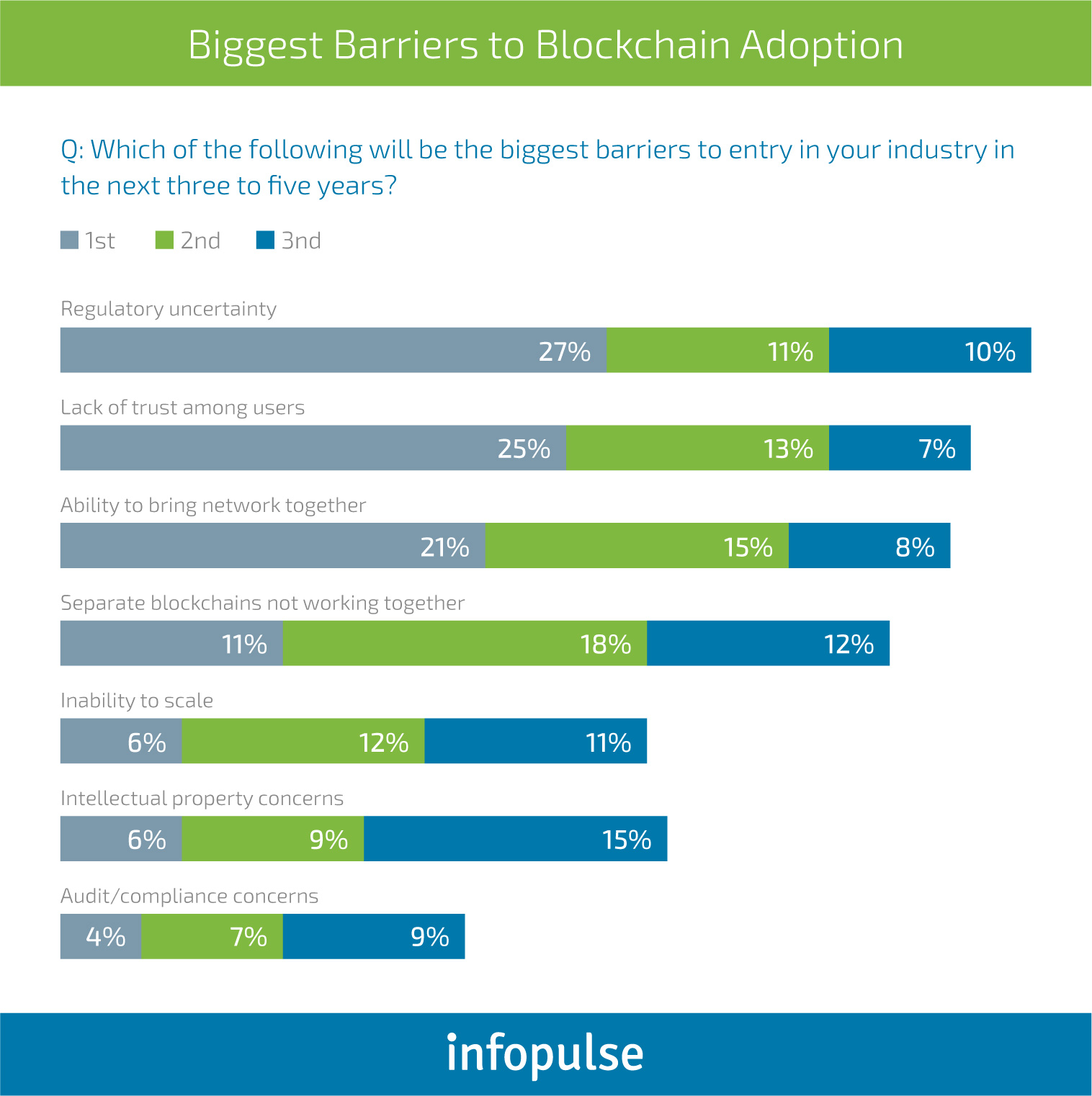 Some other issues include regulatory uncertainties that vary from country to country, or the inability to bring the network together, for blockchain is a complex technology, and its leveraging requires a lot of efforts. Manufacturers might need to entirely transform their IT departments in order to apply blockchain. David Furlonger, in his interview for the Wall Street Journal, has said:
There are multiple issues preventing most companies from deploying blockchain technology, including the "immaturity of underlying technical components," a lack of adequate technical and business governance models, and implementation and integration challenges.
Nevertheless, he states that blockchain is a revolutionizing technology, and businesses that give up on it too early are risking to be left behind. He quotes:
If business leaders wait for the hype cycle to run its course they may no longer have a business to operate in – at least nothing like they have previously experienced and profited from. —
David Furlonger, VP & Gartner Research Fellow
Conclusion
At present, the manufacturing industry has many flaws, like opacity, centralized asset control, and disposition to fraud. Blockchain has the potential to eradicate these flaws and establish explicit relations between the users, promote efficient supply chain monitoring, exclude manual errors and cut down business expenses.
Although, many manufacturers are reluctant to adopt blockchain due to the complexity of advanced technologies or inability to transform their business practices. Yet, entrepreneurs who are currently postponing blockchain adoption risk being left behind in the future. Despite present-day challenges, blockchain can create transparent supply chain management, accelerate its work, and make it cost-efficient. It can also exclude various types of fraud and counterfeiting. Blockchain has the potential to transform the manufacturing industry, and allow executives to meet the client's expectations while achieving a competitive edge.