Article
Act Now to Benefit from Extended Reality
Originally published: February 02, 2023
Updated: February 16, 2023
6 min. read
Innovations
Digital Experience
Used to merge both "real" and virtual worlds, these three pillars of immersive technology are developing by leaps and bounds. So it's a given that XR is blazing a trail. According to Precedence Research, the worldwide extended reality market was valued at $35.14 billion in 2022, and is projected to reach a massive $345.9 billion by 2030 — with a CAGR of 33.09%.
The Concept of Extended Reality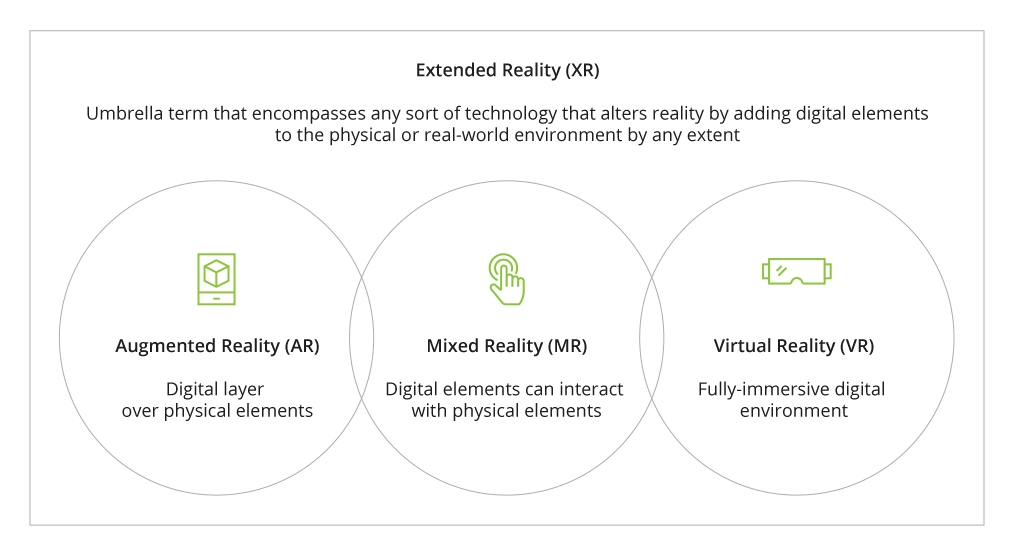 Top Six Benefits of Extended Reality
Why is XR gathering such speed, such momentum that shows no signs of abating? Because the business value this group of technologies delivers across industries and business domains is enormous.
Seamless Data Access and Analysis
Customer data is like oxygen — businesses just can't survive without it. Data helps stakeholders make the right strategic decisions, revamp their services and products, and in turn increase the bottom line.
Eye tracking, emotion monitoring, behavior analytics, biofeedback, biometrics, spatial analytics — extended reality mechanisms easily collect action-ready data during immersive experiences and make that data ready for further analysis and decision-making.
Enhanced User Engagement
Personalization long ago became a must in any business, so if you want to get a competitive advantage in your niche, take it up another notch with hyper-personalization and hyper-engagement.
Personalized virtual shopping, virtual reality gamification, "try-on" experiences, virtual introductions of new products and services, AR-based assistance — XR is here to drive your business forward.
Increased Knowledge Retention
Improved learning capabilities and results, including a reduction in learning time itself, are other benefits of extended reality.
Why is this teaching method so effective? The thing is that besides cognitive knowledge, XR tools also work on social and emotional knowledge — through AR-powered supplemental content, life-simulated scenarios, VR-based repetition training, and more.
Lower Operational Costs
Besides being more effective, dynamic, and engaging than traditional learning methods, XR-fueled training saves time and money. Employees don't have to travel or hire training specialists to get first-class training. All that can be done at the office or from home — productively, fast, and in an engaging way.
The Impact of XR in Certain Enterprise Use Cases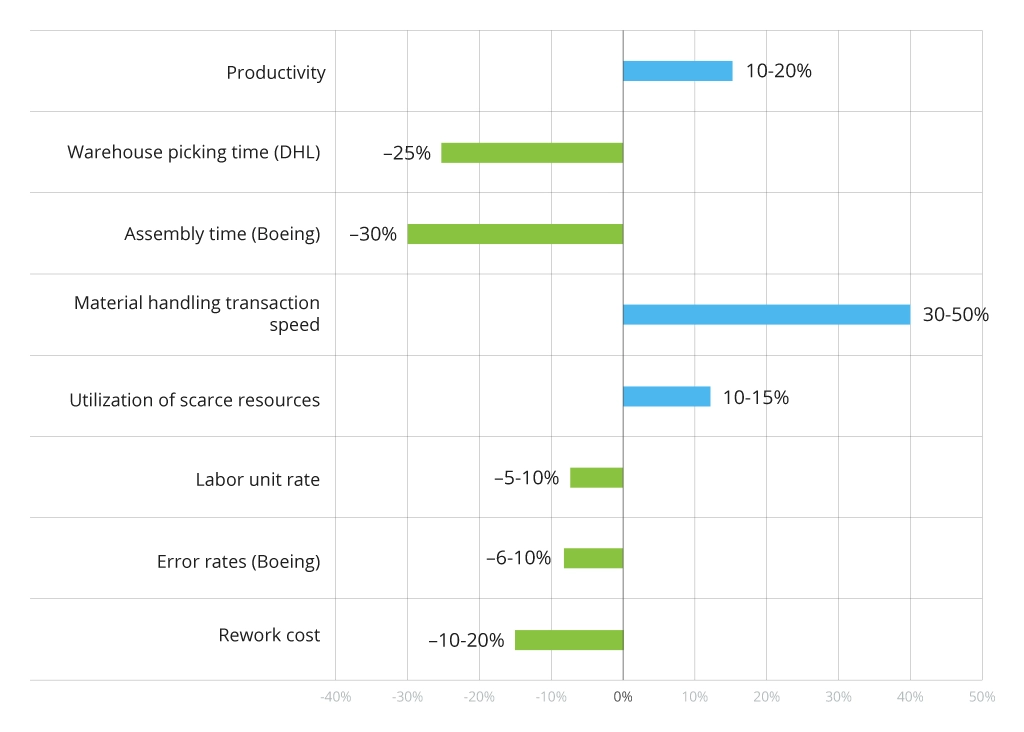 Improved Communication and Collaboration
Effective collaboration within the team is a formula for success. Where traditional methods of enhancing communication and collaboration become obsolete, XR comes into play.
By using extended reality apps, teams can simultaneously work on projects and co-design products even when they're in different countries. Underpinned by VR-based conferences and interactive 3D avatars, the collaboration process becomes more efficient and engaging.
A case in point: Infopulse built an interactive, multi-user VR platform to enable collaborative training sessions for one of the largest providers of medium and heavy-duty trucks in the world. This solution allowed the company's technicians to interact with virtual models of entire vehicles and collaboratively train how to assemble and fix vehicles — anytime, from anywhere. The platform is also set to mitigate risks and ensure a better safety environment through the simulation of hazardous situations.
Safe Training Environment
Besides revamping training in terms of knowledge retention, efficiency, and learning engagement, extended reality technologies can significantly improve training safety.
By simulating real-time hazardous situations — like military training, surgery practice, rescue drills, emergency medicine delivery, space traveling, construction site scenarios, and more — XR helps notably reduce accidents and fatalities across industries.
Industries that Make the Most of Extended Reality
According to Statista, many sectors will be heavily disrupted by immersive technologies — with healthcare, marketing, education, retail, and construction leading the list. Here is how companies from these industries and domains are already leveraging extended reality services to enable never-before-possible efficiencies.
Top Industries to Be Disrupted by XR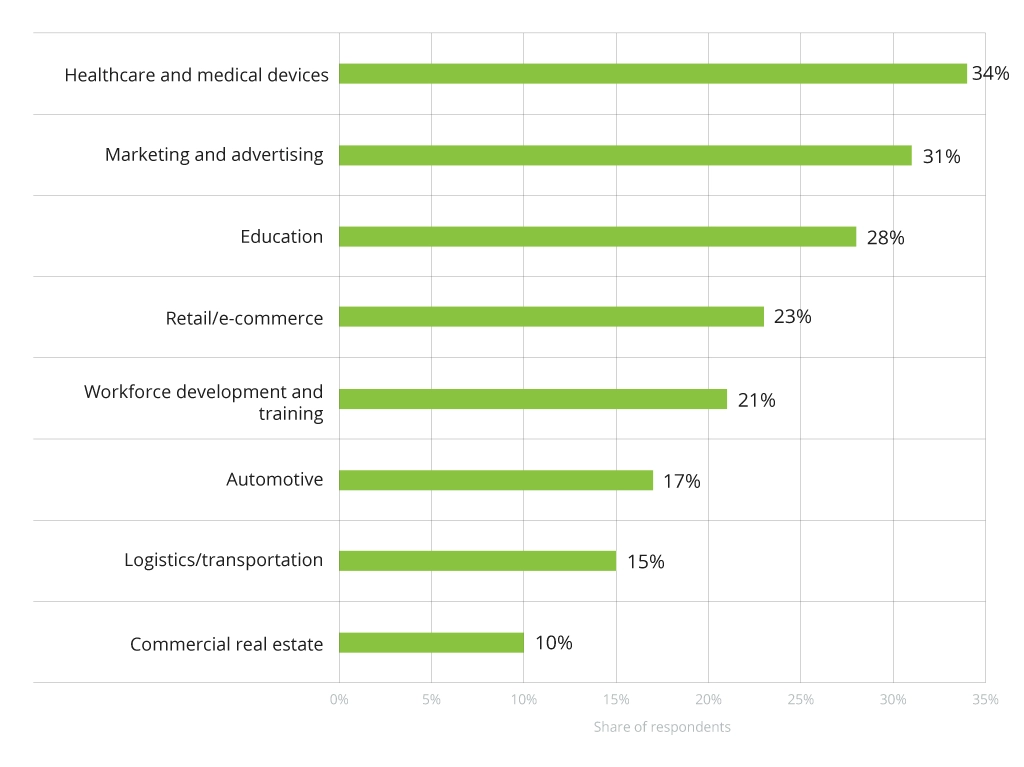 Healthcare
XR has always impacted healthcare more than other industries, and the situation isn't likely to change in the near future. A recent report by Facts and Factors says that the demand for VR in healthcare was $431.90 million in 2021 and is projected to reach $2.8 billion by 2028, growing at a CAGR of 36.50%.
These breathtaking numbers are on firm ground. The examples of implementing XR in healthcare facilities are numerous.
Thus, by using holograms of body parts and organs instead of real human or animal bodies, students can practice before they continue with real-life procedures. Experienced physicians, conversely, get access to an infinite number of trials, which allows them to significantly improve pre-operative planning and save real-life body parts in future operations.
A very popular XR method with hospitals, simulation-based training, is used by surgeons to learn new or improve existing skills in a totally safe, controllable environment. Namely, with advanced VR simulation engines, both doctors and students can practice any operations repeatedly from anywhere. This significantly helps to reduce or eliminate errors when operating on real patients and handling other stressful situations in the field.
Developed at the intersection of robotics and virtual reality, surgical robots by Vicarious Surgical are also set to improve patient care. The robot uses a small port to introduce a camera and robotic instruments in the abdominal cavity of the patient. Equipped with a VR helmet and the robot's arms that replicate human movements, the surgeon gets the full immersive access to the patient's body.
Another aspect where extended reality bears fruit is chronic pain treatment. Through VR-powered simulation, patients are encouraged to see pain from a different perspective. Virtual reality also helps relieve the symptoms of mental disorders, for example, battling fear and anxiety by exposing patients to social interactions in a reliable and controlled environment.
Manufacturing
Manufacturing is another industry where extended reality is driving digital transformation right now. Through XR, manufacturers can:
revamp and accelerate product development, design, and assembly;
enhance collaboration among designers, engineers, and field workers;
improve training and in turn slash costs;
increase employee safety.
Automotive companies leverage AR and VR to slash the time between initial design and physical modeling. Namely, VR can show what the final product would look like, sparing engineers the need to build the physical prototype. This means improved productivity, lower costs, and accelerated time to market. According to PwC, adopting VR and AR for product and service development could deliver a $360 billion GDP boost by 2030.
Here is just one example: Ford Motors uses their own XR environment to create virtual representations of non-existent vehicles in great detail as well as enable effective collaboration among remote teams.
As for other XR implementations in manufacturing, engineers in the field can access instruction manuals in real time through AR to rapidly detect problems and perform timely repairs. In the logistic sector, workers use smart glasses to easily access product details, picking information, packing instructions, and more.
Manufacturers also use VR to minimize hazards and disruption risks related to the use of an assembly line. For example, Gabler simulates the production environment to eliminate potential threats long before they arise, thus ensuring product quality and employee safety.
Retail
Extended reality implementation in the retail sector is not new. In 2021 alone, the worldwide AR market in retail was estimated to have been $2 billion, and this number is expected to grow up to $61.3 billion by 2031 — with a CAGR of 41.4%.
Among the most popular extended reality examples in this industry is VR-fueled training. This includes simulating customer interactions and training on product knowledge, as well as the recreation of risk scenarios — from combating fire to dealing with a robbery.
Walmart even uses virtual reality to train empathy, which has shown great effectiveness in achieving the company's adoption goals.
Augmented reality is actively used by retailers to notably improve warehouse management, making the process faster and more precise. By leveraging an iPad with an AR app or wearing a specific headset, warehouse workers get detailed instructions on the item location and direction guidance toward the exact aisle and shelf.
Würth Italia introduced its own XR product line that took customer experience to the next level. Clients can now preview the product's digital twin in 3D and understand how it will fit within a particular space — whether they buy at a brick-and-mortar store or at the company's online store.
Education and Training
The impact of extended reality in education can't be underestimated. The global VR market in education grew from $8.67 billion in 2022 to $11.95 billion in 2023, with the prediction to reach $46.14 billion in 2027.
Furthermore, 54% of teachers and 41% of parents want to see an increased presence of XR solutions in the classroom. And that is no surprise, considering the benefits such an innovation-based educational method brings.
Presentations, simulation-based learning, XR-powered exercises for overcoming disabilities — these are only a few examples of how effective and engaging technology can be.
Medical and high-risk industry training is another niche where XR finds its feet. Surgeries, military training, virtual pilot and space training — with extended reality everything is possible.
Conclusion
There's no doubt that extended reality technologies can positively disrupt an array of industries. However, if you want XR to bring tangible business value to your specific niche, you need a coherent digital transformation strategy working hand-in-glove with an experienced provider of extended reality solutions for enterprises, Infopulse is here, ready to assist you!