From New York to Madrid: New ServiceNow Features and Integrations to Watch
Originally published: November 08, 2019
Updated: December 29, 2022
11 min. read
Data & Analytics
Cloud & DevOps
Business Applications
ServiceNow
has become a preferred ITSM platform for
over 5,400
large to mid-level enterprises worldwide. Their innovation-driven DNA is one of the core reasons for that. Even though it is already the much preferred ITSM platform, it is committed to continued enhancement in order to serve their clients' needs even better.
Earlier, we spoke about why enterprises migrate to ServiceNow. In the new installment of the ServiceNow series, we'd like to dig deeper into the platform's functionality and walk you through the two latest product updates – New York and Madrid.
ServiceNow New Release: New York
The latest version of ServiceNow is the New York release that went live in early September, 2019 as part of the company's biannual update schedule.
This release was aimed at improving the product across several areas:
Mobile-first experience: The company finally deployed a companion mobile app that enables the team to stay productive on the go, and benefit from a host of Now Platform features when doing work on-site. As well, they deployed a separate ServiceNow employee onboarding app, aimed at supporting and facilitating the new hire process.
Improved, visual IT workflows: digital workflow functionality received an overhaul and several new services were added.
Financial products: Among the ServiceNow features you can now find a dedicated Finance Operations Management product that seamlessly integrates with popular ERP systems such as SAP and Oracle.
So, let's take a closer look at the new ServiceNow features list, shall we?
Dynamic Translations
Creating a localized customer experience has become a lot easier. This new feature enables the real-time translation of dynamically generated texts, based on user language. You can integrate any of the supported third-party translation services via ServiceNow Integration Hub and customize your preferences in terms of supported languages.
Finance Close Automation (FCA)
This is a new service that automates and accelerates finance close processes and reduces the risk of not meeting all compliance requirements or failing an audit. This new ServiceNow functionality helps you simplify, run, and store all the accounting and other financial processes in a centralized location.
You will find a Close Management Portal that allows tracking and managing accounting tasks for any period from a single dashboard. What's more, you can integrate with compliance requirements apps and automate your evidence collection processes for a given cycle. Recurring tasks can be automated, and customizations can be designed through the FCA extension points.
Guided App Creator
Guided App Creator is the new approach to setting up applications on the Now Platform. Some key features are as follows:
Easily create an app record that will identify a custom application;
Set different roles and permissions for different members of your team;
Create tables for data storage;
Enable user access via a workspace component and customize the individual user experience with the app.
Once you have set up your app, you can configure notifications, form layout, UI policy, and reports in ServiceNow Studio.
ITOM Visibility
The newly added ITOM Visibility feature can help you gain a better understanding of all your infrastructure and services. Get a 360-view into your IT assets and dependencies between them, understand data flow better, and maximize your operation's efficiency by knowing exactly where the bottlenecks occur.
This tool lets you automatically locate applications and devices on your network, and auto-update your Configuration Management Database. In addition, you can take advantage of the Service Mapping feature that utilizes top-down mapping to charter dependencies between different devices and apps within your system, so that you can immediately gauge the impact of a problematic asset on the rest of your operations. That's a major advantage of ServiceNow over legacy ITSMs.
ITOM Health
ITOM Health came to replace the original Event Management and Operational Intelligence applications. It is part of the ITOM suite that will help improve visibility into your infrastructure/services, workflows to prevent service outages, and optimize your operational agility.
Event management will assist in the identification of health issues across your infrastructure – all on a single console. It provides alert aggregation and root cause analysis. Operational Intelligence will allow you to capture and explore/analyze operational data, so that you may identify anomalies.
Note: If you are a current ServiceNow user, upgrading will require some testing and validation.
Now Mobile App
The ServiceNow Now Mobile app is a much-awaited product that will add more agility to your workforce. The new app lets your teams stay connected and manage multiple tasks on the go – submit requests and incidents, manage their assigned tasks, and access organizational resources from anywhere.
You can also integrate this app with a service catalog of options for issues and requests from a quick action menu if the Agent Chat plugin has been activated. In this case, you'll be able to determine what each user views through a filter and track task completion, including HR tasks and requests. The beauty of this app is that you can individualize it for specific users.
Mobile Onboarding App
New York release also came with a new app to complement the ServiceNow HR suite. The Mobile Onboarding app has been built especially for your new hires to complete much of the onboarding process on their mobile devices. This will provide much greater ease in the onboarding functions, allowing new employees to complete forms, to-dos, ask questions, and receive answers on the app. Important content (policies, procedures, etc.) can also be included for their review.
Vendor Manager Workspace
The new workspace provides a single-pane view of all your vendor information, performance, and additional data. With assigned administrator roles, those with permission can access all vendor information, add and/or delete from vendor lists, and monitor contracts and costs. Satisfaction rates can be scored and used to determine future SLA's.
Customer Service
There are several new and updated features for CRM in the New York release as well:
Agents can now easily capture a customer's initial case, track the entire history in a single place.
Virtual agent chatbot topics can be integrated through Natural Language Understanding models, and those agents can also be integrated with Facebook Messenger for conversations.
You can create digests that summarize and prioritize customer service cases, tracking causes, updates, resolution and future prevention.
HR Service Delivery
Lastly, improvements have been made to an integrated suite of apps, giving employees a single place to meet their HR needs. Upgrades include new document templates, better triggers for lifecycle event activities, onboarding, transitions, and more. There is now available the provision for mobile access as mentioned above and a single unified portal for an employee service center.
For more details on all the new features, check ServiceNow New York release notes.
ServiceNow Madrid Update
Madrid update went live in spring 2019 with a focus on enhanced mobile experiences for IT, employee, and customer workflows. Some of the earlier released ServiceNow Kingston features have been patched and updated, and brand new features have been introduced.
Below is a quick summary of the official release notes.
New ServiceNow Madrid Features and Products
Similarity Framework: The platform's machine learning functionality has been further developed. Similar incidents are now automatically grouped in the Agent Workspace and solutions are prompted based on resolution provided to similar issues in the past. Thus, problems can be resolved quicker for both employees and customers.
Mobile Studio: more no-code tools have been added.
Anti-virus defense now extends to uploaded and downloaded documents that are sent as attachments.
New Instance Security Center: security monitoring has become more granular and customizable via a single point of control.
Document Viewer lets users access text files without downloading them.
CRM is now integrated with ITSM – record creations and updates are more automated
Quick start test templates were added to Automated Test Framework so that you can run regression tests faster after implementing any changes.
ServiceNow Madrid Removed, Merged and Retired Products
Continual Improvement Management properties were eliminated and all task types are now set automatically by default.
Preconfigured Workday integration was removed from HR Service Delivery.
Detailed Scorecards were replaced by Analytics Hub and some detailed scorecard functionality was retired.
Application Portfolio Management will no longer display pre-configured data about Total OPEX, Total CAPEX, External labor cost, and Cost of support.
For more insights, you can review the complete Madrid release notes.
Add Even More Power to Your ITSM via ServiceNow Integration Hub
Both New York and Madrid releases introduced an array of helpful ServiceNow platform features. However, that does not mean your ITSM customization should only consist of regular core product updates.
You can add even more functionality and helpful tools to your suite through the IntegrationHub. ServiceNow provides pre-made standard integrations, out of the box, with absolutely no coding required and at no additional cost. Additionally, you can create custom integrations to automate any business process that you have.
The key benefits of using ServiceNow integrations (aka spokes) are as follows:
You can integrate popular business apps in a few clicks.
Instantly add more complex integrations via Flow Designer with no code.
Create a re-usable integration action that will automate business processes.
Note: Certain limitations apply depending on your selected ServiceNow pricing structure: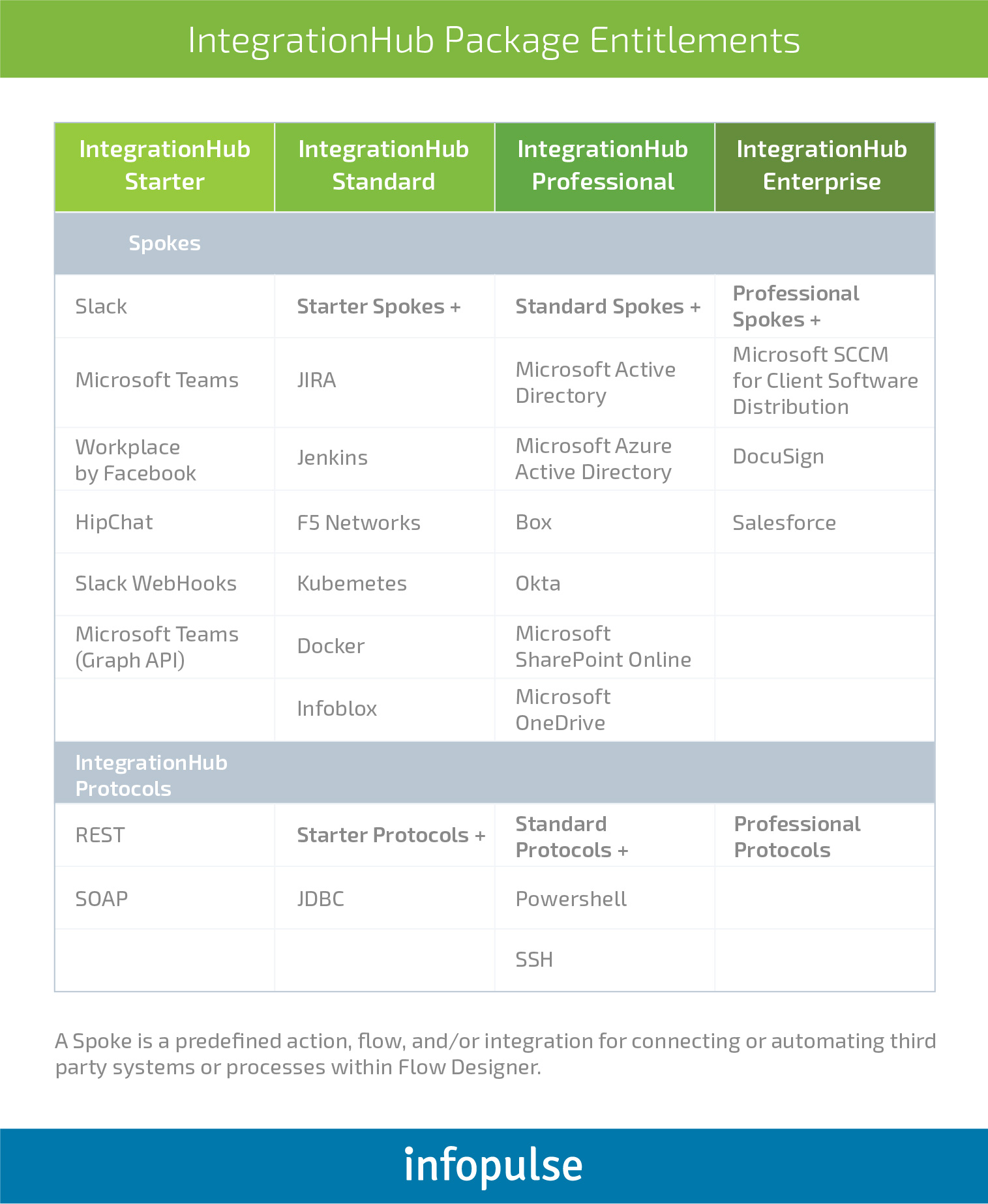 Below is a quick list of handy integrations that you may have missed in the New York and Madrid Releases:
Moreover, you can seamlessly create the following custom integrations via IntegrationHub:
With a ServiceNow Salesforce integration, you can seamlessly import and sync your data from Salesforce including users, accounts, cases, and opportunities.
Setting up a Zendesk ServiceNow integration will let you automatically add Zendesk support tickets as ServiceNow records (or vice versa); sync information exchanges between the two platforms and avoid data redundancy.
To improve your communications, you can also add a ServiceNow Skype for Business integration that will let users add, update and review service requests from that channel.
In short, ServiceNow is highly versatile and can accommodate a wide range of unique integrations to match your business needs. While ServiceNow functionality attempts to make custom integrations as easy as possible, there are still challenges.
Overcoming Common Pitfalls in Custom-Made ServiceNow Integrations
Being too ambitious at the onset: Your IT team and C-level decision-makers may want to implement the necessary integrations as quickly as possible, and, with such enthusiasm, they forego a logical plan for sequential processes and management within ServiceNow.
An overall plan for custom integrations should be developed first, and these should occur one at a time. A hurried process will lead to mistakes that will ultimately have to be remedied. Like the tortoise and the hare fable, "slow and steady" wins the race.
Forgetting about multiple API standards. Different apps provide APIs in different standards, and while ServiceNow does support a multitude of them, it would be your team's task to decipher how different APIs work with other technologies and what the best standards and languages for integrating those are.
Security: APIs, when programmed incorrectly, can become a major security vulnerability. You will need to ensure that sufficient authentication mechanisms are in place and that all data is transmitted securely. All of this increases the defense surface you'll need to take care of.
Troubleshooting can get complex. Discovering the root cause of the problem within custom code can take time, especially when proper documentation was foregone in haste. Furthermore, your team will need to rely more heavily on monitoring tools and use logs when creating custom integrations – another step that tends to be forgotten.
Conclusions
ServiceNow is a modern, robust, and versatile cloud ITSM platform that continues to improve and update its products and services. It has helped an array of Fortune 500 companies transform their operations, boost efficiency, and massively improve customer service levels.
On the other hand, ServiceNow, while easing and streamlining migrations and integrations, is not completely 'hands-free'. Proper implementation and maintenance may require in-depth expertise. Infopulse has a dedicated ServiceNow competency center providing an array of development, implementation, customization and integration services.
Our consultants are available to advise you on the latest ServiceNow features and integrations. We can audit your current setup, help with the development of custom integrations and create new automation opportunities for enhanced productivity. Let's have a discussion.