What is Headless Commerce and How it Changes the Retail Industry
Originally published: April 13, 2021
Updated: May 11, 2022
7 min. read
Innovations
Digital Experience
We have settled quite well in the digital age. So well that not only our demands for products and services are constantly rising but so are the demands for the experience of getting them as well. Customer experience in the retail industry is like a fork and knife for eating a steak – essential and integral to the whole process. Numbers speak for themselves:
58% of clients stop using a brand
if faced with poor customer service. With technology evolving every day and
digital payments gaining momentum
, businesses need to adapt their legacy systems accordingly to leverage the power of massive data sets and provide their users with a seamless and frictionless customer experience. A head-scratching and costly task for retailers who are used to managing their business within
traditional ecommerce platforms
.
Headless Commerce as an Agile and Consumer-Centric Approach for Digital Delivery
The problem of rigid and monolithic platforms propelled digital transformation with a clear-cut MACH trend. A Microservices, APIs, Cloud, and Headless (MACH) technological framework is set to stimulate an agile and modular way of delivering content, products, and payment gateways for personalized and omnichannel experiences. According to Gartner, retailers' key technological trends in 2021 will be centered around omnichannel and multi-experience strategies amplified by AI technologies to deliver outstanding service across all digital touchpoints.
A crucial enabler in this agile digital transformation is headless commerce, a new approach to building modern enterprise software stacks. As an API-driven solution, headless commerce decouples the frontend part (user interface, products, forms, blogs) from the backend functionality (CRMs, payment processing, and security systems), allowing for independent updating and editing of each part. Having an ecommerce platform that can be easily customized without the need to tweak the backend is of paramount importance for retailers that seek more flexibility for unique customer experiences.
What's more, headless platform architecture is optimized to deliver products and content for IoT devices like wearables, smart speakers, smart cars, and even smart refrigerators. The latest Business Insider Intelligence report predicts that there will be 41 billion IoT devices in use by 2027, up by 500% from 2019. It is clear that successful brands will be integrated, omnichannel, and AI-powered to reach their customers from a digital channel of their choice.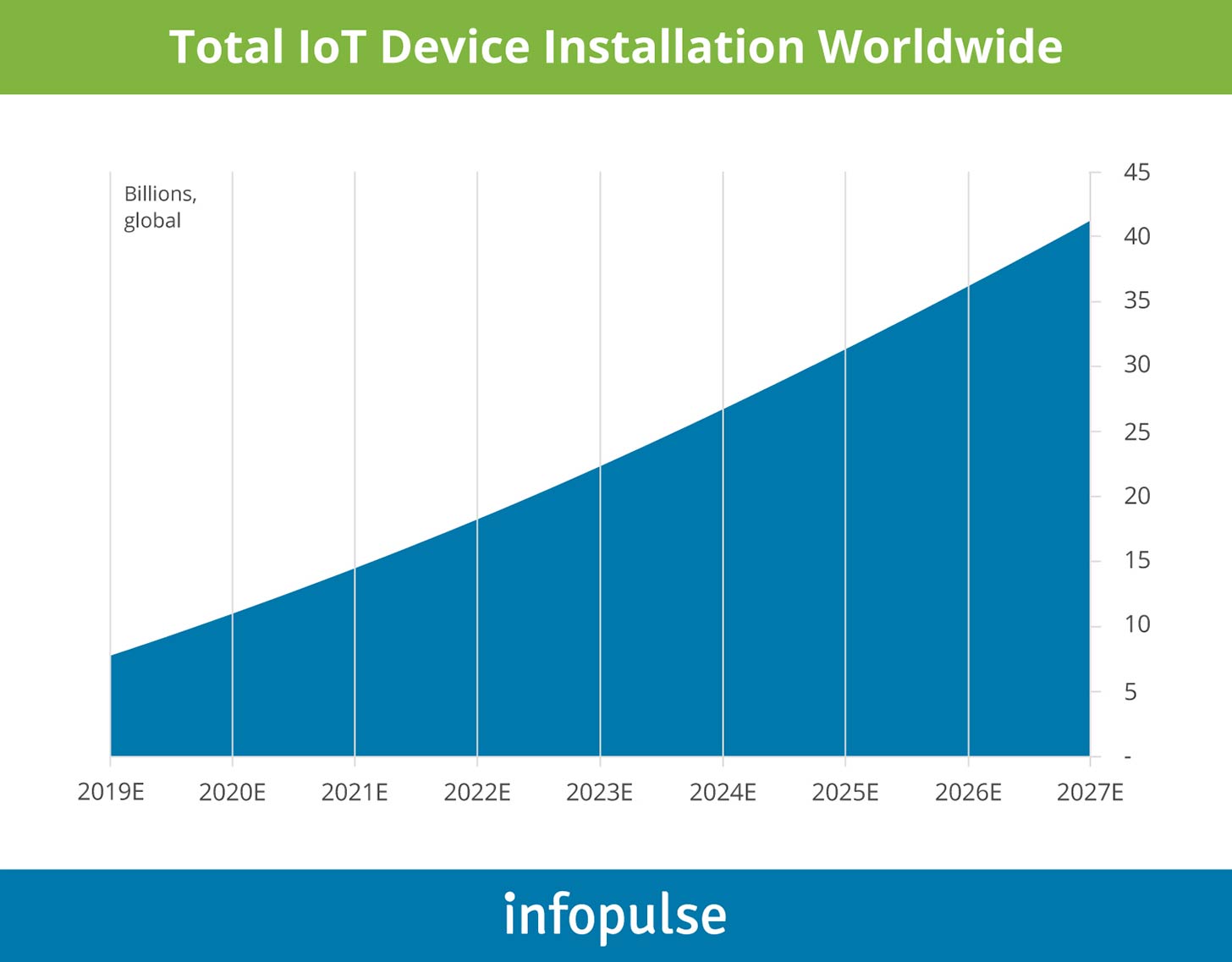 The Inner Workings of a Headless Commerce System
When the front- and backend parts of an e-store are decoupled, text, audio, and video content can be created once in the backend and then delivered to different presentation layers (apps, websites, IoTs). Within this headless framework, the CMS (content management system) or rather headless CMS is separated from the ecommerce platform. In other words, you can create a single content hub, from which you can deploy personalized and tailored content as digital experiences to different devices through APIs. For example, the look-and-feel experience of your e-store mobile app can be different compared to your website UX parameters. The flexibility enabled by a headless approach gives you complete freedom over the presentation of your content.
To get full access to the features, functionality, and integrations of the ecommerce platform, we recommend our enterprise-level customers switch to Optimizely. It offers hybrid headless CMS options, valued for its customization features and advanced business logic. You can always fine-tune digital experience for your customers with in-built integrations and connectors to SAP, Salesforce, and Microsoft Dynamics CRM, or you can build custom solutions of your choice.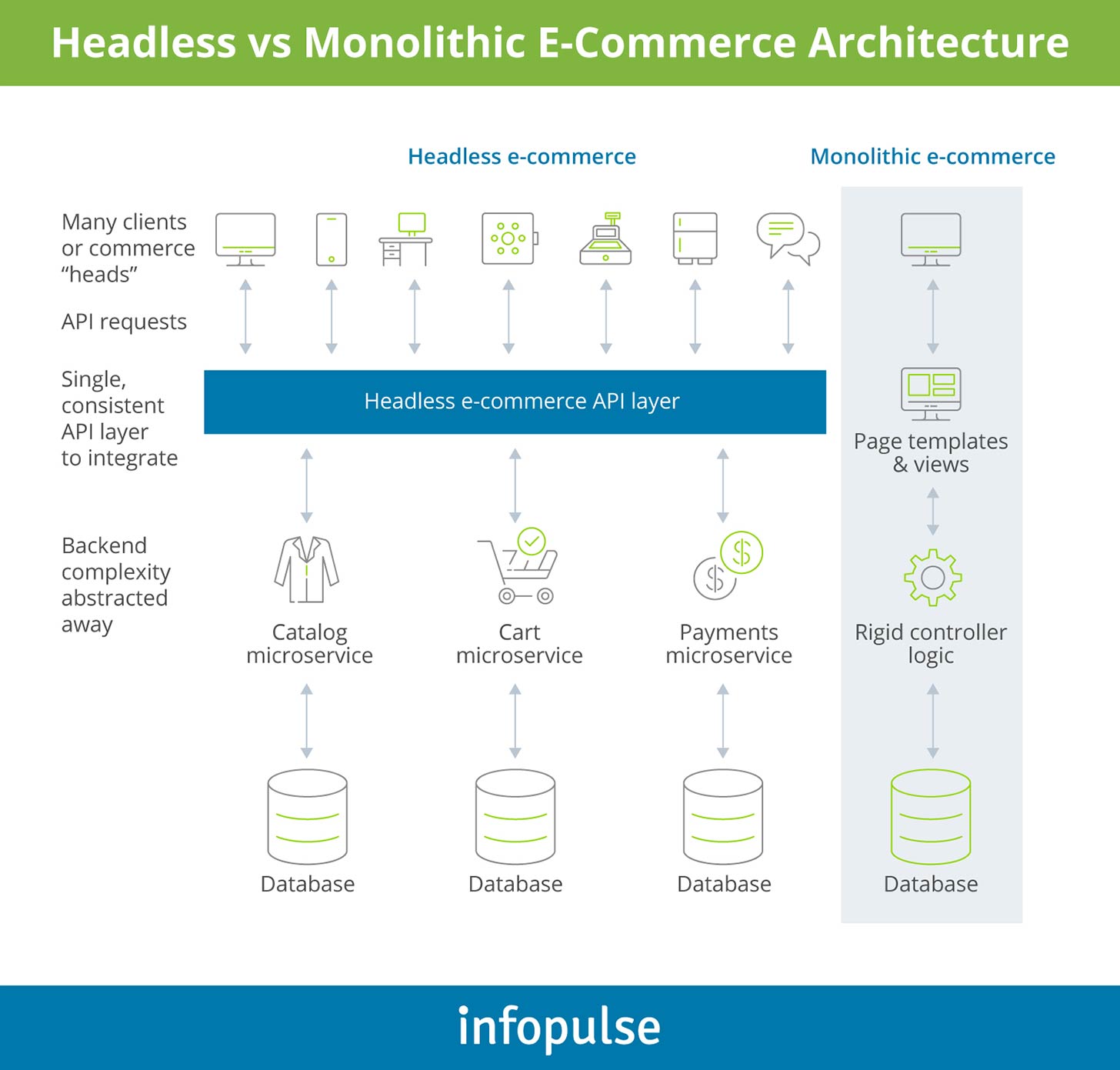 How Headless Platforms Differ from Traditional Ones?
If we look into the feature set of ecommerce solutions, we can identify five basic blocks, including:
Website design with branding, themes, and CSS properties
Content management system allowing to create, publish, and update content
Product management system to create products and manage inventory
Cart and checkout system for processing orders and payment/shipping data
Store management system used for tracking orders and managing customer data
In traditional, monolithic ecommerce platforms, all those blocks are pre-defined and limited in terms of add-ons and customization. The most significant upside to these ready-made solutions is that you can jump-start your webstore quick and easy. Yet, if scaling your business through superior digital experience is your primary objective, you should try headless commerce and CMS, which helps capitalize on the complexity of modern customer behavior.
Nowadays, a user's journey to checkout is bumpy and uneven. Due to a multitude of available touchpoints, a customer can start from your product ad on social media, then research it from a phone, and eventually complete a purchase after an FAQ session with a bot on your website. To guide them seamlessly to checkout, you will need to try hard to grab their attention before it slips away. That is what experience- and content-driven commerce strategies are focused on: provide a seamless customer journey by directing and retaining customers with useful and unique content.
From a technical perspective, the customer journey would look like this:
A customer is reading a product description from a mobile browser and decides to make a purchase.
When they tap the "buy" button, the frontend sends an API request for a form pop-up to the backend.
If the customer is new – they fill in the form. If they are an existing client – they login into their account. All those actions are sent to the CRM with the new or updated data.
To make a transaction, a customer could manually fill in the form or simply login with integrated platforms like PayPal, Google Pay, or Apple Pay to speed up the checkout process.
When the transaction is complete, the financial operation is logged, the inventory system is updated, and the customer data is stored in the backend system. All actions are performed by the API calls.
So, when new distribution channels pop up (anything from new VR or social media platforms), an e-marketer who runs the business within headless architecture can adapt its content and products to be delivered seamlessly through any frontend channel.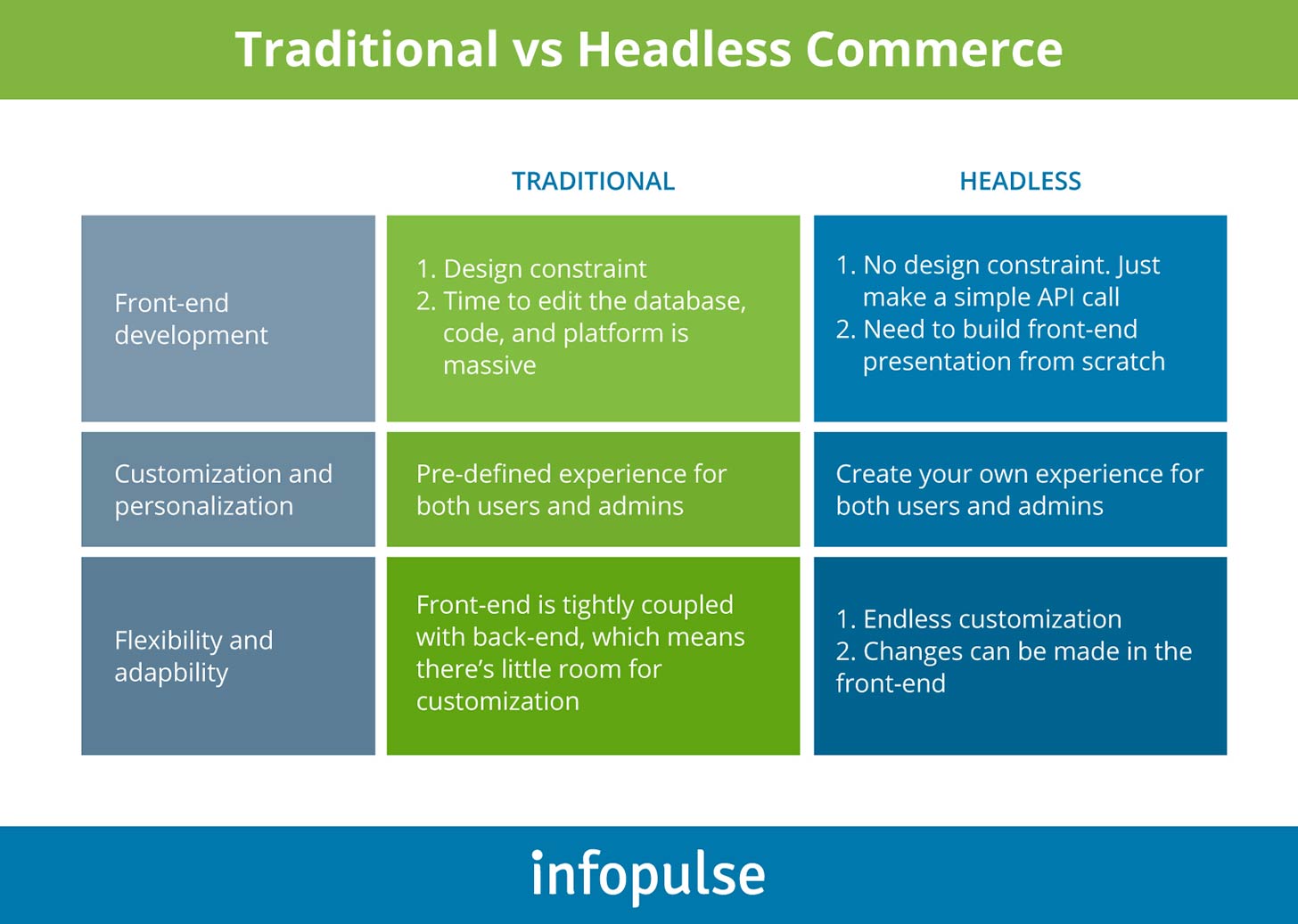 Business Value Behind the Headless Commerce
Dubbed as an experience-based model for putting a customer first, a headless commerce platform outweighs the conventional one in agility and future proofness. Let's review each of its business benefits:
Personalized and omnichannel marketing

The frontend, the customer-facing part of your website, is open to unlimited flexibility in terms of content delivery. Without the need to interfere with your platform backend, you can connect a CMS, DXP (digital experience platform), or IoT device to power your frontend and adjust content according to the customer's needs.

Relevant case: Koala, an Australian furniture retailer, went headless with a third-party CMS paired with the Shopify Plus ecommerce platform for a tailored and flawless customer experience. The company used decoupled PWA (progressive web application) as the customer-facing element for a faster and immersive shopping experience.
Faster time to market and innovation

Global companies or businesses with sub-brands usually have several websites with language and content tailored to specific markets. Headless solutions help streamline the launching process by creating a single content hub that can be localized, customized, and SEO-optimized for different frontends.

Relevant case: Alm Brand, a financial services company, was able to speed up the process of launching new products by building a hybrid headless application on Optimizely that helps to effectively manage all digital touchpoints for their customers.
Reduced customer acquisition costs

By utilizing an experience- and content-driven strategy, you can attract more organic traffic and reduce your paid advertising budget.

Relevant case: By transforming its online store into PWA with Magento 2 and Vue Storefront as a frontend, the Polish shoe brand Kubota has managed to increase daily visitors of its mobile-first store by 192% and loading times by 30%.
Optimized support and maintenance costs

When the front- and backend architectures are separated, it is easier to keep their codebases clean. Firstly, it allows developers to find and fix bugs more quickly. Secondly, the decoupling helps to provide interrupted service and faster page loading times during peak hours.
Seamless integration options with APIs

The API-driven architecture of headless commerce gives you the freedom to connect and disconnect the most suitable solutions. There would be no problem with adding a new device or technology to your backend.
Improved conversions with conversational AI

By getting more humane and personal with each year, intelligent conversational interfaces (chatbots) are great at providing 24/7 assistance with simple queries to customers. Such a personalized and communication-oriented approach allows businesses to engage with users without human intervention and earn their trust.
All those benefits can be seen in action in the Bosch Tools case study on the adoption of a headless ecommerce solution. The world market leader for power tools that operates a number of global sites with lots of content tailored to different countries stumbled upon the challenge of managing multiple CMS platforms on a regional level. By switching to headless commerce and decoupling the backend from the frontend, Bosch managed to replace its bulky 400 blogs with a single one – personalized and customized for each region.
Key Takeaways
With a projected 2.14 billion people buying goods and services online in 2021, having a future-proof and agile e-store is a must for retailers who want to attract and retain modern demanding customers. API-based headless commerce platforms offer a window to the future of personalized and customizable ecommerce with their modular and scalable approaches towards managing their business across all digital channels.
Supposing you want to integrate the benefits of superb user experience and customer engagement, faster rollouts, creative freedom in the website design and development into your business. In that case, you can always contact us, the official Optimizely Partner. Whether it would be CMS & Commerce development, upgrade, integration, or migration – you can always count on Infopulse help and expertise. Get a free consultation today.