Article
How Different Industries Exploit the Digital Twin Technology
Originally published: March 26, 2020
Updated: January 24, 2023
8 min. read
Innovations
Innovative technologies are driving the digital disruption of the contemporary business landscape and offer a multitude of benefits for various industries. The majority of entrepreneurs are already familiar with Industry 4.0 and its major components, which include the Internet of Things (IoT), Cognitive Computing, and Big Data. Yet, another emerging technology is now becoming mainstream – the digital twin.
What is the Digital Twin?
Digital twin (DT) is a precise virtual replica of a physical asset or a process, designed to predict and optimize its functional characteristics before investing in the development of a prototype. Digital twin combines multi-physics simulations, data analytics, and artificial intelligence to display the results of design modifications, different usage scenarios, altered environmental conditions, and other variables.
According to a recent research, the digital twin market is estimated to grow from USD 3.8 billion in 2019 to USD 35.8 billion by 2025, at a CAGR of 37.8%. Another survey by Gartner shows that the adoption of the Cloud and IoT technologies are driving the growth of digital twins, and 62% of the respondents are either in the process of establishing the technology or are planning to do so.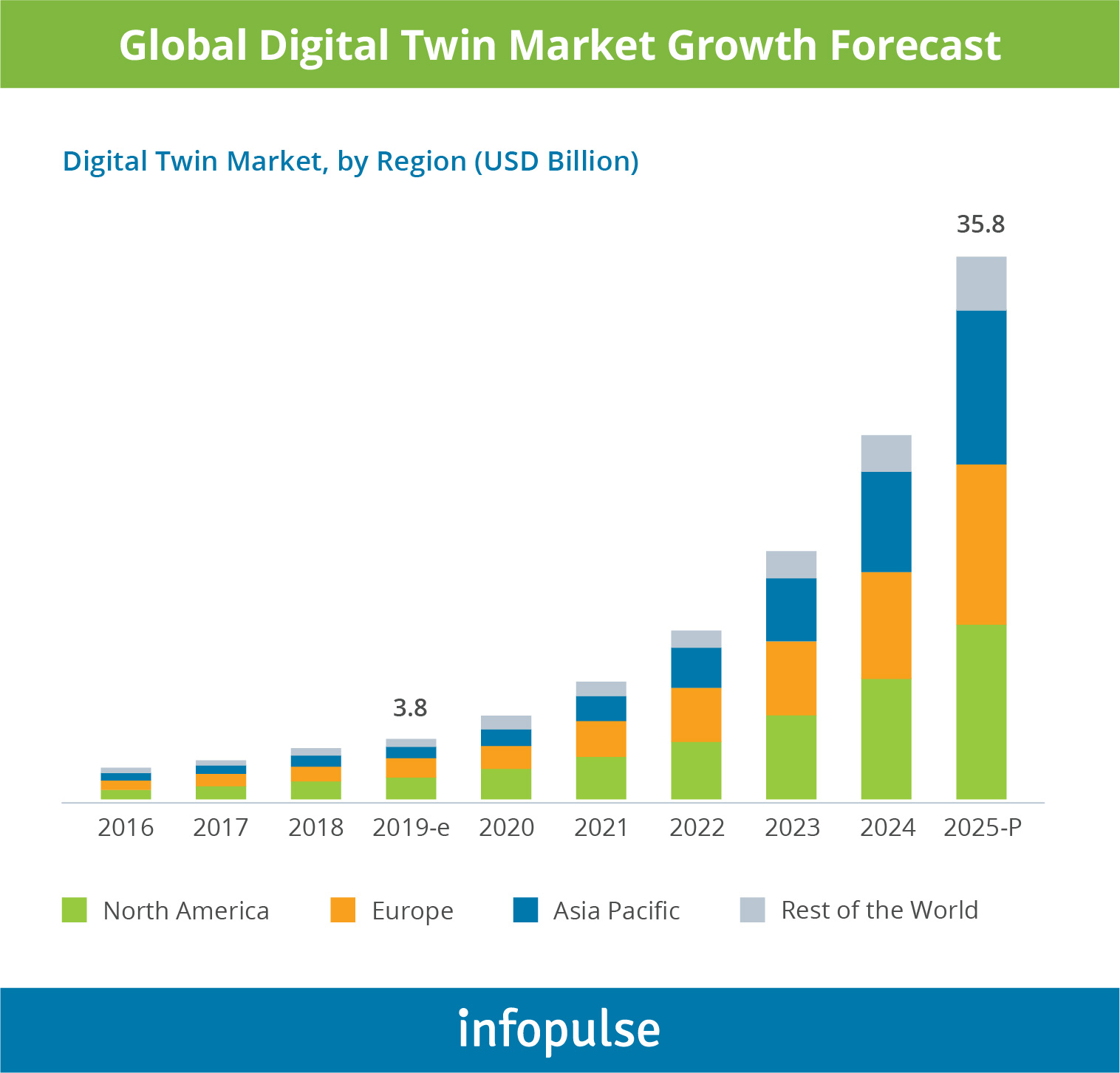 The digital twin technology is at the stage of rapid development, and as a significant component of Industry 4.0, it affects the digital transformation of various business sectors. The subsequent article section provides an in-depth overview of the digital twin technology implementation in the manufacturing, automotive, renewable energy, and telecom industries.
Paving the Way for Smart Manufacturing with Digital Twins
The digital twin, industrial IoT, and AI are three adjacent technologies that power innovation in the manufacturing industry. By processing the data gathered by IoT devices in real-time, the digital twin can enhance quality management and enable remote commissioning of products that are already in field. The digital twin can visualize the manufacturing system, which facilitates product design and improves collaboration between departments. As a result, manufacturers save time, resources, improve production, and create robust predictive maintenance.
Digital twin technology is now widely used by industry-leading manufacturers. Unilever now has eight manufacturing facilities worldwide, which have deployed digital twins. The company managed to save $2.8 million in operational costs, increase productivity by 3%, and reduce the number of false alerts by 90%.
Siemens utilized digital twins to optimize performance and reduce maintenance costs for a manufacturing plant in the Philippines. More details are available in this video:
The digital twin includes two frameworks that create added business value – digital thread and virtual commissioning. Digital thread is a digital framework of the entire value chain that allows breaking down the silos in complex manufacturing processes, and virtual commissioning is a simulation model designed to emulate and run the production processes. For more information about the benefits of these technologies, read our expert's article, Manufacturers Aspire to Digital Twinning and Virtual Commissioning on ReadWrite.
How Digital Twins Help Optimize the Entire Automotive Value Chain
The digital twin has the potential to enhance every part of the automotive value chain. Engineers can accurately evaluate new design concepts or new vehicle features and test them against any environmental conditions in a virtual space, which saves time and reduces costs. Volkswagen is now implementing the digital twin technology to test various electrical and thermal parameters of a newly developed vehicle battery model.
Moreover, by gathering data from IoT sensors and overlaying it on the digital version of the vehicle, DT can predict failure of the vehicle parts, and provide valuable insights on which vehicle features are preferred by the customers, and which ones are rarely used. In addition, access to real-time data can significantly improve the communication between the automotive development teams, reduce the data analysis time and streamline vehicle production.
Here are even more use cases for the Digital Twin technology in designing autonomous vehicles:
Benefits of Digital Twins for the Renewable Energy Industry
In the current context of climate change, the renewable energy market is surging. According to Bloomberg, the implementation of clean energy projects leapt by 44% in 2019, in comparison with previous years. Renewable energy business owners need to improve the efficiency of their power grids and reduce costs to ensure growth in a highly competitive market. Leveraging digital twins can create tangible benefits for renewable energy entrepreneurs with:
Real-time predictive analytics that allows predicting equipment failures and excluding possible downtimes. Digital twin enables real-time monitoring and precise virtual inspections, which can significantly streamline the work of power grid engineers. Recently, Pratiti Technologies created a digital twin solution for solar energy assets that features root-cause analysis for failures and performance forecasting.
Efficient demand response management that can accelerate asset functioning and keep them running at peak performance. Digital twins can monitor the wind speed and anticipate the energy demand and supply aggregation.
Remote Asset Management, which allows visualizing asset performance in diverse scenarios by processing the data received directly from the smart grid sensors. A good example is GE Renewable Energy's digital twin solution that focuses on accurate remote wind farm asset management.
Demonstrating effects of innovative features or design changes under different conditions. The insights received from implementing digital twins may be used as additional inputs for further research and development.
Technalia has developed a digital twin solution that examines wind turbines' health and predicts possible asset failures. More details are available in this video:
Digital Twin Use Cases in the Telecom Industry
Fast connectivity needs, increasing deployments of IoT, and emergence of 5G are posing a challenge to the telecom industry. CSPs need to find efficient ways of managing and monitoring their infrastructure and optimize their operational teams. Implementing digital twins can enhance network performance, and create advanced tower and field management.
Telecom providers implement a broad spectrum of network modelling, orchestration, and support tools, which are used in isolation. Digital twin can break down the silos and create a holistic end-to-end network view that provides precise real-time data and enables swift anomaly detection. Telcos can ensure seamless network functioning, and instantly inform the customer about upcoming maintenance works. Neural Technologies implement a digital twin solution that detects the increasing network latency and displays who will be affected by it.
Furthermore, digital twins can capture various types of data from the towers, which can be monitored by engineers remotely. Instead of conducting on-site equipment inspections, field service workers will be fully prepared to fix specific infrastructure issues. Lastly, telcos can receive added business value by monetizing digital twin-generated data insights, which are useful for service equipment manufacturers.
Conclusion
Digital twin is a state-of-the-art technology that drives innovation across numerous industries. Its key capabilities include advanced visualization and real-time data analytics that enhance product design and enable precise predictive maintenance. The adoption of digital twins can create prominent business value by improving time and cost efficiency, ensuring seamless product or process functioning, and creating operational excellence.
Infopulse has a strong competence in cognitive computing, industrial IoT, data analytics and 3D modelling, which are fundamental for creating a high-end digital twin. Contact us today if you're ready to transform your business with the digital twin solution.