How Does Artificial Intelligence Transform the Retail Industry?
Originally published: July 15, 2019
Updated: December 29, 2022
9 min. read
Innovations
It may seem that the basic retail experience remains unchanged. The customer goes to the store, finds the appropriate commodity and makes a purchase. Yet, technological advancement has created specific customer demands that are aimed towards more swift and convenient purchases.
Contemporary customer demands are reshaping the retail industry, urging entrepreneurs to embrace state-of-the-art technologies and shift to innovative business models. The most prominent technology that has the potential to significantly empower operational agility, reduce costs, enhance supply chain management and create remarkable customer experiences, is artificial intelligence.
How exactly does AI benefit the retail industry?
What are its successful use cases? and
How will it change the industry in the future?
Let's explore.
AI and Advanced Supply Chain Management
Supply chain management is the leading area where entrepreneurs are driving revenue from artificial intelligence investments. Due to the versatility of its functions, artificial intelligence may be applied in various branches of supply chain management and considerably improve their performance. AI in supply chain management has the potential to considerably scale down human error, enhance inventory productivity, operational agility, and provide valuable insights, which is critical for retailers.
How Does AI Improve Planning and Scheduling?
Before the emergence of artificial intelligence, retail enterprises did not have sophisticated tools that could benefit the precision of planning and scheduling. With AI, retailers have the opportunity to process large quantities of data and automate manual processes throughout the entire supply chain. AI absorbs and analyzes the data from numerous planning functions and then produces specific calculations that allow for making near real-time decisions when developing plans and establishing tradeoffs. Retailers may automate various kinds of repetitive tasks and improve workflow scheduling.
The developed AI solutions may be very convenient for the managers, allowing them to instantly create schedules and auto-fill confirmed plans. Furthermore, using AI in retail allows creating precise labor forecasting with set priorities, fair shift equality, and enhance compliance of plans and schedules with the changing regulations. Planning and scheduling are the major aspects in which entrepreneurs will implement AI, and their further applications are expected to grow rapidly.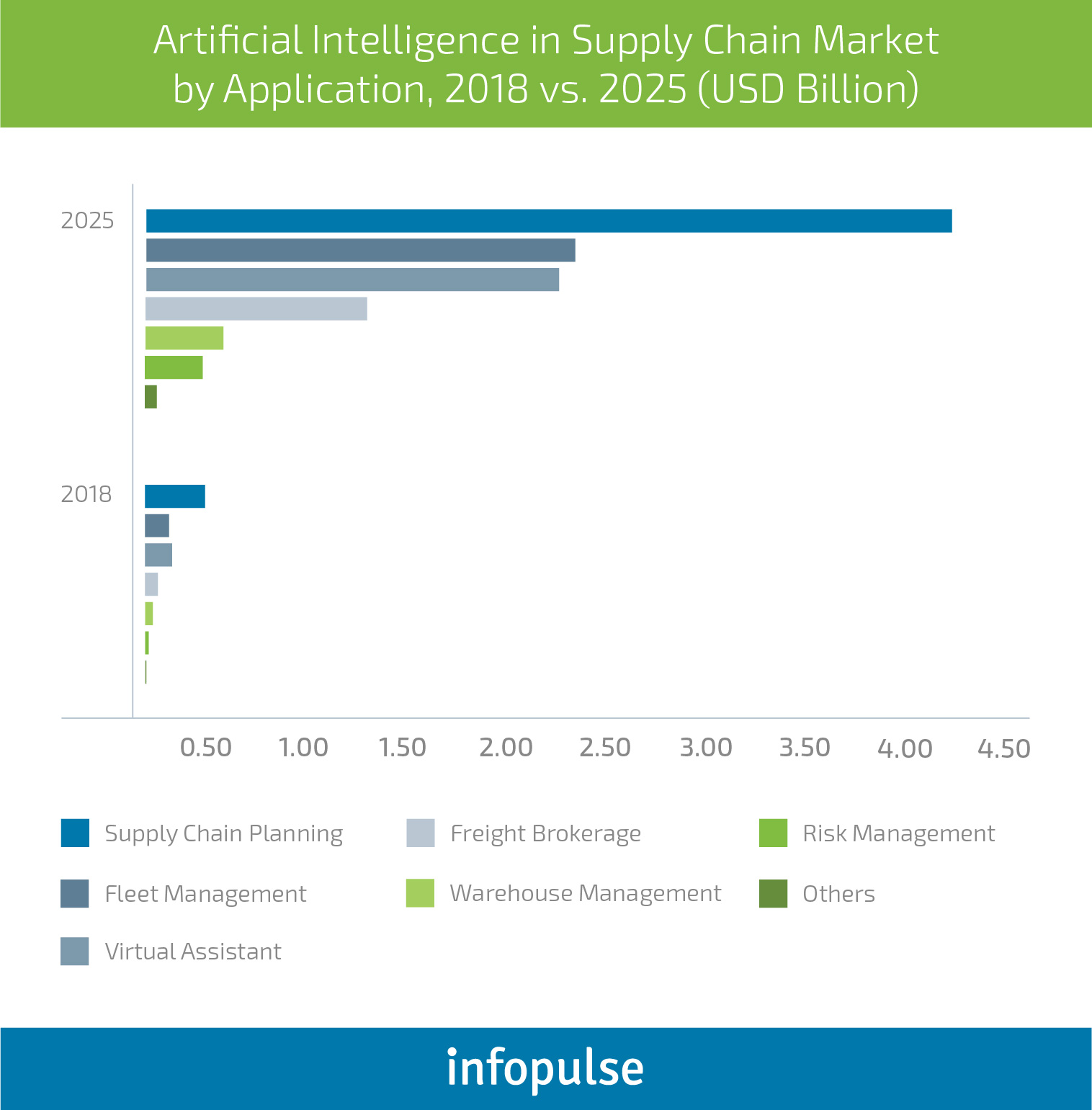 Effective Retail Demand Management: AI-Based Forecasting and Assortment Planning
Currently, the overwhelming majority of demand forecasts done by employees lack precision and are often distorted due to human errors. This inefficiency leads to either shortage or an excessive amount of stocks that are returned to the vendors, which has a negative impact on the company's profits, customer satisfaction and results in decreased business competitiveness.
Accurate demand forecasting requires modeling to analyze different factors that affect sales and their complex correlations. Artificial intelligence in the retail industry is a critical component for effective demand forecasting. It is capable of analyzing the company's sell-out and stock information, data that concerns demographics, like population density, weather specifics, or even the customer's online reviews and social media feedback, and predict the amount of products that have to be purchased to avoid financial losses.
An even more precise assortment planning method based on AI is called clustering. The solution processes various kinds of customers' insight data, their personal preferences alongside with the market data to predict sale rates of each specific product, thus proposing optimal space-aware assortments. Leveraging AI for assortment planning results in a dramatic increase in productivity through an integrated, more streamlined category planning. Entrepreneurs may increase sales and profit by building relevant assortments that keep customers loyal. Moreover, it improves the collaboration with suppliers and stores by sharing a single view on insights.
Implementing artificial intelligence in retail demand management offers a multitude of benefits. It's time-saving and allows refocusing employees to other high-priority tasks while increasing the forecast accuracy. Most importantly, on the grounds of exact predictions executed by AI, the enterprise is able to maximize its sales opportunities, and reduce inventory and logistics expenses.
Benefits of AI for Inventory Management
Inventory management is the backbone of any retail business, and its efficiency has a direct impact on the overall performance of the enterprise. Artificial intelligence has the potential to accelerate various aspects of inventory management, or even utterly exclude the need for human workforce. The inventory is often checked manually, but implementing AI can automate inventory monitoring and redirect employees to other enterprise branches.
Artificial intelligence is also used in robotic systems that are able to check, reorganize and restock inventory items. The robots function in cooperation with IoT sensors and complex AI algorithms that guide them towards certain spots and order them to group particular products in a specific order. Although the combination of robotics, IoT and AI will require sufficient investments, and its development will require plenty of time, this solution can automate the majority of inventory management processes and make an immense contribution to the efficiency of the retail enterprise.
Artificial intelligence offers a myriad of advantages for retail business owners. It profoundly advances various aspects of supply chain management, creates opportunities for efficient demand and inventory management and makes scheduling less time-consuming. But this is just one side of the story. Another crucial aspect of retail business that can be enhanced with AI is customer experience.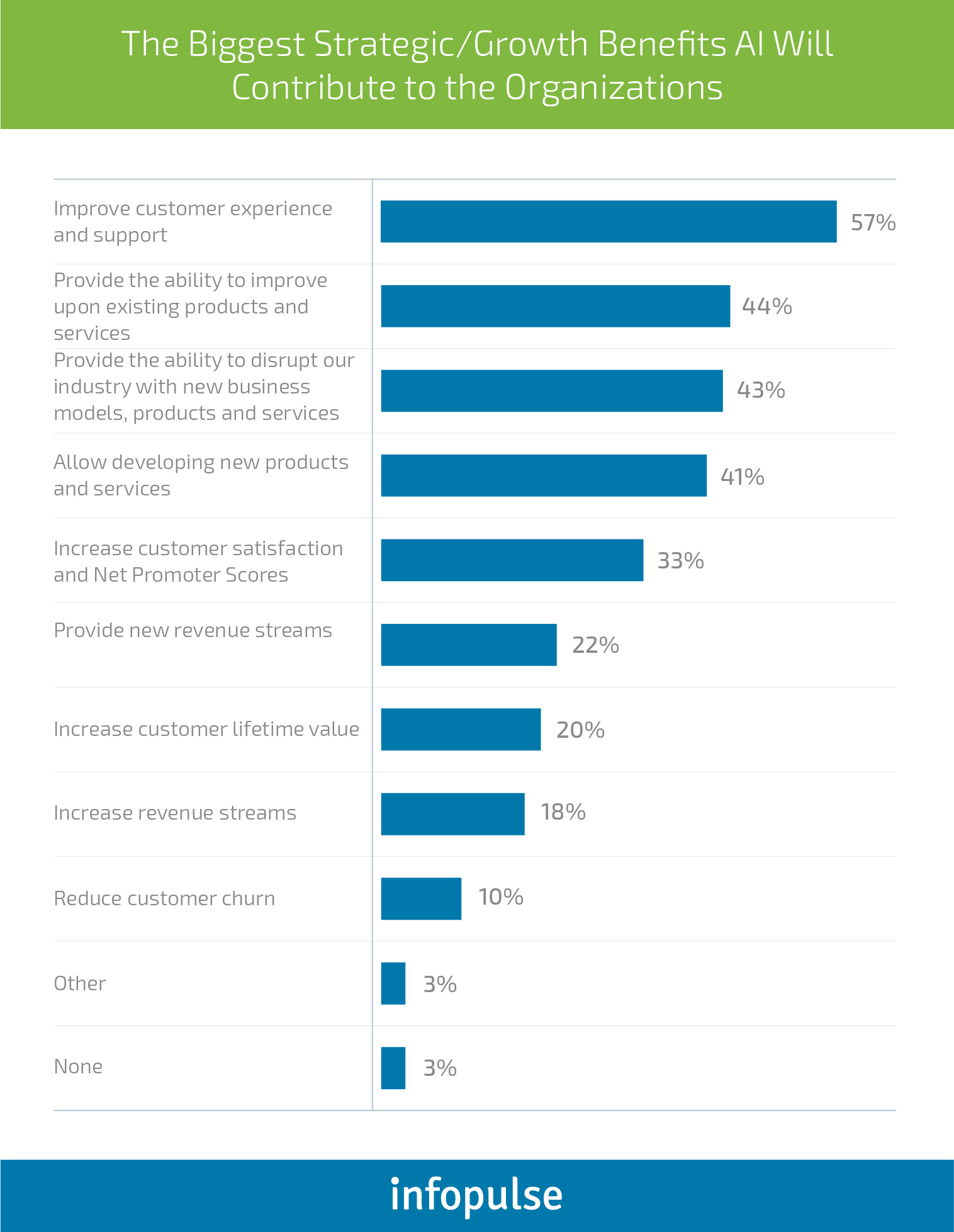 Entrepreneurs can harness artificial intelligence to create customer-centered chatbots and various kinds of in-store assistance, improve product search, as well as combine AI with AR and computer vision to establish a top-of-the-line shopping experience.
Creating Exceptional Customer Experience with Artificial Intelligence
End-to-end Customer Support with AI Chatbots
The overwhelming majority of product concerns are resolved via customer support systems, which require human workforce and are not exclusive of employee errors. Furthermore, current customer support systems may be time-consuming, which does not meet the client's demands for real-time issue resolutions. AI chatbots have the potential to eradicate these drawbacks and establish more responsive and convenient customer support in retail enterprises.
Latest Product Offers via AI Chatbots
Chatbots have a number of other important features, which may benefit retail business owners. Vendors who sell clothing articles, jewelry or electronic appliances need to constantly notify their customers about the latest offers and innovative items. Today, customers are usually informed by telephone operators or by email marketing campaigns. In terms of advertising, such strategies are much less efficient than the use of AI bots. In comparison with email marketing, chatbots have a significantly higher open rate than the click-through rate.
Customers prefer using chatbots due to the improved UX. There is no need to surf the internet or switch between different links – the chatbot provides instant access to the relevant product information, like color, characteristics, latest features, feedback, and more.
Smart In-Store Assistance with AI Chatbots
Although the process of finding the nearest store seems pretty easy, it's even more simplified with the help of AI chatbots. Instead of searching the web, the customer is able to find the closest store in just a few clicks. When the client enters the store, he may use AI chatbot as a personal shopping assistant. The customer requests a bot to search for a certain product via a text message and instantly receives relevant offers, including different options to choose from, like product color or any other variable features.
AI chatbot technology is versatile and it may be likewise implemented in E-commerce. AI in E-commerce is able to process complex queries and instantly find the requested item in an endless online store list. Chatbots may display personalized product offers online and allow users to conduct instant purchases within the E-commerce platforms.
Alternative Applications of AI in Retail
Precise AI-based Visual Product Search
Artificial intelligence allows using images to search for identical or related visual assets. With such a feature, there is no need for time-consuming queries that are aimed at finding the exact same brand, style or a specific retailer. AI is capable of processing and interpreting the user's visual search request, deliver accurate results, and offer similar products, some of which might even be more suitable than the original item.
This feature is beneficial both for customers and for retail entrepreneurs. AI-based visual search excludes the friction from the search-and-purchase experience, allowing them to find the desired item anytime and anywhere. Retailers may benefit from specifically designed apps that allow their customers to take a photo of an item and find similar products across the entire retail chain Macy's, a large US department store chain, has already started to implement such AI-based virtual in-house search system, which fulfills orders more quickly and efficiently.
Combination of AI and AR: Virtual Mirrors and Fitting Rooms
Regardless of the contemporary E-commerce convenience, traditional trade still remains popular, especially for stores that sell clothes, footwear and jewelry, because customers have the ability to closely examine the products. Retailers may use cutting-edge technologies like computer vision, which is a part of the AI field that processes and analyzes digital images, to create virtual mirrors and fitting rooms.
The store-based virtual dressing rooms provide the necessary data about the clothing articles and recommend other garments that will match a specific item. Virtual mirrors use 3D scanners to create a precise digital copy of the customer's body and apply augmented reality that projects the view of specific clothing items into the virtual mirror.
AI-based fitting rooms and virtual mirrors stimulate sales and create an extraordinary shopping experience for the clients. Not only do they create convenience for users, but they also provide valuable insights into customer preferences for retail entrepreneurs.
AI and Smart Cashier-Free Stores
Customer experience of utmost comfort will soon be available in cashier-free stores. Just as in self-driving cars, such stores will use artificial intelligence, computer vision, and sensor fusion to establish stores with no lines or checkouts. Clients will use an application that automatically identifies which products were taken or returned to the shelves, while AI will track the items in the customer's virtual cart. When the client finishes the shopping session, the needed amount will be automatically deducted from their debit cards which are bound to the application. Currently, the most notable example of a cashier-free store is AmazonGo, which already established 12 stores in the United States:
As the use of artificial intelligence is expanding, customers may soon witness an increasing number of cashier-free shops that offer a versatile range of products.
Facial Recognition and Advanced Shopping Experience
Another innovative AI-based technology that can enhance customer experience and benefit retailers is facial recognition. It may be used to collect valuable data, like age or gender, track the total number of visits and their average duration. Facial recognition can capture the areas of customers' interest, evaluate their emotions and record the median product selection time.
Based on the collected data, facial recognition creates additional opportunities for revenue growth. It may optimize the operational efficiency by appraising the number of the needed store cashiers. Furthermore, facial recognition allows creating categories of buyers and identifying the products they constantly purchase to accurately manage the assortment and simplify logistics. Retailers may also benefit from creating specific discounts and offers that were designed in accordance with a customer's emotions and preferences analyzed by facial recognition.
The technology advances the shopping experience for customers by making it more personalized and convenient and captures different types of valuable customer data that benefits retail entrepreneurs.
Conclusion
Artificial intelligence is an auspicious technology that offers unparalleled opportunities for retail entrepreneurs. Applying AI into your business may substantially reduce human error, enhance the core aspects of supply chain management, optimize scheduling, accelerate inventory management and advance the assortment planning. Most importantly, AI not only improves internal retail procedures but also has the potential to create an outstanding customer experience. Implementation of AI will fulfill the demands of real-time customer service problem solving, and offer innovative shopping solutions like virtual mirrors and fitting rooms, or even cashier-free stores. Artificial intelligence provides versatile possibilities for further development of your business.