How to Assess the Cloud Readiness of Your Infrastructure
Originally published: November 02, 2018
Updated: May 06, 2022
10 min. read
Cloud & DevOps
The cloud is here to stay. And migration to the cloud is becoming the new normal for businesses because it provides flexibility, efficiency, cost-savings, control, and security. It's no longer a question of why cloud migration; it's a question of how best to accomplish it.
It Begins with a Cloud Readiness Assessment (CRA) and Gap Analysis
Moving to the cloud takes a lot of planning, and it must start with a process that includes organizational readiness, application discovery, and assessments.
The goal is to obtain a gap analysis, so that you know what applications can be moved smoothly (retained as is) and which will require one of several solutions – re-factoring, re-hosting, re-platforming, re-purchasing, or retiring.
What Exactly is a Cloud Readiness Assessment and a Gap Analysis?
A cloud readiness assessment is a process, involving an itemized list of applications and data that you want to move to the cloud and whether these can be moved with minimal impact on your business operations, as the transition proceeds. The assessment will tell you what steps will need to occur in order for the migration to proceed smoothly.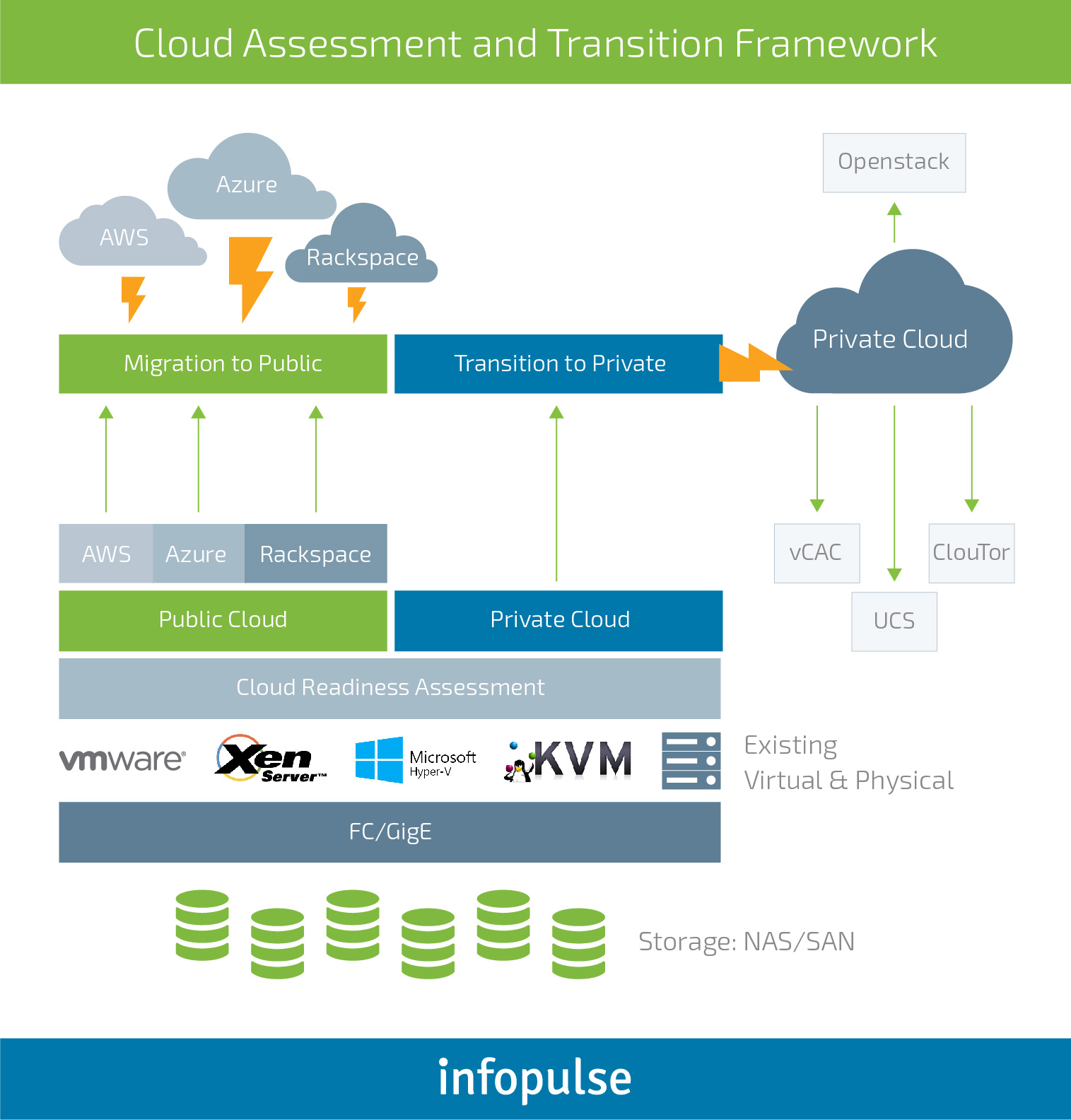 The gap analysis part of the readiness assessment details issues that must be addressed in order for a smooth transition to occur. This may include the development of solutions mentioned above but includes what steps have to be taken in order to move from the current in-house status to the cloud. By identifying these gaps, you and your IT department will be able to design a step-by-step process for filling these gaps in order to move forward.
And the most important part of the assessment/gap analysis process is to ensure that the business context of every application is combined with the technological components. A cloud migration assessment is not solely an IT assessment. It has to encompass organizational readiness, as well as infrastructure and application assessments.
Understand, as well, that your needs in assessment and gap analysis, not to mention the development of a cloud migration strategy, will put a significant additional workload on your IT department, and, for this reason, many businesses outsource the process.
Why Should You Analyze Your IT Infrastructure Before a Move to the Cloud?
Ask yourself: Why does a cloud migration make sense for your business? What will it accomplish that your current infrastructure does not and bring tangible business benefits?
You cannot answer these questions unless you assess your IT infrastructure against the goals you have. Not all IT processes within your company may benefit from and be compliant with cloud migration. You will have to enlist help to classify all your workloads as cloud compatible or non-compatible, and label all assets according to various cloud readiness parameters of security, workload, and compliance. Otherwise, you risk wasting budgets on migrating operations that will suffer, not strive within the new cloud ecosystem.
Does it make sense to conduct SAP migration to the cloud? Yes, as you can then access new integrated offerings, set up automatic backup and recovery systems and reduce TCO. But does it make sense to move all your business systems to the cloud? The answer depends on the technical requirements such a migration will entail. For example, what apps will migrate seamlessly; which ones will need to scale? Do you need load balancing that will automatically re-distribute workloads and resources? What will stay in a backend database in your data center? How much network and storage do your applications generate?
Without an analysis of all of these factors, you cannot precisely estimate your cloud readiness and develop a clear strategic path towards better business operations, powered by the cloud.
Cloud Migration Assessment: 8 Essential Steps
At Infopulse, we break down the Assessment Phase into the next three areas for exploration:
Current resources and technology used: storage, compute, network, data collection, on-prem hardware (power, space, cooling), legacy HW and operating environment. The goal here is to assess the current data center architecture and business operations; identify key systems and review infrastructure and management tools deployed; gather sufficient technical data to determine the most suitable cloud migration solutions.
Security and risk assessment involves a careful assessment of the current security mechanisms: identity and access management, DR, compliance, firewalls, endpoint security and possible vulnerabilities that should be accounted for in the new cloud architecture.
Cost and benefit assessment helps us identify the current challenges and pain points for your business; locate manual procedures utilization and inefficiencies in current IT process that could be eliminated after migration.
These three areas can be further broken down into eight more steps you should take in your total assessment:
1. What are your business goals and objectives for your infrastructure migration to the cloud?
These may include saving on capital expenditures, increasing remote collaboration, achieving more flexibility and/or security, etc. Before any cloud migration strategy can be designed, you have to know what you want from such a migration. There will be lots of decisions to be made along the way, and if your goals and objectives are clear, you will make the right ones.
2. Conduct an inventory of your applications.
This involves not just a listing of all applications and their uses. There are cloud readiness assessment questions to be answered. What technologies are you using? What do you do with your apps? Are they scalable? How easily can they be modified for migration? How do they interact with external systems? Who uses them? What is the volume of use, and are there peaks and valleys of use? All of these answers will provide the right application assessment for cloud migration.
3. Conduct an inventory of servers, databases, and storage.
Where is your data stored and how much is there? You will need to determine the cost-effectiveness of moving your data to the cloud. The "plus" of cloud data migration is that it can make your business more agile.
4. Craft "dependency maps" of your applications.
Any cloud readiness assessment template should include a full accounting of what applications run on which servers. What you want to do here is assess the levels of complexity of each application and the infrastructure that underlies them. They can then be categorized not only by priority but by the ease with which they can or cannot be migrated.
5. Catalogue the technologies used for your applications.
This will involve such things as the stacks, programming languages, and database servers you are using. Migration tools for cloud should be able to capture these pretty quickly, and comprehensive source code analyses will give you greater insights of the software libraries you are using.
6. Make transition plan recommendations.
Based upon the 5 steps above, each application must be categorized. Some will obviously be immediately ready for cloud migrations; others will need to be refactored, re-hosted, or even retired. You can then analyze the source code for those, which must be re-factored or re-platformed and determine what should be done and how.
7. Assess the scope of future work.
If you have used a good cloud readiness assessment template – one that has included these six steps – you are ready to group the applications together and have a general idea of how much effort will be involved. It is at this point that the planning phase of the migration journey can begin.
8. Finalize your assessment.
Prepare an assessment summary that will include the following:
The current state of your infrastructure and any changes/modifications that will be required for a cloud migration (the gaps);
The requirements that must be met by any cloud provider that is selected (this might also include specific cloud provider recommendations);
Potential disruptive impact on the organization as migration activities occur, including compliance and security issues;
A plan for the sequential steps of activities to occur to achieve cloud readiness.
It is at this point that the planning phase of the migration journey can begin.
What Are the Advantages of a Cloud Readiness Assessment?
The advantages of conducting a cloud readiness assessment, in a nutshell, are as follows:
You gain a full understanding of your current infrastructure and the issues that need solutions before migration can occur. This allows you to plan the sequential steps you will be taking on this journey.
You can estimate your budget for the migration.
You will have the requirements that must be met as you consider cloud providers and the tiers of service they offer.
You can predict the disruptions that will occur during migration and plan for them, so as to minimize the negative impact on the organization.
You will be able to provide a business case justification for a cloud migration.
Conclusion: Cloud Migration is Not Just a "Lift and Shift" Operation.
It requires definite reasons why such a migration should occur, based on business goals and objectives for it.
It requires "buy-in" on the part of the entire organization, because there will be training, and there will be inconveniences involved.
It requires a substantial workload for an already busy IT department if the transition is to be accomplished internally.
It requires testing and re-testing of applications as they are migrated.
Keeping all of this in mind, it is common for businesses to contract out the readiness assessment. In this way, that gap analysis can be objectively conducted, and specific recommendations and suggestions for moving forward come from those who are able to extend the time and energy required to do it right.
As you consider your cloud migration project, Infopulse stands ready to perform that readiness assessment for you.