Article
How to Digitally Enable Customer-Focused Supply Chain Management
Originally published: June 27, 2019
Updated: December 29, 2022
5 min. read
Innovations
Digitization in supply chain management is happening at an ever-increasing speed. Back in 2016,
PwC study
estimated that 72% of the surveyed companies had begun digitizing their supply chains and expected to complete the process in five years (by 2021).
Yet, here we are in 2019, and we're already seeing several successful Supply Chain 4.0. projects in action. Unilever – the top leader in the supply chain management for several years in a row according to Gartner ratings – is pioneering with several new solutions at once. The company recently switched to robotic process automation to support the order-to-cash process and is running several blockchain pilots aimed at optimizing the resource-intensive processes such as accounts payable management and media buying.
Since 2015, Pfizer has been making rapid progress in the digital transformation of the supply chain as well. The company has already succeeded in gaining real-time visibility in shipments within their intercompany supply chain, and achieved faster issue resolution, fewer escalations and delays.
Amazon, P&G, Apple, Colgate and 3M are several other major digital supply chain examples, who can be called "Digital Champions" in PwC terms. Digital Champions, who have already digitized parts of their chains, are now looking beyond merely optimizing the low value, resource-heavy SCM (Supply Chain Management) processes. They are rushing to create an integrated Customer Solutions ecosystems – a new business realm that enables easy access to customer insights, seamless delivery of tailored solutions and services to their customers, and additional value generation at all stages of the supply chain.
This new Supply Chain 4.0. places the customer needs and demands – the most pressing challenge for 73% of manufacturing and supply chain leaders surveyed by Deloitte and MHI – under a spotlight. While, at the same time, enables businesses to act upon those needs whenever they may arise.
How a Digital Supply Chain Differs from Traditional Supply Chains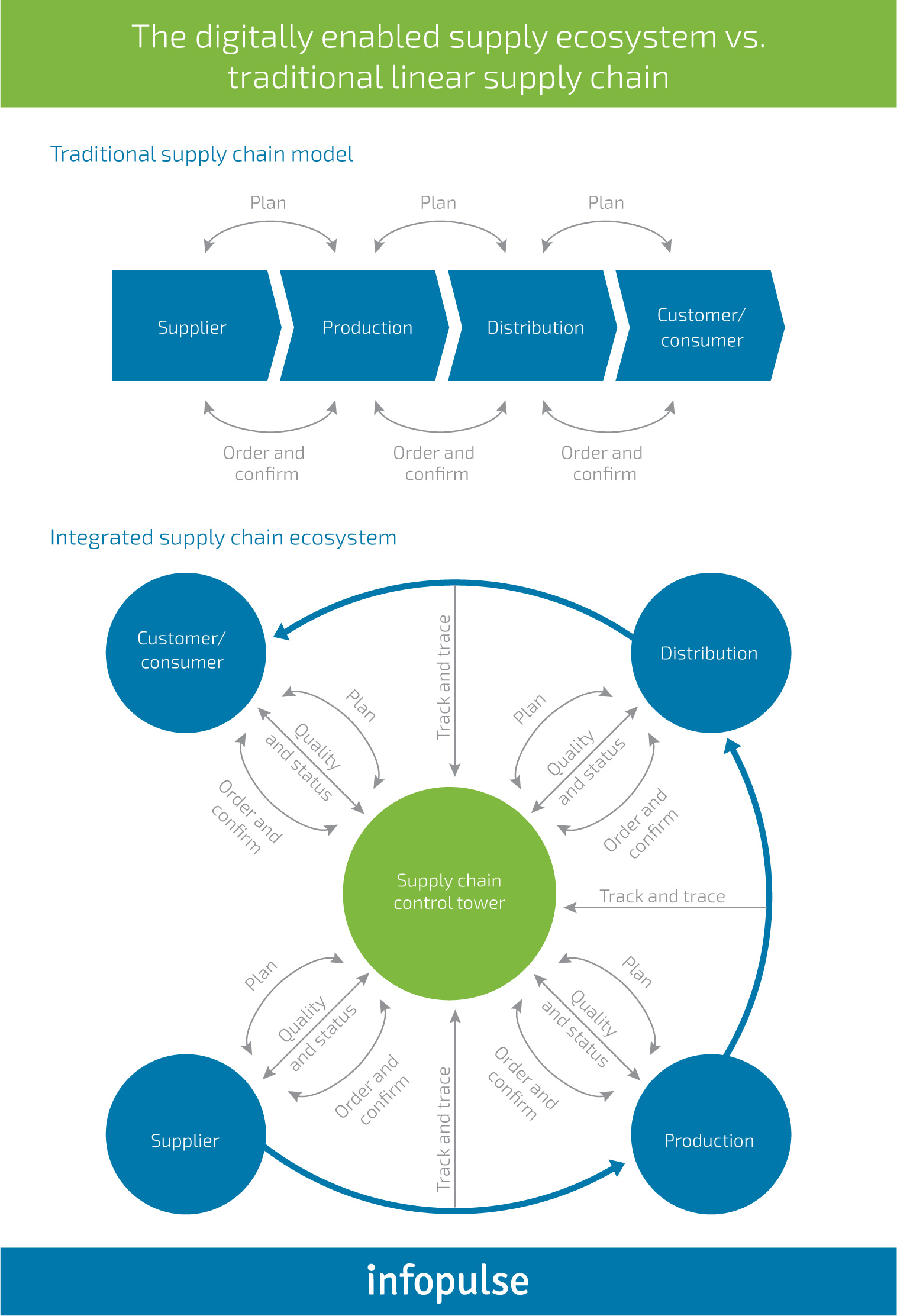 In contrast to its predecessor, the digital supply chain enables the following:
Better transparency – gain a complete view into all aspects of the supply chain.
Improved communication and collaboration – the information flows freely between all participants and is instantly available.
Flexibility – any change in end customer demands can be rapidly addressed.
Instant responsiveness – gain real-time responses on planning and execution levels.
Traditional Supply Chain Model
Integrated Supply Chain Ecosystem
Limited view of supply chain
Complete view of supply chain
Information delayed as it moves through each organization
Information available to all supply chain members simultaneously
Limited visibility to the entire chain, hindering meaningful collaboration
Natural development of collaboration depth to capture intrinsic supply chain value
End customer demand distorted as information flows along the material path
End customer demand changes are rapidly assessed
Different planning cycles resulting in delays and unsynchronized responses across multiple tiers
Real-time response on planning and execution level (across all tiers to demand changes)
Jim Kinnett, VP of Information Technology at Monsanto, further explains what is digital supply chain in this video:
Why Innovation in Supply Chain Management Cannot Wait
Tech-driven companies like Amazon and Alibaba have already set up new bars in terms of effective supply chain management and lightning speed delivery to customers. As people all around the world express the demand for faster, better and more efficient experience, all businesses have to play catch-up.
Those who do are seeing amazing returns on their investment. According to Amber Road, among the best-in-class companies who digitized their supply chains:
68% now have full visibility into supplier quality and manufacturing process
36% can assess the suppliers' ability to collaborate on product design
12.8% gained average annual savings during the sourcing stage
89% received perfect orders from international resulting in on-time delivery
8.5% achieved year-over-year savings on total landed cost
The New Technology in Supply Chain Management
In Industry 4.0., traditional supply chain processes remain the same – plan, source, make, deliver, return, and enable. However, each of these steps is being radically improved upon with new tech solutions.
Four distinctive technologies are driving the most value for enterprises:
All of these technologies organically feed into the traditional Supply Chain Operations Reference (SCOR) processes, and seamlessly upgrade every one of them individually and as a whole.
Taking Action
Going digital is the only way to remain competitive in the future economy. In fact, 8 of 10 supply chain leaders admit that the digital supply chain will become a predominant model within the next 5 years.
Clearly, organizations that will adopt new tech solutions first will gain a unique advantage that is not just limited to improved efficiency. Digital supply chain management can help your business create new business models and revenue streams, as well as majorly overhaul customer experience.
If you are ready to take action, Infopulse team would be delighted to further explore all the emerging technological solutions for supply chain management 4.0. Schedule a discovery session with one of our experts to learn about all the innovative opportunities your business can benefit from.