Article
Hybrid Scenario: a Few Considerations on SAP S/4HANA Implementation
Originally published: November 28, 2019
Updated: January 17, 2023
9 min. read
Cloud & DevOps
Business Applications
Real-time insights, agility, and responsiveness are the key attributes of competitive enterprises. When it comes to ERP modernization, adopting SAP S/4HANA is one of the ways to achieve these benefits. Moreover,
SAP S/4HANA adoption
may be a necessary evolution step if you are currently using the SAP ECC platform (scheduled for retirement in 2027 with extended support until 2030).
Thus, it is now high time to decide how you will proceed with upgrading your SAP landscape and what SAP deployment model will fit your business needs best. While SAP S/4HANA is cutting-edge enterprise software, the business case for adopting will be difficult to formulate without a deep understanding of the core product features, benefits and technical prerequisites for successful adoption. These are the exact points we'll focus on in this blog post.
SAP S/4HANA, SAP HANA, and HANA Cloud Platform: Key Differences
SAP S/4HANA is the acronym for SAP Business Suite 4 SAP HANA – the company's latest generation of ERP systems. A robust and modern software suite, it lets you manage all resources seamlessly from a single control point. Some of the most notable customers, which run SAP S/4HANA, are Deloitte, Bosch, AIG, BMW, Walmart, Airbus, and Nestle among others.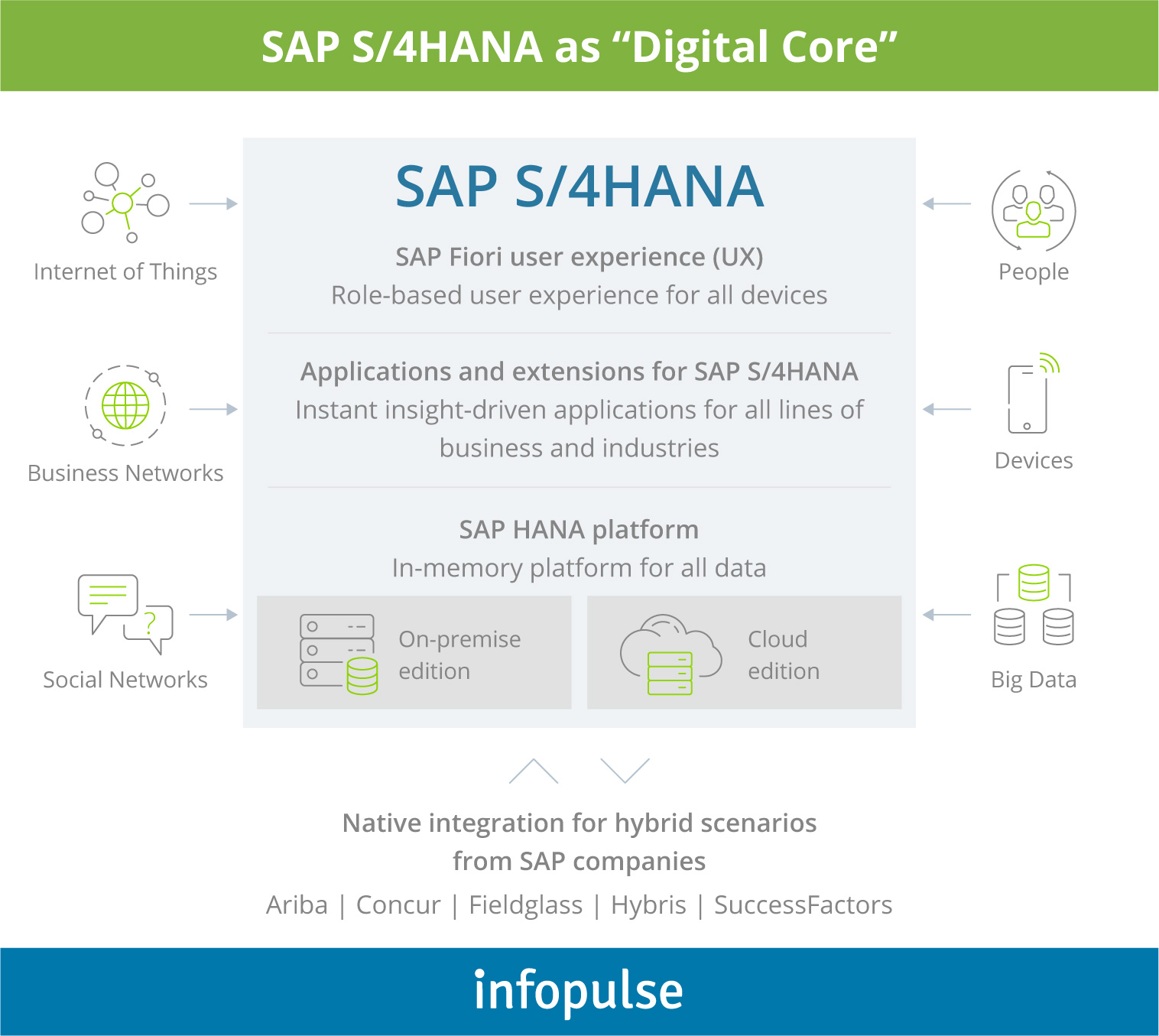 Similar to the earlier releases, SAP S/4HANA is powered by underlying SAP HANA in-memory platform that enables real-time analytics and computing capabilities.
SAP S/4HANA supports the following deployment scenarios:
On-premise – to run S/4HANA on-site or host at data centers.
Public Cloud – enables deployments with a certified IaaS provider of your choice (AWS, Microsoft Azure, Google Cloud or SAP HANA cloud platform) and/or hybrid cloud setups.
Managed Cloud – deploy S/4HANA to a private cloud platform provided by SAP or another cloud platform provider.
Let's briefly settle on the last two SAP cloud offerings:
The public SAP HANA Cloud Platform enables you to host and run SAP S/4HANA in the cloud, as well as integrate non-SAP functions or add custom capabilities. This kind of cloud solutions (PaaS) can be used as a development platform and as a foundation for app deployment runtime, providing you with additional flexibility.
SAP HANA Enterprise Cloud is a scalable and secure private managed cloud solution with guaranteed 99.5% SLA levels.
Moreover, you can settle for several hybrid cloud solutions using a combination of certified IaaS, PaaS and SaaS providers of your choice, as SAP allows for that.
Here are some common hybrid cloud strategy examples: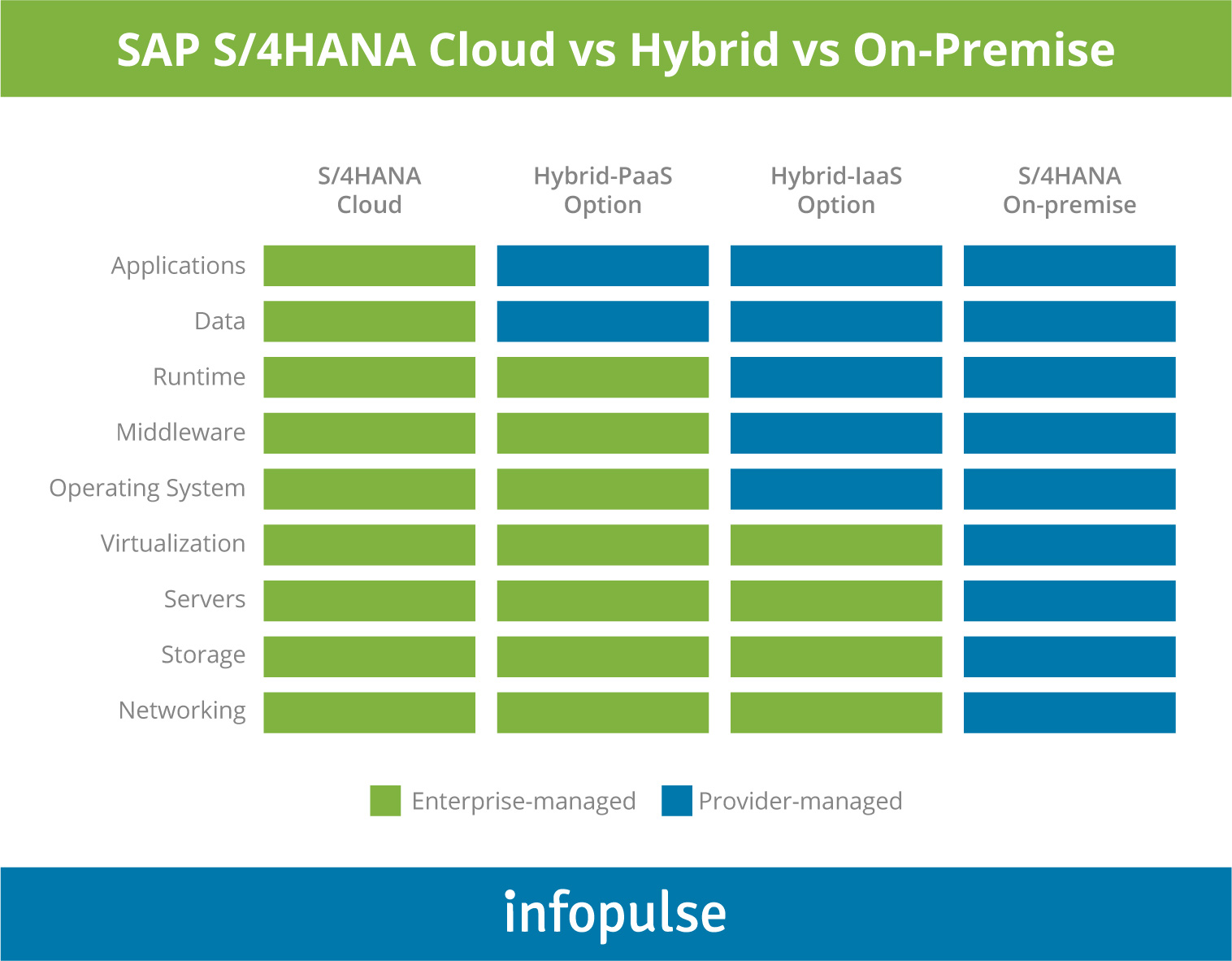 Additionally, SAP has just signed a partnership deal with Microsoft. The two companies will now work together on assisting customers with SAP S/4HANA migration to Azure, as well as harmonize the scope of jointly offered products, services, and SAP cloud platform integrations. This, in turn, will result in cost-savings and reduced complexity of migration. We should expect an updated Microsoft Azure stack for SAP in the coming months.
Running SAP on Azure already brings major cost-savings for your business. In our case study, we demonstrate how a pharma company achieved a 30% increase in performance after migrating its SAP system landscape to Azure.
Why Enterprises Choose to Upgrade to SAP S/4HANA
A recent survey carried out by LeanIX and PwC states that 20% of enterprises have already completed their S/4HANA migration well ahead of SAP ECC's end of life in 2027, and 49% plan to complete the transition by 2020.
The early adopters recognize that SAP S4/HANA is more than just a new ERP solution – it's a tool for accelerating digital transformations and unlocking new value streams across organization. The key drivers for adopting new SAP software suite are as follows: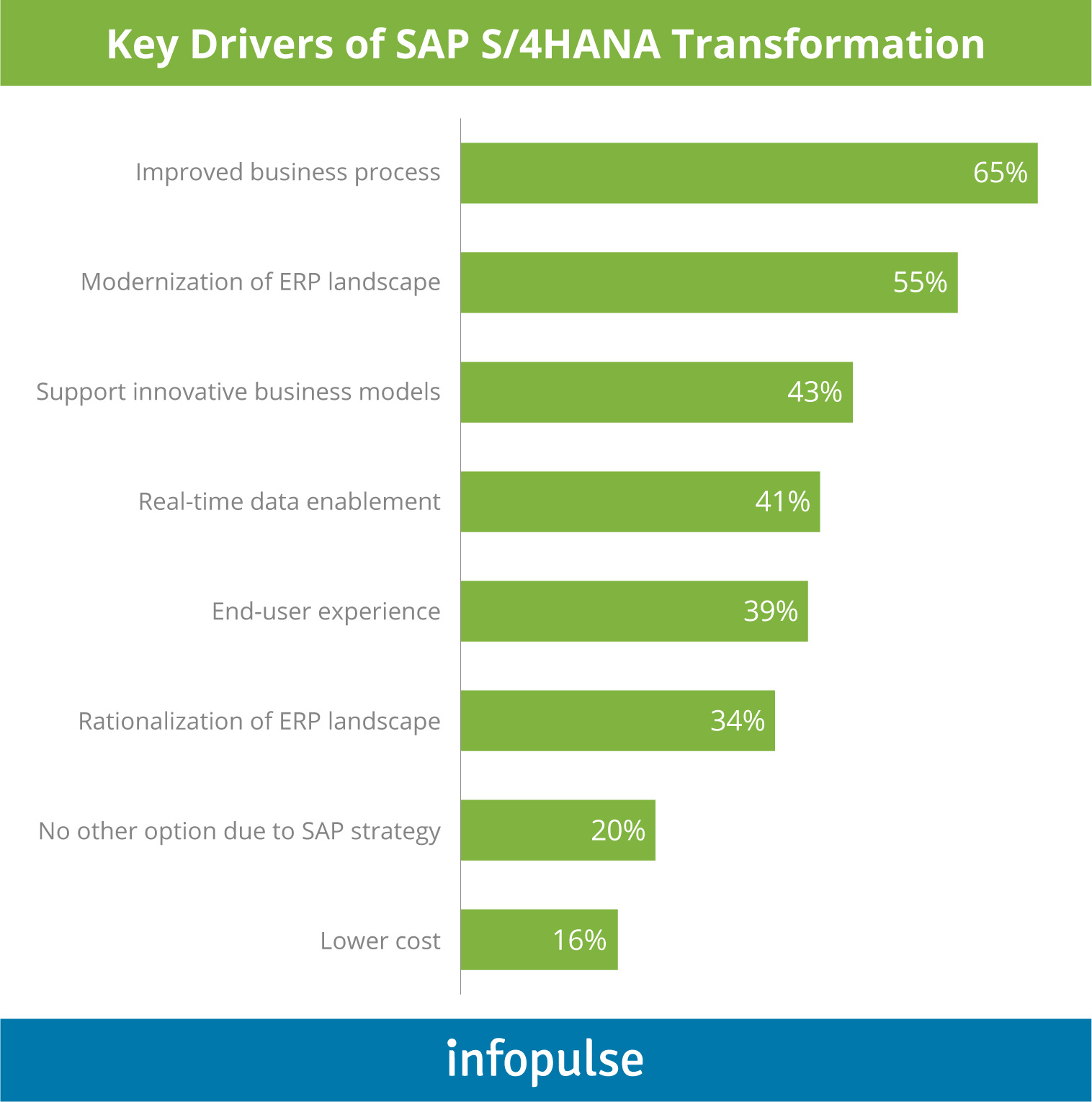 IT Benefits
Faster software deployments – updates can be deployed rapidly through API integrations.
Reduced CAPEX and OPEX – on-premises SAP S/4HANA edition comes with improved resource utilization. Retiring your legacy systems and deploying SAP S/4HANA to the cloud will eliminate most of CAPEX costs and streamline the already operating ones. One company gained a 30% reduction in TCO post-implementation.
Access to new-gen tech features – gain access to IoT and Big Data analytics, along with AI-powered functionality via easy-to-implement integrations.
Seamless support of DevOps processes including Continuous Integration, Deployment, and Testing.
Operational Benefits
Improved decision-making – through in-memory computing SAP S/4HANA enables access to real-time analytics and self-service BI. This, in turn, helps your team to make more informed decisions, develop better forecasts (including predictive ones), and perform all the planning functions faster and with more granular precision.
Higher staff productivity – SAP S/4HANA comes with a majorly improved UX that reduces the learning and adoption curve (especially with the usage of SAP Enable Now for interactive user manuals). It also offers a greater degree of automation, supported by AI and RPA, that eliminates low-value, repetitive processes.
Seamless access to cutting-edge technology – SAP ERP solutions are tailored to support and integrate with the new technologies such as blockchain, IoT, machine learning and artificial intelligence.
You can learn about additional benefits from a quick video testimonial from one of our customers – SAG Carpets:
Benefits per Function:
Finance: SAP S/4HANA enables organizations to move away from a retrospective, descriptive financial planning to predictive financial performance monitoring and prospective management insights. Thanks to RPA (robotic process automation), a fair share of financial close processes can be automated, allowing your team to focus on higher-value activities. Additionally, the latest version of this product introduces several new billing models and customization opportunities for price quotes. SAP accounting software and SAP billing functionality have also received a major upgrade in terms of usability and supported features.
Supply chain management: Improve supply chain visibility by gaining real-time MRP data, insights on stock levels and improved logistics analytics. The latest SAP ERP system seamlessly integrates with the native SAP Ariba network, meaning that you don't need to spend extra on add-ons and mapping middleware. SAP S/4HANA dramatically cuts the time on procurement by digitizing and automating the document exchange processes between buyers and sellers.
Manufacturing: With SAP S/4HANA, you can unlock the power of predictive maintenance, seamlessly integrate data from an array of industrial IoT devices, and benefit from real-time insights on production updates.
Lastly, it's important to note that if you are using SAP ERP Central Component (ECC) and/or SAP Business Suite respectively, migrating to S/4HANA is the necessary step you'll have to take before the announced end of support in 2027. If you still have not made any migration arrangements, you are running on borrowed time!
What Deployment Models to Consider before SAP S/4HANA Implementation
SAP S/4HANA was envisioned as a cloud-native offering. However, you can choose to run it on-premises or settle for hybrid cloud infrastructure if that suits your organizational needs best.
In general, you can select among the following four deployment models and build several custom hybrid combinations on top of them:
SAP S/4HANA On-Premises: SAP's Bring Your Own License (BYOL) licensed software approach allows you to deploy a new system in your own data center.
SAP S/4HANA Private Cloud: You can choose to either host everything on SAP's managed enterprise cloud or use another cloud service, such as Azure, AWS, Google Cloud or IBM Cloud.
SAP S/4HANA Public Cloud (Multi-Tenant): a SaaS offering from SAP that lets you run an SAP S/4HANA On-Premises Edition in the public cloud. However, certain industry-specific functionalities may not be available.
SAP S/4HANA Public Cloud (Single Tenant): This SaaS subscription option gives you access to the full spectrum of SAP S/4HANA, as well as new SAP S/4HANA public cloud functionality. Under this deployment model, however, you'll have to entrust the implementation and management process to SAP.
Many enterprises choose to settle for hybrid configurations and deploy different SAP enterprise software on either hybrid multi-clouds or a combination of on-premises/cloud data centers. Here's a quick example to illustrate such a scenario: a financial company may choose to deploy new SAP cloud CRM (SAP S/4HANA) in a public cloud (e.g., Azure) while keeping associated customer databases in an on-premise data center to remain compliant with industry regulations.
Additionally, larger enterprises should consider the Two-Tier ERP deployment model, aimed at harmonizing your operations between the headquarters and subsidiaries. SAP S/4HANA On-Premise and Cloud editions have native integration capabilities, allowing larger businesses to choose among several deployment scenarios: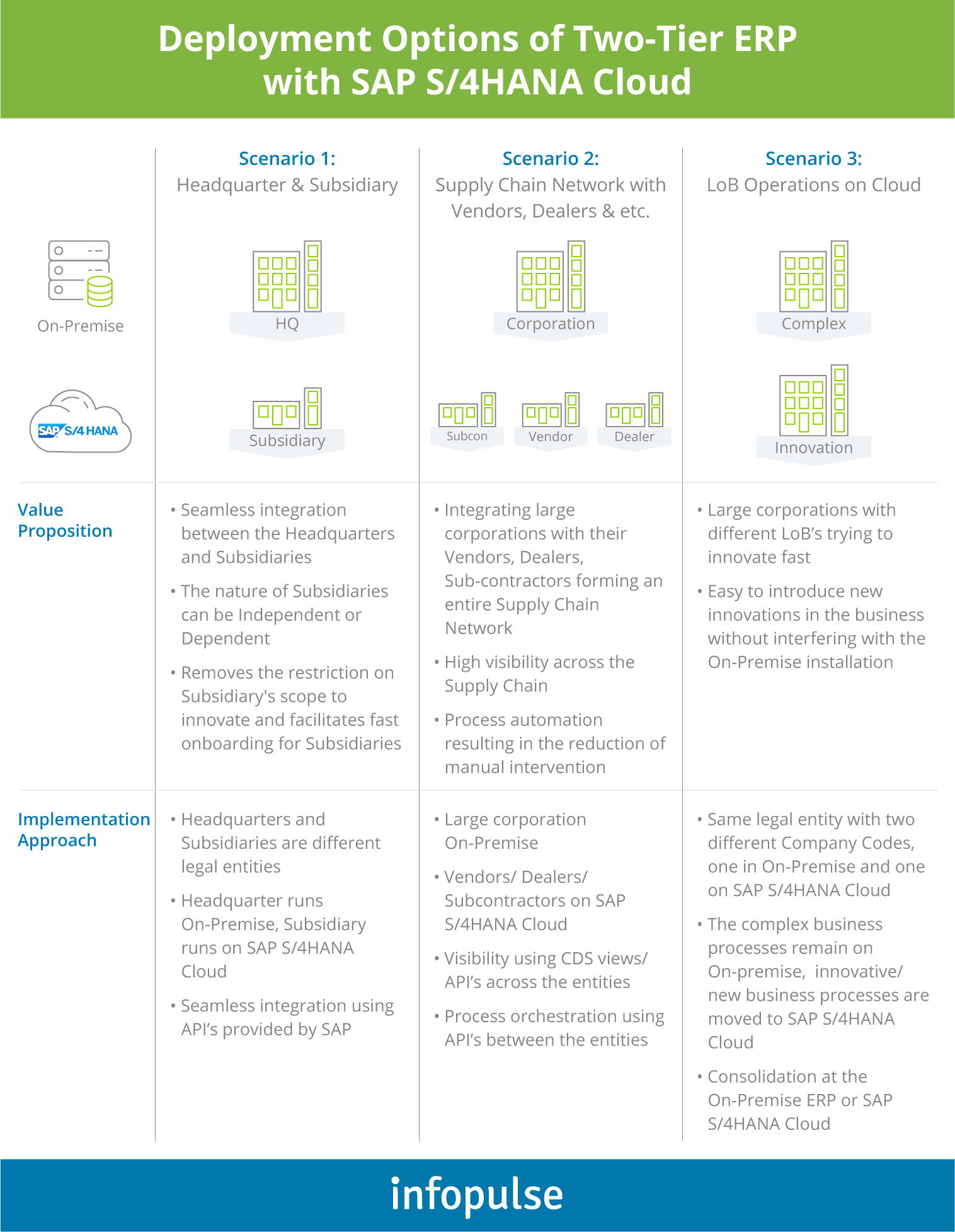 Finally, an enterprise can opt to upgrade to SAP S/4HANA using two core approaches:
"Brownfield" approach – a technical software upgrade to the newer release that is faster to implement, yet often offers only a short-term fix to impending issues.
"Greenfield" approach – a more time- and resource-extensive all-new implementation that results in a higher degree of optimizations and business transformations. This can be full (complete replacement) or selective (starting with a clean state only in certain areas).
Approximately 70% of enterprises select the greenfield approach (or a variation of it) as, despite higher SAP Hana implementation costs, it offers the highest ROI in the long run and enables companies to truly modernize and optimize their operations.
Moreover, another study shows that 37% of companies opt for the 'best of breed' multi-vendor strategy and/or build integrations around the SAP core (50%). Gartner further backs up this sentiment and says that as much as 80% of product-centric companies will switch from a monolithic ERP solution to a federated ERP. SAP is rather accommodating to that and lets you assemble an ecosystem of cloud applications from a variety of vendors around the S/4HANA core.
However, assembling the 'best of all worlds' portfolio of products will require effective hybrid cloud management.
Key Implementation Complexities of Hybrid SAP S/4HANA
Any legacy software modernization or digital transformation initiative comes with a high degree of risks, complexities, and uncertainties. SAP S/4HANA is no exception, especially because some enterprises plan to build a new hybrid cloud architecture to support a portfolio of cloud services.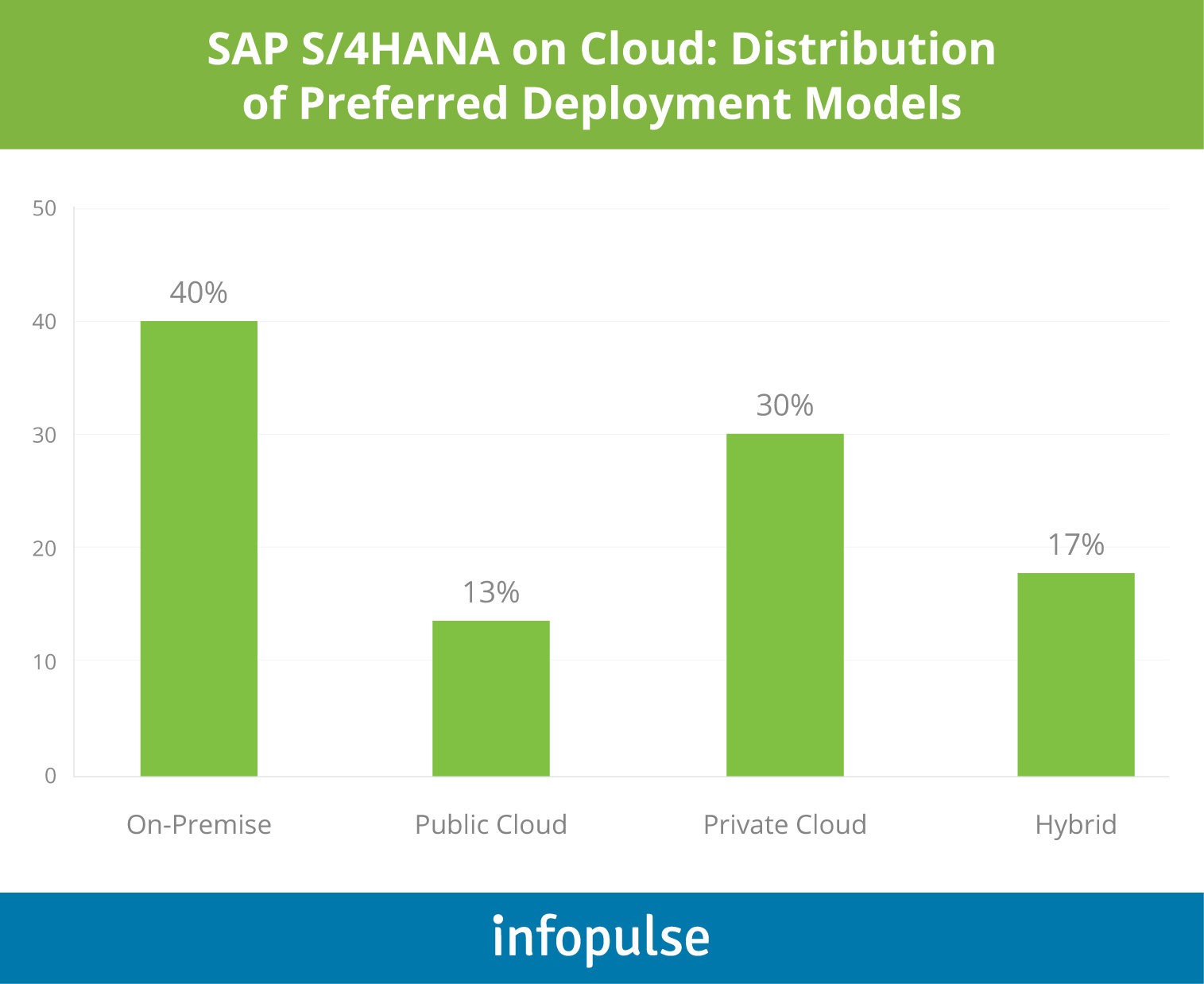 While SAP does provide extensive SAP S/4HANA documentation, as well as premium support and consultancy services, successful implementation will also require regular participation from different stakeholders at your end.
Specifically, you'll have to decide on:
The optimal DB and AS topology that would define the ultimate server, storage, and network layouts.
Outline the install landscape in terms of technical architecture and IT Infrastructure.
When it comes to hybrid cloud architecture, you'll have to focus your attention on:
Mapping out all the technical integration options, access and data flows
Hybrid cloud security
Software change management and subsequent testing.
All of this information should be standardized as a template for further reference: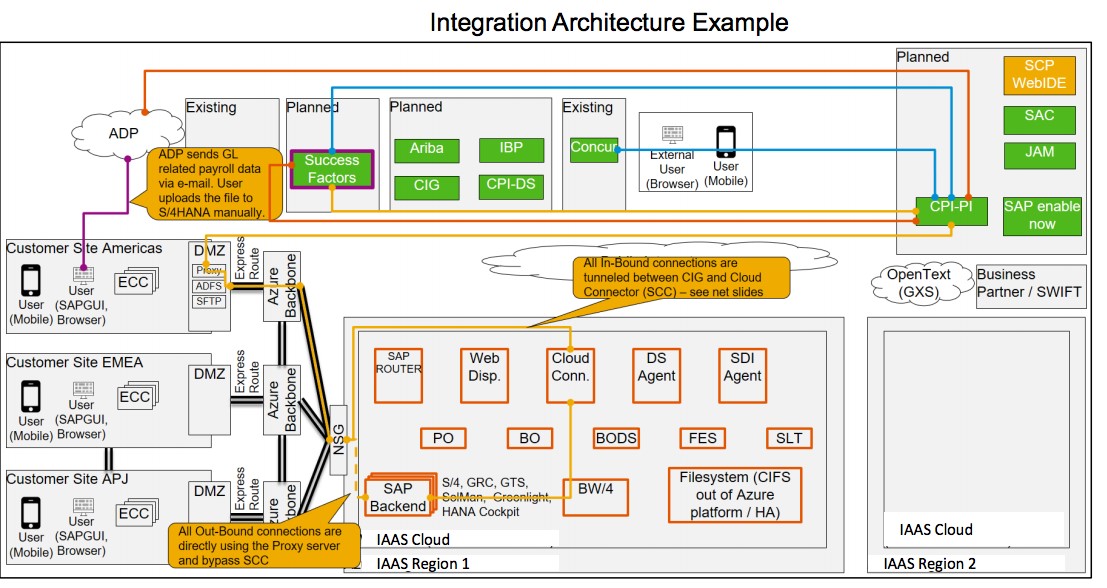 Next, you'll need to decouple different business systems and decide where they should be run (on-premises or in the cloud). In this case, you can take advantage of SAP proprietary integration tools that support a variety of cloud-to-cloud and cloud-to-ground scenarios, as well as third-party offerings.
Another major consideration is disaster recovery, as you'll need to prepare and orchestrate plans for both on-premises data centers and their cloud counterparts.
Lastly, ensure that your maintenance schedules do not overlap, as, for instance, cloud maintenance activities may hinder the flow of data between the cloud and on-premises parts of the same system.
Conclusions: SAP S/4HANA Adoption Requires Planning and Expertise
To build a solid case for SAP S/4HANA implementation, you'll need to fully understand how your current ecosystem of SAP products functions and what processes and information exchanges they support. Your main goal is to capture what's working well enough and where your organizational capabilities are limited. Digging into the root cause of the issue will help you articulate better the need and afterward map it to a suitable technical solution.
SAP S/4HANA hybrid deployment model can help you assemble a truly custom and robust ecosystem of products (SAP and 3rd-party ones) that will accelerate the transformations within your business. The tradeoff of this model, however, is that it requires meticulous planning and sufficient internal resources to manage the proposed technological changes.
Infopulse team would be delighted to step in as your SAP partner and help you define a strong technical core for supporting architecture and infrastructure.